Best Walking Stick Handles 2023
When making your choice of walking stick, style is always going to be a primary factor to consider, but comfort and usability should also be at the forefront of your mind. Your hands may be gripping this support for long hours of the day, so the last thing you want is a handle that will become uncomfortable or difficult to hold after an extended period of use.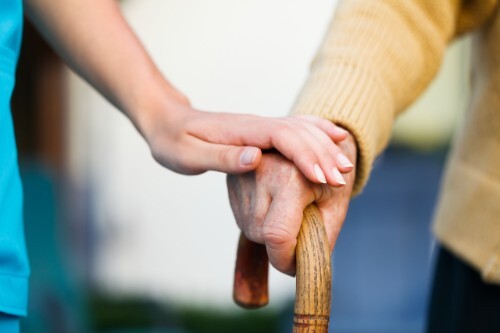 Comfort and support are important factors when choosing a walking stick handle design
With so many types of handles out there, how are you to make the correct decision? Between Derby handles, crutch handles, crook handles and more, it can be extremely difficult to determine which will fit best into the hand, and which will suit your lifestyle and needs. At WalkingSticks.co.uk, we consider ourselves the top authority on all things walking stick-related, and we're here to help. We've put together a list of five of our favourite walking stick handles to suit certain requirements and needs, in order to make your decision a little easier.
What's Covered in this Article?
---
The Derby Handle - Best Walking Stick for Everyday Use
Our Verdict: One of our best selling walking stick handles, the Derby handle was the invention of Lord Derby, who wanted a walking stick that would be highly supportive and could also be hooked over his arm when not needed. The Gents' Acacia Classic Derby Walking Cane is a fine example to feature this classic handle - combining elegance and convenience into one versatile walking aid. The curvature of the handle isn't only useful for hanging either, as it perfectly accommodates most hands to provide a secure and effortless hold that helps to stave off fatigue. We also have a range of derby handle designs available for women.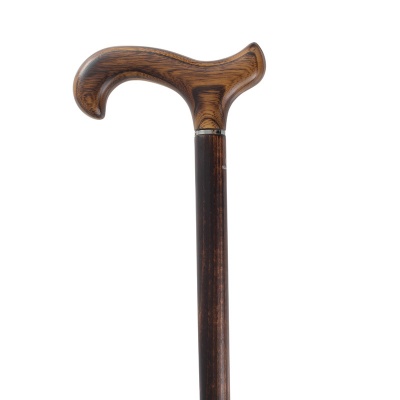 Why We Love it...
✔ Subtle but stylish design exudes an air of elegance
✔ Comfortable and reliable support with rubber ferrule
✔ Long-lasting exotic acacia wood is water and scratch resistant
✔ Can be hooked over the arm
Customer Verdict: "Absolutely delighted with my new walking stick. It's reassuringly sturdy, very comfortable to hold, and looks great." ★★★★★ Steven
Expert Verdict from (our supplier) Classic Canes: "An elegant cane suitable for everyday use, this acacia wood derby has an interesting grain pattern and classical appeal. The derby handle is very comfortable to hold and offers excellent support to the hand."
Other Favourite Derby Handles from Our Collection
---
The Ergonomic Handle - Best Walking Stick for Arthritis
Our Verdict: The Ergonomic handle has a primary focus on comfort and support, our Right-Hand Moulded Orthopaedic Handle Walking Cane in particular features an ergonomic handle that is designed to fit the grooves and contours of the palm and fingers. This special design helps spread weight across palm of the hand to prevent localised pain in a particular area - making it ideal for those who suffer from arthritis and rheumatism. For those who are left-handed we also have a left-hand version of this walking available.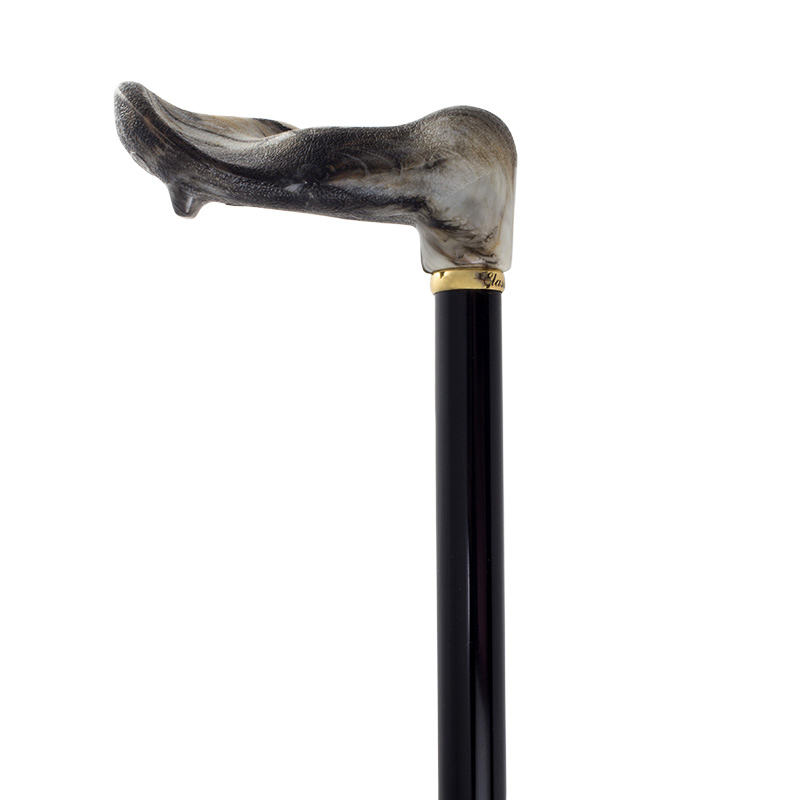 Why We Love it...
✔ Orthopaedic handle supports right hand arthritis or rheumatism sufferers
✔ Molded design ensures palm comfort and support all day
✔ Distributes weight across the palm to prevent localised pain in a particular area.
✔ Marble effect stylish design
Customer Verdict: "Best stick yet...Perfect hand fit and plenty adjustable lengths. Would certainly recommend" ★★★★★ John
Expert Verdict from (our supplier) Classic Canes: "A tough, practical stick suitable for everyday support. The [orthopaedic] handle is suitable for those who cannot grasp a traditional crook or derby handle, and spreads the user's weight across the palm of the hand."
Other Favourite Ergonomic Handles from Our Collection

---
The Crutch Handle - Best Walking Stick for Elderly
Our Verdict: The crutch handle represents a relatively minor tweak to the Derby handle but offers added comfort. Common as an entry point for those with arthritis or weak grips but who do not want a fully ergonomic handle, this handle type is designed to be a bit easier on the hand making it ideal for elderly users. Our Height-Adjustable Teal Silicone Crutch Handle Walking Stick features a soft-to-the touch silicone crutch handle that is comfortable, provides excellent grip, and supports the weight of the user directly from the shaft for improved balance.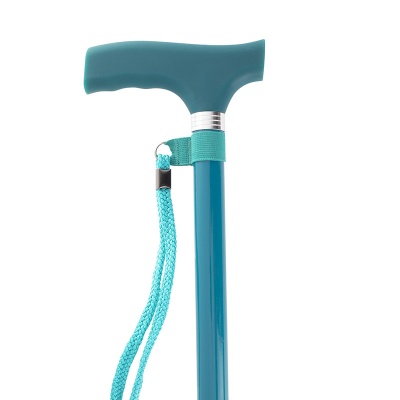 Why We Love it...
✔ Soft silicone clutch allows for outstanding non-slip support and comfort
✔ Height adjustable to suit a variety of users and ensure good posture
✔ Simple design suitable for everyday use and available in other colours
✔ Practical wrist strap included
Customer Verdict: "Super quick delivery and a top quality walking stick. Love the colour and the soft grip handle and it feels very sturdy which will be ideal for my Mom. Highly recommended " ★★★★★ Craig
Expert Verdict from (our supplier) Charles Buyers: "Strong and lightweight aluminium walking stick with cushioning comfortable handle making it more comfortable to hold while reducing stress on your hand...durable and wipeable"
Other Favourite Crutch Handles from Our Collection
---
The Crook Handle - Best Walking Stick for Farmers
Our Verdict: One of the oldest and most well-known designs around, the crook handle has been made with functionality and convenience in mind. Originally, the crook handle was made for shepherds, who would use the curved handle of the stick to wrangle sheep and other livestock. Our Chestnut Shepherd's Crook Walking Stick is a refined example of the crook handle in action, made with robust varnished chestnut wood for a stylish appearance. It is lightweight and smooth, providing a great feel in the hand without being burdensome for use throughout the day. Whether you're using this stick for traditional sheep farming or while walking about town, this stick will blend into your activity in an aesthetically pleasing and functional manner.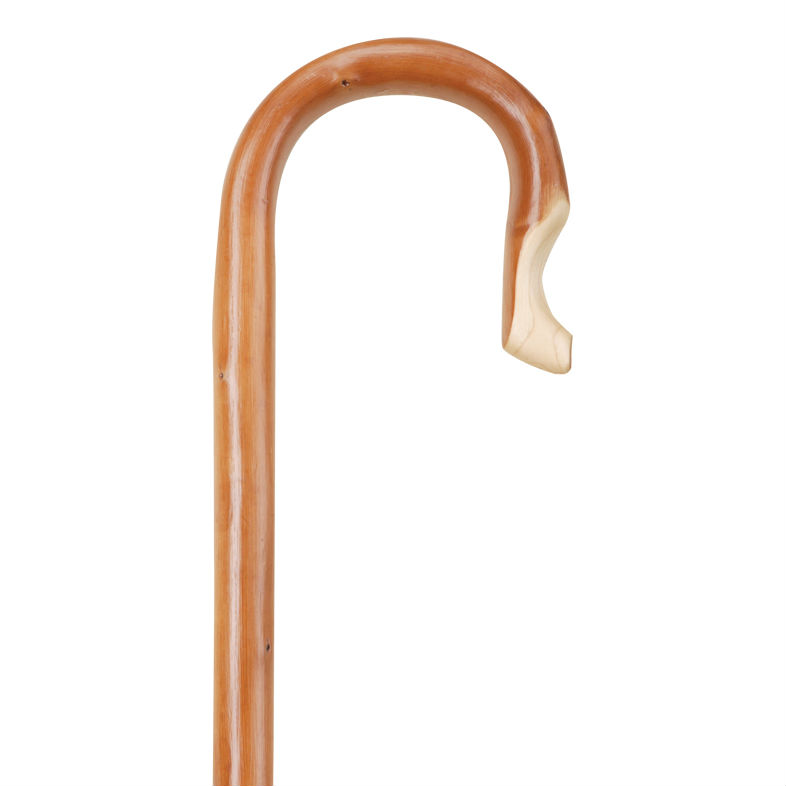 Why We Love it...
✔ Classic shepherds crook handle supports farmers and the elderly
✔ Comfortable smooth curve shape handle for the hand to clasp
✔ Easily hooks over the arm or other surfaces and hooks
✔ Suitable for gathering and herding livestock
Customer Verdict: "The crook arrived looking better than I expected. Beautiful finish and can't wait to use it Thais lambing time" ★★★★★ Lawrence
Expert Verdict from (our supplier) Linden Leisure: "Beautifully finished chestnut shepherd's crook, scorched, and polished to bring out the natural wood grain [and] fitted with an alpine ferrule."
Other Favourite Crook Handles from Our Collection
---
The Staff Handle - Best Walking Stick for Hiking
Our Verdict: Staff handle walking sticks provide the rugged appeal of nature while still providing plenty of support, making them perfect for hiking or walks outdoors. One of our favourite staff handle walking sticks is the Chestnut Hiker Stick with Plain Ferrule. It features a natural wooden look with its striking chestnut construction, but manages to refine that look with a dark varnished finish. With a brown leather strap, all aspects of this stick are rugged and visually appealing and reminiscent of a day on the trail. This stick has also been made from wood from sustainable forests, allowing you to enjoy nature guilt-free.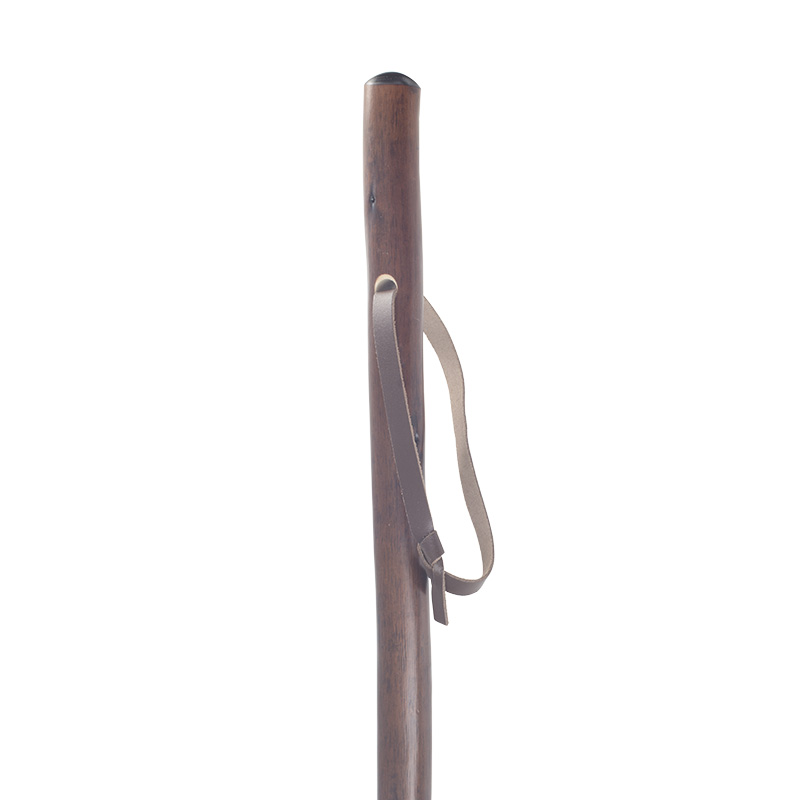 Why We Love it...
✔ Robustly made from chestnut wood to support hiking trips
✔ Includes brown leather strap for ease of gripping
✔ Natural rustic design and look
✔ Harvested from sustainable forests
Customer Verdict: "Looks and feels very comfortable. Good weight, Very sturdy but not too heavy. Took it for a long walk up a wooded hill the other day and it felt good and did a perfect job. Great on slippy steep slopes. It saved me from falling several times." ★★★★★ Andrew
Expert Verdict from (our supplier) Charles Buyers: "A chestnut hiking stick with metal ferrule and brown leather wrist strap. These sticks are all harvested from sustainable forests."
Other Favourite Staff Handles from Our Collection
---
The Novelty Handle - Best Walking Stick for Design
Our Verdict: Walking sticks are great for providing support and comfort while on your feet, but they're just as good for injecting a little bit of fun into an occasion. From animals to skulls to flask handles, we have plenty of striking novelty handle walking sticks to surprise and delight your friends and family. Our Brown Aviator Duck Head Walking Stick is a quirky and interesting example, that makes a great accessory for a fancy dress party or a way to express your creativity around town.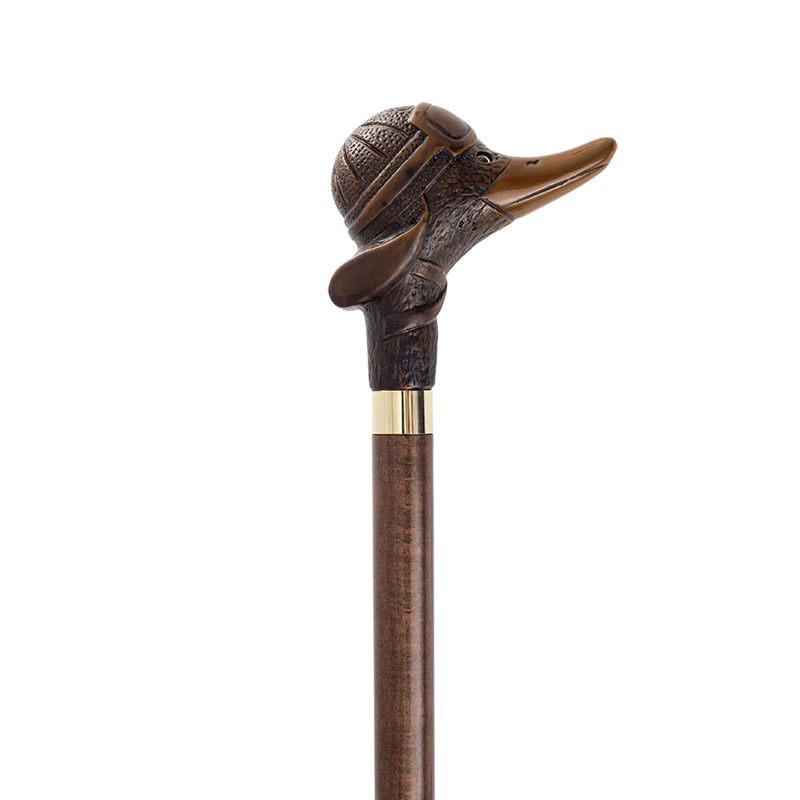 Why We Love it...
✔ Fun and stylish duck in aviator helmet and goggles handle design
✔ Clever design allows palm to encase around head easily and comfortably
✔ Robust and long lasting construction made of brown acetate
✔ Rubber ferrule provides grip
Customer Verdict: "I purchased this stick for my wife who when she saw it fell in love with it. This stick is sturdy well made and the head is very tactile,
I would highly recommend this stick for its looks and its comfort in the hand. 5*" ★★★★★ Kenneth
Expert Verdict from (our supplier) Classic Canes: "An amusing cane featuring a duck in aviator helmet and goggles, ideal for a walking stick collector or anyone with a taste for the whimsical."
*Please note that the Brown Aviator Duck Head Walking Stick is not suitable as a mobility aid*
Other Favourite Novelty Handles from Our Collection
---
The Horn or Antler Handle - Best Walking Stick for Country Walks
Our Verdict: These handles are made with horns and antlers that are naturally shed by stags and deer (no animals harmed!) which provide a sturdy and striking topper to any hiking stick. The Antler Thumbstick Handle Walking Stick has the classic V shape design that the Antler handle is known for, which provides thumb rest in the middle whilst fingers clasp around the stick. This handle design is comfortable on the hands during shorter country walks/hiking trips rather than longer hiking trips in which the staff handle may be better suited for.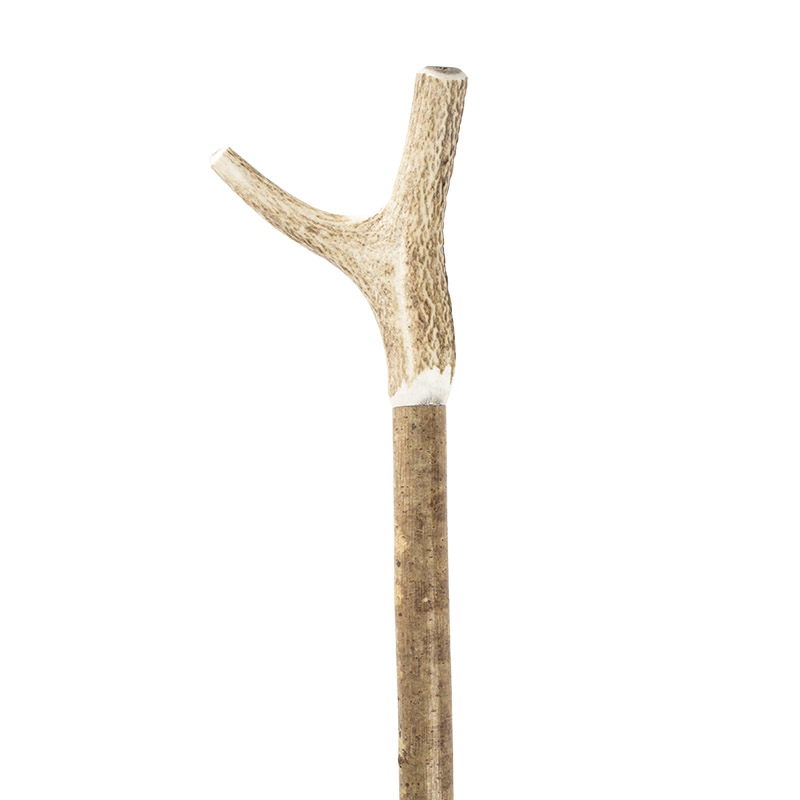 Why We Love it...
✔ V shape handle made from deer antlers provide grip and support
✔ Thumb rests in the middle and fingers clasp around stick for balance
✔ Robust long-lasting constructions to support country walks
✔ Natural rustic design and look made from
Customer Verdict: "Appearance and finished detail excellent!..more than serves practical usage...I am recovering 18 months from 'broken neck'.." ★★★★★ Dennis
Expert Verdict from (our supplier) Classic Canes: "A handsome country stick, fitted with an antler V-shaped handle, to be carried with the thumb resting in the V. The shaft is made from hazel wood, greatly prized for its interesting colour and texture"
Other Favourite Antler Handles from Our Collection
---
Which Handle is Right for You?
Now that we've laid out some of the main considerations for a few of our favourite handle types, it's time to decide on the best walking stick handle to suit your needs and requirements. Are you looking for comfort above all else? If so, it's hard to beat the contoured, easy-gripping design of the ergonomic handle. Going to a fancy dress party, and looking to turn heads? Then the fun and intriguing designs of our novelty handles are more what you're looking for.
But If you've not found the best walking stick handle for you in this blog, and you'd like to see all of the handle styles we have available, check out our section where you can browse Walking Sticks by Handle Style.
Do you have any other questions, or something to add? You can leave us your thoughts in the comments section below, or find us on Twitter and Facebook!