How To Accessorise a Cream Outfit With a Walking Stick
In the world of fashion, cream outfits are celebrated for their timeless and neutral charm. They serve as a versatile canvas, ready to enhance the visual appeal of walking sticks in a myriad of captivating colours and designs. Today, we embark on a stylish journey, exploring why cream outfits create stunning harmonies with walking sticks, from bronze to florals, to gold to animal print.
Keep reading to find out How to Accessorize a Cream Outfit with a Walking Stick. We'll provide a huge range of walking sticks varying in colour, pattern and style, so that you're sure to find your dream design in no time!
---
What's Included?
---
Bronze Brilliance: For Adding Magic with Metallic
Our Choice: Drive Medical Bronze Wave T-Handled Walking Cane with Strap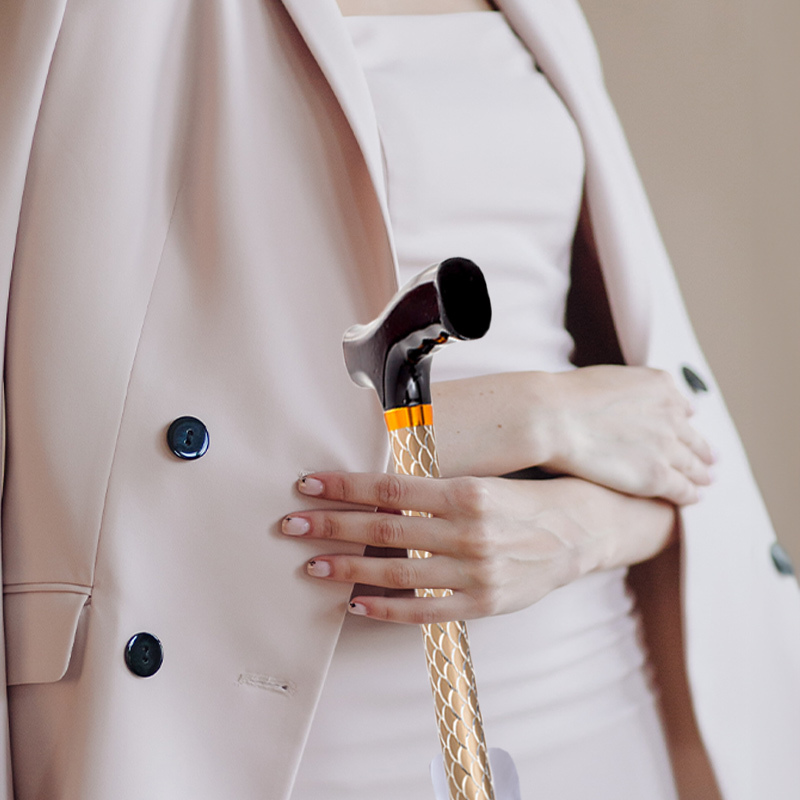 Cream, with its neutral and calming tones, provides a perfect backdrop for the dazzling warmth of a bronze walking stick. The contrast between the two creates an eye-catching visual harmony.
★ The fusion of cream and bronze evokes an air of classic refinement. This pairing seamlessly transitions from daytime to evening wear, exuding an enduring elegance.
★ The bronze complements the cream's serene ambiance, infusing the ensemble with a touch of warmth and tranquillity.
---
Floral Fantasy: Harness Flower Power for Stunning Stability
Our Choice: Derby Tea Party Extending Black and Blue Floral Patterned Cane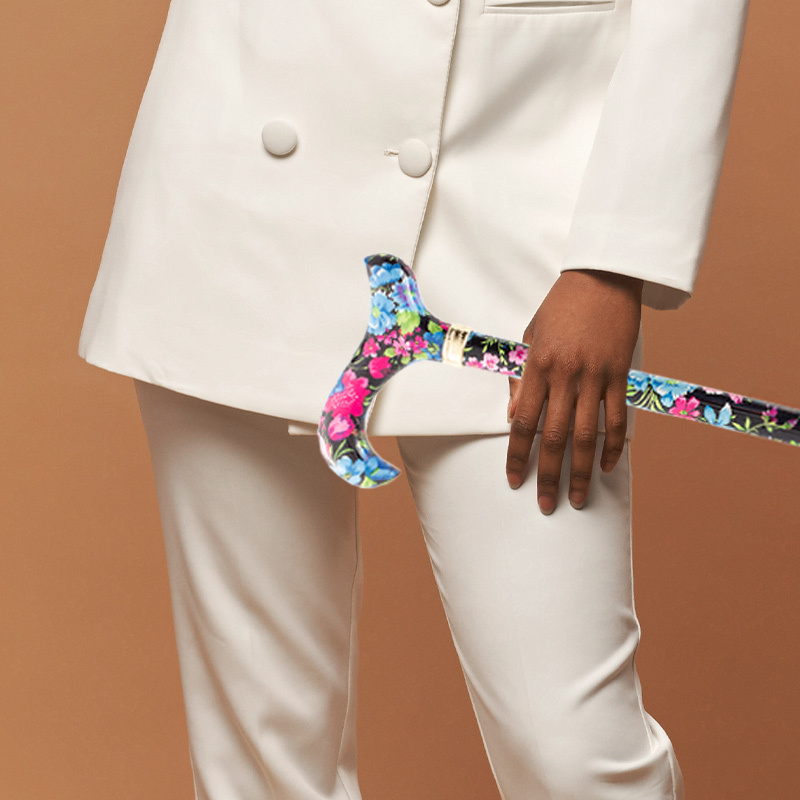 Cream outfits serve as a canvas for the vibrant and intricate patterns of a floral walking stick. The contrast emphasizes the details of the flora, making it a striking accessory.
★ Pretty walking sticks and cream outfits are a splendid choice for spring and summer. They convey the essence of nature in full bloom and radiate a fresh, seasonal charm.
★ The combination of cream and florals creates a look that is undeniably feminine. It celebrates the beauty of nature and enhances the wearer's grace and poise.
---
Charming in Checks: For a Traditional Twist
Our Choice: Petite Adjustable Folding Fashion Derby Handle Checkered Walking Cane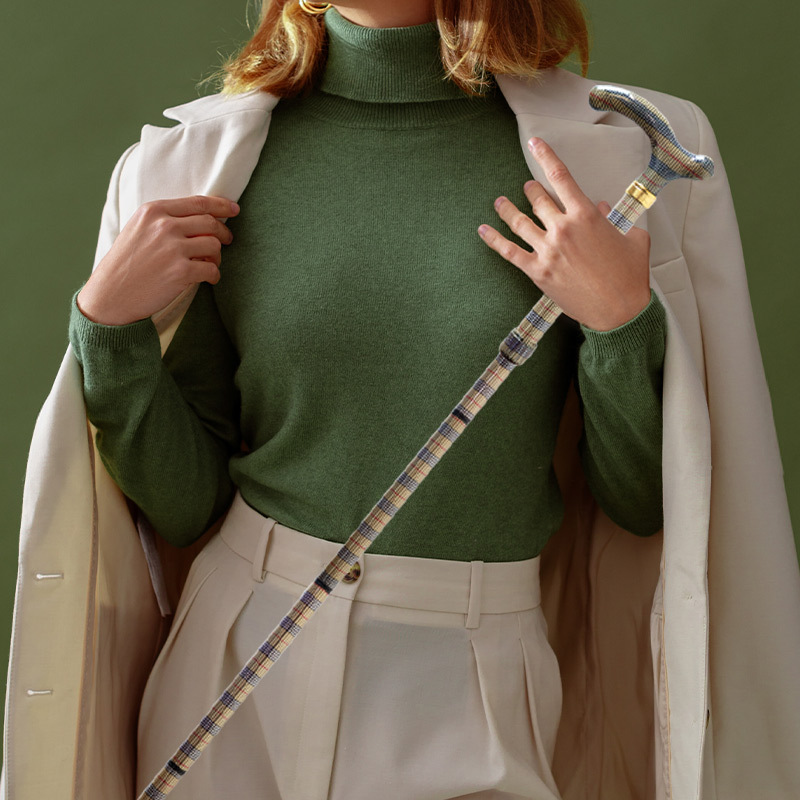 The subtle simplicity of cream outfits plays well with the boldness of checkered walking sticks. The resulting juxtaposition adds a playful twist to your ensemble.
★Traditional walking sticks effortlessly bridge the gap between formal and casual occasions, making them an ideal accessory for cream outfits suitable for any event.
★ Classic checkered patterns never go out of style. When paired with cream, they achieve a timeless, chic aesthetic.
---
Golden Glamour: Be a Golden Girl with a Golden Walking Stick
Our Choice: Marbled Golden Beige Moderne Walking Cane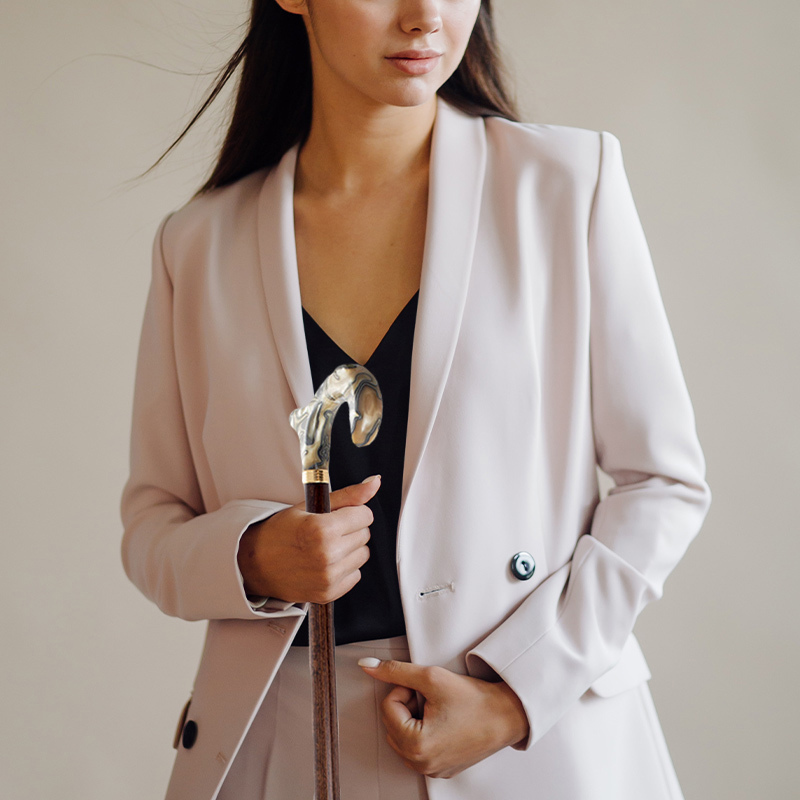 Cream, reminiscent of luxurious fabrics, complements the opulence of a gold walking stick. Together, they exude an air of regal glamour.
★ Gold and cream make for a winning combination at evening affairs, such as galas and formal dinners. This pairing ensures you shine like a star.
★The combination of gold and cream radiates a majestic harmony that is both captivating and awe-inspiring.
---
Woodland Wonder: For a Rustic Addition to Contemporary Clothes
Our Choice: Ladies' Scorched Beech Derby Walking Cane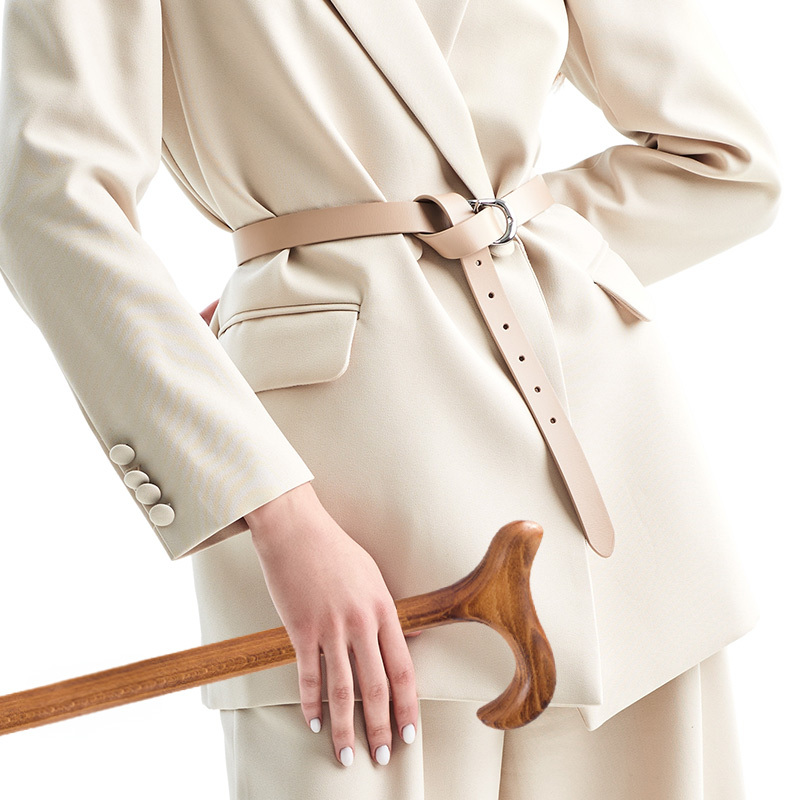 Cream outfits beautifully harmonize with wooden walking sticks, invoking a sense of oneness with nature. The earthy tones blend effortlessly.
★The combination of cream and natural wood walking sticks brings forth a rustic, down-to-earth charm that is perfect for countryside outings and casual strolls.
★Embrace sustainability and eco-conscious fashion with this pairing that celebrates the beauty of natural materials.
---
Animal Print Allure: Add a Playful Pop to Your Outfit
Our Choice: Adjustable Aluminium Derby Walking Stick with Cat Design
Cream provides an elegant and subdued backdrop that allows the boldness of animal print walking sticks to shine. The contrast is captivating.
★Animal print is the epitome of statement fashion. When combined with cream, it exudes an audacious yet sophisticated allure.
★ Animal print walking sticks paired with cream outfits offer a versatile look that transitions seamlessly from a night out on the town to a stylish day at the office.
---
Express Your Creativity and Individuality
The marriage of cream outfits and walking sticks in bronze, floral, checkered, gold, wood, and animal print is a testament to the infinite possibilities of fashion. These pairings demonstrate that cream's understated elegance can elevate and highlight the unique charm of each walking stick colour. Whether you're seeking timeless sophistication, seasonal flair, or a touch of the wild side, cream provides the perfect canvas for your walking stick masterpiece.
Embrace the art of coordination, and let your personal style shine!
Browse more walking stick ranges to find the perfect colourful accessory and supportive aid.
Do you have any other questions, or something to add? You can leave us your thoughts in the comments section below, or find us on TikTok, Twitter, Facebook, Instagram and Youtube!