How To Accessorise a Blue Outfit With a Walking Stick
Functional accessories may sound dull, but the expansive range of stylish walking sticks available couldn't be more exciting! For everyone who believes in the power of well thought-out style choices, choosing the right shade and style of walking stick to match their ensemble is crucial.
If you're planning to wear a ravishing blue dress in the near future, and are wondering how to elevate it with a stylish walking stick, then you're in the right place. Keep reading to discover the best walking sticks style and colours to complement your blue dress, and help to curate a cohesive and chic outfit that's in line with your personal style.
What's Included?
---
Shades of Champagne
Our Choice: Acrylic Derby Champagne Hardwood Walking Stick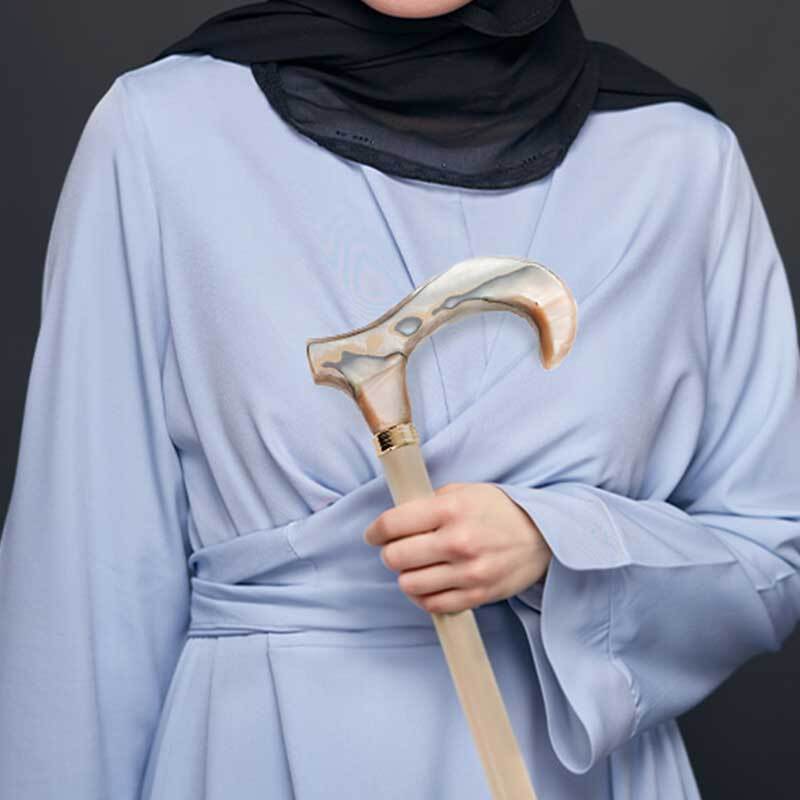 Champagne-shade sticks aren't just for support; they're a fashion statement and wardrobe staple.
★ Ooze class and elegance with a champagne walking stick
★ Champagne and blue shades are a timeless and classy combination, and a great choice for formal events
★ The champagne shade seamlessly matches almost any hue, making it a versatile colour and an easy choice when you're in doubt
---
Pair It With Purple
Our Choice: Marbled Amethyst Derby Handle Moderne Walking Cane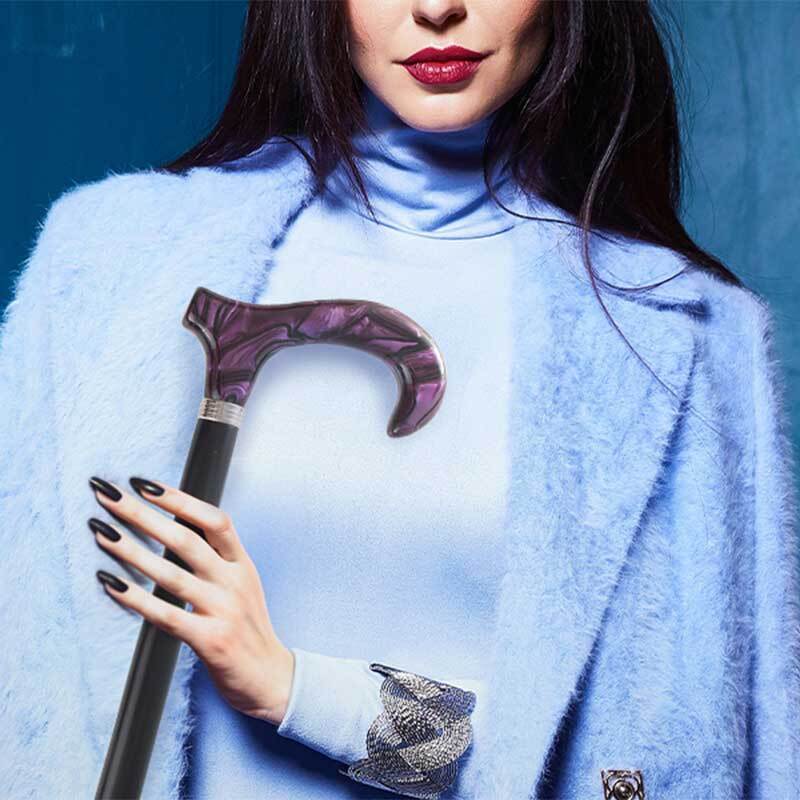 Blue and purple is a popular colour combination, and for good reason. These two distinctive shades complement each other perfectly.
★ From mauve to violet to lavender, the various shades of purple are a great match for blue tones
★ As they're next to each other on the colour wheel, these two colours blend together seamlessly to create a cohesive and stylish look
---
Just A Touch of Gold
Our Choice: Golden Leopard Derby Walking Cane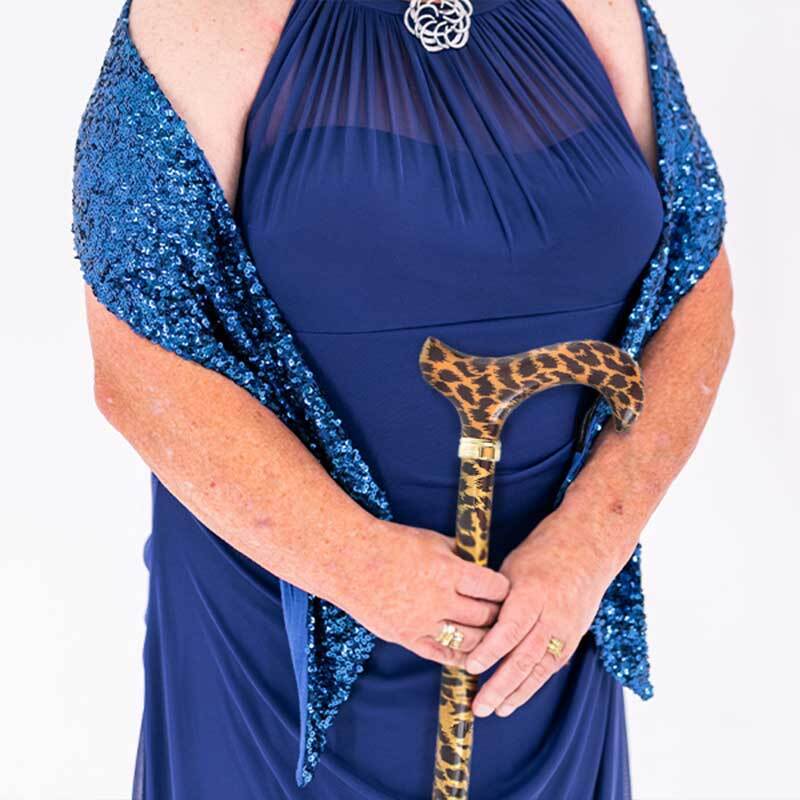 Accessories with just a smidge of gold, or golden tones, offer a touch of elegance, without the extravagance of pure gold options.
★ Gold is a luxurious shade. Using a gold-toned walking stick, or one with gold embellishments, to accessorise your blue dress brings out a regal aura
★ Get heads turning! The contrast between cold shades of blue and the warm glimmer of gold creates a look that is magnetic
---
Groovy Green
Our Choice: Tropicana Parrot Derby Walking Cane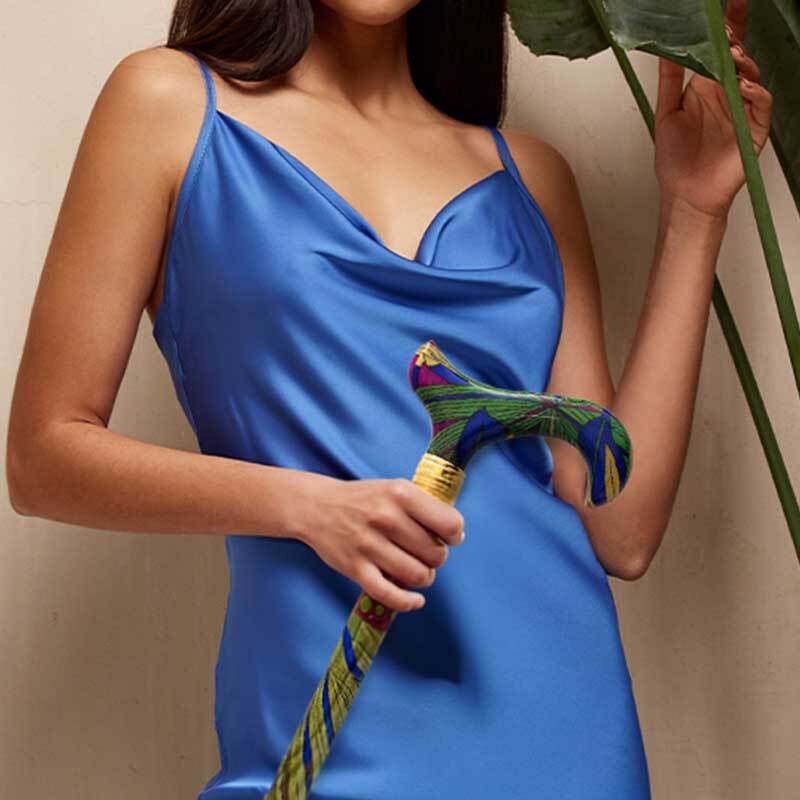 Green and blue is a dreamy and frequently used colour combination, and can be used to create a variety of different formal and casual looks.
★ If you're curating a nature-inspired look, green and blue are the perfect shades to do it with
★ There are various shades of green available that can blend seamlessly with a blue gown to create a cohesive and fashion-forward outfit
---
Curating Classics
Our Choice: National Gallery Monet's Water-Lily Pond Derby Adjustable Walking Stick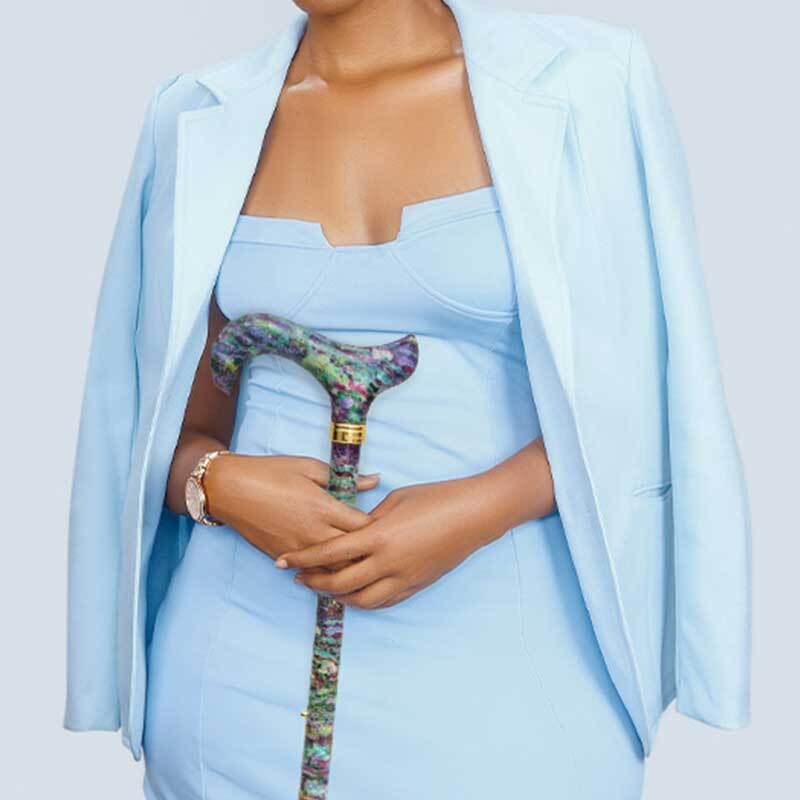 Breathe new life into your outfit with a classic art deco walking stick, featuring Claude Monet's famous 'Water Lily Pond' painting.
★ Art lovers will appreciate the beauty of a colourful walking stick decorated with masterpieces from some of the world's most famous painters
★ With so many shades of blue, from navy to aqua to pastel shades, pairing your blue gown with a nature-inspired creation designed by one of the greatest artists throughout history is a piece of cake
---
Dazzling Diamantes
Our Choice: Evening Crutch Cane with Swarovski Elements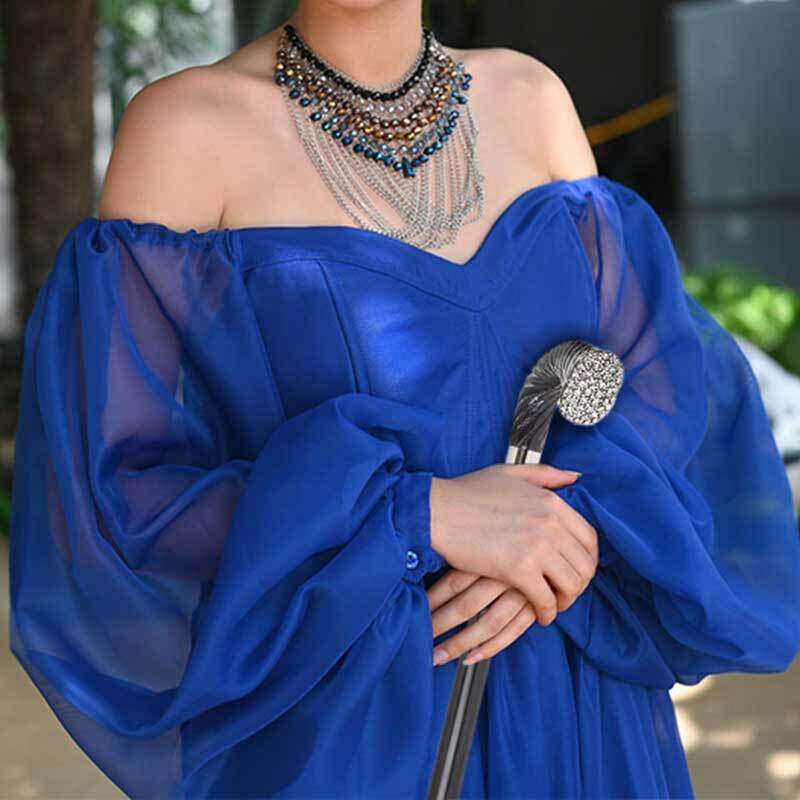 Add a sparkle to your outfit with a fancy, diamante-decorated cane. With a dazzling embellished walking stick, you're sure to feel like the belle of the ball.
★ These sparkling walking sticks are ideal for dressing up for formal events and parties
★ The combination of blue and these glittering accessories is a brilliant combination for the festive season.
---
Ravishing Red
Our Choice: Red Ash Cane with Derby Handle and Chrome Collar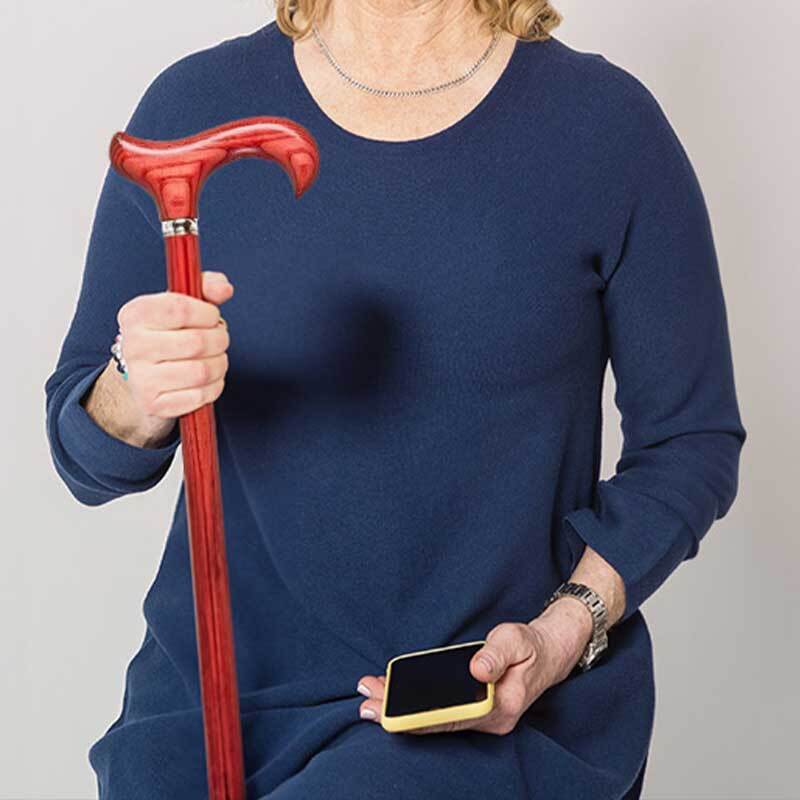 Red and blue is a unique and vibrant colour combination with a bold contrast that's sure to make you stand out in any crowd.
★ If you're someone who loves vibrant contrasts, use a striking red walking stick with your blue gown. The contrast between cool blue tones and fiery red shades creates a visual feast, and you're sure to devour at your next event!
★ A red walking stick is a statement piece, and the perfect choice for those who want to curate a bold and trendy look
---
Wooden Walking Stick
Our Choice: Ladies' Hardwood Derby Handle Walking Stick
Wooden walking sticks help to create a fetching and rustic look that fits in just as well in the countryside as it does on a busy high-street.
★ Wooden sticks have an organic appeal, offering an earthy aura, that when paired with a blue gown can help to balance modern chic with crude charm
★ The neutral tones of wood, both dark and light options, naturally blend with any colour. This makes wooden sticks a universally suitable accessory.
---
Black and White Simplicity
Our Choice: Black and White Derby Handle Dress Cane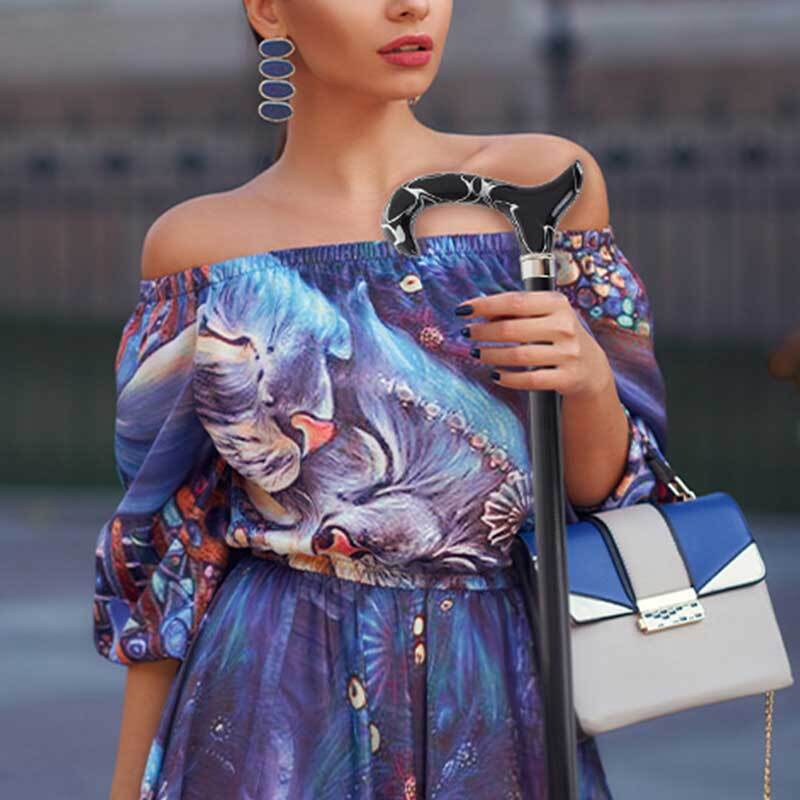 Black and white is a popular and uncomplicated colour combination, and thanks to the neutrality of both of these shades can be used to accessorise a range of colours.
★ Blue, black, and white combined is a simplistic and stylish choice that can work well for both formal and casual looks
★ Black and white accessories are easy to match with most of the expansive range of blue shades
---
Metallic Silver
Our Choice: Chrome Derby Handle Walking Stick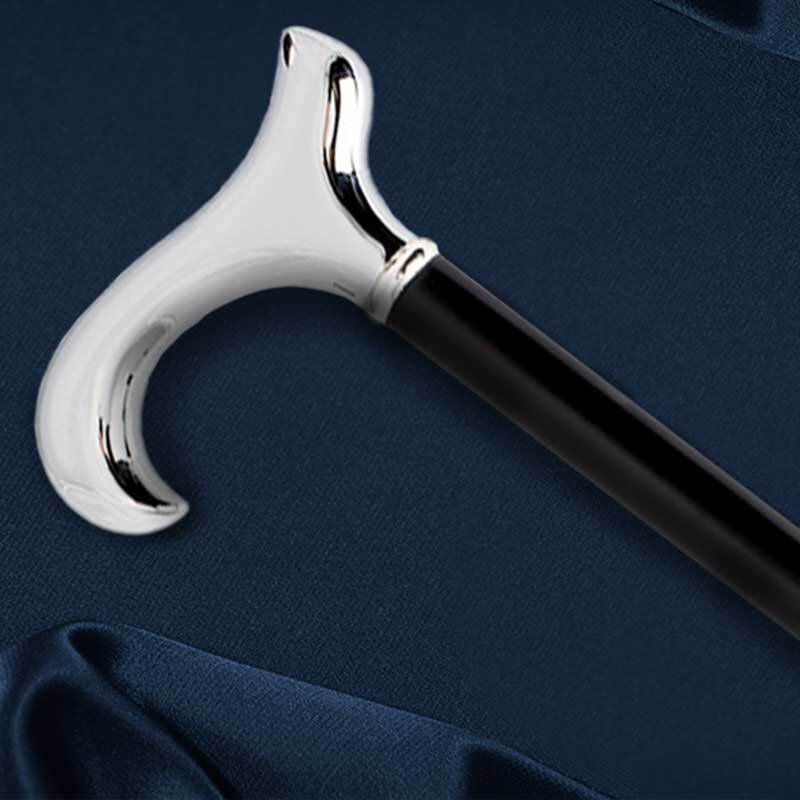 Silver shades are popular for creating accessories, and for good reason! The shimmering tone of silver can be easily paired with various colours to create a chic ensemble.
★ Silver shades offer a neutral glow that can jazz-up any outfit and offer a stylish and contemporary look without stealing away attention from your garment
★ Using a silver walking stick with a blue dress can be used to evoke a futuristic, trendy feel, making it a great choice for dressing up
---
A Final Word
Your walking stick, while serving a functional purpose, can also be an expression of your personal style. Whether you opt for the understated elegance of a black and white option, the audacious allure of red, or the timeless charm of champagne, remember that fashion is all about expressing your personality through clothes and accessories. With that being said, make sure to trust your instincts when choosing accessories. The more uniquely you that your walking stick is, the better it will look and feel while using it.
Find more fabulous colourful walking sticks on WalkingSticks.co.uk today!
Do you have any other questions, or something to add? You can leave us your thoughts in the comments section below, or find us on TikTok, Twitter, Facebook, Instagram and Youtube!