How to Accessorise a Green Outfit With a Walking Stick
Green is a colour often used to symbolise renewal, harmony, and a connection to nature. Whether you're donning a dazzling emerald gown or popping on a vibrant lime robe, a green outfit is the perfect choice for creating a fresh and stylish look. To enhance the ensemble and curate an outfit look that suits your personal style, you can accessorise with a fabulous walking stick!
If choosing colour pairings gets your head spinning, we've got you covered. In this handy guide we've identified a range of trendy walking-sticks that complement green outfits, and suit a wide range of personal tastes and styles. Browse our colour combinations for some green outfit inspiration.
Our Style Suggestions
---
Classic Black Contrasting
Our Choice: Cherry Blossom Black Derby Walking Stick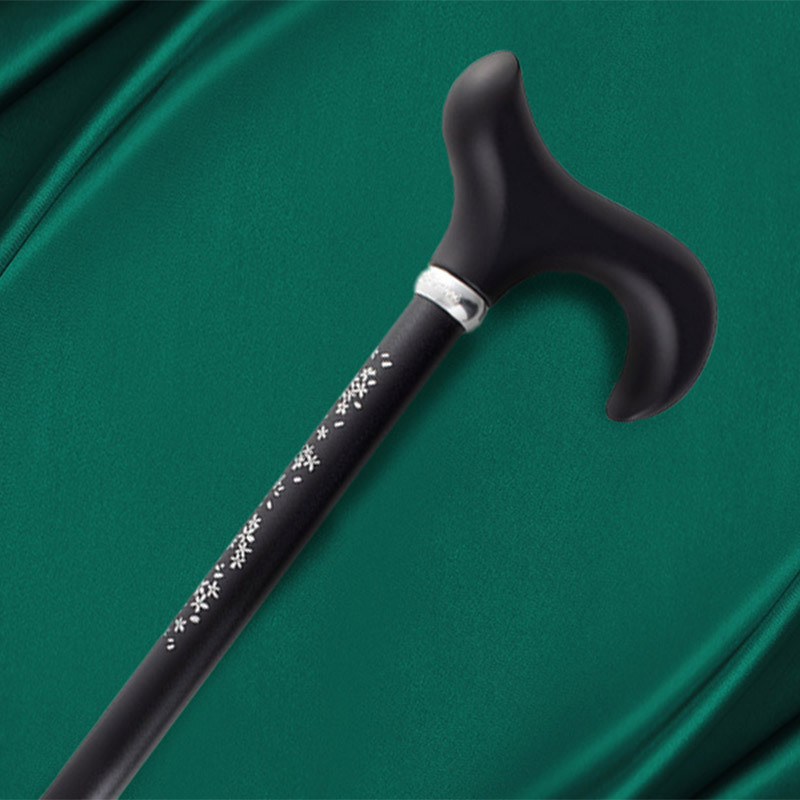 Create a trendy colour-contrasting look with a sleek and stylish black walking stick.
★ The contrasting black and green shades create a striking and simply sophisticated look
★ Whether you choose an unadorned matte black or an intricately patterned option with colourful details, the look is sure to ooze timeless elegance
★ Black is a colour that can be paired with various shades of green, from vibrant lime to rich mossy tones and stunning emerald shades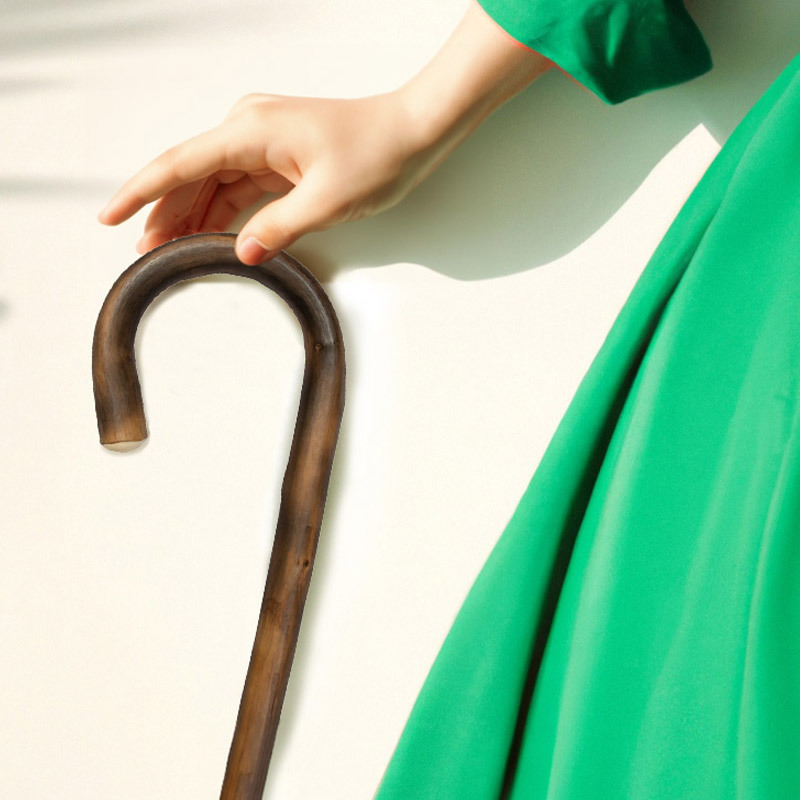 Embrace the rustic charm of a natural wooden walking stick that pairs beautifully with more earthy coloured green dresses.
★ Choose from walking sticks made with maple, bamboo, oak, and more to create a homely and nature-inspired look
★ Natural wood accessories add a touch of warmth to your ensemble, and blend effortlessly with a wide variety of green hues
★The neutral shade of most natural wood materials makes them ideal for complementing a range of aesthetics
---
Radiant Metallic Shades
Our Choice: Silver Lamé Derby Cane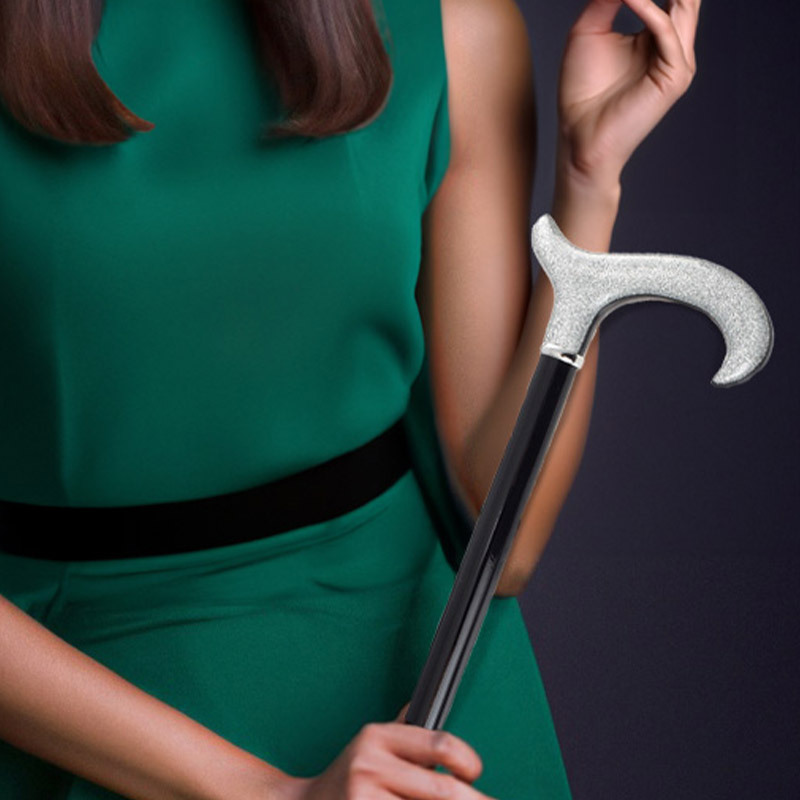 Add a touch of glamour to your outfit with a fabulous walking stick designed with metallic accents.
★ Gold, silver, and bronze shades create a luxurious and eye-catching effect, enhancing the vibrancy of your ensemble
★ Whether it's a metallic handle or subtle metallic detailing, these radiant hues are sure to make you shine in any crowd
★Metallic walking sticks are a great accessory to wear at parties or on nights out
---
Pretty in Pink
Our Choice: Marbled Pink Derby Handle Moderne Walking Cane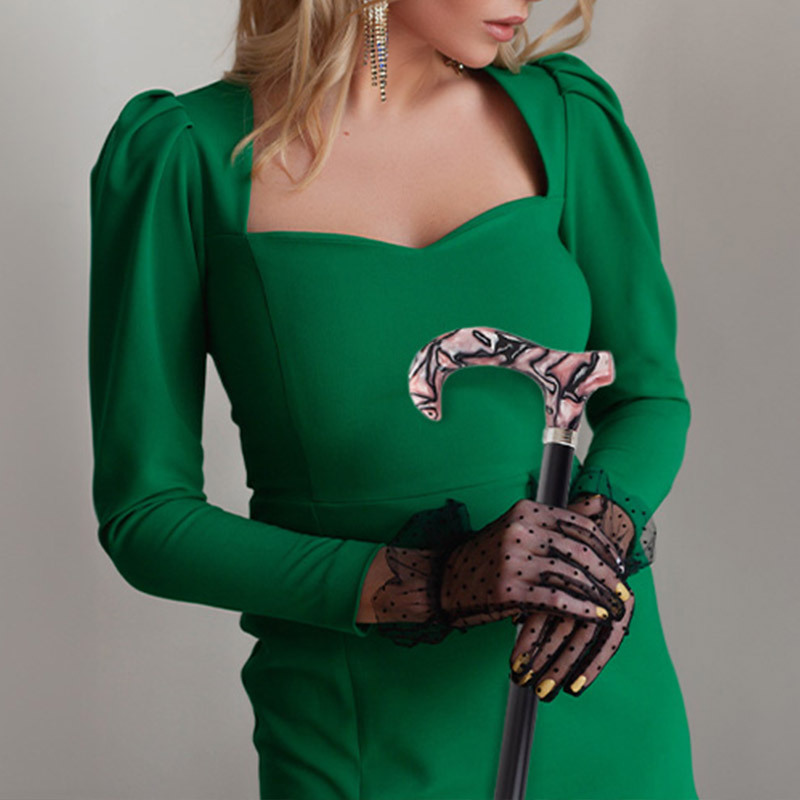 Choose a classic and vibrant colour combination, and accessorise your green dress with a pretty pink walking stick.
★ Whether it's a soft pastel tint or a hot pink hue, pink is a colour that beautifully complements most green shades
★ Pink and green combined create a unique and dreamy look!
★ Choose a walking stick that's a block shade, has a pink handle, or includes more intricate pink details to enhance the charm your green ensemble
---
Classic Beech Wood
Our Choice: Scorched Beech Derby Cane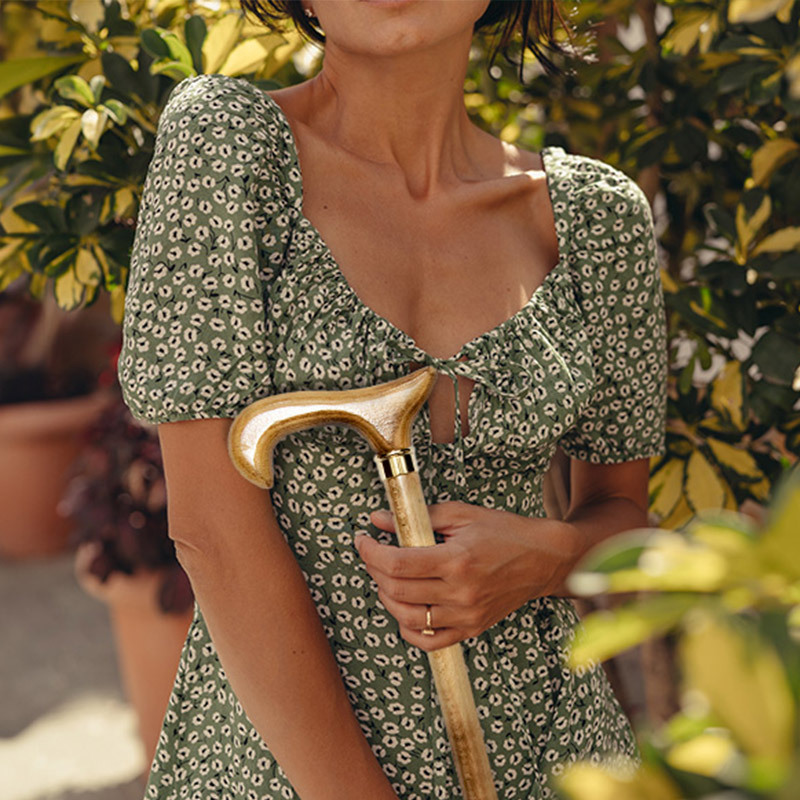 Get back to basics with a beech wood cane that keeps the focus on your dress.
★ Beech is a tough and flexible wooden material that comes up a treat when polished, creating a sleek but natural look
★ The subtle tones of beech wood materials will perfectly complement your dress without stealing away attention
★ Not only are these fantastic canes great for dressing up in your green down, but the perfect choice for daily mobility support
---
Playful Floral Patterns
Our Choice: National Gallery Monet's Water-Lily Pond Derby Adjustable Walking Stick
Unleash your inner fashionista using walking sticks adorned with floral patterns for a look that's fresh-as-a-daisy!
★ Whether you prefer delicate blossoms or tropical plants, floral walking sticks make for whimsical accessories
★ Emphasise the earthy beauty of your green dress with a bold botanical design
★ Let your walking stick bloom with an array of colours that express your unique personal style
---
Burgundy Beauties
Our Choice: Burgundy Melbourne Derby Walking Cane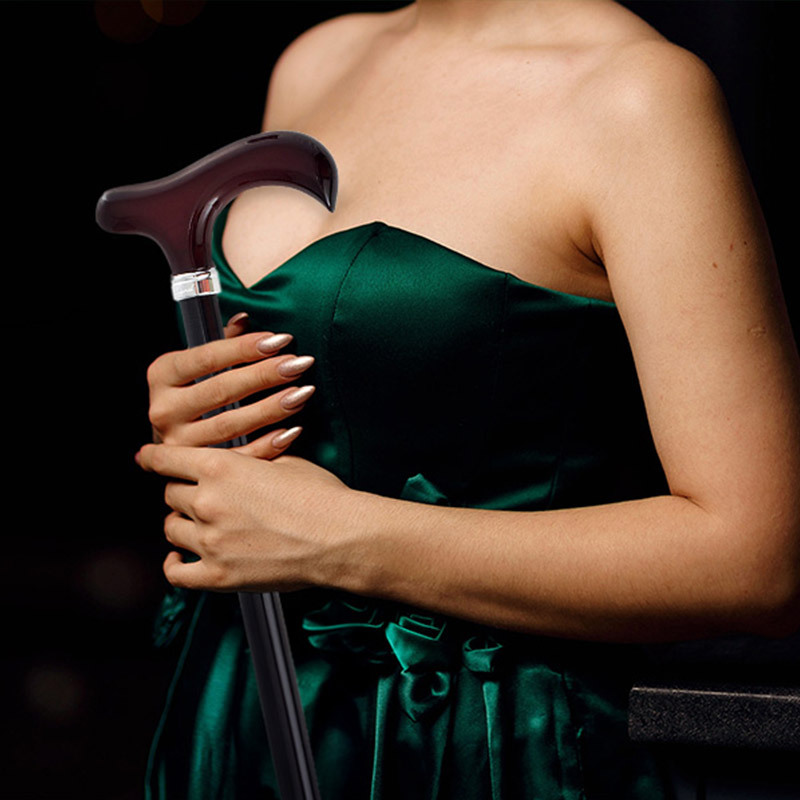 Style your green dress with accessories that provide a touch of luxury and elegance, like a classy burgundy walking stick.
★ A deep and luxurious burgundy colouring can beautifully complement richer green tones
★ Create a captivating and majestic ensemble with a deceptively simple-looking accessory
★ From deep wine tones to rich maroon shades, burgundy walking sticks will elevate your green gown and offer a chic and upmarket look
---
Deep Blue
Our Choice: Blue Melbourne Derby Walking Cane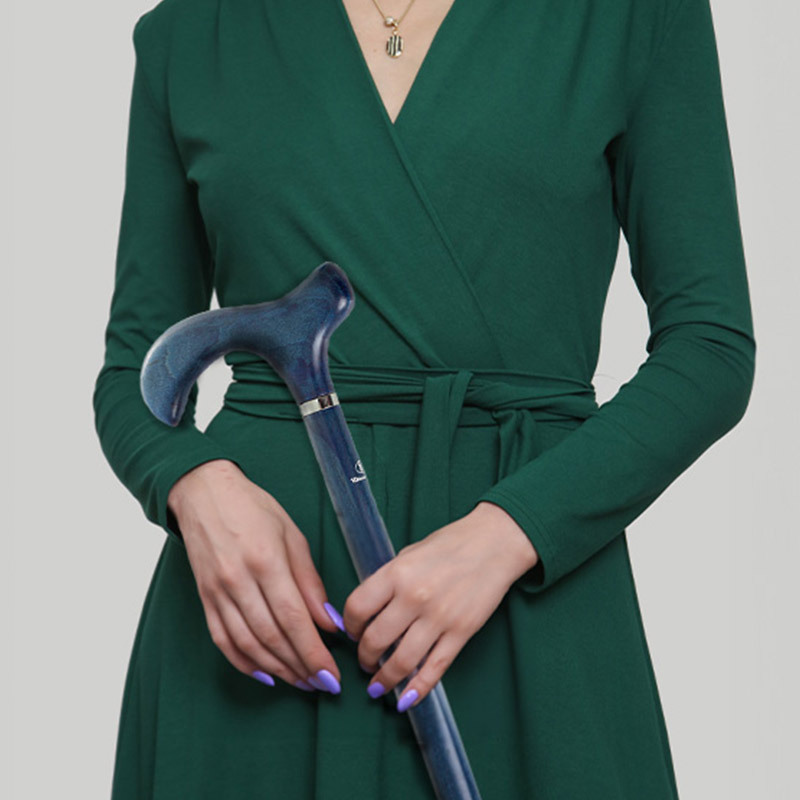 For a classy and distinguished look, select a blue or black walking stick to complement your green dress.
★ These versatile colours are popular for accessories, thanks to their ability to seamlessly bring together various shades
★ Choose from deep blues to sleek black shades and find the perfect walking stick for refining your green dress
★ Prepare to turn heads and feel like the belle of the ball with a blue or black walking stick accessory
---
Purple Passion
Our Choice: Luxury Vibrant Purple Ash Wood Derby Handle Walking Cane with Silver Collar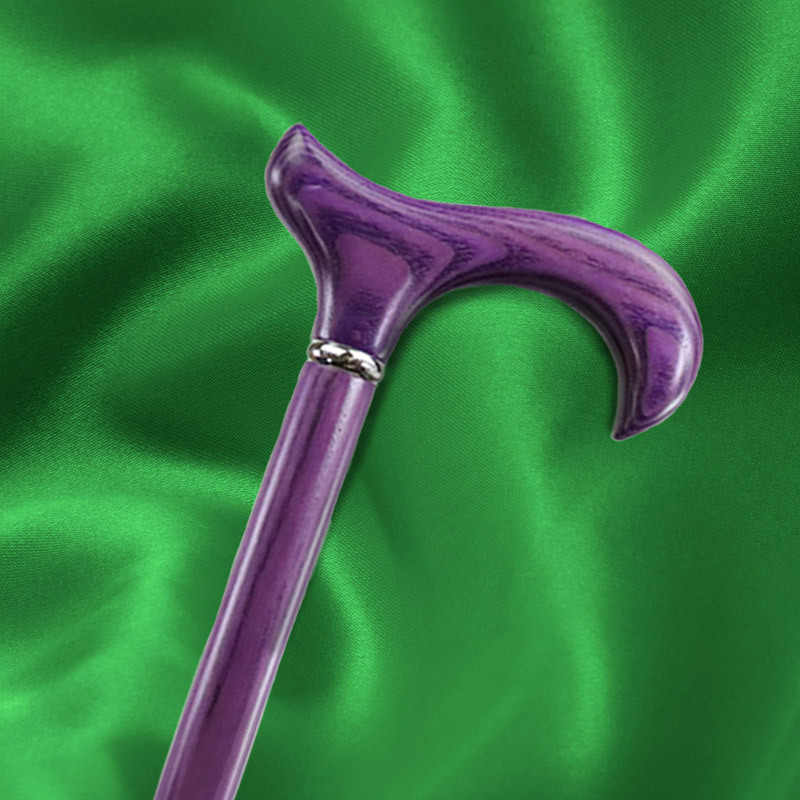 Channel your inner royal with a luxurious and regal purple walking stick.
★ Embrace the majestic allure of purple walking sticks to find a classy and chic accessory for your green dress
★ From deep amethyst shades to vibrant violet tones, purple accessories can be used create an opulent and elegant outfit
★ There are plenty of shades purple to choose from, including softer lavender tones and dazzling metallic hues
---
Rich Red Shades
Our Choice: Ash Red Derby Handle Dress Walking Stick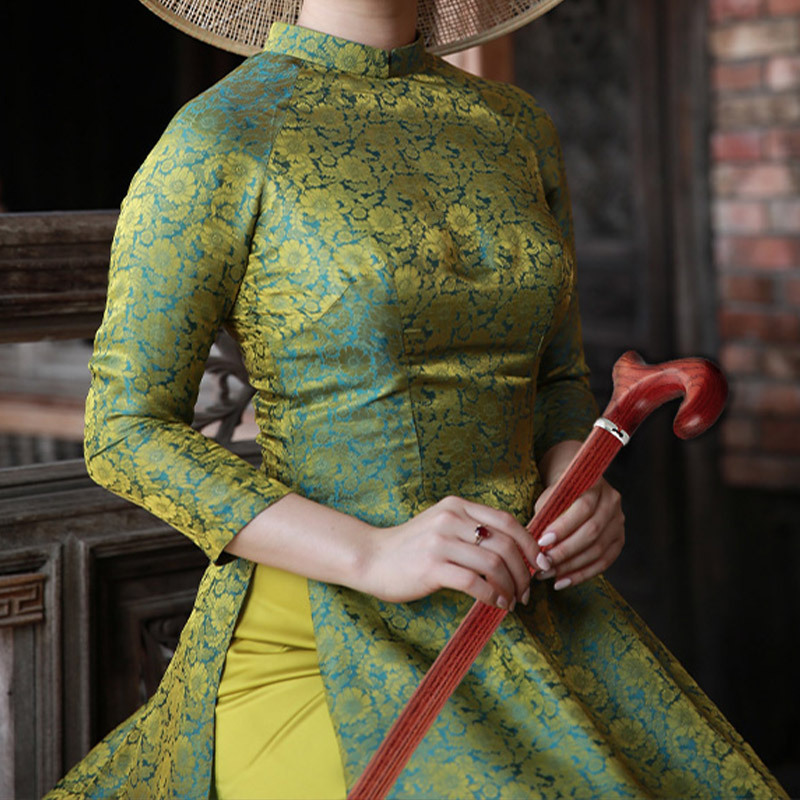 Get ready to paint the town red with a chic and rich coloured walking stick accessory.
★ Green and red are complementary colours, opposite each other on the colour wheel, meaning that these shades look brighter when used together
★ Whether its a brilliant ruby tone or exciting scarlet shade, red is a fiery colour that's sure to help you to stand out
★ Red and green is the perfect festive combo for your next Christmas party!
---
Radiate Confidence
When choosing the perfect walking stick to complement your green dress, remember that fashion isn't just about what we wear, but how we wear it. If you make sure your walking stick accessory expresses your personal style in a way that makes you feel comfortable and confident, you'll be able curate a perfectly chic and uniquely stylish outfit.
If you're ready to embrace the enchanting beauty of an elegant green dress, choose a walking stick accessory for the finishing touches on your fashion-forward and fabulous outfit. If you'd like to see all the colour options we have available, check out our full range of walking sticks.
Do you have any other questions, or something to add? You can leave us your thoughts in the comments section below, or find us on Twitter, Facebook, Instagram and Youtube!