How to Accessorise a Yellow Outfit With a Walking Stick
Yellow is a vibrant and distinctive colour that can be a challenge to pull off, and particularly difficult to accessorise. If you're ready to turn heads and make a bold fashion statement in a chic yellow outfit, whether it's a muted mustard dazzling lemon shade, let us guide you on choosing the perfect walking stick accessory to elevate your look.
Take your style to the next level with these fabulous suggestions. Whether you simply want to feel good in a daring yellow ensemble or you're trying to start the next style trend, we've got plenty of suggestions of accessory shades and designs to help inspire your inner style maven.
What's Included?
---
Neutral Shades
Our Choice: Acrylic Derby Champagne Hardwood Walking Stick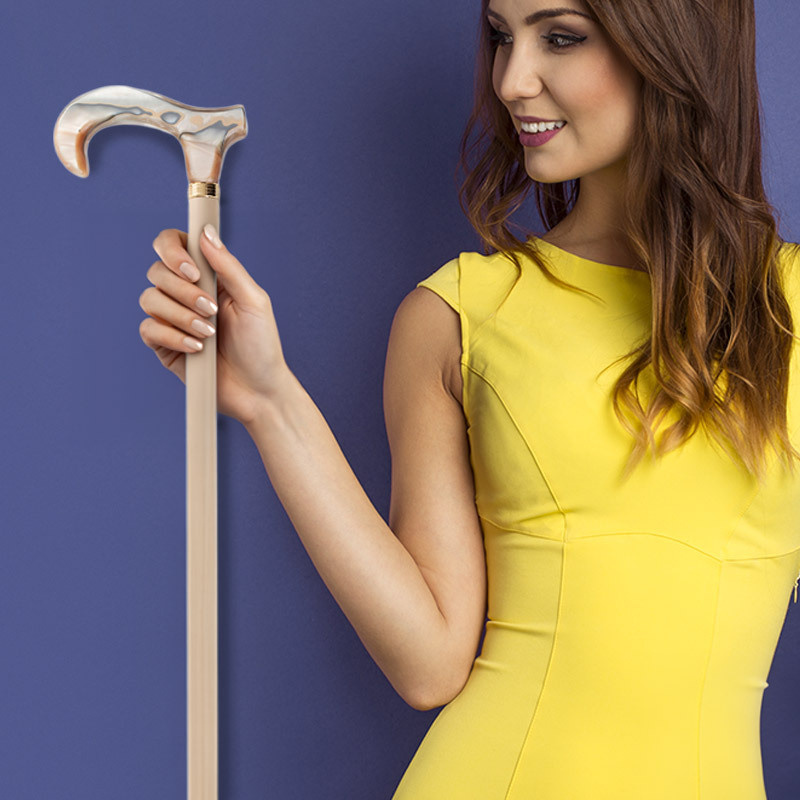 Elevate your yellow dress to new heights with a timeless and sophisticated walking stick accessory. This champagne-shade walking stick, for example, is a great choice to elevate your look while keeping the garment at centre stage.
★ Walking sticks in classic neutral shades like beige or cream offer a muted but still chic look. These understated colours can beautifully complement various shades of yellow, giving your outfit an air of refinery and elegance for more formal occasions
★ With more muted shades of yellow, neutral tones can be used to curate a simplistic and stylish outfit suitable for casual daily wear
---
Metallic Magic
Our Choice: Chrome Derby Handle Walking Stick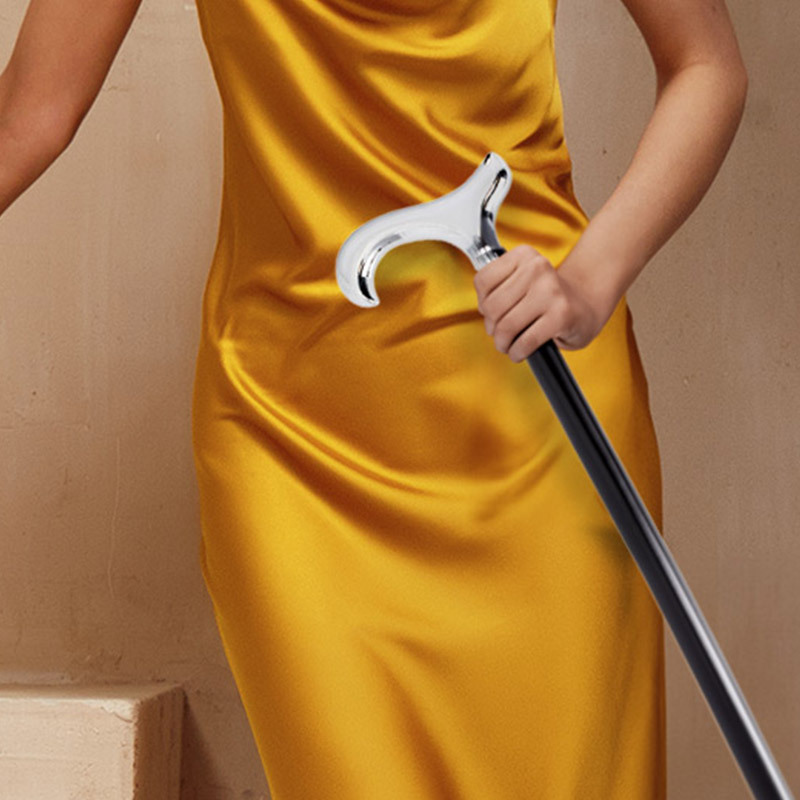 Enchanting metallic walking sticks can make your outfit truly shine. This chrome handle walking stick is a fantastic option for something dazzling that that will complement even the brightest of yellow tones.
★ Gold, silver, and bronze coloured walking sticks can be used to add a touch glamour to your outfit. The subtle shimmer will catch the light and add an eye-catching sparkle to your look that's sure to get heads turning
★ Make a grand entrance to a night filled with compliments on your breath-taking style choices
---
Vibrant Contrasts
Our Choice: Ash Purple Derby Handle Dress Walking Stick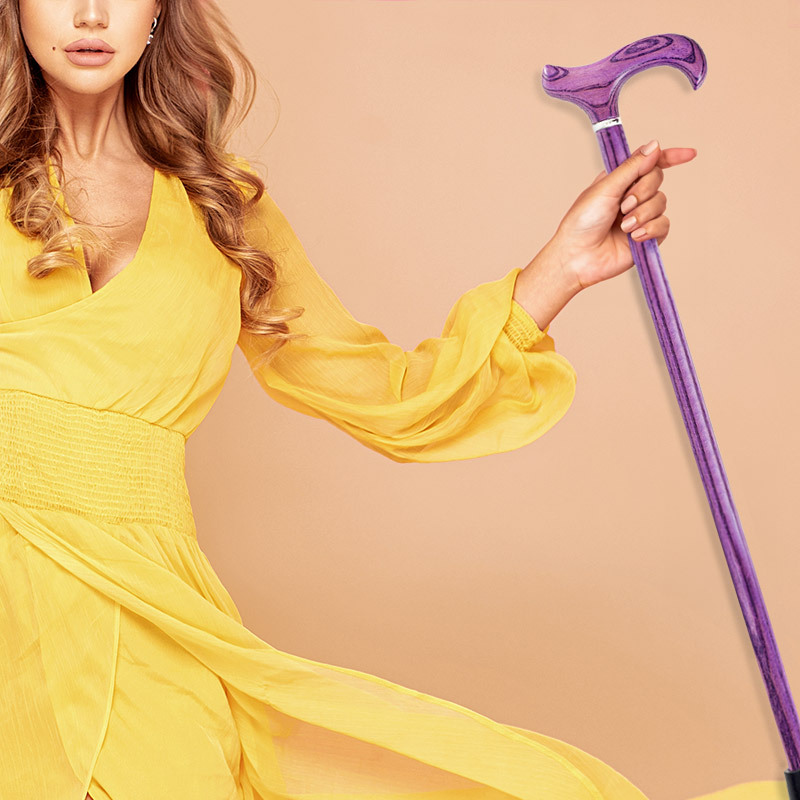 Dare to stand out with a range of vibrant hues that contrast with your outfit, like this ash purple derby handle stick that can be used to complement various striking yellow shades.
★ Explore the world of complementary shades to create a look that's vibrant and distinctive. Purple and yellow are opposite each other on the colour wheel, meaning that when paired together in this way they each make the other appear brighter, and more richly coloured
★ Choose a purple or lavender walking stick to create a sensational contrasting look that makes your outfit truly pop. With this unique colour combination, your sure to make a fearless fashion statement that screams confidence and originality
---
Soft Pastels
Our Choice: Adjustable Aluminium Derby Walking Stick with Dragonflies Design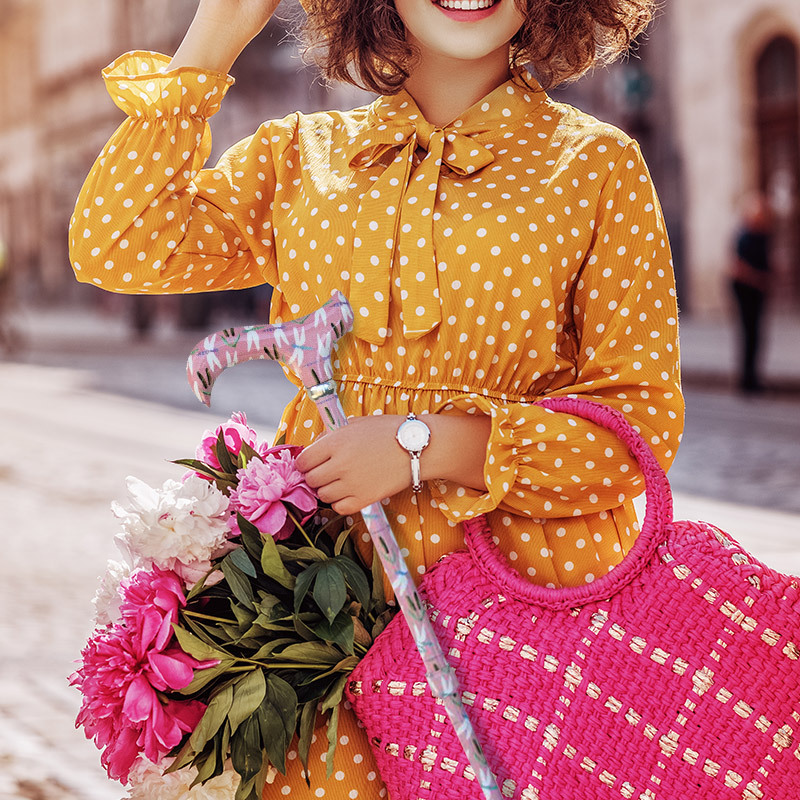 Dreamy pastel walking sticks can help you to embrace your feminine side. With fantastic options like this dainty dragonfly design, you can easily curate a soft and romantic aesthetic for your yellow garment.
★ Delicate shades of blush pink, light blue, or mint green will add a touch of whimsy to your outfit, creating a fun and distinctive overall look
★ Radiate a sunny charm with a selection of unique pastel-shade and yellow colour combinations
---
Playful Patterns
Our Choice: Height-Adjustable Mini Folding Peacock-Patterned Derby Walking Stick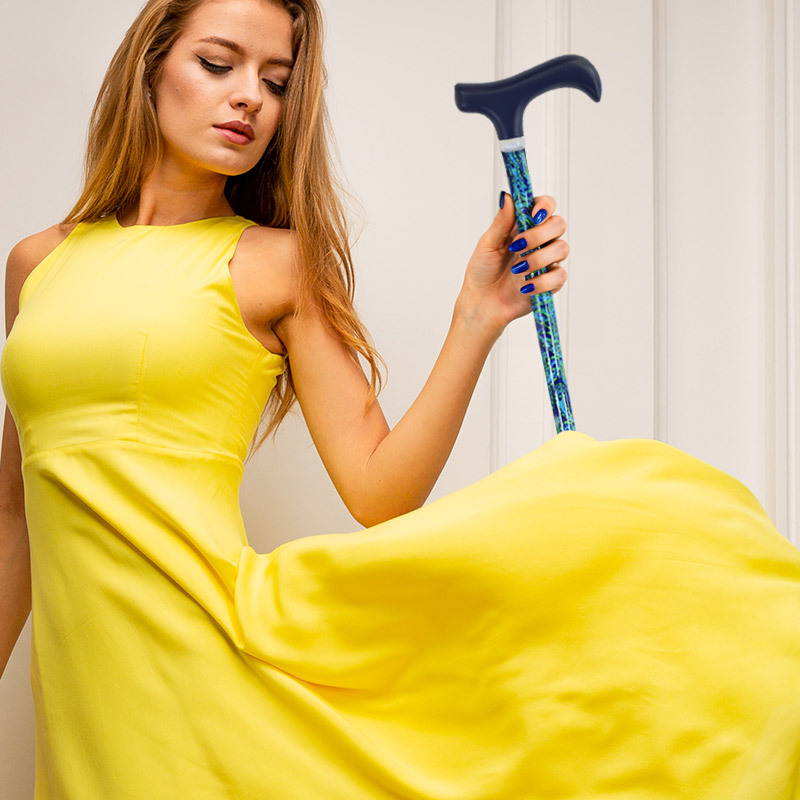 Unleash your inner fashionista with a detailed patterned or printed walking stick. With plenty of shades available, it's easy to find a beautifully decorated walking stick to complement the shades of yellow in your garment. This trendy peacock-patterned walking stick, for example, comes in shades of green and blue that will make your yellow outfit truly pop!
★ Choose a walking stick that looks like a work of art and express your unique sense of style with a pattern that fits perfectly with your aesthetic
★ With an array of patterns and prints to choose from, there's a whole variety of combinations and looks you can create with the same garment
---
Some Parting Advice
Fashion should be fun, especially when your personal style shines through whatever look you're trying to create. While we've offered up plenty of fabulous suggestions, you know your own personal aesthetic and taste better than anyone. Mix and match designs, experiment with different colours, and follow your gut when choosing the perfect walking stick to accessorise your yellow outfit.
Do you have any other questions, or something to add? You can leave us your thoughts in the comments section below, or find us on Twitter, Facebook, Instagram and Youtube!