Best Folding Walking Sticks 2023
When choosing which walking stick is right for you, the most important factors to consider are comfort, support and convenience. Folding sticks can be stowed away in a handbag or glove box for maximum convenience, but you'll still need to decide on your colour, style, and handle.
Whatever your preference, at WalkingSticks.co.uk, we're confident we have the right stick for you. We stock virtually every handle type and style of stick you can imagine, so it's best to have a browse for yourself to see which sticks are for you. With that said, we can help you out by highlighting some of our very best Folding Walking Sticks.

You can't get more convenient than a folding walking stick – simply fold it down to fit in a handbag, backpack or glovebox. This makes them great for keeping on hand to match your outfit, ready to pop out at a moment's notice to complete your look!

Most of our walking sticks can be used by just about anyone, but some are particularly suited in style or shape to men or women. This next selection of folding walking sticks are particularly popular with the ladies in our customer base, and receive rave reviews again and again!

Just as many of our walking sticks are particularly popular with women in our reviews, many are raved about by the men of the walking stick world. Here, we'll provide you with some of the top choices among gentlemen, used for everything from matching an outfit to a night on the town!

Just because a folding stick is convenient doesn't mean it has to bring down your formal look. Our formal folding walking sticks are available in subtle and elegant designs to complement even the most fashionable of outfits.
While walking stick handles are designed to be comfortable to hold for the majority of hands, some people with smaller hands will prefer a smaller size, which often goes along with short adjustable height option. These petite folding walking sticks feature slim designs to fit into the hands of smaller users.

Some of the firmer, more rigid handles can put a lot of strain on the hands and wrists, which is particularly problematic for those with arthritis or weak wrists. Ergonomic handles spread your weight and reduce wrist strain, making them ideal for long hours of use or heavier users.
Why Choose a Folding Cane?
Folding walking sticks are excellent for virtually any environment and activity, as they can be stowed away into a small bag or pouch when not needed. This means that you won't have to carry a burdensome stick around with you for hours on end, and can instead enjoy the use of both of your hands when you need to. Conversely, you can easily pull the stick out and enjoy comfort and support when you start to feel tired.
Some Of Our Favourites Worth Highlighting
HurryCane Folding Walking Stick with Stability Base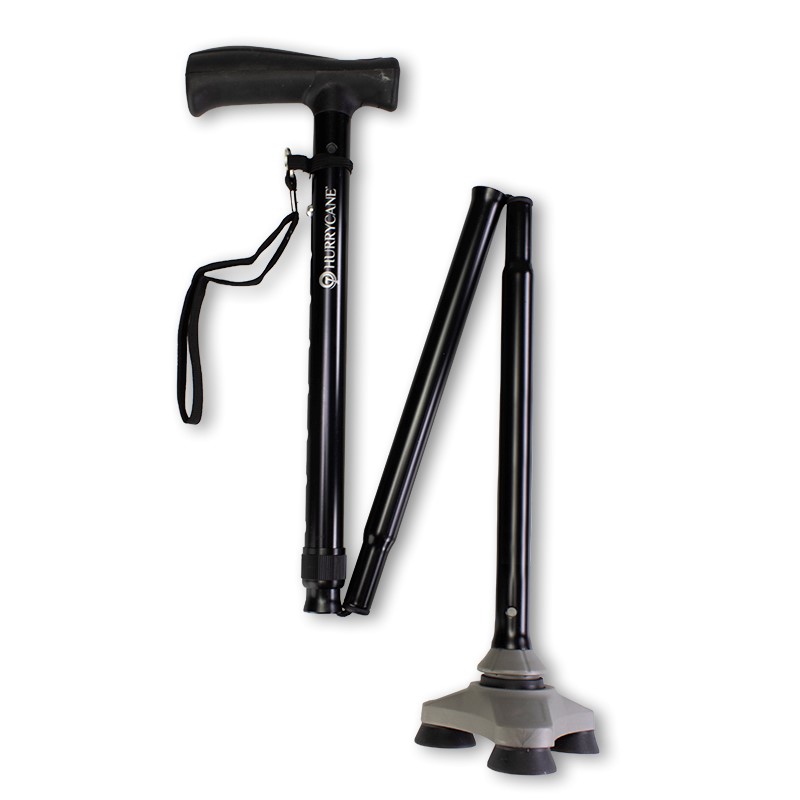 You might think a rigid stick made of solid wood would be the strongest and most stable walking stick you can buy, but in terms of pure stability, it's hard to beat the HurryCane Folding Walking Stick. This best-selling cane provides plenty of confidence with every step with its SteadiGrip base, designed to pivot as you move and provide three points of contact with the ground to prevent slipping on any sort of surface.
Made with a lightweight aluminium shaft and a handle that actually absorbs shock from the ground before it reaches your hand, HurryCane sticks have quickly risen to be some of the most popular canes on the market. The HurryCane is fully adjustable and available in four colours, making it suitable for just about anyone looking for maximum support, comfort and stability.
Key Features: SteadiGrip base for stability; fully adjustable; available in four different colours
---
Height-Adjustable Mini Cartoon Cats Derby Handle Folding Walking Stick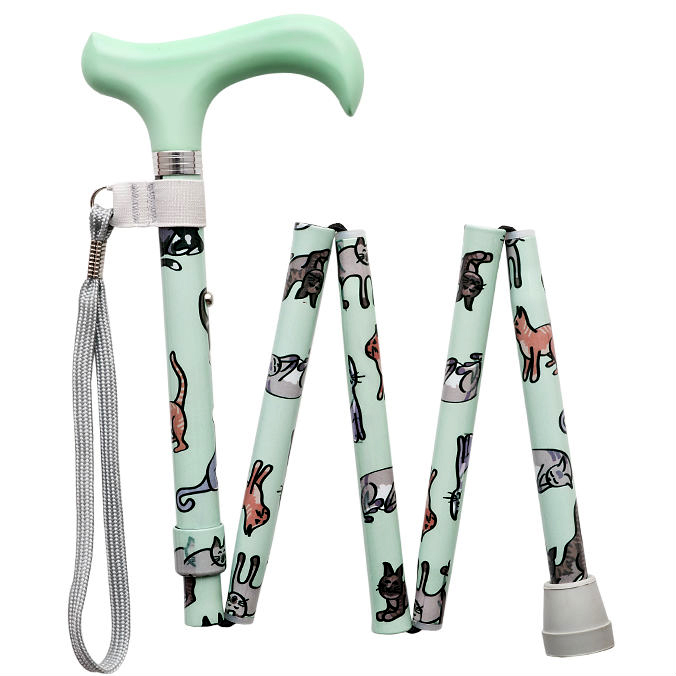 Carrying your walking stick around town is a great way to show off your personality, and for the quirky pet lovers among us, few sticks are more fun than the Mini Cartoon Cats Derby Handle Folding Walking Stick. This stick does what it says on the tin, as it provides comfortable support in the hand, folds away to a compact size, and is covered with cat pictures to remind you of your feline friend.
As with most of our folding walking sticks, this cane is made with lightweight aluminium, making it perfect to stow away in your bag without being cumbersome. The classic Derby handle allows for an easy, low-fatigue grip, and also allows you to hook the stick on the back of a chair or over and arm for added convenience
Key Features: Funky cartoon cat design; lightweight and foldable; comfortable Derby handle
---
Short Height-Adjustable Mini Folding Morris-Patterned Derby Walking Stick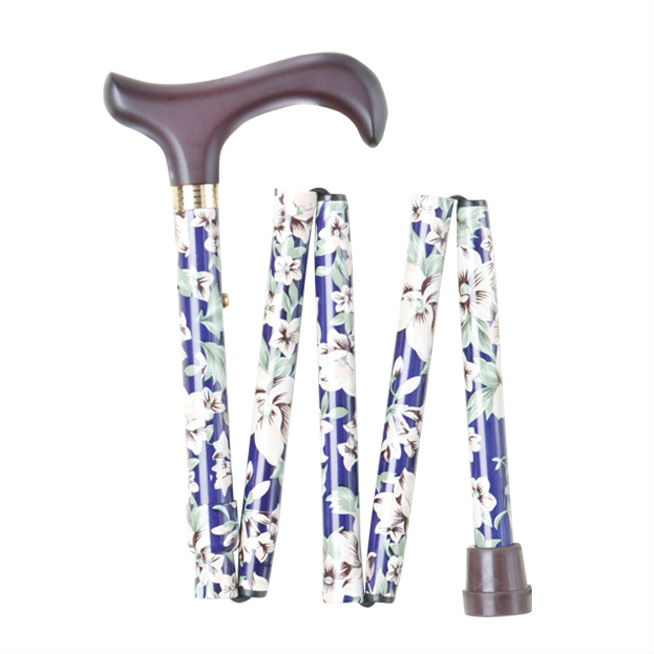 While most of our sticks are adjustable, they won't all be ideal for those of us on the especially short or tall end of the spectrum. For shorter users, a stick like the Short Height-Adjustable Mini Folding Morris-Patterned Derby Walking Stick is a great option as it is adjustable from 28.5" to 32.5" in height, making it suitable for shorter users than an average stick.
This stick also features a particularly eye-catching design, as it combines a smart dark wooden shaft and brass collar with a striking Morris floral pattern, providing an elegant and refined overall look. The rubber ferrule and lightweight designed will provide plenty of grip and comfort on firm terrain, making it perfect for any stroll through town.
Key Features: Short design for smaller users; Morris floral pattern provides refined style
---
Adjustable Folding Matte Bronze Anatomical Walking Stick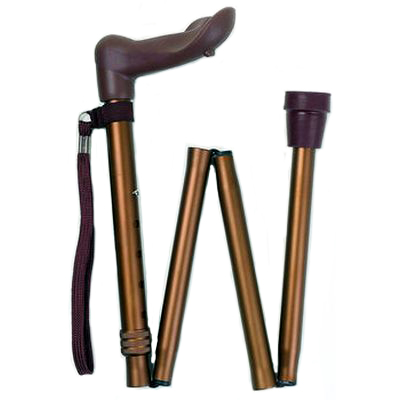 Many walking sticks have handles that require a rigid 90 degree grip, which can cause pain in the hands or wrists of those with arthritis. The Adjustable Folding Matte Bronze Anatomical Walking Stick is made with these people in mind, as it features an anatomical handle that is specially designed to fit into the hand with ease. It is available for either the left or right hand, ensuring you'll have the most comfortable handle possible for your favoured side.
This stick is height adjustable from 32" to 36", and folds into four sections for convenience. It also features a matte bronze design, providing it with an elegant aesthetic without being overly flashy. This design and classy bronze colour add a universal appeal to this stick, making it an ideal choice for those looking for comfortable support with style.
Key Features: Comfortable ergonomic handle, folds into four sections, classy bronze design.
---
Black Crook Trio Folding Seat Stick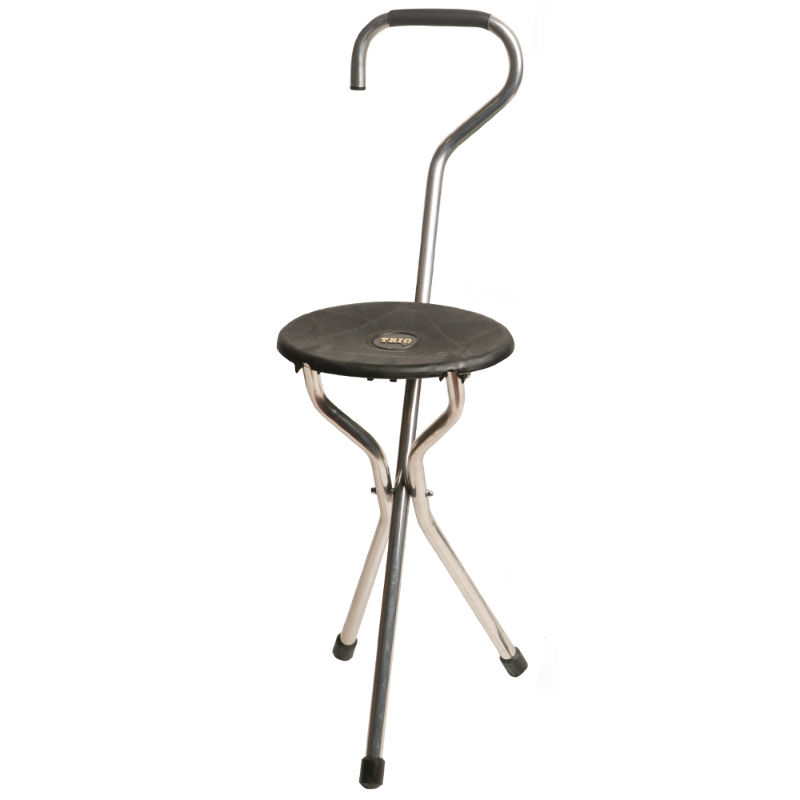 For those times when you just want to take a load off, we've included and handy and compact seat stick on our list. The Black Crook Trio Folding Seat Stick is equipped with three legs, giving it plenty of stability for you to confidently take a rest whenever you feel the need. This stick is also ideal for taking to an outdoor event, working as a supportive stick as you approach, and a comfortable seat once you've arrived.
It folds up compactly, making it easy to toss in the boot of your car, and is even easy to take on a crowded bus or train. No longer will you have to plop down on wet grass or a soaking park bench, as you'll have a dry and comfortable personal seat at your disposal, wherever you go.
Key Features: Folds up compactly, lightweight, comfortable round seat.
---
These are just some of our choices from our huge range of folding walking sticks, but that's not to say they have to be yours as well. At WalkingSticks.co.uk, we stock a wide range of Folding Walking Sticks that we didn't have time to include in this list, all available with free UK delivery on all orders over £40. Why not take a look for yourself, and decide which one is your favourite?
Which folding walking stick is your favourite? Let us know in the comments below, or find us on Twitter and Facebook!