Thursday, 11 March 2021 | Admin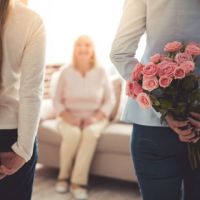 There are plenty of holidays that offer you the chance to surprise your loved ones with clever gifts, but there's only one day a year when your mum is the centre of attention. This year, instead of opting for flowers and chocolates, surprise her with a beautifully crafted walking stick. You know your mum best, but to make shopping a bit easier, we've put together this list of what we think are some of the best walking sticks that might bring a big smile to her face.
Tuesday, 12 January 2021 | Admin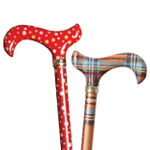 If you like to accessorise with a walking stick, you know that your chosen cane needs to match not only your outfit, but the occasion and time of the year as well. This is why we've come up with this list of some of the Best Walking Sticks for December. Read on to find out which one would look best at Boxing Day races and which one you can bring to Christmas dinner.
Monday, 21 December 2020 | Eugene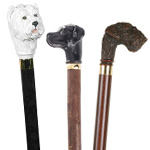 One of our favourite types of stick is the Dog Head Handle Walking Stick, paying homage to man's best friend through an accessory that can go everywhere you can. Whether you use it while out walking your dog, or you want a way to boast about your favourite pet to your friends and family while on the go, these stylish sticks will do the trick. Read on to learn about our favourites.
Saturday, 19 December 2020 | Admin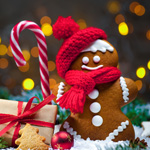 Have you been invited to a very formal Christmas party and are now looking for the perfect outfit that will take everyone's breath away? If you like to accessorise with the help of a fashionable cane, you've come to the right place. Read on to get inspired to find an evening cane that perfectly matches your formal outfit and wonderfully embodies the spirit of the season.
Thursday, 17 December 2020 | Frances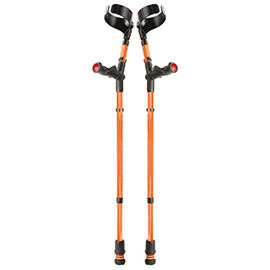 Have you been struggling with your standard crutch? Conventionally designed crutches can cause pain in the wrist and the upper body, and do little to improve safety or stability on certain types of terrains. But thankfully, you don't have to suffer any longer. Find out the solution to your common crutch problems here.
Thursday, 17 December 2020 | Frances
Enjoy unparalleled comfort and stability with innovative walking sticks from Flexyfoot. Offering shock absorption and 50% more grip than standard, they can alleviate upper body discomfort and massively reduce your risk of falls. Discover their range here!
Friday, 4 December 2020 | Admin
One of the most versatile accessories for all those situations is a walking stick that not only offers reliable support on icy grounds, but perfectly complements any outfit as well. Whether you're already using a walking stick and looking to find the right fit for the holiday season, or thinking about getting your very first cane, our list of Christmas Sticks for Christmas 2019 is bound to inspire you.
Thursday, 3 December 2020 | Admin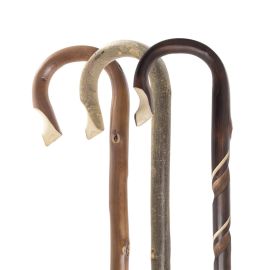 Whether you're putting on a nativity play in your school or local church, you know very well that no costume is complete without a genuine shepherd's crook. If you've spent hours perfecting your character's look, a natural shepherd's crook will add that final touch to make you look as authentic as possible. This short article is here to help you save some time and money searching for just the right country stick to perfect your nativity play costume.
Wednesday, 18 November 2020 | Admin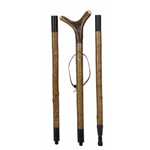 While some spend Christmas cuddling in front of a fireplace, enjoying the feeling of being snowed in, some of us can't wait to get wrapped up in warm clothes, step outside and go for a long walk in the countryside. Whether you use a walking stick throughout the year, or only need an extra hand when the ground gets really slippery, our list of Best Winter Country Sticks is here to inspire you in your search for the perfect hiking companion.
Wednesday, 18 November 2020 | Admin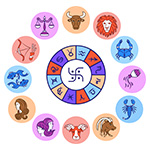 Not sure what to get that special Scorpio or Taurus in your life? Check out our extensive guide on Thoughtful Christmas Gifts by Star Sign to make buying gifts a breeze.