Best Animal Handle Walking Sticks
Walking sticks have frequently shown up in all sorts of fun ways across society, from exciting fictional characters like Gandalf to the on and off screen antics of classic stars like Charlie Chaplin. Walking sticks aren't restricted to the fictional or famous though, as there are plenty of opportunities to incorporate an interesting walking stick into your own life as well.
Whether you're going to a fancy dress party or are just looking for a conversation-starting accessory to carry around, your walking stick options are virtually endless. You could look for a Gandalf-style staff in our Staff Handle Walking Sticks category, or find a more quirky stick in our Novelty Handle Walking Sticks category to scratch your itch for something that really stands out.
Today' we're going to talk about one of our favourite types of novelty walking sticks, the Animal Handle Walking Stick. These include pretty much any animal you can think of, and our range is growing by the day. They provide a unique opportunity to bring the likeness of one of your favourite furry friends along with you for the day, turning heads and adding intrigue wherever you go. Here, we've put together a list of some of our current favourites.
Brown Hare Hardwood Cane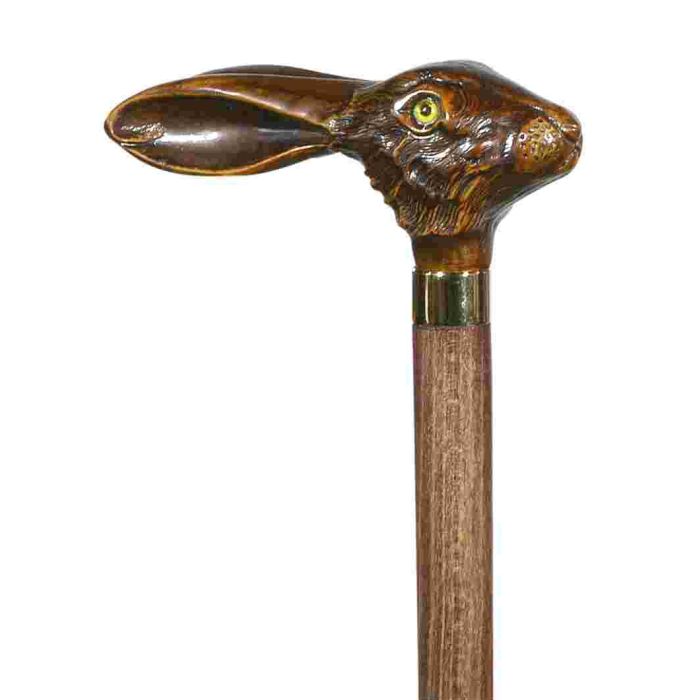 One of the main things we look for in an animal handle walking stick is a design that is true to life, and this stick is a prime example. The Brown Hare Hardwood Cane is ideal for collectors, and features a detailed brown hare's head, mounted on a sturdy and attractive hardwood shaft.
The shades of brown featured in this cane's wood fade from dark to a lighter colour, lending it an especially authentic and realistic look. With a smart metal ferrule and moulded acetate handle, this charming cane will make an excellent accessory at fancy dress parties, or a thoughtful gift for the lover of hares and rabbits in your life.
Key Features: Intriguing and realistic hare's head, makes a great gift.
---
Bronze-Effect Golden Retriever Collectors' Walking Stick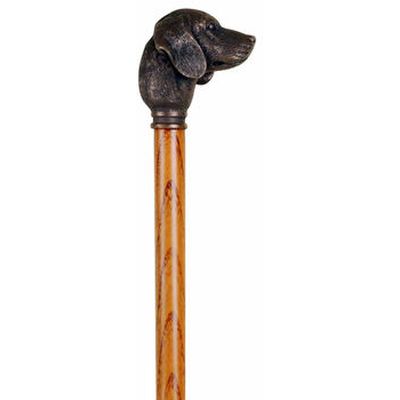 Dogs are commonly known as man's best friend, so it's no wonder they make a popular companion in the form of a walking stick as well. The Bronze-Effect Golden Retriever Collectors' Walking Stick is a fun and attractive stick that is ideal for dog lovers and cane collectors alike.
The moulded resin handle and stylish turned beech shaft combine for an elegant appearance that will fit well into most occasions. You will instantly be the centre of attention with this stick, as the bronze-effect provides a unique touch of class to go with the charming likeness of a friendly golden retriever. These features make this walking stick an excellent gift for any dog lover.
Key Features: Elegant bronze-effect handle, turned stained beech shaft.
---
Imitation Ivory Barn Owl Hardwood Cane
While the trade of actual ivory has long been banned, there are plenty of ways to imitate that attractive white appearance in a more sustainable fashion. The Imitation Ivory Barn Owl Hardwood Cane is a highly detailed, hand painted accessory that depicts a brilliantly white barn comfortably perched on a log.
It is mounted on a durable deep brown hardwood shaft, providing an air of natural beauty to this walking aid. The ivory effect is achieved through the use of a tough resin, allowing for a high level of detail and an extremely elegant appearance. The shaft is fitted with a smart metal collar, and a rubber ferrule, making the cane both pleasing to the eye and functional.
Key Features: Brilliantly white imitation ivory owl, fitted on a hardwood shaft with collar and ferrule.
---
Brown Aviator Duck Cane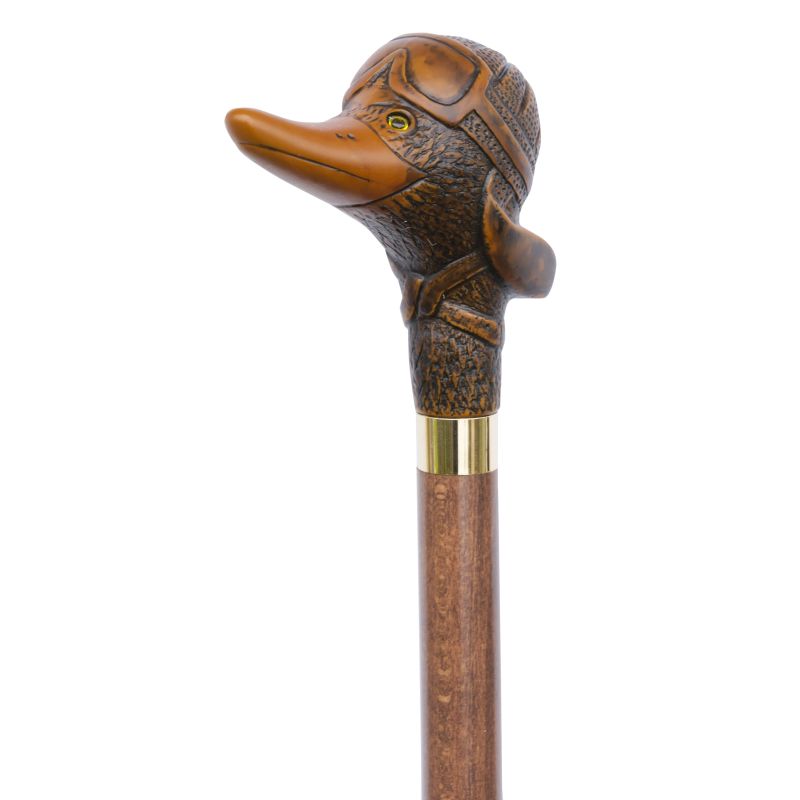 We've saved one of our quirkier canes for last on this list, but that doesn't mean it isn't one of our favourites. Made from sturdy and attractive beech wood, the Brown Aviator Duck Cane features a cleverly designed brown acetate handle with a duck in an aviator helmet and goggles.
Collectors of walking sticks will love this design, as it is truly unique and one-of-a-kind. It is sure to catch the eye of friends or fellow party-goers, and is a great conversation piece to break the ice. Whether used as a gift or an accessory to spruce up your fancy dress costume, the interesting design of this walking stick is sure to be a hit.
Key Features: Unique aviator duck design, sturdy stained beechwood shaft.
---
While these are some of our favourite animal handle walking sticks, there are plenty of other gems that we didn't have time to mention. At WalkingSticks.co.uk, we stock a wide range of Animal Handle Walking Sticks, all available with free UK delivery on all orders over £40. Why not take a look for yourself and decide which one is your favourite?
Have any questions, or something to add? You can contact our Customer Care Team at 020 7501 0591, get in touch via helpdesk@walkingsticks.co.uk, or leave us your thoughts in the comments section below!