How Tall Should Your Walking Stick Be?
Here at WalkingSticks.co.uk, a question we get a lot is "How Tall Should My Walking Stick Be?" With so many different sizes available, making sure you get the right size stick can seen impossible.
If you're concerned about which size is right for you or if you're looking to purchase a stick for someone else and aren't sure what size to get them, you're in the right place. Our step-by-step guide below takes the hassle out of stick shopping, ensuring sure you get the right stick for you or a loved one each and every time.
See Our In-Depth Guide
Watch the video below for a detailed breakdown of how to measure for a walking stick, including some useful tips and FAQs:
---
How to Measure Yourself for a Walking Stick
If you're buying a stick for yourself, it's vital you take one quick and easy measurement before you make a purchase. It's nice and easy, and all you need is a tape measure.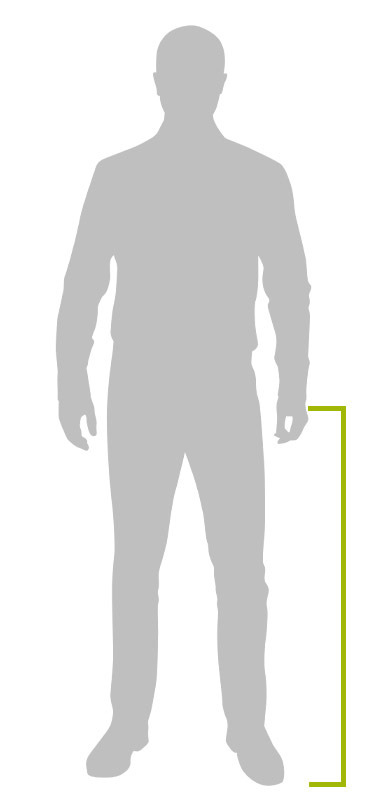 Step One: With shoes on, stand with your arms relaxed by your side. We recommend standing against a flat wall where possible.
Step Two: Using your tape measure, measure the distance from the bony part at the side of your wrist to the floor. See our diagram for clarification.
Expert Sizing Advice
Always measure yourself with shoes on
Stand against a flat wall where possible to make marking easy
If you slouch or are hunched, take the measurement in your natural standing position from where your hand naturally hangs
---
If You're In a Hurry...
The best way to get a great fit is by following our quick and easy sizing guide above and taking a quick and easy measurement. Whilst we strongly recommend this, if you haven't got time, take a look at the recommendations we've put together based on measurements we've taken in our office.
If you're between 150 - 160cm in height, you'll want a stick that is roughly between 29" and 31"
If you're between 160 - 170cm in height, you'll want a stick that is roughly between 32" and 34"
If you're between 170 - 180cm in height, you'll want a stick that is roughly between 35" and 38"
If you're between 180 - 190cm in height, you'll want a stick that is roughly between 39" and 40"
If you're between 190 - 200cm in height, you'll want a stick that is in excess of 41" in height
Why Aren't Recommendations Entirely Accurate?
Taking a measurement is by far the most accurate way of sizing yourself for a walking stick because everybody's arms are different lengths. You and your friend could be the exact same height with entirely different length arms.
This makes quickly measuring the distance between your hand and the floor vital when shopping for a walking stick.
---
What If I'm Buying for Someone Else?
Alternatively, you might be buying a stick for a friend or loved one without knowing which size they need. If this is the case, when you see them next, take a look at them stood next to a table or desk to roughly see where their wrist falls.
You can then measure the distance between this spot and the floor before purchasing your gift! If this isn't possible, we recommend using the rough height based brackets we've laid out above.
---
What If I'm Shopping for a Hiking Stick or Staff?
Shopping for a Hiking Stick, Staff or Stave is slightly different. This is because they're larger and you'll often be walking uphill and downhill when hiking, meaning the position of your hand in relation to your body will be slightly different.
Measuring Yourself for a Hiking Stick
Standing with your arms at your side, measure the distance from your elbow to the floor. Your ideal hiking staff should be around 6 - 8 inches (15 - 20cm) higher than your elbow. If you are walking on steep terrain, a longer stick is recommended, though the beauty of a staff is its ability to be gripped at any point, allowing you to change the functional length for any gradient.
A great example of a simple yet effective hiking staff, the Scorched Chestnut Walking Staff is made from a solid piece of chestnut wood with a flame-scorched finish. The staff features an alpine ferrule which will provide a fantastic grip on nearly all types of outdoor terrain. It is approximately 137cm high.
Hiking Stick Sizing Tips
If you're unsure, hold a broom handle at a variety of different heights to see what feels comfortable
Regularly walking uphill terrain will require a slightly longer staff
Personal preference and comfort are key, however the measuring guide above is a great foundation
---
What Else Is Covered In This Guide?
---
Navigating Our Website
Now you know which stick or staff length is right for you, it's time to get shopping. If you're confused about how to take the next step, never fear.
Take a look below, where we break down how best to quickly access sticks that suit and fit you.
Finding Sticks That Fit You
In each category on our website there is a section on the left hand side that allows you to filter products on the page. Please see the image below for more details.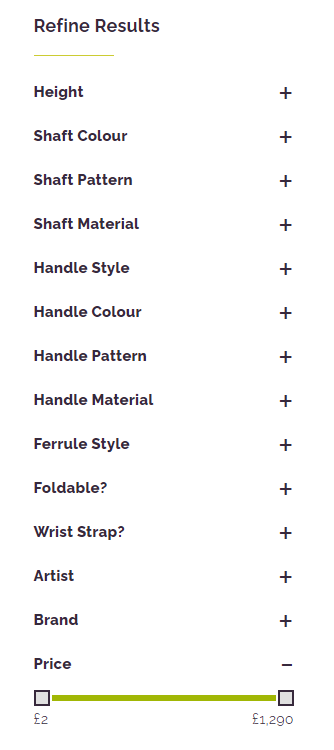 If you click the cross on the right-hand side of the "height" dropdown, you will open a menu that reveals all available heights. Simply tick the box of the height you are looking for and the category will filter itself to show you all the available and relevant sticks, as shown below.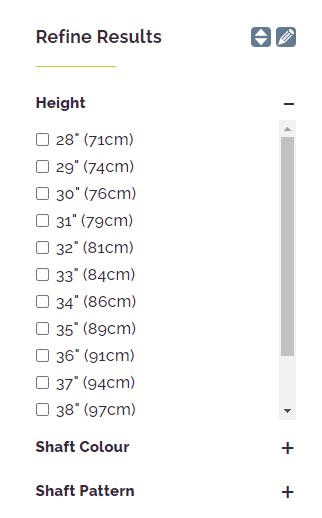 You can even use our refine feature to look for specific stick styles within your specified height!
---
Can Sticks Be Adjusted from the Stated Height?
We offer a wide selection of Height-Adjustable Walking Sticks that are perfect for people that are unsure about how long their walking stick needs to be. These sticks feature a mechanism that allows you to alter the height of your stick, making it a great option for those who are still unsure about which height is right for them.
For sticks that are not specified as adjustable, we recommend choosing a size that matches your measurement. With some wooden sticks, it is possible to cut down the stick if it is too long, but this is not a service we offer and any modifications are done at the owner's risk.
---
Are Sticks Available in Other Heights?
Some sticks on our website allow you to specify the height you want to order. These sticks have a drop-down menu above the "add to basket" with the available lengths listed (see below for an example).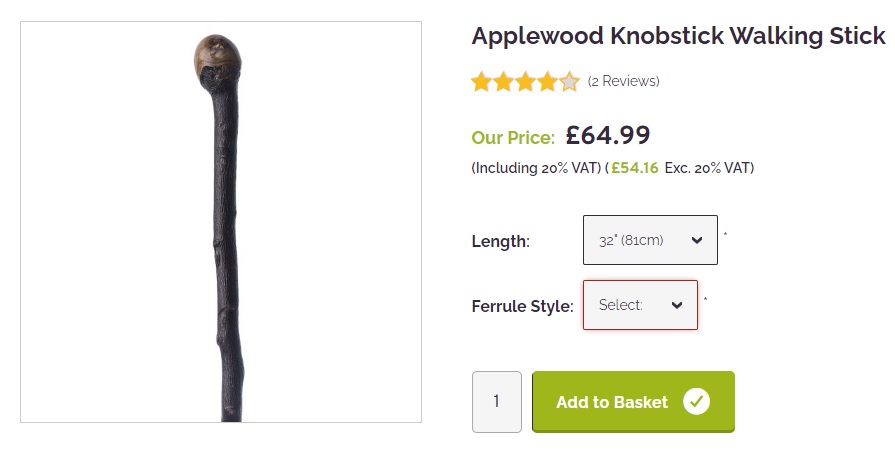 Unfortunately, for sticks without this sizing drop-down, it is not possible to change the height of the stick before placing your order.
---
Does Height Matter When Buying a Crutch or Rollator?
For certain items, such as crutches, it can be difficult to tell whether the height refers to the height of the product altogether or the height of just the handle. To keep things as consistent as possible, we list the heights of the handles, meaning that you can use the information above when shopping for a crutch, rollator or walker.
---
Hopefully, this guide will have made it a lot clearer how to find your perfect height of stick and how to choose a stick of that height. If you still have any questions or concerns, or you have any tips on finding the right stick, please get in touch below or on Twitter.