How to Find the Right Size Ferrule
Friday, 3 December 2021 | Rob
Ferrules are a key feature of any walking stick, cane or crutch. What exactly is a ferrule? Some of you may be asking. Well, a ferrule is the small stopper located at the very bottom of the walking stick that is usually made from either rubber or metal. These stoppers are important because they protect the walking stick from wear and damage. However, this does mean that ferrules tend to get worn and damaged themselves, and will often need replacing.
Finding a replacement ferrule can be tricky, due to the various walking stick sizes that are available. At WalkingSticks.co.uk, we like to make things convenient and easy for our customers. That's why we've created this handy guide on 'How to Find the Right Size Ferrule', to help you find the right replacement as soon as possible.
What is Covered in this Guide?
How to Measure the Ferrule Diameter
If you've bought a walking stick from our site before and are looking to replace the ferrule, it's easy to figure out what size you'll need. Simply visit the product listing for that walking stick and the ferrule diameter should be listed under the 'Key Information' section.
However, if you bought your walking stick from elsewhere or are still unsure about the diameter of your stick, then you will have to measure the diameter yourself. If you are unsure of how to do this, please follow these three easy steps to properly measure the diameter of your walking stick:
Step One: Remove the current ferrule of your walking stick by twisting or pulling.
Step Two: Turn the walking stick to one side so that the circular end is facing towards you.
Step Three: Using a ruler or tape measure, measure the diameter of the stick from one end to the other as seen below.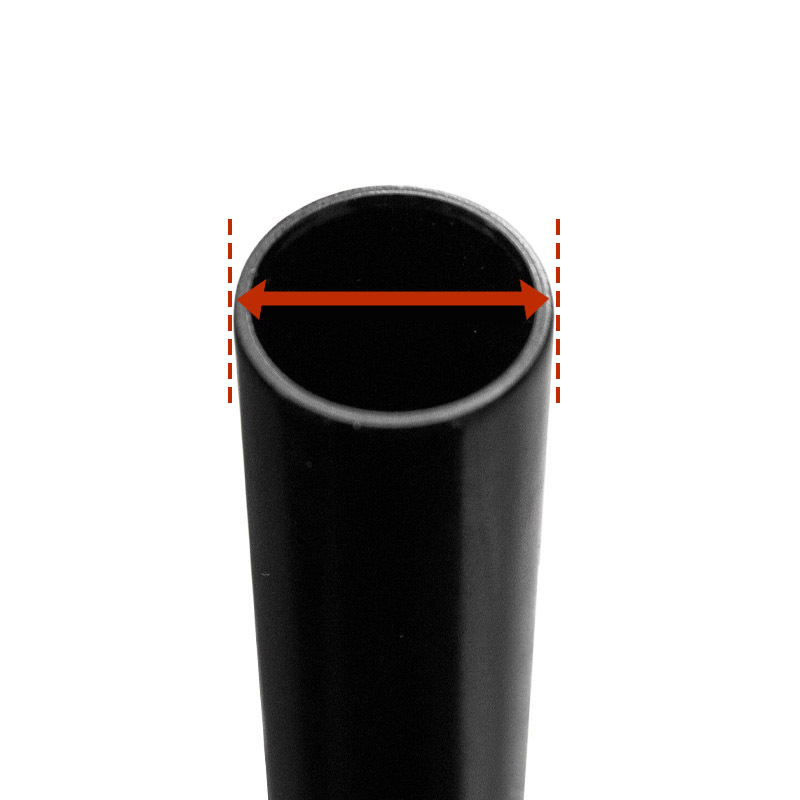 Please note: Some metal ferrules may need to be unscrewed in order to remove.
Refining Searches to Find the Correct Size
Once you've found out which size ferrule you need, the task of finding that size amongst all the clutter can be a bit daunting. Luckily, we've made things simple with our intuitive filter system.
In each category on the left-hand side of the page, there is a menu that allows you to filter specific attributes for the products within that category. Please see the image below for more details.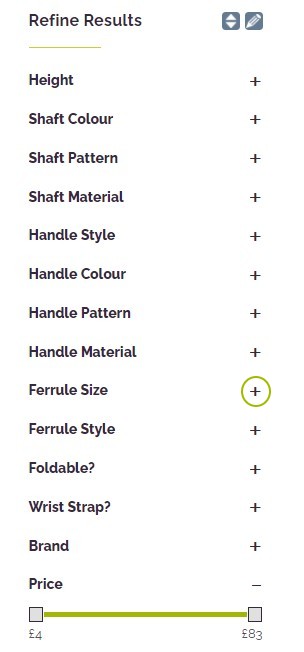 Click the cross to the right-hand side of the 'Ferrule Size' attribute (circled above). This will open a menu with all the ferrule sizes we have available. Simply tick the box of the size you are looking for (example below) and the category will filter to show you the relevant products.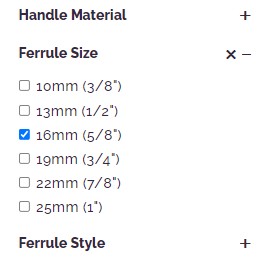 You can also use the refine feature to filter the type of ferrule that you are looking for, helping you to find the best foot for your cane.
Where to Find the Right Ferrule on WalkingStick.co.uk
To streamline our user experience, we've created a category for each available ferrule size on our site. Once you're certain about which size ferrule you need, you can browse the categories below and decide which product is best for you.
What if My Size Isn't Listed Above?
Most cane sizes tend to fall somewhere in between 13mm and 25mm. However, if the exact size you measured isn't listed, there's no need to worry. Simply round your measurement to the nearest size of those listed above and they should still be able to fit snugly on your walking stick.
What Kind of Ferrules Do We Offer?
Not only do we provide affordable replacements, we also offer ferrules that upgrade and enhance the practicality of your walking stick. Our varied range of ferrule upgrades include:
Tripod Ferrules
Quadpod Ferrules
Bendy Ferrules
Spiked Ferrules
Combined Ferrules