Best Blackthorn Walking Sticks
Wednesday, 15 November 2017 | Admin
Blackthorn is a highly sought-after wood. It takes time, dedication and a little bit of luck to grow a perfectly natural blackthorn walking stick, which is why blackthorn walking sticks are rather rare and a bit harder to come by. While here at WalkingSticks.co.uk we do offer a broad range of blackthorn sticks, they are only available in limited supply, and usually require you to order them quite some time in advance.
But good things in life are usually not the easiest to obtain, and a genuine blackthorn walking stick is definitely worth the wait. We've put together this list of some of the best blackthorn walking sticks we have to offer to help you find the right one for you. Please note that most of these suggested walking sticks are pre-order items.
Long Curly Ram's Horn Crook Walking Stick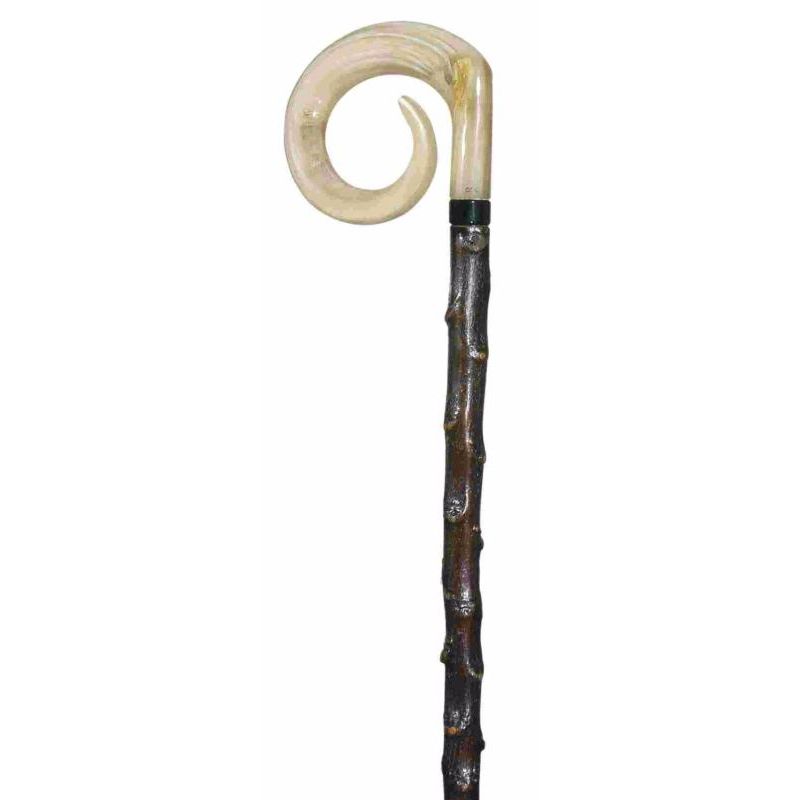 If you're looking for a truly eye-catching cane, the Long Curly Ram's Horn Crook Walking Stick is a gorgeous contender. The stick has been created with a dark blackthorn shaft that is striking against its ivory-coloured handle. Although the cane might look pretty, it's extremely durable and tall, making it ideal for use as a country stick. Feel one with nature with this wooden and horn cane!
This Ram's Horn Walking Stick's shaft is an excellent example of blackthorn. With its rich colour and spiny thorns, the cane has a great deal of character and would look excellent in the country.
Long Blackthorn Coppice Knobstick Country Walking Stick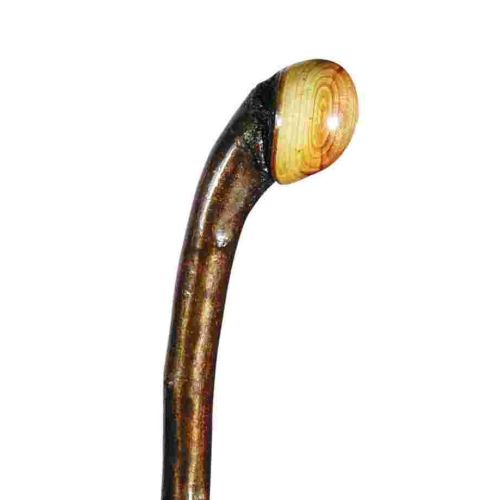 The rustic Long Blackthorn Coppice Knobstick Country Walking Stick is an excellent accessory to any country outfit. Designed with a dark blackthorn shaft and a light blackthorn handle, this stick is perfect for those who love this particular type of wood.
The knobstick is also a one-piece country stick, meaning the shaft and handle have been made from one piece of wood. This Knobstick Walking Stick is perfect for use in the country as a result of its longer height and heavier weight.
Blackthorn and Beech Derby Handle Walking Stick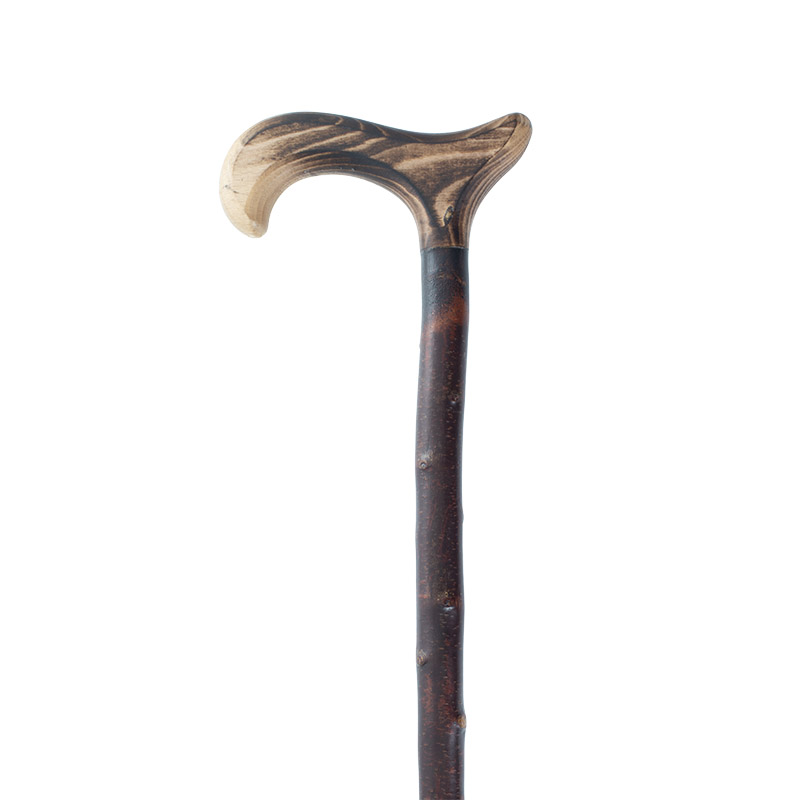 The Blackthorn and Beech Derby Handle Walking Stick combines the natural appearance of blackthorn with the comfort and convenience of beech wood. The natural blackthorn shaft is ideal for anyone looking for a walking stick with a bit of character, while the polished beech wood Derby handle is comfortable to hold.
To match the rich colour of the shaft, the Derby handle has been flame scorched, providing it with attractive appearance, while also improving its longevity. Stylish in design and practical to use, this Blackthorn Derby Walking Stick provides effective use and visual appeal.
Blackthorn Thumbstick Hiking Stick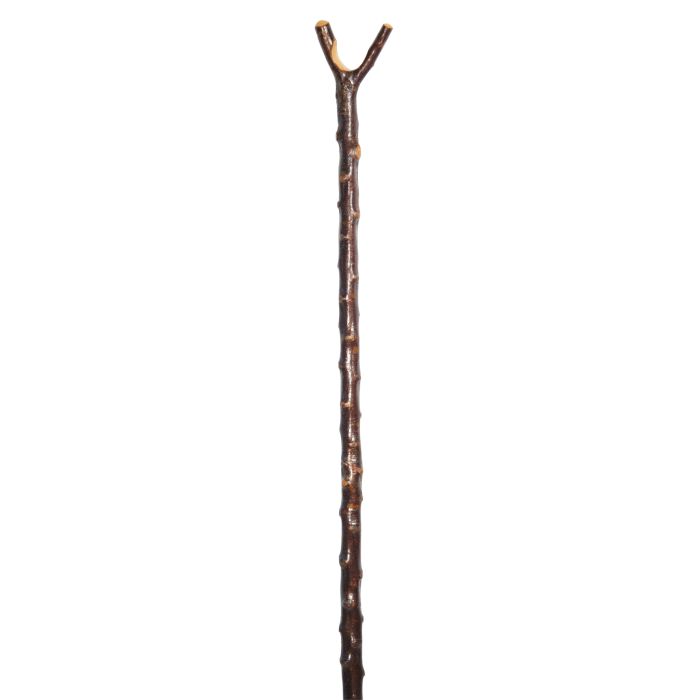 The Blackthorn Thumbstick Hiking Stick is a fantastic conversation starter. The naturally occurring V-shape allows the thumb to rest comfortably in the middle, with the fingers clasped around the stick, providing natural support and balance.
Both the handle and the shaft are made from blackthorn, resulting in a perfectly natural hiking stick of rich colour and characterful appearance. The shaft is fitted with an innovative combi spike ferrule, which makes the stick safe to use both on hard and soft ground.
Blackthorn Wood Pistol Grip Cane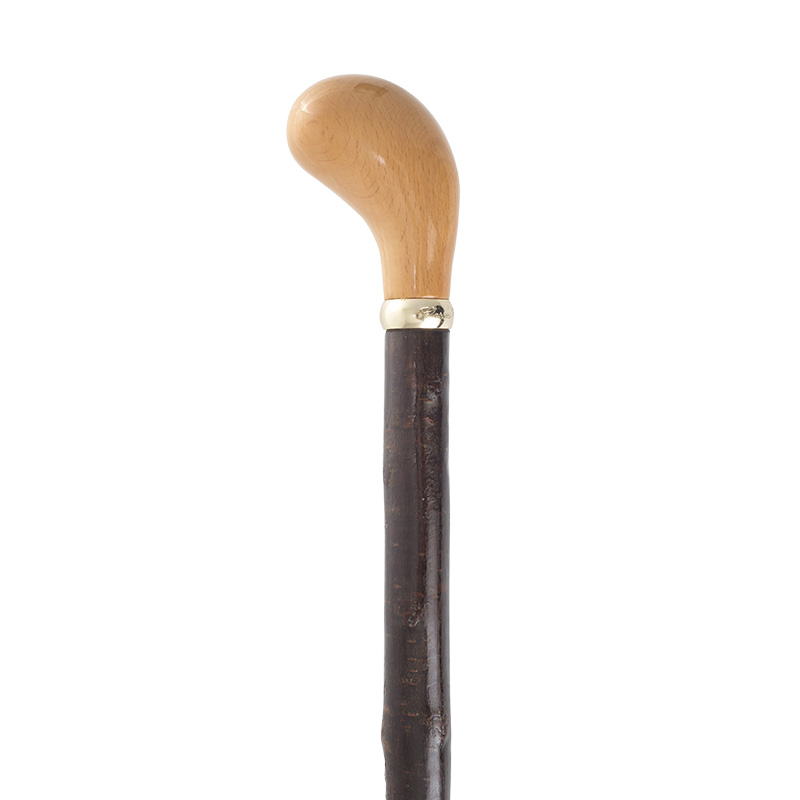 Less rustic in appearance than the previous canes, this Blackthorn Wood Pistol Grip Cane features a light and smooth beech wood handle fitted on a blackthorn shaft. As this stick is made from two starkly different types of wood, it has an eye-catching design.
Like most of these blackthorn sticks, this particular cane is excellent for providing you with additional support on country walks as a result of the wood's strong properties. The pistol grip offset handle is shaped to resemble a pistol butt and is actually highly comfortable and stylish. Owing to its more elegant design, this stick could even be cut down to a normal height and used as a cane for formal events!
Do you have a favourite blackthorn cane or walking stick that we've missed? Let us know in the comments, or find us on Twitter and Facebook!