Best Country Walking Sticks 2023
Walking sticks and canes are often used as fashionable accessories for just about every occasion, but there's much more to them that that. The right walking or hiking stick can be a perfect companion on a long ramble through nature, providing you with the little bit of extra support to help you go longer than you thought you could. After all, on that perfect day out on the trail, what better assistance to have than a stick provided to you by the forest around you?
The best sticks for hiking and rambling aren't always the most fashionable, or the most expensive, but often are more simplistic to help you feel closer to nature and motivate you to explore. At WalkingSticks.co.uk, we love these walking sticks as much as their more flashy brethren, and we've compiled a list of some of our Best Country Walking Sticks to help you narrow down your decision. Whether your looking for support, function or just the right natural look, we've got a stick that'll meet your needs.
Best Natural Country Walking Sticks
Best Lightweight Trekking Poles for Country Walks
Some Country Walking Sticks Worth Highlighting...
Chestnut Thumbstick Hiking Stick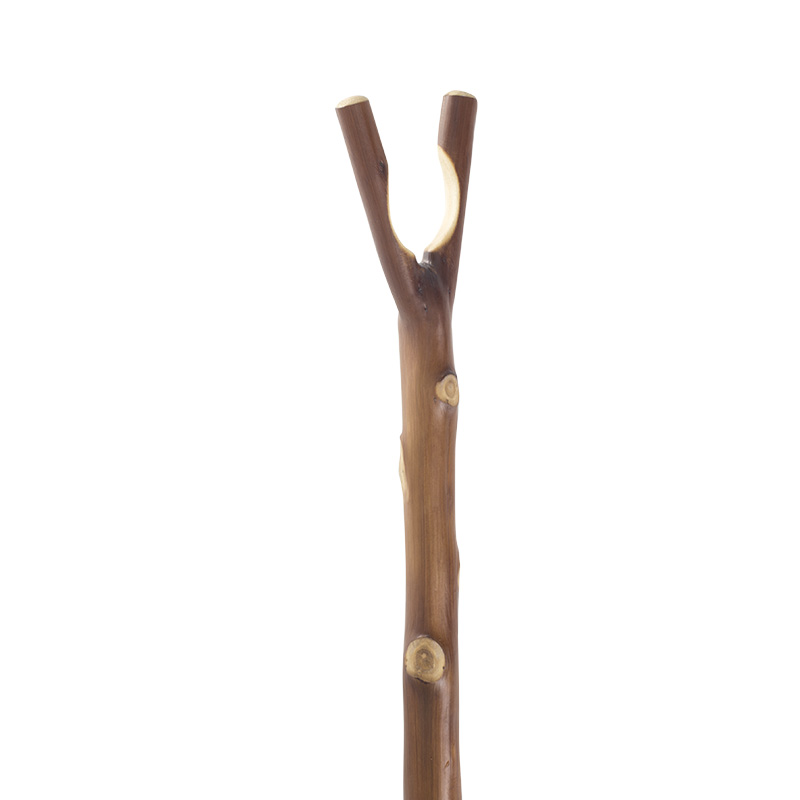 A great place to start on any list of country walking sticks is the thumbstick, as it is barely changed from the form it grows in. The Chestnut Thumbstick Hiking Stick is naturally grown in its current shape, forming a natural "V" to provide a comfortable and convenient grip.
A small carved area is included in the natural shape, making it easy to grip during long walks. The stick is grown from coppiced chestnut wood, known for its strength and durability, making it highly supportive and reliable. With a combi ferrule affixed to the bottom, this stick is ideal for walking on virtually any surface out there.
Key Features: Grown in a natural thumbstick shape, durable chestnut wood, combi ferrule for all surfaces
---
Stout Hazel Coppice Knobstick Walking Stick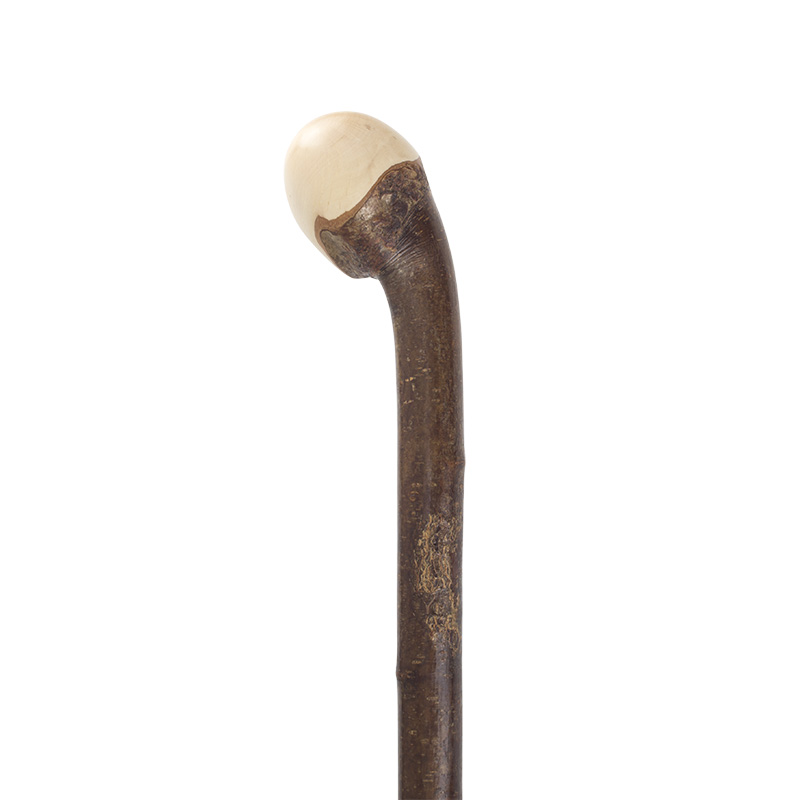 Since you'll likely be getting out to the most wild and demanding terrain with these sticks, it's only natural that the next on our list is one of the toughest around. The Stout Hazel Coppice Knobstick Walking Stick is another example of the natural coppicing method of walking stick making, produced from a beautiful example of sturdy hazel wood.
Stout in both name and nature, this stick is thicker than the typical walking stick, making it ideal for tough environments or larger users. It features a charming combination of a smooth, polished knobstick handle combined with a rough and rugged shaft, providing an easy grip with an appearance that is as natural as the world around you. With a metal ferrule, this stick will get you through any obstacle including hills, mud or brambles.
Key Features: Hazel wood with a rustic appearance, sturdy and tough, metal ferrule
---
Antler Thumbstick Handle Walking Stick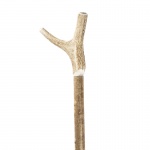 While all of our other handles so far owe their appearance and shape to the trees, this one has the animal kingdom to thank as well. The Antler Thumbstick Handle Walking Stick is topped with a deer antler handle, which is sourced harm-free every year after the deer population naturally shed their antlers.
The shaft of this characterful walking stick is made from light brown hazel wood that perfectly matches the natural V-shaped handle. With an usual and eye-catching appearance, this stick will seem right at home in the heart of the forest, helping you over obstacles with a solid grip and plenty of support.
Key Features: Eye-catching antler handle, light wood grain, rugged metal ferrule
---
Junior Hiker Children's Hiking Stick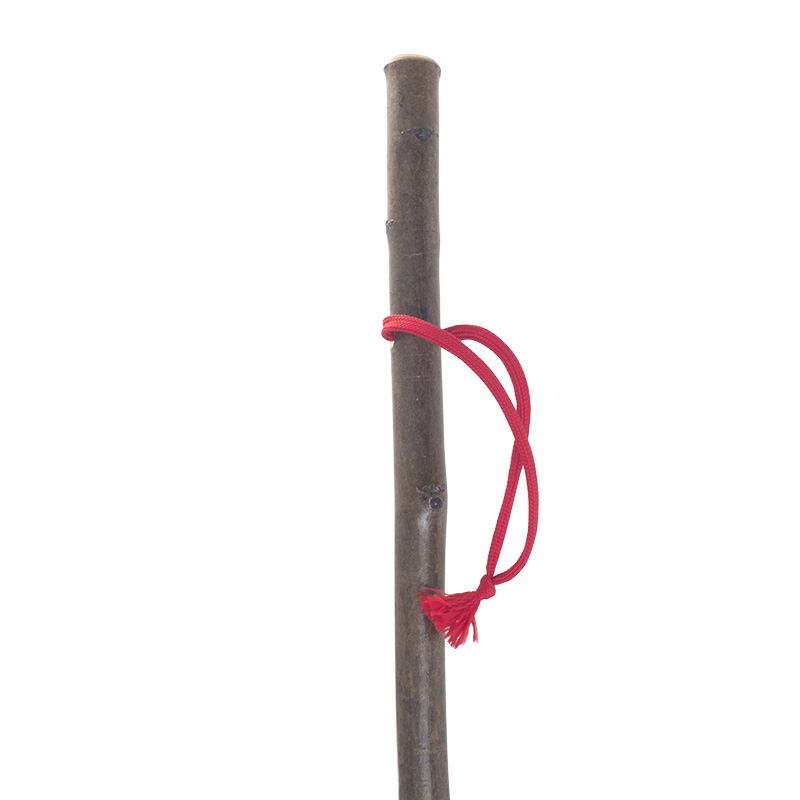 Hiking sticks aren't just for adults, and a well-made walking stick is a great way to encourage kids to fall in love with hiking. A big step up from a stick they can find along the journey, the Junior Hiker Children's Hiking Stick is made with dark treated wood to feel great in the hand without being too heavy.
This stick has a sturdy rubber ferrule to provide grip on any sort of terrain, and includes a bright red wrist loop to complete the look. With a fairly short length of 96cm, this stick is a perfect length for the young hiker looking for the perfect accessory for any adventure.
Key Features: Made with sturdy dark treated wood, natural look with rubber ferrule and red wrist strap
---
Tan Leather Adjustable Shooting Seat with Black Shaft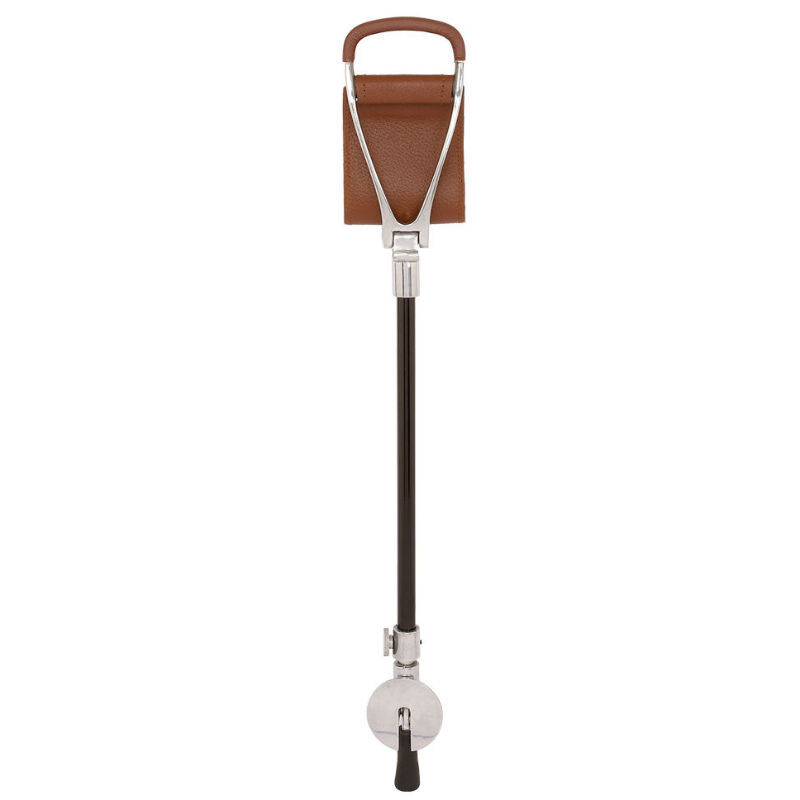 We thought we'd change things up a little to finish our list, with a more modern and functional stick with all kinds of uses. The Tan Leather Adjustable Shooting Seat with Black Shaft is ideal for long walks or outdoor events, and features a comfortable leather seat to allow you to take a load off when you need to.
The unique seat atop this stick folds away to act as a comfortable handle on your walk, unfolding in seconds to give you a dry and soft seat, anywhere you go. Perfect for the English countryside, this stick is fitted with a plate and spiked ferrule, providing support and stability in the soft ground. This is particularly useful when using the stick as a seat, as it prevents the base from slipping to provide stable and comfortable seating.
Key Features: Stainless steel frame, built in leather seat, plate and spiked ferrule for ultimate stability
---
Now that we've gone through some of our favourite country walking sticks, it's time to decide for yourself. Are you looking for something that looks as though it has fallen straight off a tree, or are you looking for something more unique or versatile instead? While these are some of our favourites, you may have different taste, in which case you might want to check out our full range of Country Walking Sticks yourself (all with free UK delivery on orders over £40).
What's your favourite type of country walking stick, or what's a feature you'd like to see more of? Let us know in the comments, or find us on Twitter and Facebook!