Best Walking Stick Handles
Monday, 5 July 2021 | Eugene
When making your choice of walking stick, style is always going to be a primary factor to consider, but comfort and usability should also be at the forefront of your mind. Your hands may be gripping this support for long hours of the day, so the last thing you want is a handle that will become uncomfortable or difficult to hold after an extended period of use.
With so many types of handle out there, how are you to make the correct decision? Between Derby handles, crutch handles, crook handles and more, it can be extremely difficult to determine which will fit best into the hand, and which will suit your lifestyle and needs. At WalkingSticks.co.uk, we consider ourselves the top authority on all things walking stick-related, and we're here to help. We've put together a list of five of our favourite walking stick handles to make your decision a little easier, along with an example of a stick with each handle.
The Derby Handle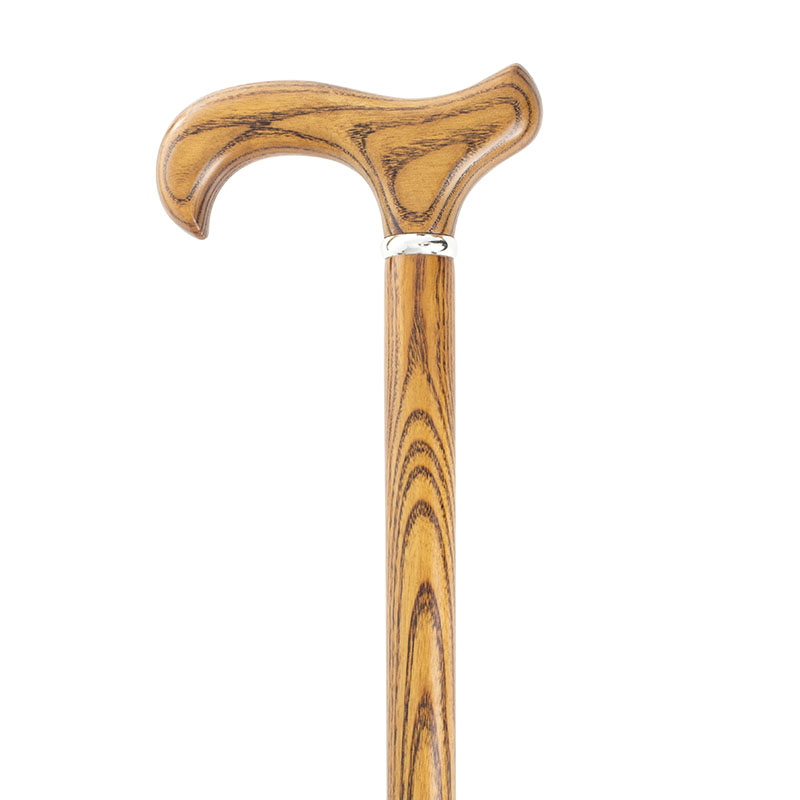 We begin our list with the Derby handle, one of the most popular walking stick handles around, and for good reason. The Derby handle was the invention of Lord Derby, who wanted a walking stick that would be highly supportive and could also be hooked over his arm when not needed. The result was this classic handle, combining elegance and convenience into one versatile walking aid. The curvature of the handle isn't only useful for hanging either, as it perfectly accommodates most hands to provide a secure and effortless hold that helps to stave off fatigue.
The Ash Brown Handle Dress Walking Stick is an excellent example of the subtle and impressive design of this handle, exuding an air of elegance that is attractive without becoming intrusive. A natural wood grain allows the stick to fit into any sort of environment, whether rustic or more formal. The support is made from two sections of an ash tree, providing excellent longevity, support and reliability along with a stylish look. Click here to view our entire range of Derby Handle Walking Sticks.
Key Features: Stylish and elegant, can be hooked over arm.
The Ergonomic Handle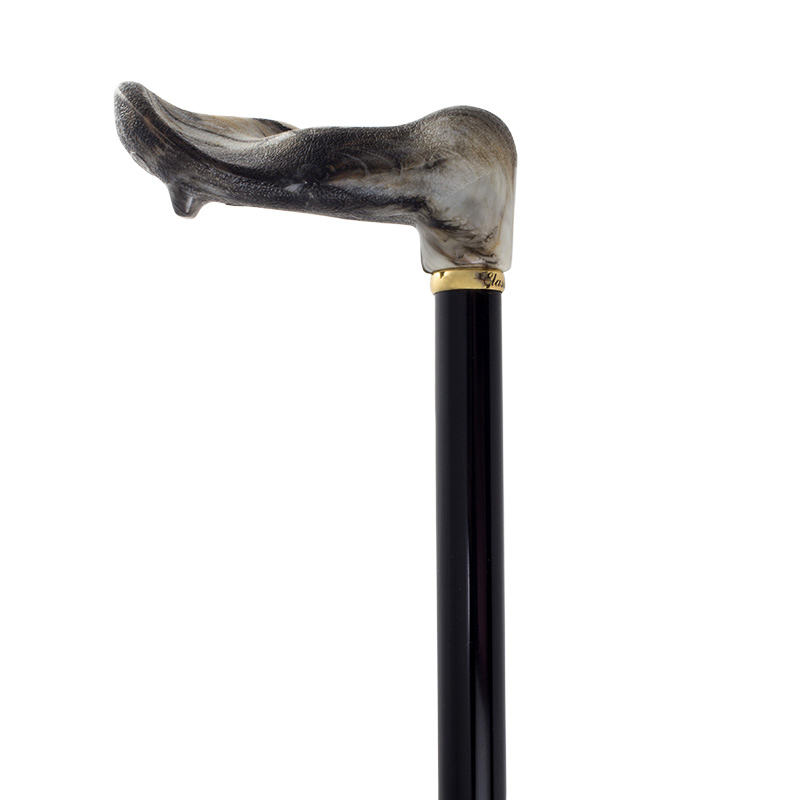 While most walking stick handles are designed primarily for style, the ergonomic handle is all about comfort and support. Ergonomic handles are designed with the shape of the human hand as the primary inspiration, and are often moulded separately for either the left or right hand. This allows these handles to feel better in the hand than others, fitting the grooves and contours of the palm and fingers with perfection. This handle type is also ideal for those with arthritis or pain in the hands and wrist.
A perfect example of an ergonomic handle on a stylish stick, the Right-Handed Moulded Orthopaedic Walking Cane shines in all departments. Fitting equally well into a formal dining event or a casual walk in the park, this Fischer handle stick is made with a striking marbled effect, as well as a brass collar for a more refined look. The Fischer handle is perhaps the most comfortable available, as it completely removes stress from the fingers and provides a healthy angle for the wrist. Click here to browse our entire range of Ergonomic Handle Walking Sticks.
Key Features: Fits perfectly into the hand, ideal for those with arthritis.

The Crook Handle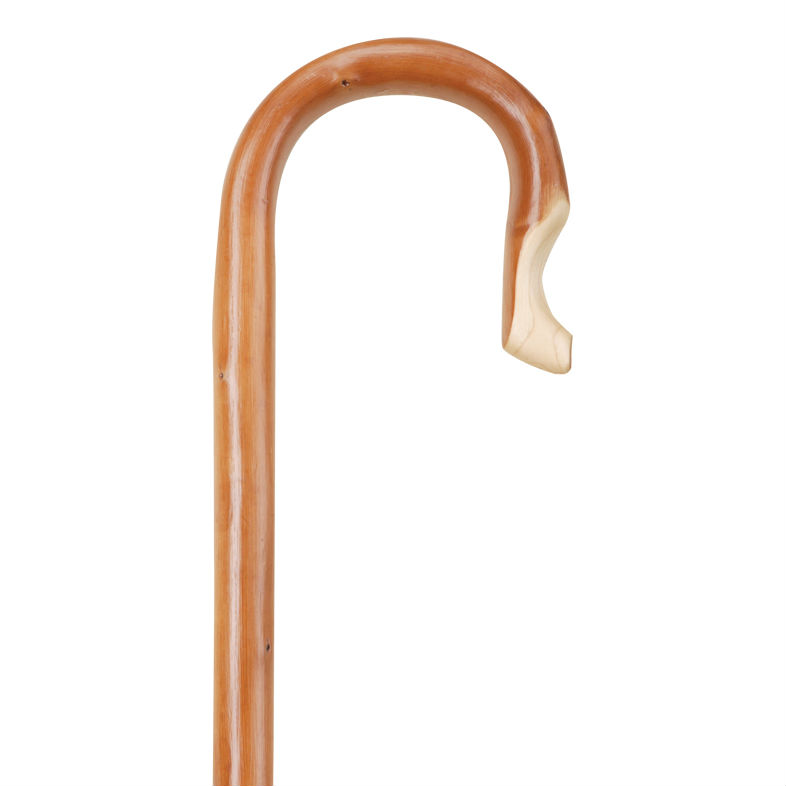 One of the oldest and most well-known designs around, the crook handle has been made with functionality and convenience in mind. Originally, the crook handle was made for shepherds, who would use the curved handle of the stick to wrangle sheep and other livestock. The shape of the handle would allow them to easily pull the animal back into their position without having to bend over or strain, a convenience that was much appreciated after long hours in the field. Now this handle provides convenience to any who need it, as it is easy to hook over an arm or table edge when not needed.
The Chestnut Shepherd's Crook Walking Stick is a refined example of the crook handle in action, made with robust varnished chestnut wood for a stylish appearance. It is lightweight and smooth, providing a great feel in the hand without being burdensome for use throughout the day. Whether you're using this stick while walking about town or relaxing with it hooked over the arm of your chair, this stick will blend into your activity in an aesthetically pleasing and functional manner. Click here to browse our entire range of Crook Handle Walking Sticks.
Key Features: Hooks over your arm or the side of a table, great for walks in the country.
The Staff Handle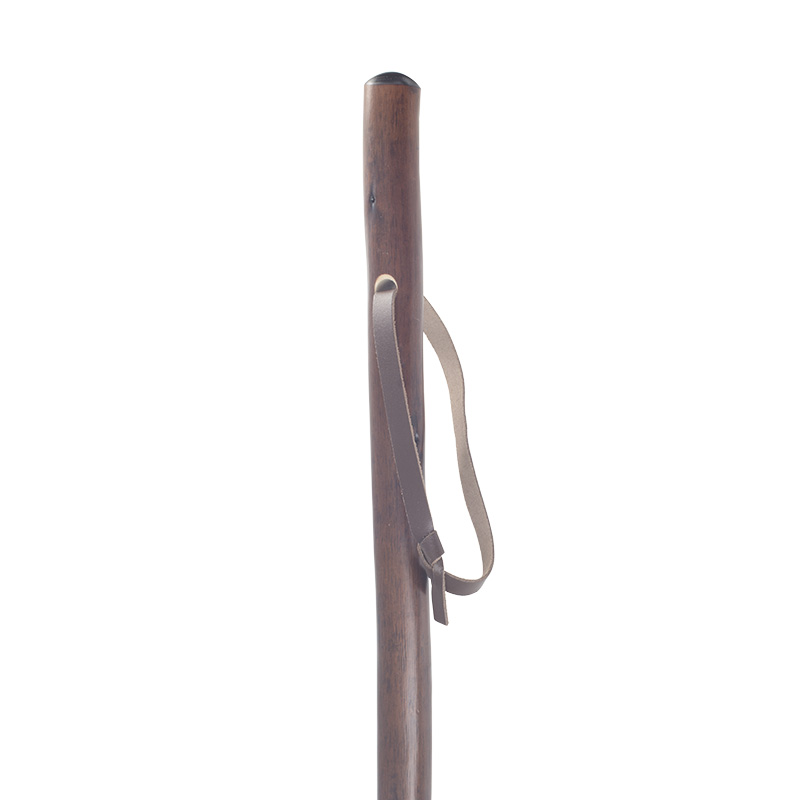 A lot of thought goes into the design and construction of our walking sticks, but sometimes it's hard to beat simplicity. Staff handle walking sticks provide the rugged appeal of nature while still providing plenty of support, making them perfect for hiking or walks outdoors. Reminiscent of pop culture characters like Gandalf from the Lord of the Rings, the staff handle exudes and air of confidence and wonder, allowing your mind to run wild as you hike through new and exciting terrain.
One of our favourite staff handle walking sticks is the Chestnut Hiker Stick with Plain Ferrule. It features a natural wooden look with its striking chestnut construction, but manages to refine that look with a dark varnished finish. With a brown leather strap, all aspects of this stick are rugged and visually appealing and reminiscent of a day on the trail. This stick has also been made from wood from sustainable forests, allowing you to enjoy nature guilt-free. To view our full range of staff handle walking sticks, click here.
Key Features: Classic and rugged look, great for hikes and the outdoors.
The Novelty Handle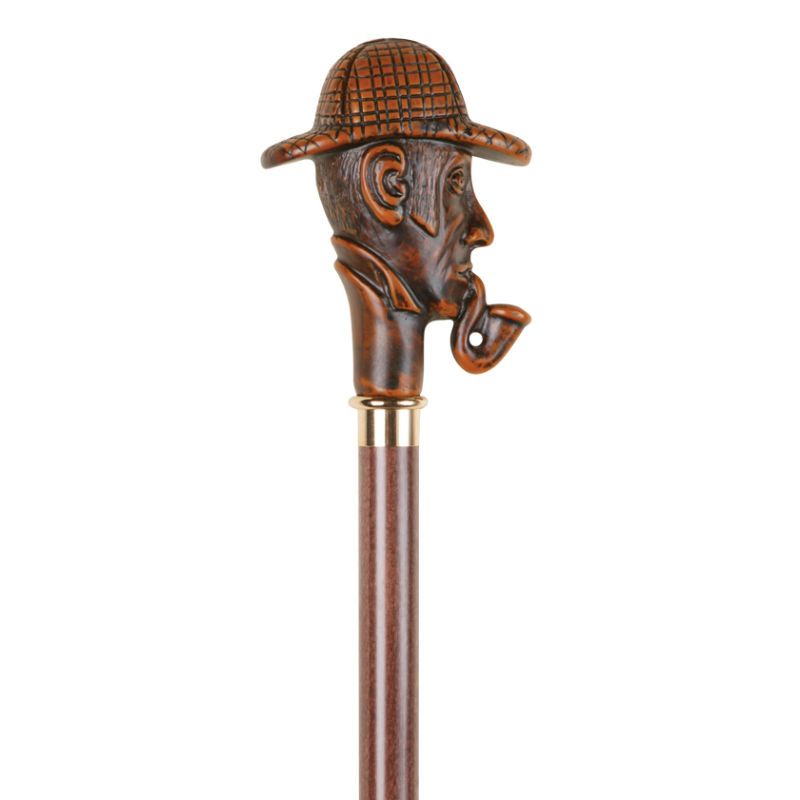 Walking sticks are great for providing support and comfort while on your feet, but they're just as good for injecting a little bit of fun into an occasion. We have a wide range of quirky and interesting novelty handle walking sticks, providing you with a great accessory for a fancy dress party or a way to express your creativity around town. From animals to skulls to flask handles, there are plenty of striking novelty handle walking sticks to surprise and delight your friends and family.
The Sherlock Holmes Collectors' Walking Stick is perfect for any fancy dress party, made with high quality construction to produce a piece of art that will complement any outfit. Though not quite as supportive as our other sticks, this walking stick is made with style, drawing eyes with a dark stained beech shaft that is durable and attractive. It will make an excellent gift for any lover of mystery or literature, and is sure to delight any Holmes fan. Click here to take a look at our wide range of Novelty Handle Walking Sticks.
Key Features: Fun and quirky handles, range from animals to flasks to skulls. Great for fancy dress.
Which Handle is Right for You?
Now that we've laid out some of the main considerations for a few of our favourite handle types, it's time to decide the handle that's right for you. Are you looking for comfort above all else? If so, it's hard to beat the contoured, easy-gripping design of the ergonomic handle. Going to a fancy dress party, and looking to turn heads? Then the fun and intriguing designs of our novelty handles are more what you're looking for.
If you'd like to see all of the handle styles we have available, check out our section where you can browse Walking Sticks by Handle Style.
Do you have any other questions, or something to add? You can leave us your thoughts in the comments section below, or find us on Twitter and Facebook!