How Tall Should Your Walking Stick Be?
9 Comments
Tuesday, 2 November 2021 |
Alex
If you require a walking stick, it is very important to ensure that you have the right height of stick to ensure that you're not putting your body through any undue stress or strain. One question that we hear a lot at WalkingSticks.co.uk is "How Tall Should My Walking Stick Be?" and we've created this guide to make sure that everyone can find their ideal stick.
What Is Covered In This Guide?
Measuring Yourself for a Stick
If you need a stick for day-to-day mobility support, it is simple to measure yourself to find the perfect length. Please see the steps below for an indication of how to measure yourself: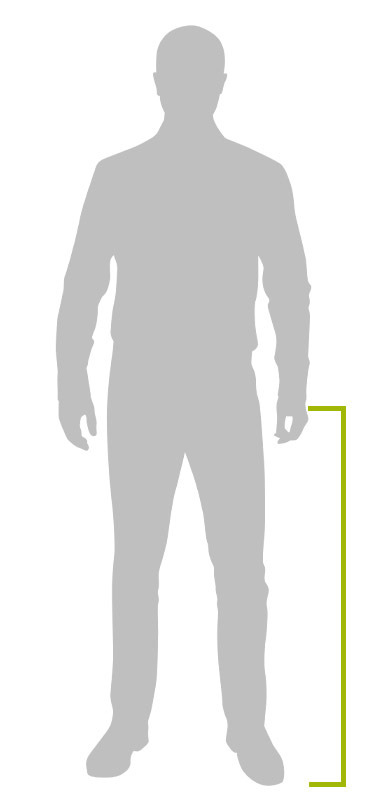 Step One: Stand upright with your arms relaxed by your side.
Step Two: Using a tape measure, measure the distance from the bony part of your wrist to the floor. Please see the diagram for an indication of this measurement.
Top Tip: We recommend measuring your height with your shoes on, as the majority of people use their walking aids primarily outside of the home. If this is not the case, measure yourself without shoes.
Quick Guide to Finding Your Ideal Stick Length
While we recommend measuring yourself to find the best length of sticks for your need, we understand that this may not always be practical or possible, especially if you are buying a stick as a gift for a loved one.
To help out, we've made a quick guide to walking stick heights – simply match the height of the user to the table below for a rough indication of the perfect length. Please note that sticks do not have to be 100% precise in order to be used comfortably.
| Height | Walking Stick Length |
| --- | --- |
| 5'0" (152cm) | 23 - 24" (58 - 61cm) |
| 5'1" (155cm) | 24 - 25" (61 - 64cm) |
| 5'2" (157cm) | 25 - 26" (64 - 66cm) |
| 5'3" (160cm) | 26 - 27" (66 - 69cm) |
| 5'4" (163cm) | 27 - 28" (69 - 71cm) |
| 5'5" (165cm) | 28 - 29" (71 - 74cm) |
| 5'6" (168cm) | 29 - 30" (74 - 76cm) |
| 5'7" (170cm) | 30 - 31" (76 - 79cm) |
| 5'8" (173cm) | 31 - 32" (79 - 81cm) |
| 5'9" (175cm) | 32 - 33" (81 - 84cm) |
| 5'10" (178cm) | 33 - 34" (84 - 86cm) |
| 5'11" (180cm) | 34 - 35" (86 - 89cm) |
| 6'0" (183cm) | 35 - 36" (89 - 91cm) |
| 6'1" (185cm) | 36 - 37" (91 - 94cm) |
| 6'2" (188cm) | 37 - 38" (94 - 97cm) |
| 6'3" (191cm) | 38 - 39" (97 - 99cm) |
Please note that these measurements are not exact and are an indication of handle height only. If you would prefer a more specific size, we would recommend measuring yourself as outlined above.
How to Find the Right Length on WalkingSticks.co.uk
Once you know what length of walking stick you require, you might worry that finding the right size is like finding a needle in a haystack. Fortunately, we have strived to make it as easy as possible to find the size that you want.
In each category on the left hand side of the page, there is a section that allows you to filter the products within that category. Please see the image below for more details.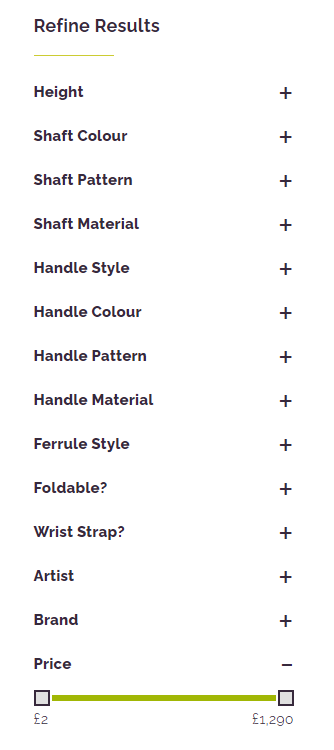 If you click on the cross on the right-hand side of the "Height", this will open a menu with the available heights. Simply tick the box of the height that you are looking for and the category will filter itself to show you the relevant products.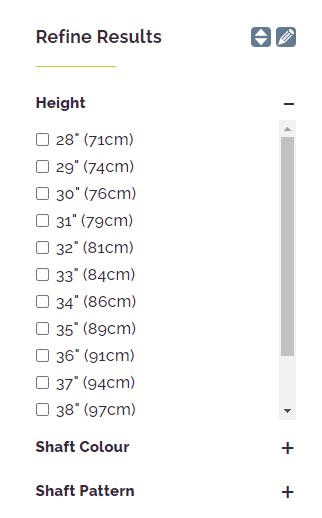 You can even use the refine feature to look for specific types or styles of walking stick within your specified height, making it easier than ever to find a stick that's the right size with a design that matches your style.
Can Sticks Be Adjusted from the Stated Height?
We offer a wide selection of Height-Adjustable Walking Sticks that are perfect for people that are unsure about how long their walking stick needs to be. By offering a height range, you can make adjust the length of your stick to find a level that suits your needs.
For sticks that are not specified as being adjustable, we recommend choosing a size that closely suits your measurements. With some wooden sticks, it is possible to cut down the stick if it is too long, but this is not a service that we offer and any modifications are done at the owner's risk.
Are Sticks Available in Heights Other than Those Listed?
For some of our range, it is possible to specify the height that you would like to order. These sticks will have a drop-down menu above the add to basket with the available lengths listed (see below for an example).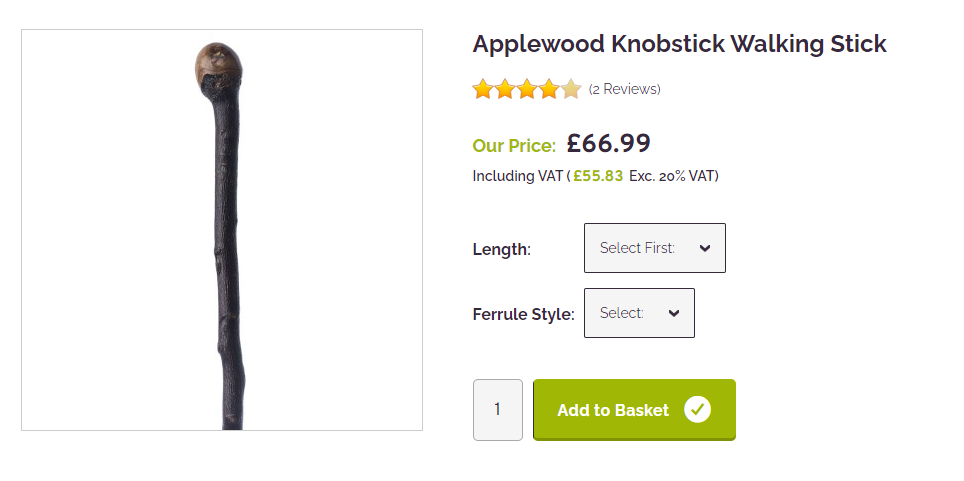 Unfortunately, for sticks without this sizing drop-down, there is not a possibility to change the size of the product before placing your order.
How Tall Should a Hiking Stick Be?
Hiking sticks come in all sorts of shapes and sizes, and we generally recommend you use a hiking stick with your elbow at a 90° angle from your body. It's a bit less of an exact science compared to standard cane sizing, but here's a rough guide on how to choose a hiking stick height:
Thumbsticks (like the Hazel Thumbstick Hiking Stick) - The thumb notch should be roughly in line with your elbow when your arms are at your side
Trekking Poles (like the Black Folding Hiking Pole) - Follow the same height suggestion as walking sticks
Hiking Staffs (like the Chestnut Hiking Staff) - You'll normally grip it at elbow height, but many users prefer some extra length for flexibility
What Does the Height Mean When Buying a Crutch or Rollator?
For certain items, such as crutches, it can be difficult to tell whether the height refers to the height of the product altogether or the height of just the handle. To keep things as consistent as possible, we list the heights of the handles, meaning that you can still use the above information when looking for a crutch, rollator or walker.
Hopefully, this guide will have made it a lot clearer how to find your perfect height of stick and how to choose a stick of that height. If you still have any questions or concerns, or you have any tips on finding the right stick, please get in touch below or on Twitter.