What Are Walkers with Seats Called?
If you're in search of a walker with a seat but have no clue about the different types that are available, you've landed on the right page. Our guide presents six of the most common names given to walkers with seats that you can purchase at WalkingSticks.co.uk. Walkers with seats are particularly handy if you suffer from extreme mobility issues and require reinforced support to get you through your daily walks. Whether your aim is to get a walker that will help you run everyday errands, or one that will simply get you from your bed to your couch, we can help you find out which one you should go for.
Please note: You may notice we use the terms 'walker' and 'rollator' interchangeably. A rollator is just a walker or walking frame that has wheels instead of rubber feet.
---
---
Indoor Rollators with Seats
Indoor rollators feature a narrow and slim frame designed to make navigating the home as easy and smooth as possible. This type of walker includes anti-slip, swivel wheels that enable you to turn corners and avoid obstacles flawlessly while preventing scuffs and scratches on doors, walls and furniture. The built-in seat tends to come in handy whenever an emergency break is needed to give weakened knees and legs a chance to recover.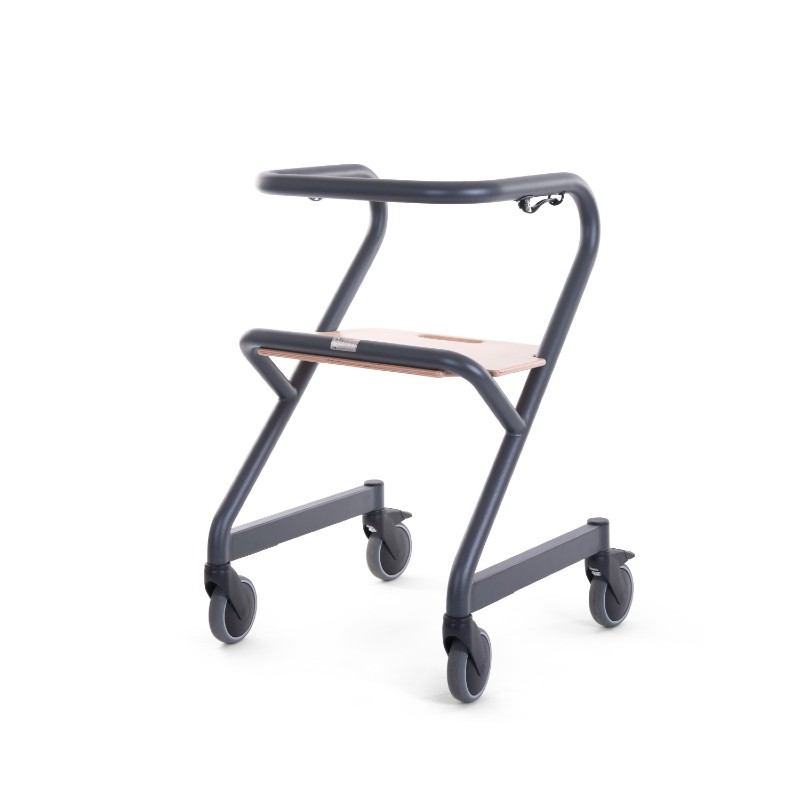 What Are the Main Features of an Indoor Rollator with a Seat?
✔ Include narrow and slender frames for smaller homes with narrow corridors
✔ Swivel wheels that allow you to turn on the spot and steer around obstacles
✔ Anti-slip design to prevent accidents while walking on wooden or tile floors
Ideal For...
✔ Users suffering from conditions affecting their mobility, including MS and stroke
✔ Maintaining balance while walking around the home
---
Outdoor Rollators with Seats
Although most rollators are designed for use outdoors, there are some particular features that you should look out for to ensure that you remain secure on the road. Outdoor rollators typically include a robust frame providing a strong structure to keep you steady and prevent falls and accidents that can happen when there's a loss of balance. They also tend to incorporate lockable brakes to ensure your safety in busy environments that may involve other vehicles, and large wheels with strong tires that will handle most types of terrain.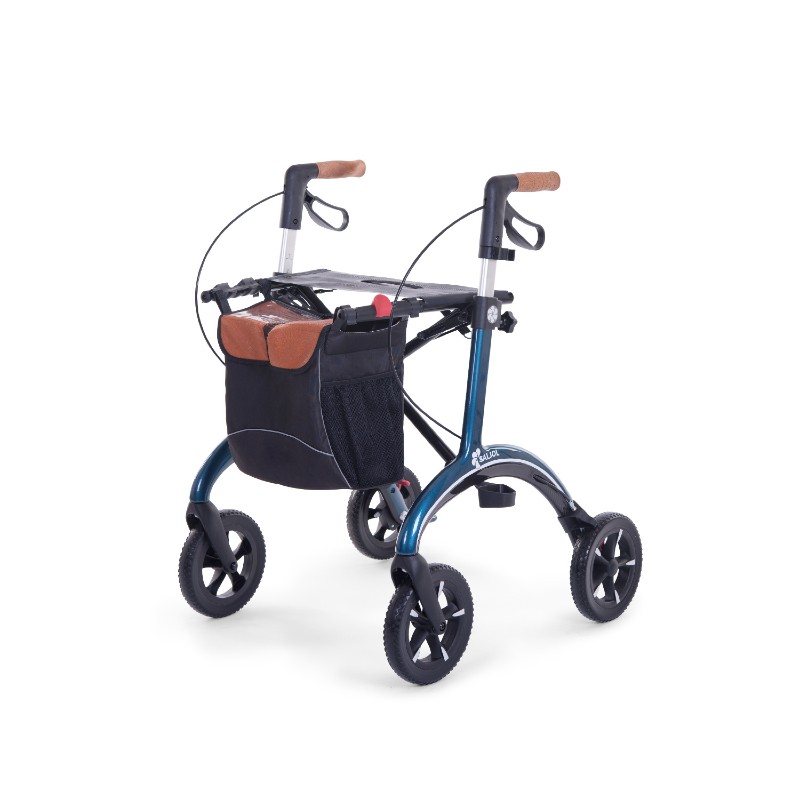 What Are the Main Features of an Outdoor Rollator with a Seat?
✔ Robust frame providing a strong structure to keep the user steady
✔ Lockable brakes to ensure safety on the road and on public transport
✔ Large wheels with tough tires to handle tough terrain better
Ideal For...
✔ People with instability issues who require reinforced support on the road
✔ Navigating busy environments such as shopping malls and high streets
---
Tri-Wheeled Walkers with Seats
Featuring a three-wheel design, tri-wheel walkers with seats are particularly beneficial for users experiencing a decline in their physical health, or suffering from a deteriorating condition affecting their strength. This type of walker is strategically crafted with three wheels, two at the back and one at the front, which contributes to the easy manoeuvring of narrow spaces and benefits the portability of this mobility aid. Although most tri-walkers don't include seats, you can find some with foldable seats that allow you to take a rest whenever and wherever.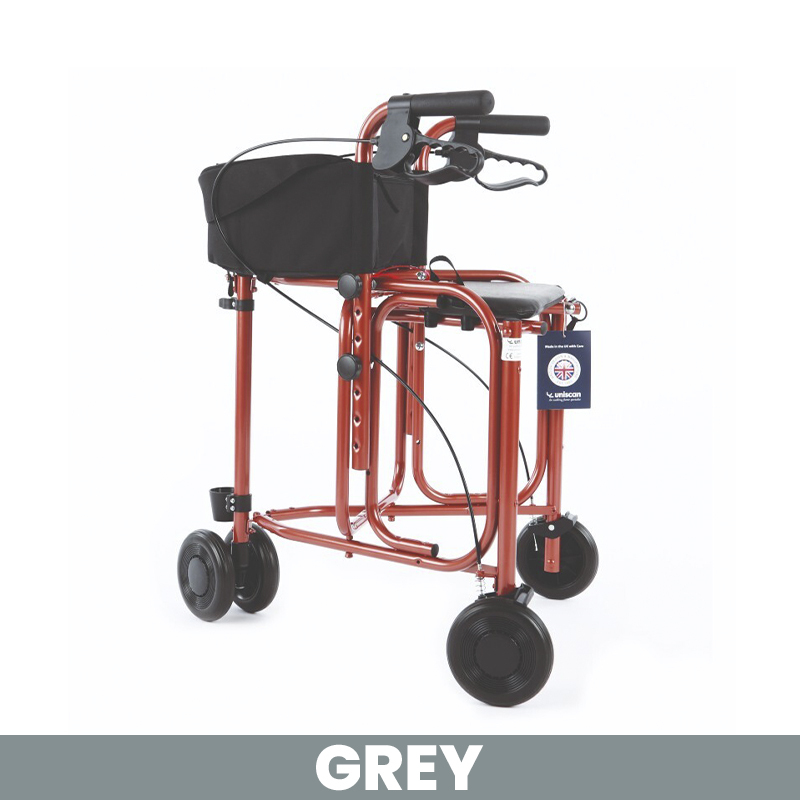 What Are the Main Features of a Tri-Wheel Rollator with a Seat?
✔ Feature lightweight frames that make them easier to push
✔ Include three wheels instead of four for a more compact design
✔ Tri-wheeled design also contributes to easy manoeuvring in narrow spaces
Ideal For...
✔ People with weakened physical health and in need of a lighter walking device
✔ Those who live in smaller spaces and require a compact walker
---
Four-Wheeled Walkers with Seats
'Four-Wheel Walker with Seat' is another one of the names often given to a walker containing four wheels. Four-wheeled walkers are the most popular type of rollator due to the level of stability they offer. When it comes to this type of rollator, you can almost always find one with an integrated seat that can support you throughout your long walks.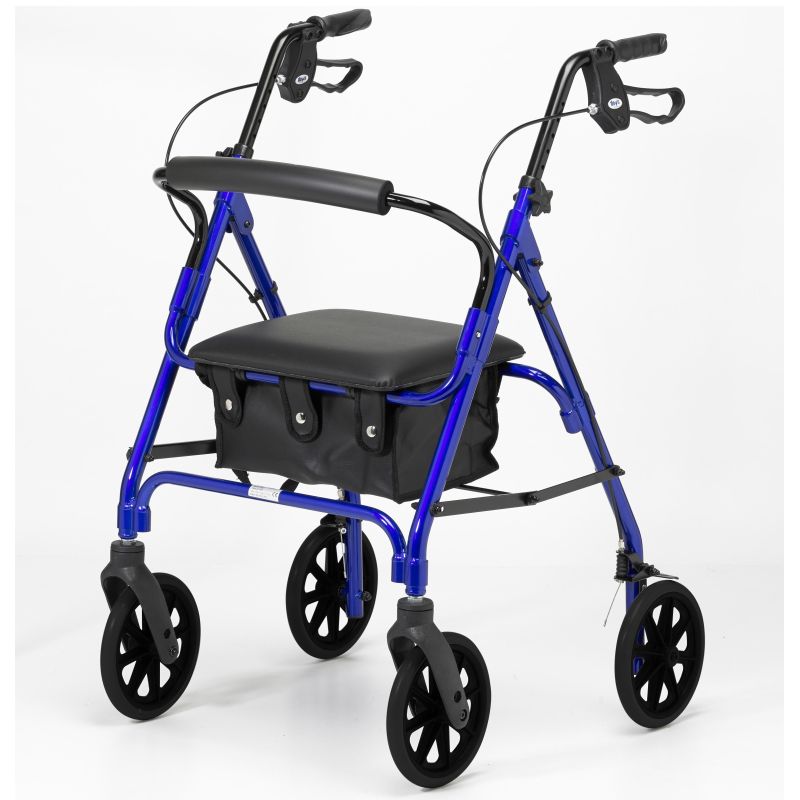 What Are the Main Features of a Four-Wheeled Walker with a Seat?
✔ Sturdy frame designed to provide robust support to users with low-mobility
✔ Includes four wheels for reinforced stability on most grounds
✔ Almost always include a seat to enable breaks between walks
Ideal For...
✔ Users who suffer from poor stability and require a balancing walking aid
✔ Those in need of an extra robust walking aid with an incorporated seat
---
Height-Adjustable Rollators with Seats
An adjustable rollator offers more than just the ability to adjust to your perfect height so that you can walk in comfort. It can also come in handy in various situations, such as attending a crowded festival or playing catch with your dog at the park. With a height-adjustable seat, you can comfortably sit at high and low angles, making your experience more enjoyable.
What Are the Main Features of an Indoor Rollator with a Seat?
✔ Can be adjusted between a range of different heights to ensure a perfect fit
✔ Guarantees a comfortable posture to prevent body aches and fatigue
✔ Can be used to sit at low and high angles depending on your needs
Ideal For...
✔ Very tall or very short users in need of a height-adjustable rollator
✔ Taking to crowded events such as concerts where your view might be blocked
---
Rollator Walkers with Seat and Basket
No matter where you're going, a rollator with a basket is always useful to carry personal belongings. Whether you're running errands or need somewhere to put your handbag, a rollator with a seat and basket can help lift some weight off your shoulders and allow you to walk more freely and comfortably.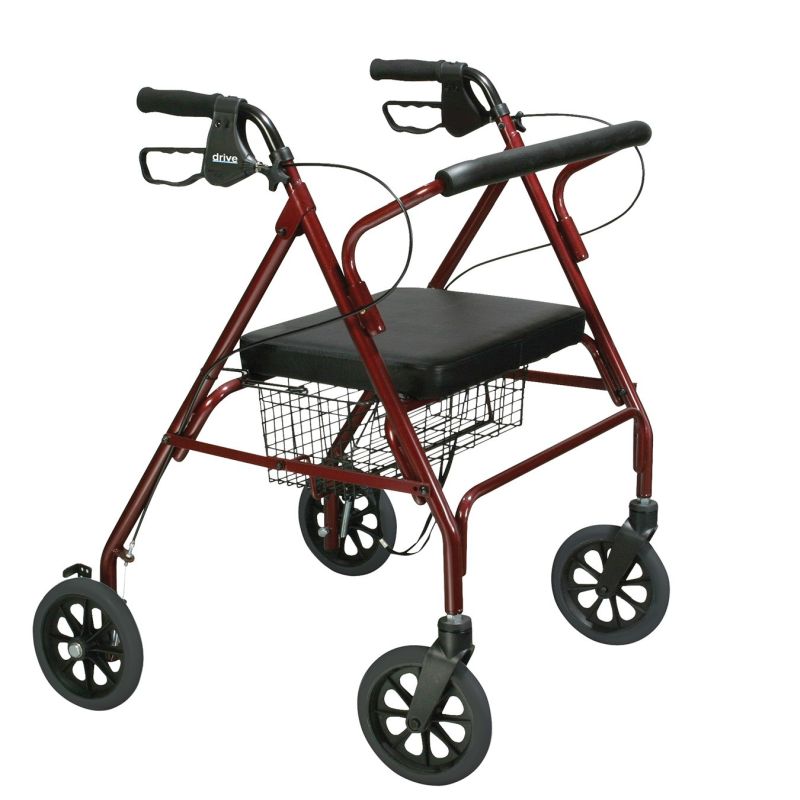 What Are the Main Features of an Indoor Rollator with a Seat?
✔ Integrates a basket or bag that enables users to store their belongings
✔ Includes a sturdy frame able to withstand heavier weights
✔ Offers a spacious seat that allows users to take a rest when required
Ideal For...
✔ Running errands including grocery shopping and package drop-offs
✔ Carrying personal items such as handbags, wallets and house keys
---
Walkers with seats are highly practical, as they offer both stable support while walking, and a handy seat to unfold whenever a break is needed. In this blog, we've introduced you to six different types of rollators that can come in handy whenever going on long strolls. Whether you're running errands, or enjoying a long evening walk through the park, a walker with an incorporated seat can maximise your confidence and ensure that you stay safe at all times.
This guide included some of our most popular rollators with seats, but if you're searching for something different, we encourage you to have a browse through our wide collection of Walkers with Seats, all available with free UK delivery on all orders above £40. Why not take a look for yourself and decide on one that will cater to all of your needs?