Walking Sticks to Complement Grey Nails
Grey nails are the epitome of chic minimalism, making them an excellent choice for any fashion-forward individual. This muted yet versatile hue effortlessly complements a myriad of outfits, from casual to haute couture. Its understated elegance is a canvas for both classic sophistication and edgy modernity, ensuring you'll always nail that perfect, on-trend look.
In today's blog, we'll explore the best Walking Sticks to Complement Grey Nails. We'll provide a huge range of walking sticks varying in colour, pattern and style, so that you're sure to find your dream design in no time!
---
Best Walking Sticks to Complement Grey Nails
---
Sassy in Silver: Add Glam to Your Wardrobe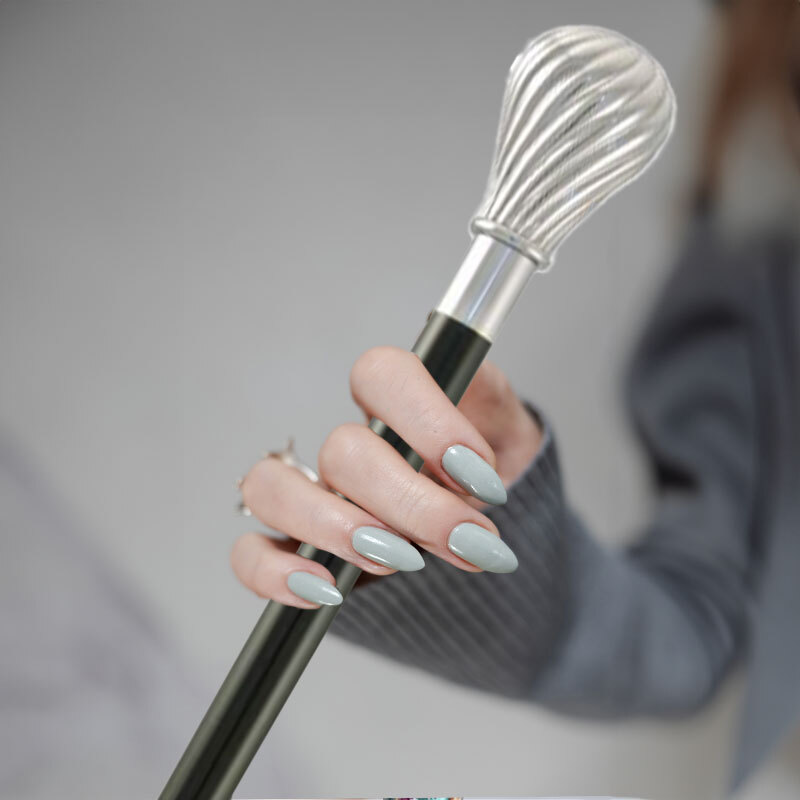 Grey nails paired with a Silver Walking Stick create a sensational metallic harmony, elevating your style with a modern and edgy allure. The cool tones of grey perfectly complement the silver, reflecting a sleek and contemporary aesthetic that's as cutting-edge as it is stylish.
The neutral elegance of grey nails serves as a sophisticated contrast to the metallic shine of a Silver Walking Stick. This juxtaposition adds depth to your ensemble, accentuating the polished and refined nature of the overall look.
Embrace a high-fashion vibe with this pairing - the fusion of grey nails and a Silver Walking Stick embodies a runway-ready appeal that's sure to make a statement wherever you go. Check out our variety of Capstick Handle Walking Sticks for an even more luxurious design.
---
Graceful in Green: For Gorgeous Jewel Tones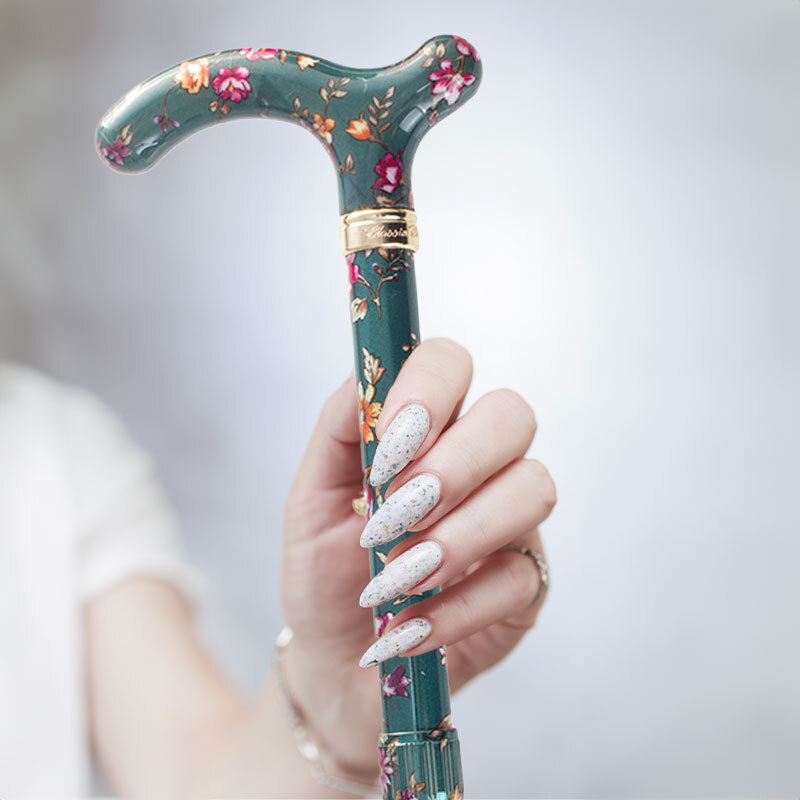 Grey nails paired with a Green Walking Stick bring the tranquillity of nature to your fingertips. The soft grey hue acts as a calming backdrop, allowing the vibrant green of the walking stick to pop and imbue your look with a fresh, natural feel.
The combination of grey nails and a Green Walking Stick exudes an earthly chic that's effortlessly trendy. This union evokes the serenity of a lush garden, adding a touch of sophistication to your outfit while keeping things grounded and stylish.
This pairing seamlessly transitions from day to night, making it a versatile choice for any occasion. Whether you're brunching in the city or attending an outdoor event, grey nails and a Green Walking Stick embrace adaptability and elegance.
---
Playful in Pink: For a Feminine Touch
Our Choice: Adjustable Aluminium Derby Walking Stick with Dragonflies Design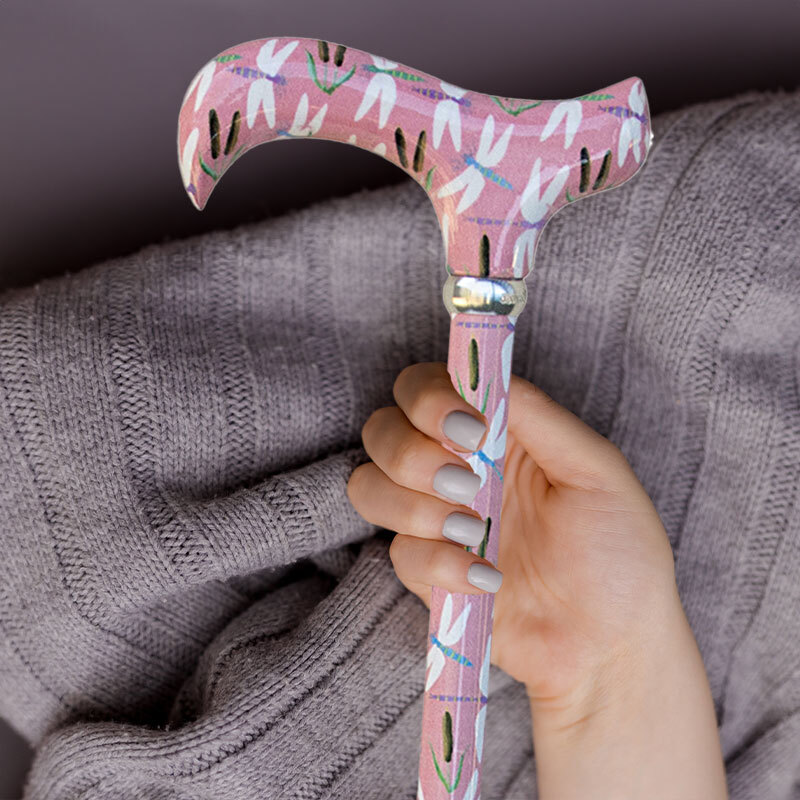 Grey nails paired with a Pink Walking Stick offer a delicate and subtle feminine charm. The soft grey tones complement the gentle pink, creating a sophisticated and harmonious blend that speaks of refined grace and elegance.
The understated beauty of grey nails provides the perfect canvas for the vibrant pink of the walking stick to shine through. Together, they create a blush of style that's classy, yet modern, and exudes an air of sophistication.
Achieve a chic and balanced look with this pairing. Grey nails and a Pink Walking Stick strike the right equilibrium between trendy and timeless, allowing you to express your femininity with grace and poise.
---
Mellow in Yellow: Bring Sunshine Wherever You Go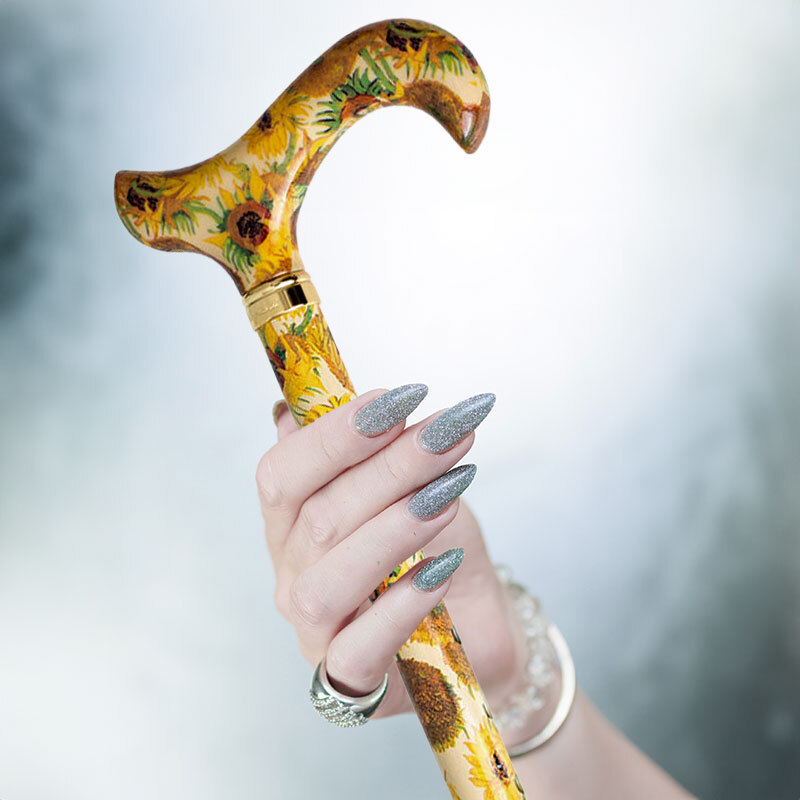 Grey nails paired with a Yellow Walking Stick offer a delightful contrast that mimics the play of sun and clouds. The coolness of grey mingles with the brightness of yellow, creating an eye-catching and dynamic fusion of tones.
Embrace a cheerful elegance with this combination, where the sophistication of grey nails meets the energetic and lively vibe of a Yellow Walking Stick. It's a statement of style that's bound to spread happiness wherever you go.
This pairing is undeniably fashion-forward, allowing you to venture into the realms of contemporary style with confidence. Grey nails and a Yellow Walking Stick make for a bold fashion statement that radiates positivity and trendsetting allure.
---
Radiant Red: For a Glamorous Look
Our Choice: Adjustable Red Floral Patterned Derby Handle Walking Stick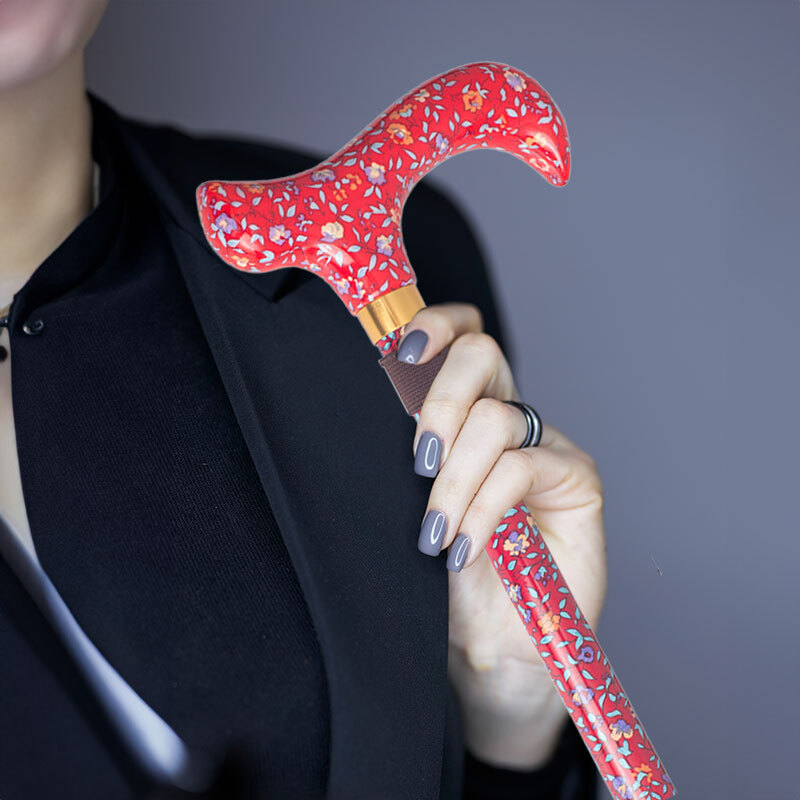 Grey nails paired with a Red Walking Stick create a passionate fusion that's both captivating and fierce. The muted tones of grey beautifully complement the boldness of red, resulting in a powerful and confident style statement.
Embrace a touch of elegant drama with this combination. The grey nail polish sets the stage for the Red Walking Stick to take center stage, exuding an air of opulence and sophistication that's perfect for glamorous affairs.
This pairing embodies a sensually appealing aesthetic that's impossible to ignore. Grey nails and a Red Walking Stick celebrate the beauty of contrast, weaving a narrative of allure and passion that's sure to turn heads wherever you go.
---
Pop of Purple: For Designs Fit for a King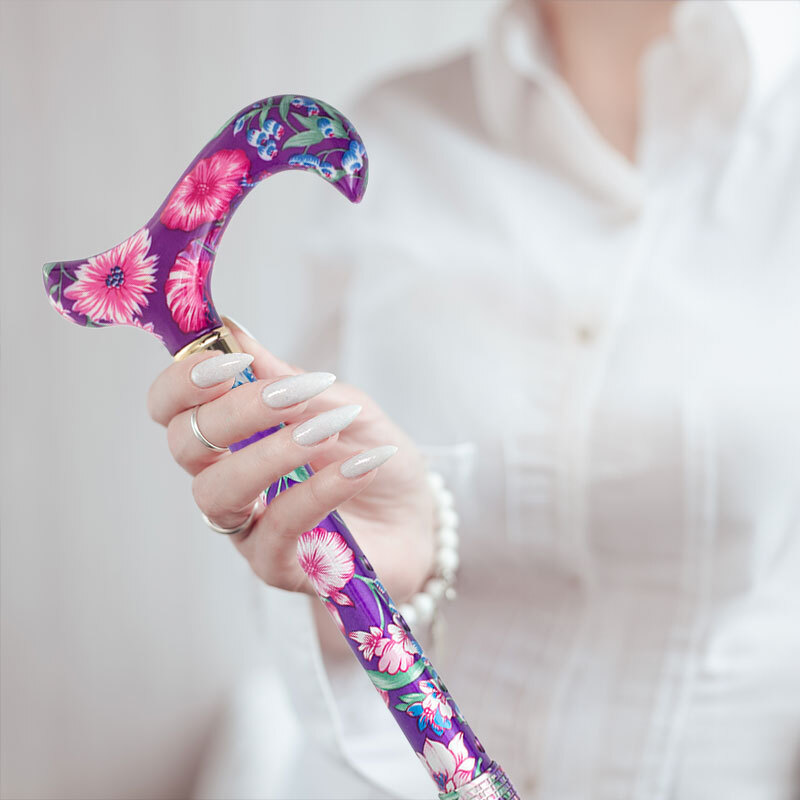 Grey nails paired with a Purple Walking Stick exude a sense of royal elegance that's reminiscent of regal sophistication. The muted grey tones blend effortlessly with the deep purples, creating a majestic and refined overall look.
The grey and purple combination adds a touch of mystery and allure to your ensemble. The subtle grey nails complement the rich purple hues, enhancing the enigmatic charm and creating a look that's both intriguing and captivating.
This pairing encapsulates timeless sophistication, making it a classic choice for those who appreciate understated yet refined style. Grey nails and a Purple Walking Stick embrace a sense of enduring beauty and grace, elevating your look to a level of unparalleled chicness.
---
Our Final Word
There you have it, the ultimate guide to selecting the perfect walking stick colour for grey nails. Each recommendation offers its unique charm and flair, allowing you to express your style and personality while maintaining impeccable elegance. With a huge variety of coloured, textured and patterned walking sticks to choose from, we'll have something for absolutely everyone for every occasion - so you can stay suave wherever you are!
Do you have any other questions, or something to add? You can leave us your thoughts in the comments section below, or find us on TikTok, Facebook, Instagram and YouTube!