How To Use a Walking Stick
Thursday, 2 January 2020 | Admin
Although many people keep walking sticks as collectables or as fashion accessories, their predominant use is as mobility aids. In order to reduce strain, it is important to make sure you are using your walking stick the correct way.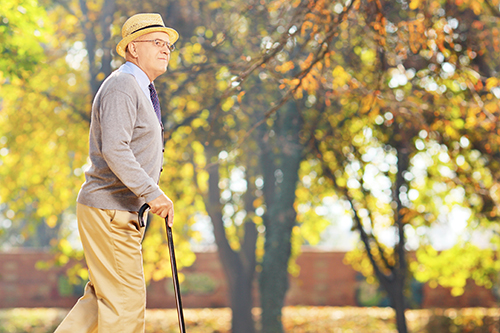 Which Side Do You Use A Walking Stick?
Your walking stick should stay on your stronger side, so if you have a weak right leg you should hold the stick in your left hand and visa versa. This may be counter-intuitive, however the purpose of the stick is to help support your weaker leg while you step forward on your stronger one.
How To Walk with a Stick?
Walking with a stick can be cumbersome at first, but as soon as you've got the knack you'll find your progress fast and smooth.
Holding your walking stick on your stronger side, take a step forward with the weaker leg. At the same time you should swing the stick forwards. It is important that the stick and the weaker leg swing forward together.
Swing the stronger leg through the gap between your weaker leg and the cane. The cane thus takes your body weight while the stronger leg is off the ground, thereby reducing the pressure on the weaker leg.
The cane should be moved an average of a step forward with each move. You shouldn't feel as though you have to stretch to keep up with the stick. It will take practice to get it right, but the effects are ultimately worth it.
There are some further tips to bear in mind:
Keep your back as straight as you can.
Try to keep the centre of balance close to the body.
When ascending stairs step up with the stronger leg first. When descending use the stick and weaker leg first
How Do You Use A Walking Stick For Hip Pain?
Hip pain is a distracting, distressing and limiting condition to suffer from. The instructions listed above for walking with a cane are also relevant for using a walking stick for hip pain. However, as hip pain often causes loss of balance, it is additionally advisable to purchase a sound, solid rubber ferrule to aid your grip.
Do you have any tips and tricks for making the use of a walking stick easier and more comfortable? Let us know in the comments, or find us on Twitter and Facebook!