How to Accessorise Amethyst Jewellery with a Walking Stick
In the world of fashion and accessories, amethyst jewellery is celebrated for its regal purple allure and timeless appeal. This enchanting gem pairs seamlessly with a range of walking stick colours, creating a harmonious ensemble that exudes charm and sophistication. Join us on a stylish journey to explore why amethyst jewellery shines brilliantly when combined with walking sticks in a spectrum of captivating colours, from purple to paisley.
Keep reading to find the best Walking Sticks to Accessorise Amethyst Jewellery. We'll provide a huge range of walking sticks varying in colour, pattern and style, so that you're sure to find your dream design in no time!
---
Best Styles For Amethyst Jewellery
---
Passionate Purple: For Radiating Royalty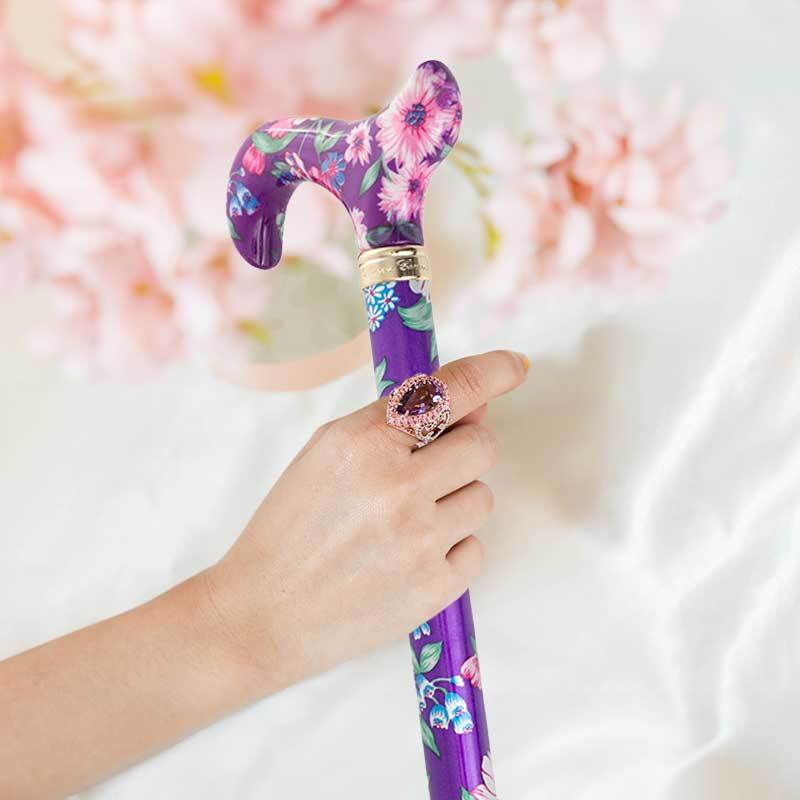 Amethyst jewellery harmonises beautifully with Purple Walking Sticks, creating an ensemble that exudes a regal radiance, capturing the charm of deep purple hues. Check out our variety of Amethyst Walking Sticks for more options.
Purple and amethyst create an air of gala glamour, making this pairing ideal for elegant evenings, formal events, and upscale soirées.
---
Shine in Silver: Add a Metallic Twist to Any Outfit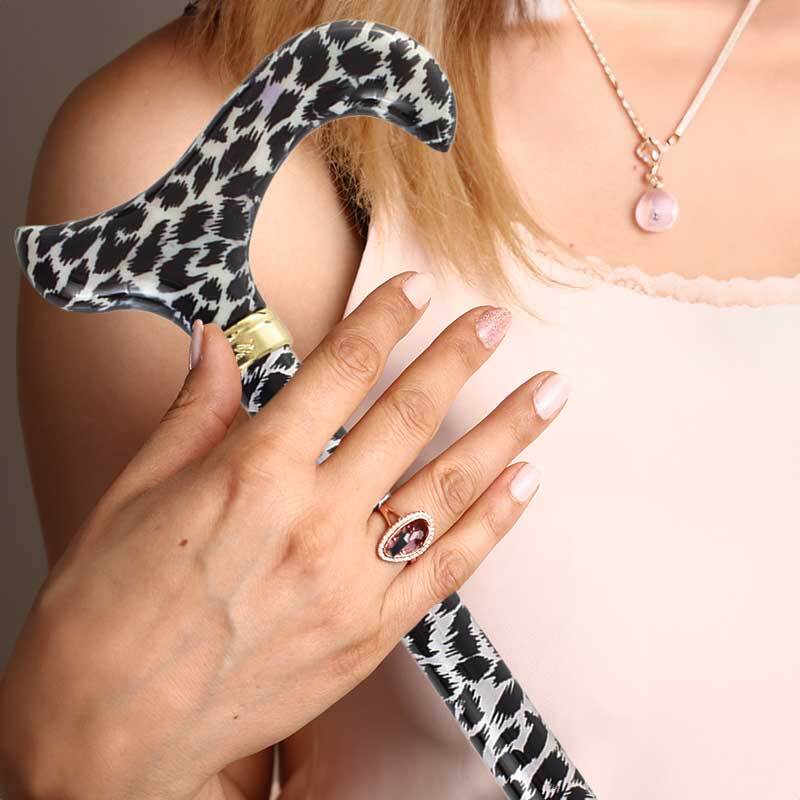 Amethyst's purple allure strikes a captivating contrast with the cool, metallic shimmer of Silver Walking Sticks, crafting an ensemble that's sleek, modern, and urban.
Amethyst jewellery paired with silver walking sticks embodies urban elegance, ensuring you look polished and poised, making it perfect for city life and upscale events. For more formal options, give our Silver Top Canes a go.
---
Funky Fusion: For Adding a Pop of Intrigue to Your Ensemble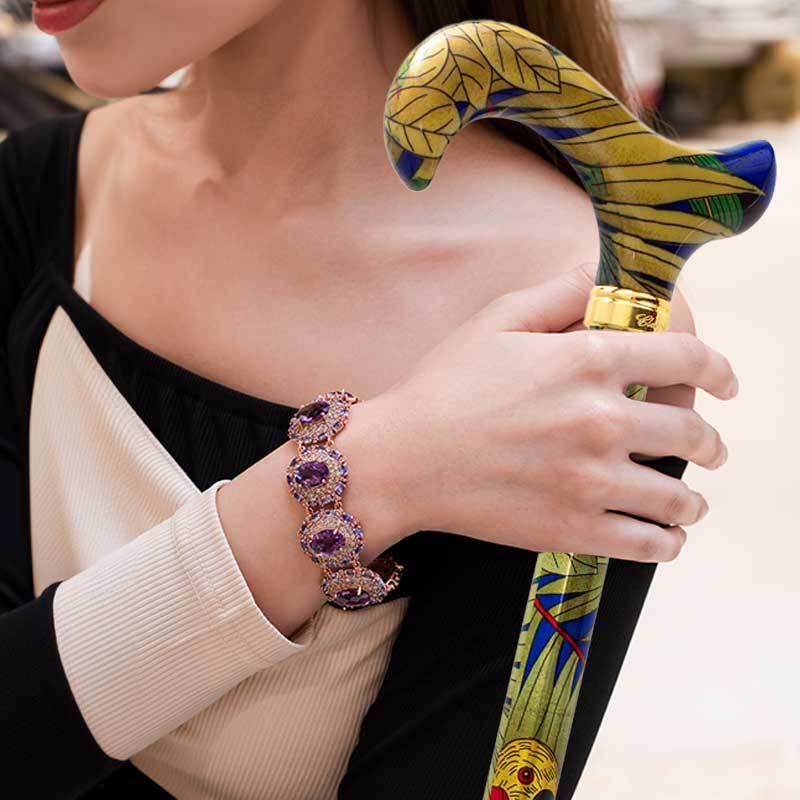 Amethyst jewellery and Funky Walking Sticks offer a fusion of artistic expression, allowing you to embrace your unique personality and creativity through fashion.
This pairing exudes playful quirkiness, making a bold and memorable fashion statement that's perfect for creative events and unconventional style.
Wear amethyst jewellery with funky walking sticks for a youthful allure that adds a touch of fun and excitement to your look. For more unique walking stick designs, why not browse our range of Cool Walking Sticks or Cartoon Walking Sticks?
---
Blissful in Blue: For Monochromatic Magic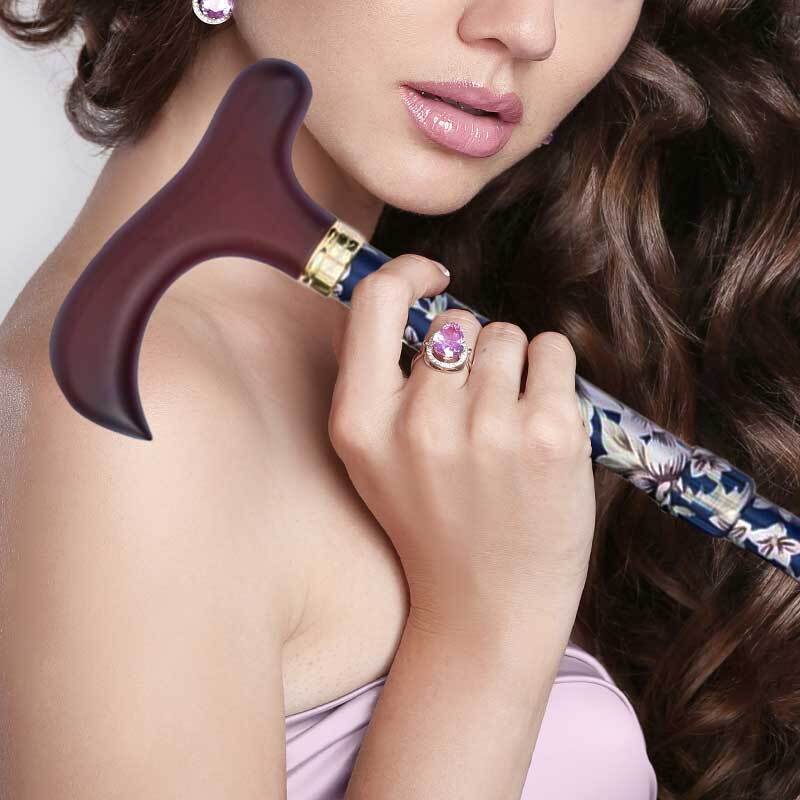 Amethyst's purple and Blue Walking Sticks achieve monochromatic magic, embracing the tranquillity of deep blue hues and creating a look that's modern, minimalist, and effortlessly chic.
This combination resonates with the serenity of the sea, providing a sense of calm and relaxation, making it suitable for seaside escapes and coastal strolls.
---
Dream in Designer: Stay Runway-Ready with Luxury Walking Sticks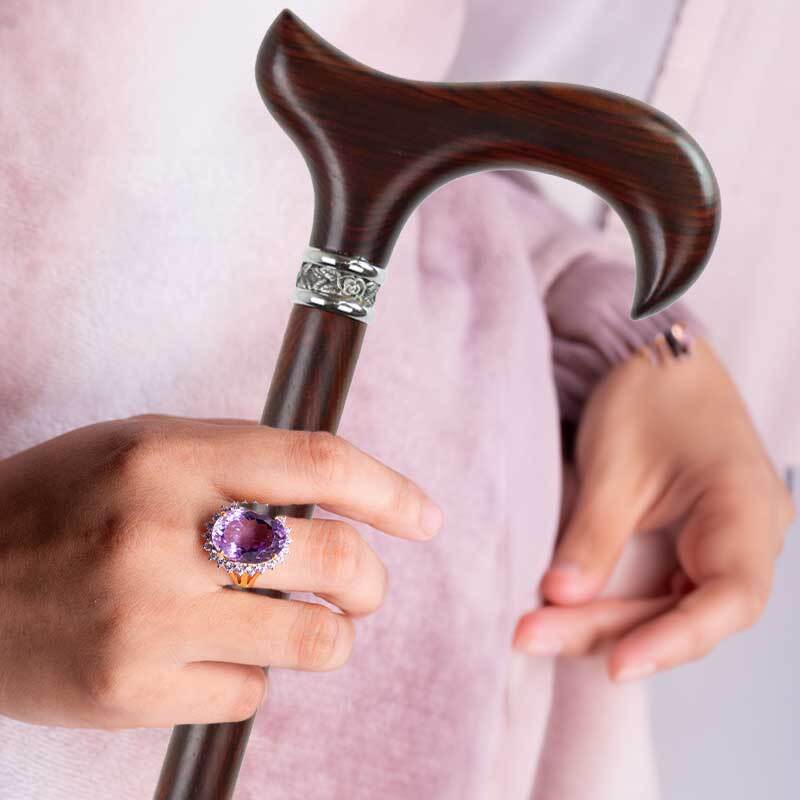 Amethyst jewellery complements the chic designs and creative patterns of Designer Walking Sticks, creating an ensemble that's perfect for high-fashion events and style-forward gatherings.
This pairing is runway ready, allowing you to embrace the latest trends and showcase your fashion-forward style at designer events and fashion shows. For more luxury walking sticks, check out our selection of Glamorous Walking Sticks and Fashionable Walking Sticks.
---
Paisley Panache: Add Boho Beauty Wherever You Are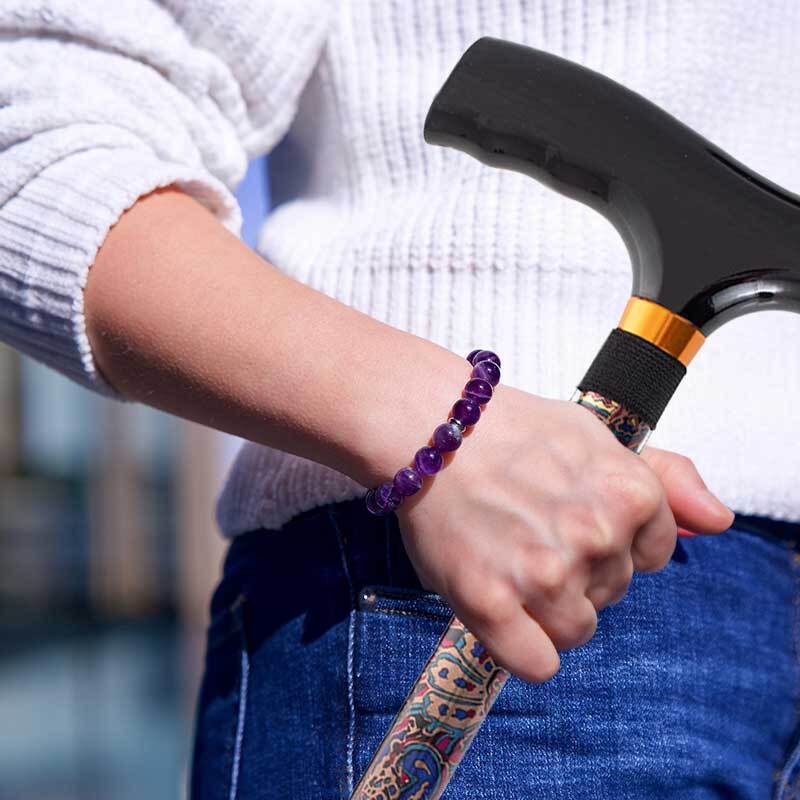 Amethyst's regal purple pairs exquisitely with the boho patterns of Paisley Walking Sticks, creating an ensemble that's boho beautiful and celebrates artistic expression.
This pairing captures free-spirited flair, making it ideal for festivals, outdoor events, and casual gatherings where you can express your individuality. For similarly Colourful Walking Sticks, check out our Art Print Walking Sticks and Spotted Walking Sticks.
Embrace the artistic atmosphere with amethyst jewellery and paisley walking sticks, ensuring you stand out with a unique and stylish look.
---
Our Final Word
Amethyst jewellery, with its regal purple allure and timeless appeal, harmoniously complements walking sticks in a spectrum of captivating colours and designs. Whether you choose the royal radiance of purple, the sleek modernity of silver, the funky fusion of creative designs, the monochromatic magic of blue, the chic collaboration of designer walking sticks, or the boho beauty of paisley walking sticks, amethyst jewellery offers endless fashion possibilities. Embrace the art of accessorizing, let your personal style shine, and make a stylish statement wherever you go!
Do you have any other questions, or something to add? You can leave us your thoughts in the comments section below, or find us on TikTok, Facebook, Instagram and YouTube!