Spotted Walking Sticks
Walking sticks make excellent fashion accessories and they can even make fashion statements for the bold and daring. These Spotted Walking Sticks are sure to make an impact when you walk around with one. The spotted sticks are ideal for the young and the young-at-heart. If you'd like more information or a recommendation, please call our customer care team on 020 7501 0591 or email us on helpdesk@walkingsticks.co.uk.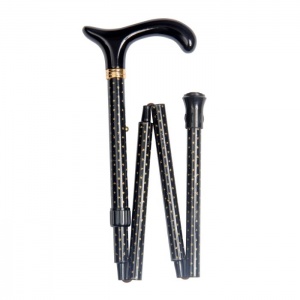 Features an elegantly shaped wooden Derby handle
Glamorous 1930s-inspired cane in black and gold
Suitable for the most formal events and daily use
Shaft is adjustable in height and can be folded
| | | |
| --- | --- | --- |
| | | In stock now |
---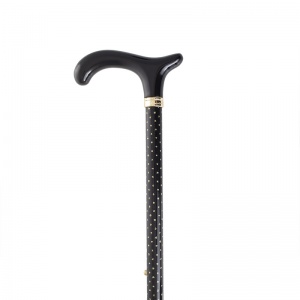 Contemporary and elegant walking cane
Features a comfortable Derby handle
Fitted with a discreet rubber ferrule
Height adjustable from 25" to 35"
| | | |
| --- | --- | --- |
| | | In stock now |
---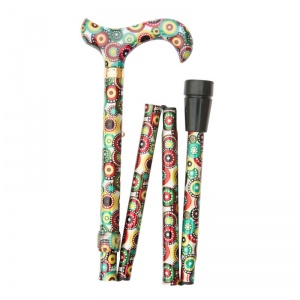 Strong and light aluminium shaft folds into four sections
Walking stick is as much a fashion statement as an aid
Shape of handle offers excellent support to hand
Features an all-over pattern of concentric circles
| | | |
| --- | --- | --- |
| | | In stock now |
---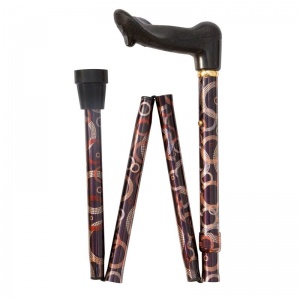 Smart folding walking cane with black orthopaedic handle
Designed to fit the left hand for improved support
Can be adjusted in height to fit a range of users
Brown aluminium shaft with abstract pattern
| | | |
| --- | --- | --- |
| | | In stock now |
---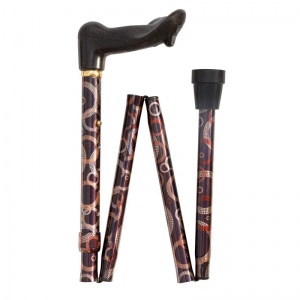 Smart folding walking cane with black orthopaedic handle
Designed to fit the right hand for improved support
Can be adjusted in height to fit a range of users
Brown aluminium shaft with abstract pattern
| | | |
| --- | --- | --- |
| | | This product has been discontinued. Please contact our team for details of the latest release. |
---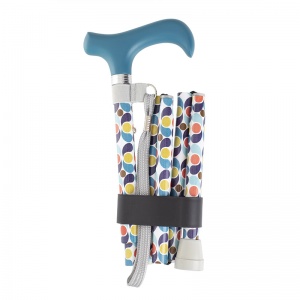 Sturdy yet lightweight aluminium stick with a stylish pattern
Compact design folds into five sections to fit into a handbag
Wooden Derby handle and adjustable height improve comfort
Stylish retro spots design and a blue handle for a touch of personality
| | | |
| --- | --- | --- |
| | | In stock now |
---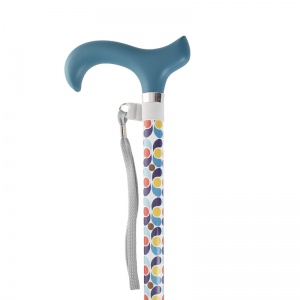 Sturdy yet lightweight aluminium walking stick
Wooden Derby handle and adjustable height for comfort
Wrist cord and rubber ferrule improve safety and convenience
Attractive retro spots design for a touch of personality
| | | |
| --- | --- | --- |
| | | Currently unavailable. Please check back soon |
---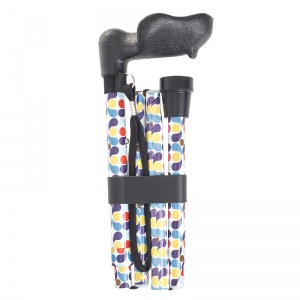 Sturdy yet lightweight aluminium stick with a stylish pattern
Compact design folds into four sections for convenience
Anatomical handle provides improved comfort and support
Provided in a colourful retro spots design for a touch of personality
| | | |
| --- | --- | --- |
| | | In stock now |
---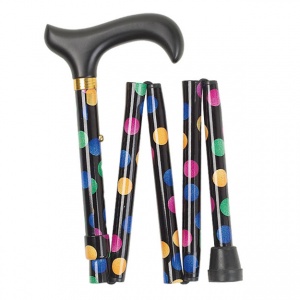 Sturdy yet lightweight aluminium stick with a stylish pattern
Compact design folds into five sections to fit into a handbag
Wooden Derby handle and adjustable height improve comfort
Wrist cord included to reduce the risk of dropping the stick
| | | |
| --- | --- | --- |
| | | This product has been discontinued. Please contact our team for details of the latest release. |
---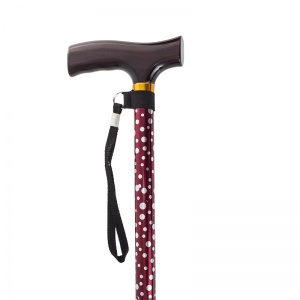 Quirky and fun white dotted pattern on a red background
Attractive wooden T-handle is painted a smart black
Handle is adjustable in height with push buttons
Walking stick comes supplied with a wrist strap
| | | |
| --- | --- | --- |
| | | In stock now |
---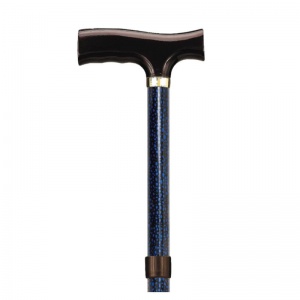 Hardwearing, non-slip ferrule for added stability
Folds into four convenient parts to store easily
Attractive wooden handle with brass collar
Comes with a plastic holster carry case
| | | |
| --- | --- | --- |
| | | In stock now |