How To Accessorise a Red Outfit With a Walking Stick
When it comes to making a bold fashion statement, few colours can rival the captivating glamour of a red outfit. Whether you're rocking a fiery crimson shade or a mellow maroon hue, this classic garment shade is an alluring symbol of power and confidence.
To take your ensemble to new heights, you need a walking stick that will perfectly complement your ravishing red outfit. Not sure where to start? We've got you covered! Prepare to get heads turning and elevate your style with these trendy walking stick suggestions.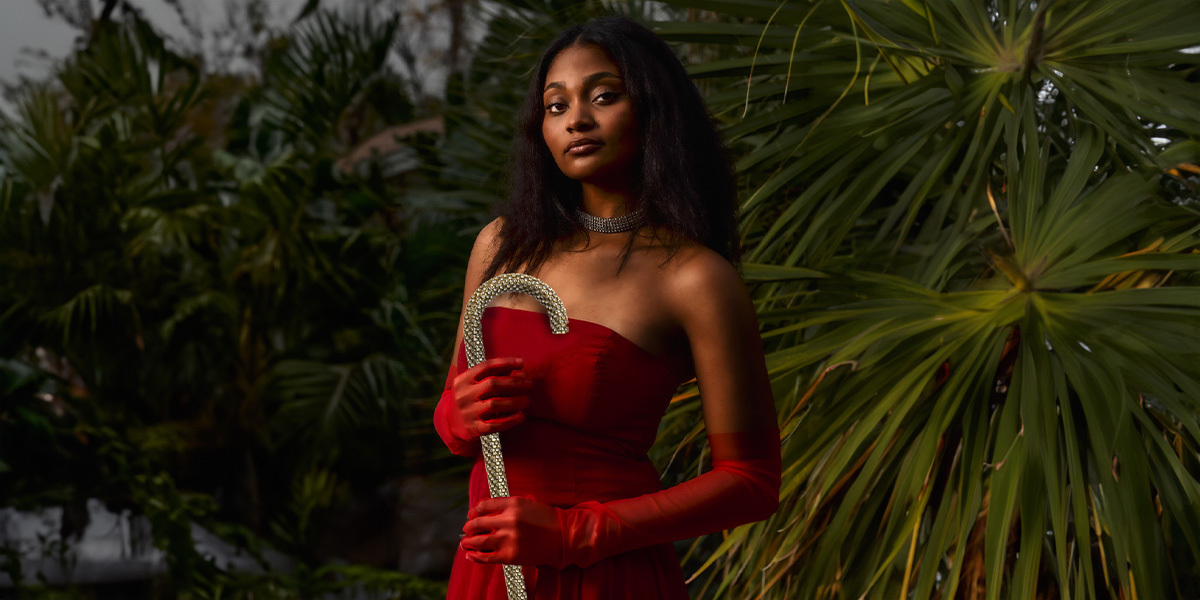 What's Included?
---
Classic Black Elegance
Our Choice: Ladies' Black Derby Walking Stick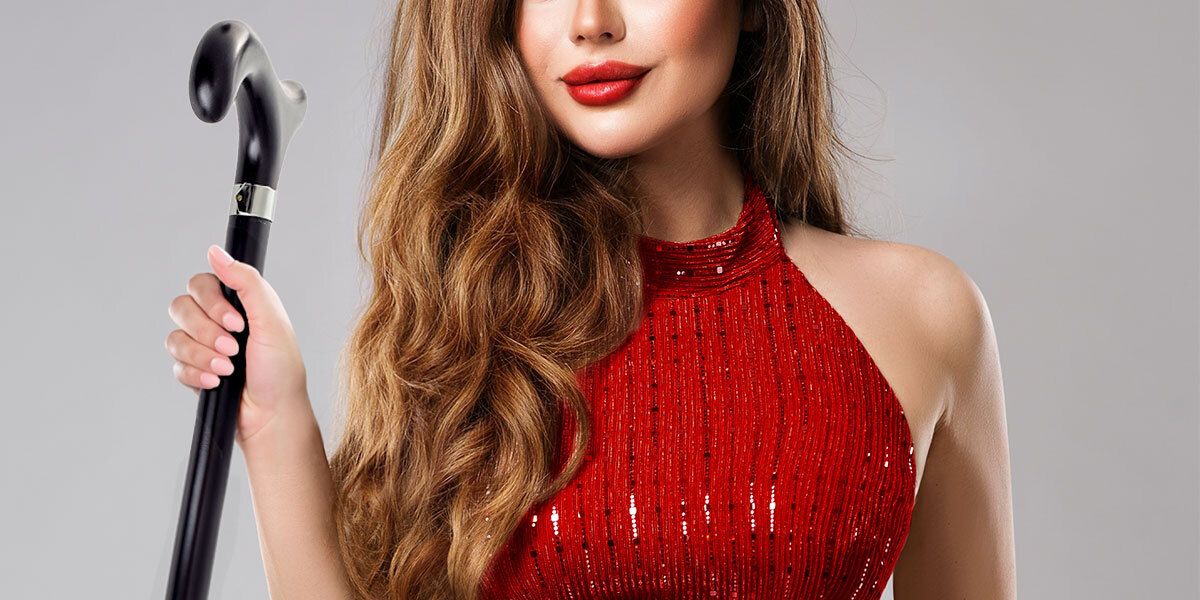 Choose a timeless and elegant black walking stick to create a stunning contrast with your red outfit.
★ Sleek black shades look striking against a dazzling red backdrop, and the juxtaposing colours allow your dress or ensemble shine even brighter. If you want your outfit to truly pop, a black stick is a great choice
★ Whether you choose a plain colour black walking stick or one with colourful and intricate details, this chic combination of shades will give you an air of sophistication and refinement
---
Glamorous Gold Accents
Our Choice: Marbled Golden Beige Derby Moderne Handle Walking Cane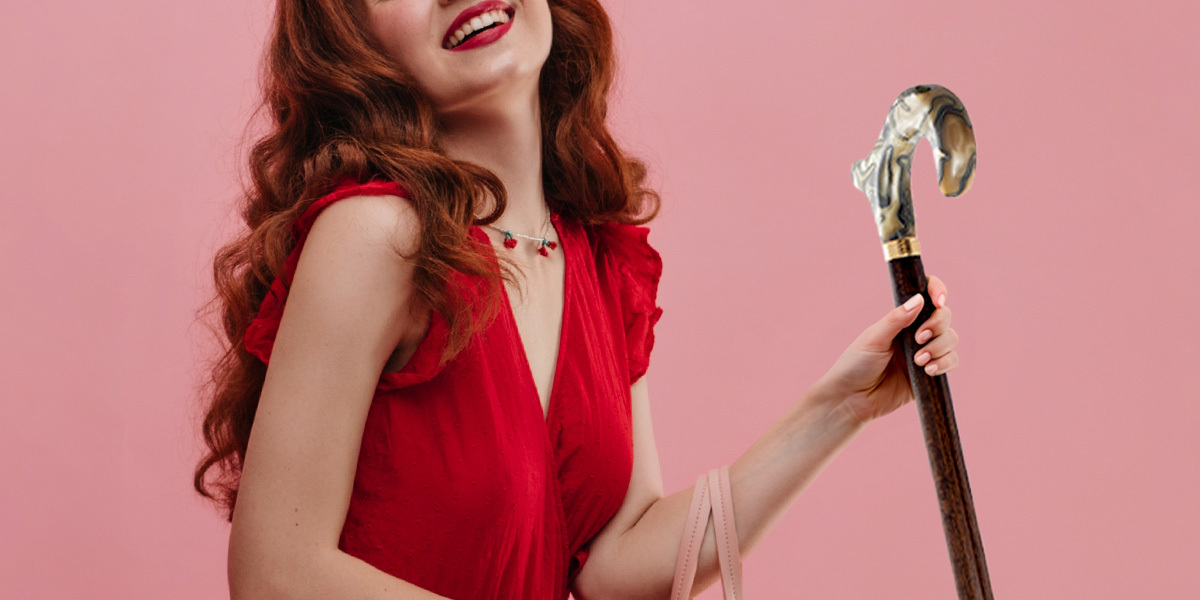 Curate an opulent and glamourous aesthetic by accessorising your red dress with a walking stick featuring gorgeous gold accents.
★ The warm and radiant tones of gold beautifully complement the various shades of red, making this colour combination ideal for creating a luxurious and fashion-forward ensemble
★ Choose a golden handle walking stick, or one with intricate gold detailing to elevate your personal style and add a touch of regality to your look
---
Chic Neutral Tones
Our Choice: Ladies' Imitation Ivory Cane with Swarovski Elements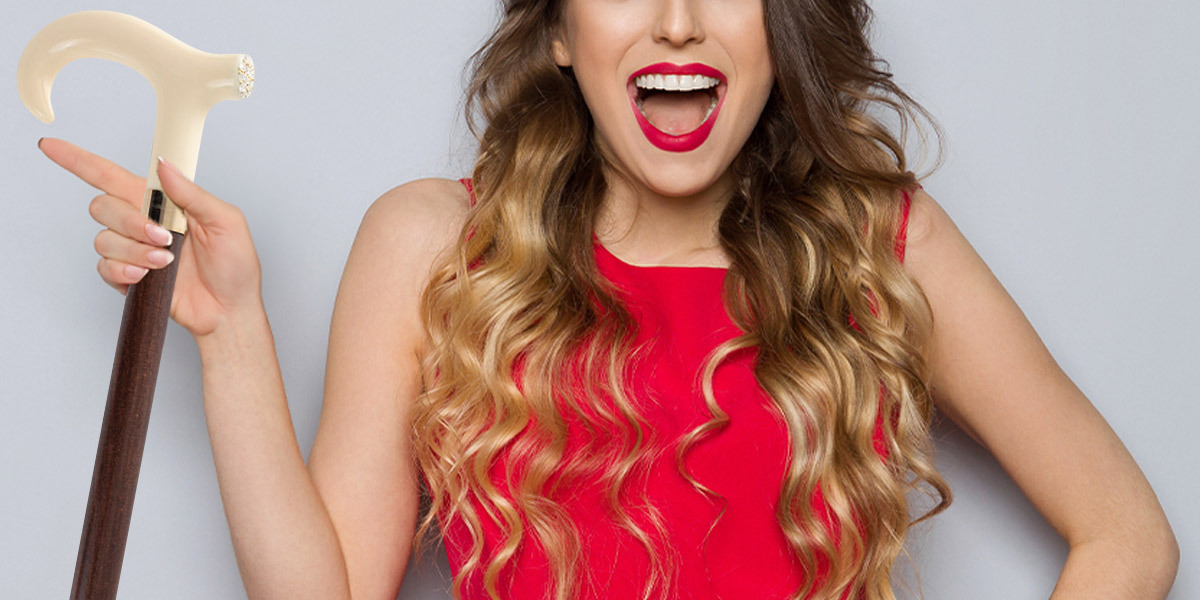 Choose understated elegance by opting for a stylish and neutral-toned walking stick that beautifully complements your red dress.
★ Colours like ivory, beige, and cream offer a subtle and chic combination that keep your dress at centre stage
★ The soft and muted tones of neutral shades contrast with the dazzling and fiery red hues, creating an elegant balance for a refined and polished look
---
Vibrant Contrasts
Our Choice: Height-Adjustable Teal Blue-Green Silicone Crutch Handle Walking Stick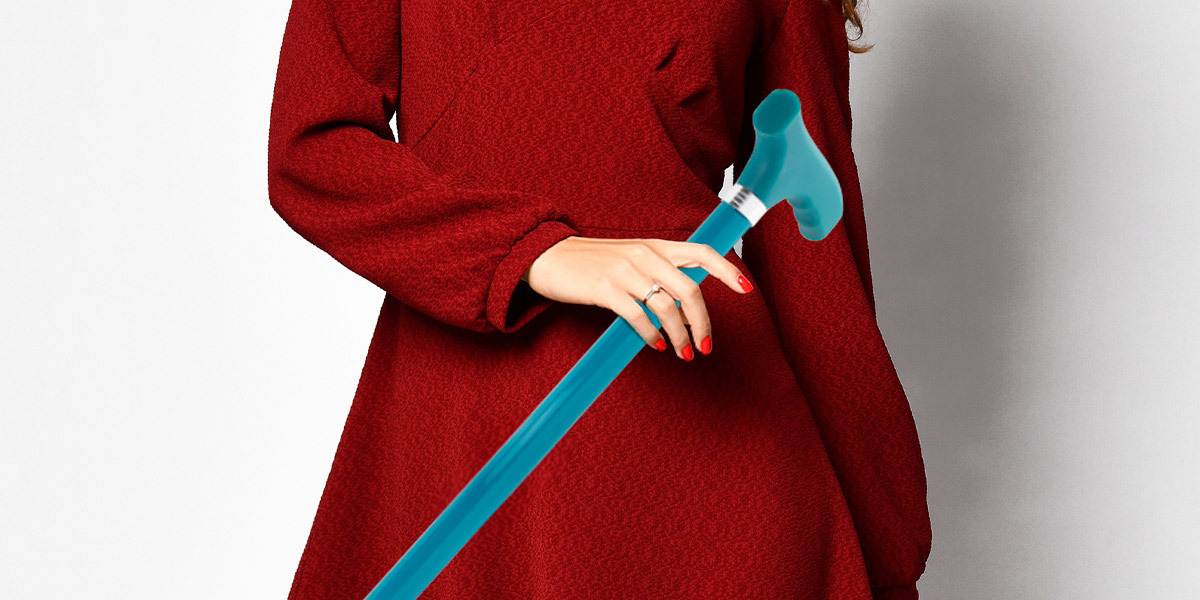 Dare to be adventurous by choosing walking sticks in vibrant contrasting hues, like blue to yellow, and make your red dress truly pop!
★ Shades like electric blue, emerald green, or vibrant purple create a striking visual impact when paired with a red ensemble
★ Such a bold combination shows confidence and individuality, making you the envy of fashionistas everywhere you go
---
Playful Patterns
Our Choice: Golden Leopard Derby Walking Cane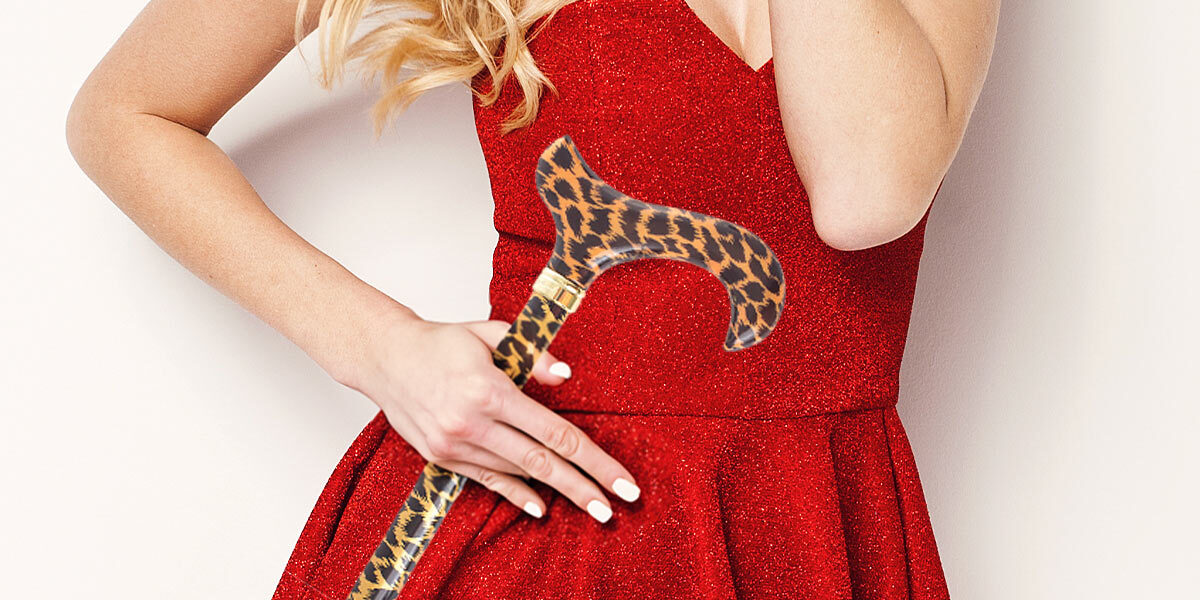 Unleash your creative spirit by accessorising with a patterned or printed walking stick. With a wide range of styles and colours available, you're sure to find one you love.
★ Whether it's a floral motif, paisley design, or animal-themed style, patterned walking sticks are unique accessories that can offer a playful and eye-catching element to your outfit
★ Let your imagination run wild and select a pattern that reflects your personal style, and elevates your look when donning a red dress
---
Express Your Creativity and Individuality
The power of accessories lies not only in their ability to complement and elevate your ensemble, but also in their ability to express all the unique elements of your personality and distinct style. As you choose the perfect walking stick to accessorise your red dress, remember that fashion is an art form, and an opportunity to get creative and express your individuality. Let your walking stick become an extension of your unique personality, a statement piece that will get heads turning, and help you to feel more confident in your look.
A red dress is the ultimate embodiment of passion and confidence. With the right walking stick in hand, this garment can help you to embrace your inner fashionista and take a step into a world where style and self-expression collide.
Browse more walking stick ranges to find the perfect colourful accessory and supportive aid.
Do you have any other questions, or something to add? You can leave us your thoughts in the comments section below, or find us on TikTok, Twitter, Facebook, Instagram and Youtube!