Folding Walking Sticks for Ladies
Monday, 29 October 2018 | Admin
If you want to be happy bringing your walking stick with you wherever you go, it's crucial to find exactly what you've had in mind. Narrowing down your picks to folding walking sticks is an excellent first step, but this still leaves you with an overwhelming choice of gorgeous ladies' walking sticks.
To help you make up your mind, we've come up with a few suggestions of our own. Including everything from traditional everyday canes to orthopaedic handles for those with sensitive joints, this list should at least guide you in the right direction towards the walking stick of your dreams.
Play It Safe with a Classic Derby Walking Stick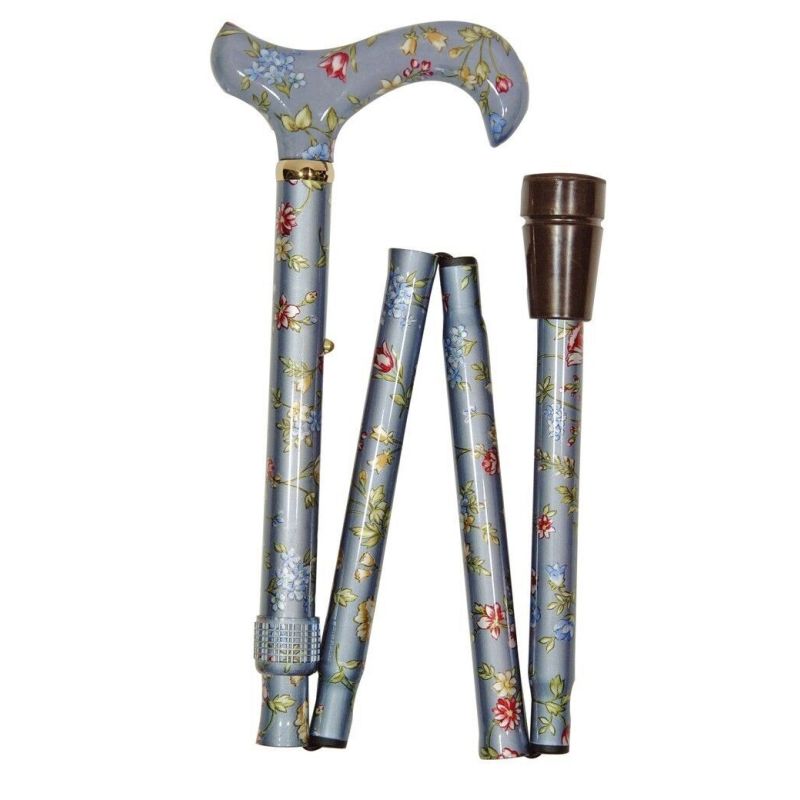 If you're looking for a walking stick you could easily match with most of your outfits, a traditional Derby handle is the way to go. This Adjustable Folding Elite Derby Handle Grey-Blue Floral Walking Stick comes in a beautiful grey-blue colour with a delicate floral pattern that covers both the shaft and the handle.
Grey is one of those colours that go great with practically everything, which means you can pair this walking stick with your casual and a bit more formal outfits without having to worry about finding another cane whenever you change clothes. The gorgeous floral pattern gives the design a touch of individuality, while still keeping it fairly neutral and versatile.
Key Features: Neutral design; Derby handle; grey with floral pattern; adjustable height from 32" to 36"; rubber ferrule
Find Your Match with a Petite Design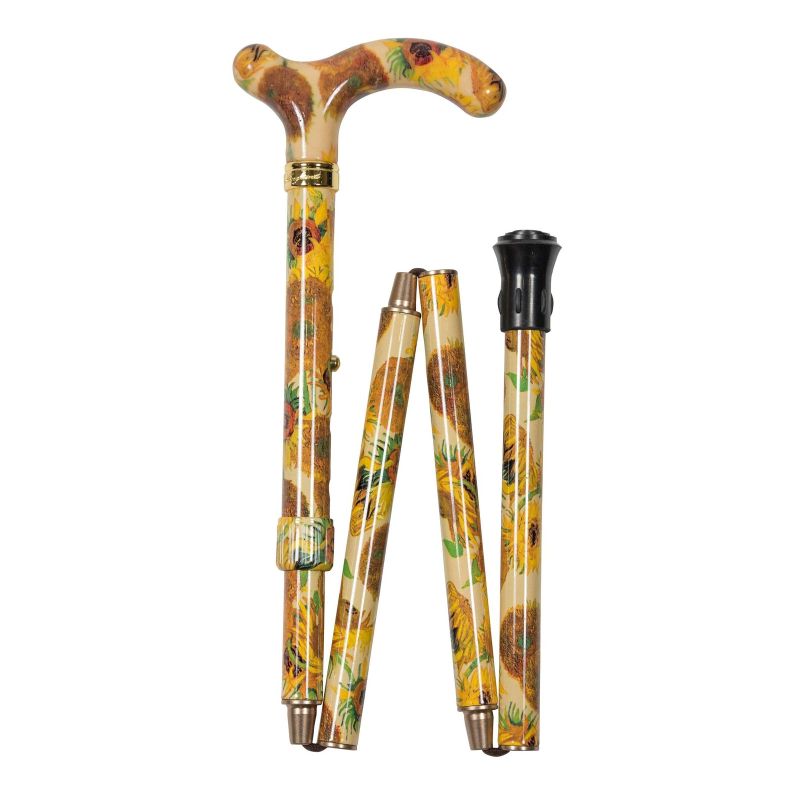 If you have smaller hands and the classic Derby handle doesn't fit you, the petite Derby allows you to stay comfortable with your perfect match. The Petite Adjustable National Gallery Sunflowers Walking Cane offers just that, with an extra artistic touch.
The petite-sized cane captures Vincent van Gogh's 'Sunflowers' painting, allowing you to carry around a beautiful reminder of his masterpiece wherever you go. What's more, by purchasing this National Gallery Walking Cane you contribute a small amount of money to the conservation of some of the nation's favourite paintings.
Key Features: Petite Derby handle; adjustable height between 30" and 33.5"; artistic print of Van Gogh's 'Sunflowers'
Be Practical with a Handbag-Sized Cane
Most folding walking sticks fold into four sections, which is practical for saving space when visiting a restaurant or travelling by car, but it doesn't necessarily guarantee you'll be able to tuck your cane in your handbag whenever you don't want to be seen with it. The Handbag-Sized Adjustable Folding Claret Floral Walking Cane folds into five sections, and is supplied with a carry wallet, allowing you to carry it around with you easily.
This highly practical walking stick comes in an elegant claret colour and features a light floral pattern for added style. The petite Derby handle is comfortable to grip by anyone, even those with smaller hands, while the height-adjustable shaft ensures a healthy posture during use.
Key Features: Folds into five sections; petite Derby handle; adjustable height between 33" and 36"
Stay Comfortable with an Orthopaedic Handle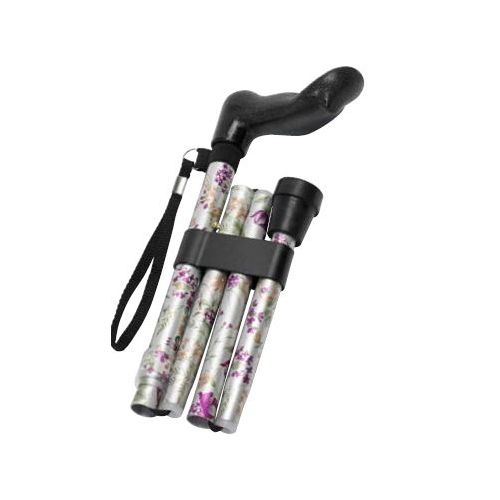 Painful hands or difficulties gripping can easily discourage you from getting a walking stick when you feel you might need a bit of extra support. Orthopaedic handles are designed specifically for people with that exact problem, and the Floral Height Adjustable Folding Walking Stick wonderfully combines the elegance of a floral ladies' walking stick with the comfort of a high-quality walking aid.
The folding walking stick features an orthopaedic handle that spreads pressure evenly across the palm, which makes it ideal for people with arthritis, rheumatism, or similar conditions affecting the hand and wrist. This helps to reduce the pressure-related pain that can be caused by the occasional or frequent use of traditional canes, and offer comfortable support throughout your day.
Key Features: Orthopaedic handle; adjustable height from 31" to 35"; attractive floral design; rubber ferrule
Find Your Ideal Folding Walking Stick
Everyone has their own unique style, and because we know how important it is to find the perfect walking stick that you feel proud to bring along with you wherever you go, we also realise that our list of suggestions quite possibly doesn't include the walking stick of your dreams. If you want to see our full collection, we suggest you visit the category Ladies Walking Sticks, and, to make your search even more specific, pick Foldable Walking Sticks from the menu on your left. This should leave you with a very broad range of attractive folding walking sticks for ladies.
What is your favourite walking stick style? Let us know in the comments below, or find us on Twitter and Facebook!