Best Wooden Walking Sticks
Tuesday, 24 October 2017 | Eugene
Walking sticks come in all shapes, sizes, styles and colours, giving hiking and walking enthusiasts plenty of opportunity to express themselves and choose the perfect walking aid for them. For many, though, the flashy styles and accessories that adorn modern walking sticks seem a bit over the top, and more simple and classic styles are more appealing. For these people, the majesty and natural beauty of a wooden walking stick can't be beaten.
Wide Selection of Wooden Walking Sticks
While the term 'wooden walking stick' may conjure up images of a simple stick found on the side of the path, there is almost infinite variety in the design and style of these sticks, as they are only limited by nature itself. With a multitude of different woods on offer, as well as carved designs, sizes, colours and handle types, there's sure to be a wooden walking stick to suit every user.
At WalkingSticks.co.uk, we consider ourselves to be the utmost authority on all things walking, hiking and trekking, and we appreciate the rugged beauty of a wooden stick as much as any nature enthusiast. To help you decide which stick is right for you, we've put together a list of some of our favourite wooden walking sticks, with plenty of variety on offer. Hopefully, you'll see one that catches your eye as the perfect companion for your walks, hikes and strolls.
Beech Wood Pistol Grip Cane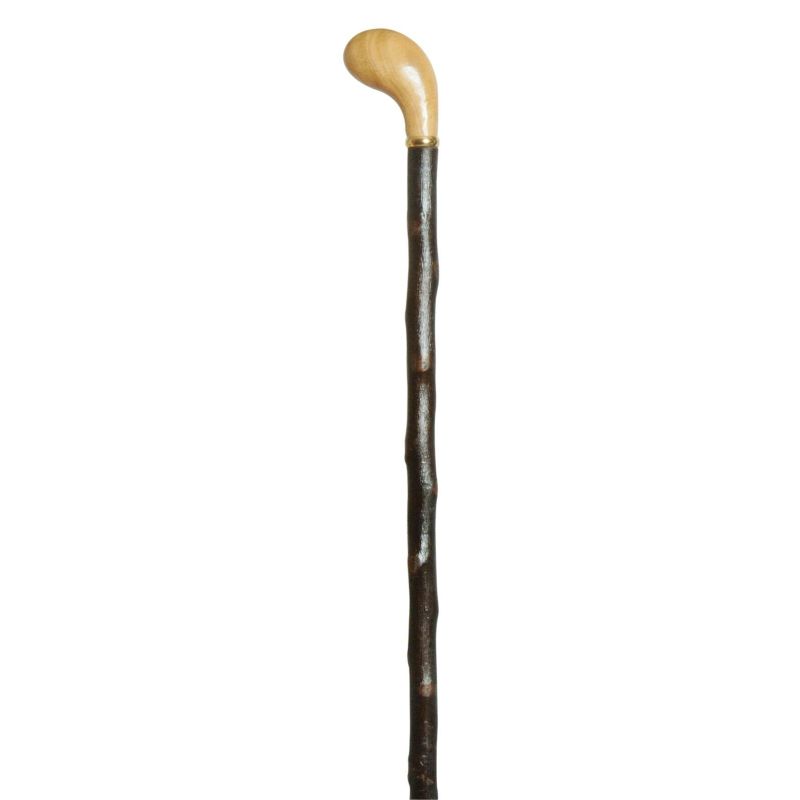 The first on our list is an extremely practical stick that would seem as at home in the centre of town as it would on a trek through the deep woods. The Beech Wood Pistol Grip Cane is a rustic country walking stick, featuring a rounded handle, hardwood shaft, and smart brass collar. With a naturally textured shaft, this stick is as beautiful as it is reliable.
The rugged shaft is divided from the more civilised polished handle by a classy metal collar, making this stick suitable for virtually any user. Loosely based on the off-set shape of a pistol handle, the grip of this stick fits comfortably in the palm, making it excellent for pleasant strolls or long, winding treks. Made with tough beech wood, this stick is both durable and resilient, so it'll be with you through thick and thin, regardless of what you put it through on your outings.
Key Features: Durable beech wood, smart metal ferrule, rugged textured shaft.
Gents' Economy Chestnut Walking Stick
No list of our favourite wooden walking sticks would be complete without the striking deep colour of chestnut. The Gents' Economy Chestnut Walking Stick combines a robust shaft with a convenient crook handle, providing reliability and unique style for any country trek. It is 38" in height, making it perfect for most individuals.
Made with a crook handle, this stick is easy to grip and can be easily hung over an arm, balanced on the edge of a table or stored on a hook. This makes it ideal for those who may find it difficult to bend down to the floor to retrieve their cane, as it will always be at arm's length. It is made only with wood cut from sustainable forests, making it ideal for any nature lover looking to bring a little piece of the forest with them, wherever they go.
Key Features: Dark chestnut wood, sturdy shaft, convenient crook handle
Bamboo Soft-Touch Handle Wooden Walking Stick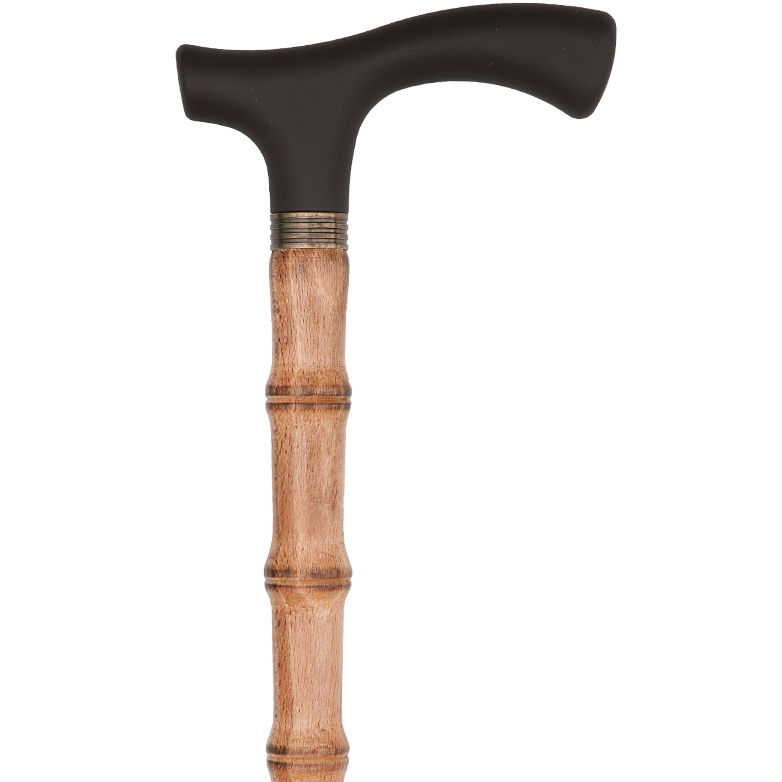 Few types of wood boast the universal appeal and striking texture of bamboo, which is what makes this stick truly unique. The Bamboo Soft-Touch Handle Wooden Walking Stick is made with sturdy wood with a bamboo-effect shaft, providing lightweight and reliable support in a striking package. 36" in length, this stick is ideal for anyone looking for a comfortable walking aid that will stand out from the rest.
It features a comfortable and practical crutch handle, allowing the palm of any user to comfortably grasp the stick with ease. The soft-touch nature of the handle also makes it perfect for extended periods of time, ideal for long walks through the town or country. It is fitted with a ferrule to absorb the impact of the stick with the ground, while also protecting the wood of the shaft from becoming damaged by rocks, concrete or other hard materials.
Key Features: Striking bamboo-effect design, comfortable soft-touch crutch handle.
Blackthorn Hiking Staff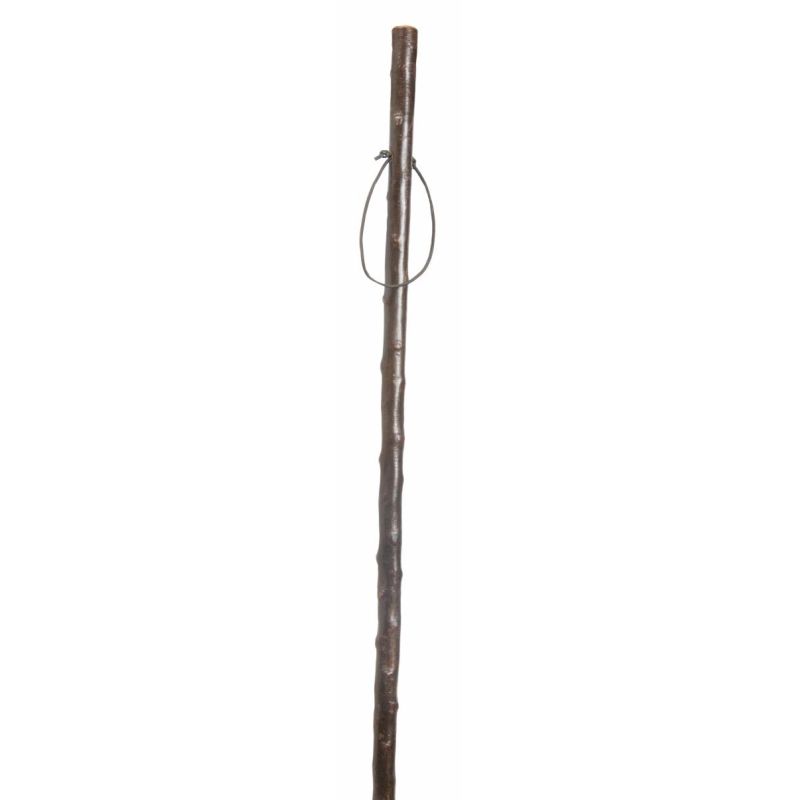 When it comes to natural wooden sticks, simplicity is often the best strategy. The Blackthorn Hiking Staff is made, or rather collected, with this in mind. As traditional as can be, this country walking stick is made from sought-after blackthorn wood, distinguished by its rich colour and characteristically rugged appearance. The traditional wood of Ireland, blackthorn is distinguished by its spiny thorns, sanded down to give this stick a unique appearance.
Extremely strong, this staff is simply gripped by the user with their palm, and provides natural grip from the bumpy, textured surface. It is fitted with a leather wrist strap, ensuring it won't be dropped on long hikes through the countryside. It features a rubber ferrule fitted over a spiked one, giving you all the support and grip you need, regardless of your walking surface.
Key Features: Traditional and unique design, strong blackthorn wood, combi ferrule.
Brown Shephard's Crook Collectors' Walking Stick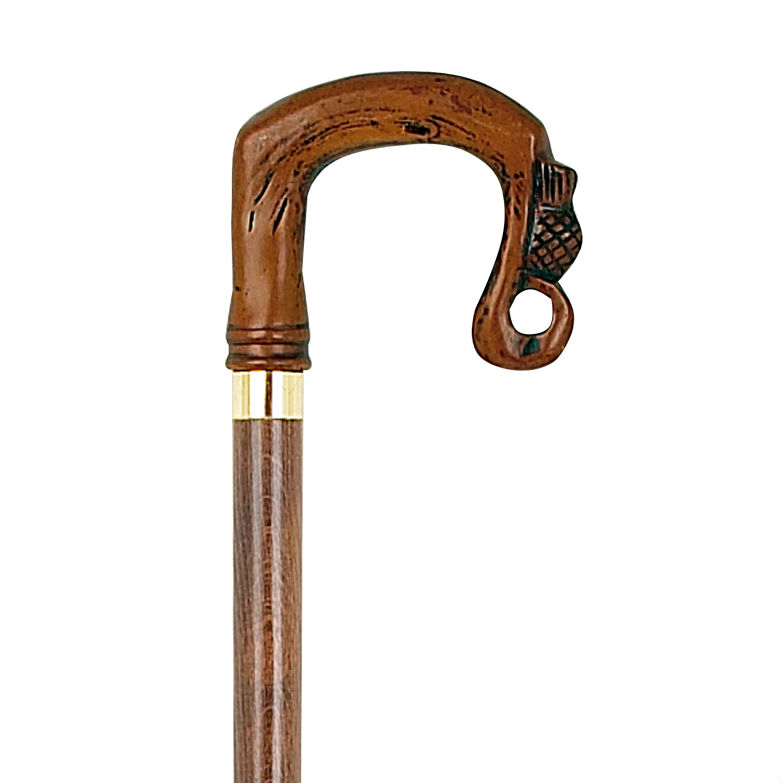 Somewhat of a departure from the rugged and natural designs of the previous sticks, this stick is a more ornate and elegant choice for lovers of wooden walking sticks. The Brown Shephard's Crook Collectors' Walking Stick is ideal for cane collectors and country dwellers alike, made with a durable turned stained beech shaft and moulded resin handle.
Fun and unique, this stick will draw eyes with its curved and attractive handle that is both functional and stylish. It can be hooked easily over the arm, ideal for situations where you may require the use of your hands. Finished off with a smart brass collar, this stick makes an ideal gift for the walker, hiker or lover of style in your life.
Key Features: Unique curved handle, durable stained beech shaft, makes a great gift.
While these are some of our favourite wooden walking sticks, there are too many to mention all at once. With so many types of wood that nature has to offer, the endless array of wooden walking sticks available provides endless opportunity for collection and discovery. At WalkingSticks.co.uk, we stock a range of Wooden Walking Sticks, all available with free UK delivery on all orders over £40. Why not take a look for yourself, and decide which one is your favourite?
Have any questions, or something to add? You can leave us your thoughts in the comments section below, or find us on Facebook or Twitter!