Best Funky Walking Sticks 2023
If you only need a little bit of support from time to time, the walking stick you're looking for needs to be first and foremost a fashion accessory. Depending on your personal style, that can mean a lot of different things, but if your outfits are always carefully chosen to make a statement, there's only one type of walking stick you can get. Out broad range of funky walking sticks is always here to inspire you, and this list of the Best Funky Walking Sticks is here to help you narrow down your choices and find the walking stick that screams your name.
Some of Our Favourite Funky Sticks
Funky Sticks Worth Highlighting
Psychedelic Walking Stick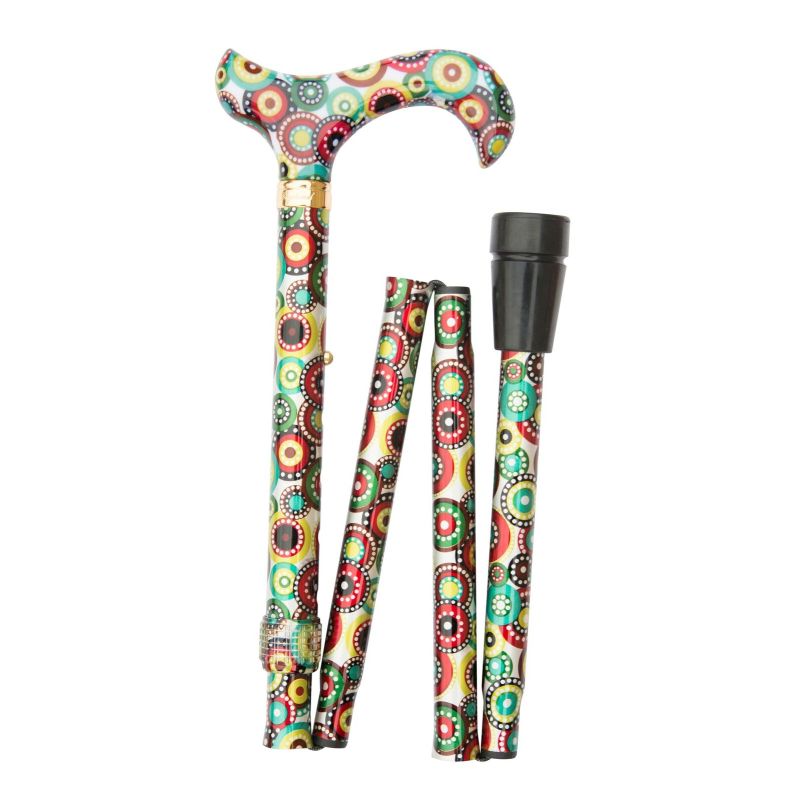 With its all-over pattern of red, yellow and green concentric circles, the Adjustable Folding Fashion Derby Handle Walking Stick is exactly what you need if you want to make an impression wherever you appear. This fashionable cane is more than just a stylish accessory, though.
It features an easy-to-grip Derby handle, and a sturdy aluminium shaft that can easily be adjusted in height. This means that you get the support that you need, when you need it, while making a fashion statement, and staying true to your style.
Key Features: Height adjustable from 32" to 36"; Derby handle, 420g; folds into four sections
---
Hippie Walking Stick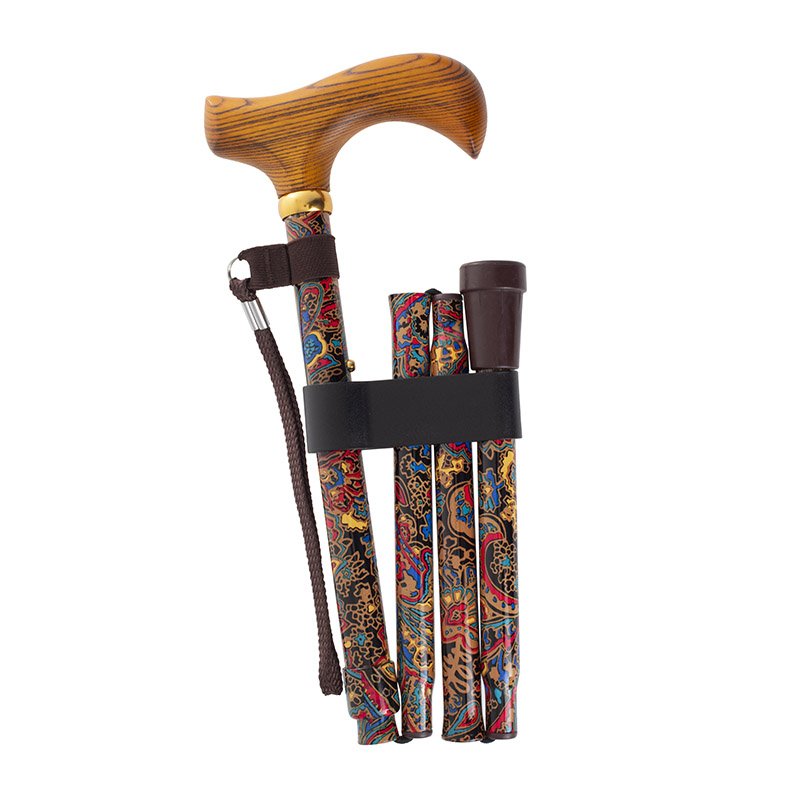 The paisley pattern is an ornamental design of Persian origin that experienced a re-birth in the mid- and late 1960s, and broke into mainstream popularity. This Height-Adjustable Folding Red Paisley Pattern Derby Walking Stick definitely does it justice.
There's no arguing that this stick does not look like any other mobility aid. So if you want to enjoy occasional support when walking, while turning heads with your brilliant choice of fashion accessory, this is the walking stick that can help you out.
Key Features: Height adjustable from 32.5" to 37"; Derby handle; folds into four sections; wrist cord included
---
Cartoon Butterflies Walking Stick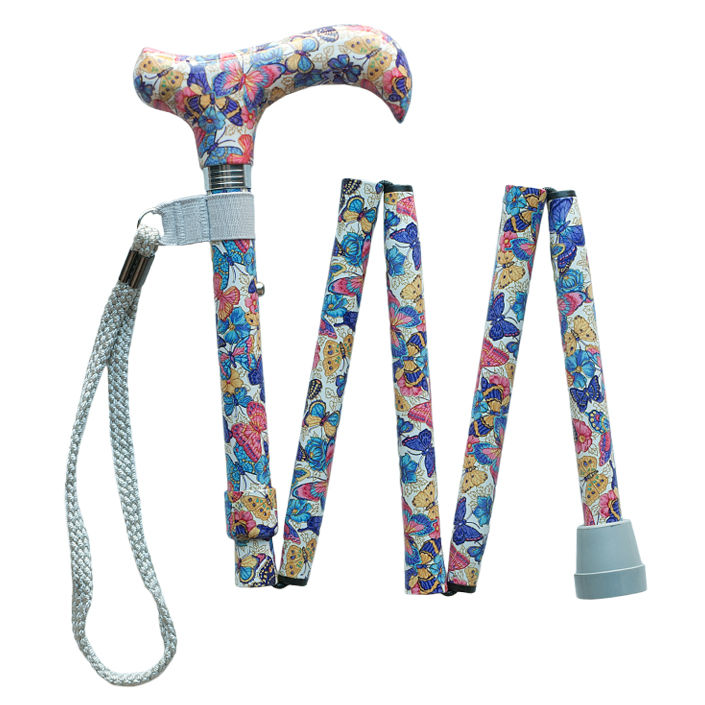 If you prefer slightly gentler patterns, this Height-Adjustable Butterfly-Patterned Mini Folding Derby Walking Stick is just what you've been waiting for. It features a light-hearted pattern of colourful butterflies on both its shaft and handle, and is fitted with a white ferrule and a white wrist cord to complete the look.
This walking stick can also be folded into a compact size for easier transportation, making it ideal for anybody who only needs support occasionally when out and about. In contrast to its gentle appearance, this Butterfly-Patterned Stick is made with strong aluminium that ensures you're getting not only a funky accessory, but a reliable support as well.
Key Features: Height adjustable from 32" to 35"; Derby handle; folds into five sections; wrist cord included
---
Glow in the Dark Walking Stick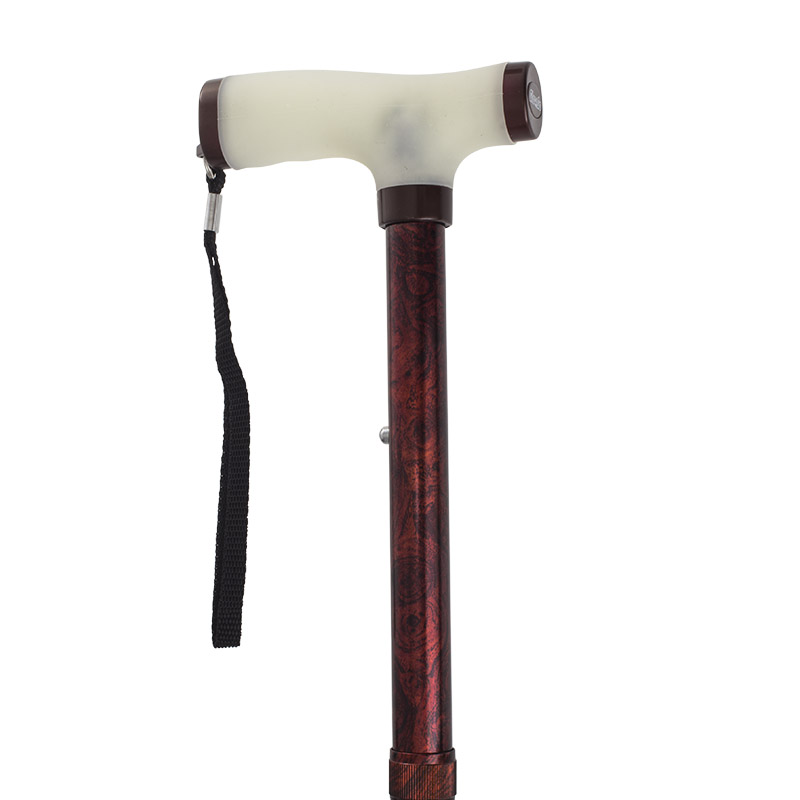 Having a glow-in-the-dark walking stick is not only incredibly fun, but practical as well. The Copper Glow and Go Folding Walking Stick is a stylish aluminium cane featuring a handle and a ferrule that glow in the dark, making sure you remain visible at all times.
Despite its appeal as a stick that can glow in the dark, this folding walking stick also has a range of other features that make it an excellent choice. For example, the handle has been designed so it's soft to the touch, ensuring maximum comfort, while the strong anodised aluminium shaft supports up to 21 stone.
Key Features: Height adjustable from 33" to 37"; crutch handle; folds into four sections; wrist strap included; handle and ferrule glow in the dark
---
If none if these sticks is exactly what you've had in mind, take a look at our wide range of funky walking sticks. Whether you prefer style or convenience, we're certain you'll find something for yourself.
Which is your favourite funky walking stick? Let us know in the comments, or find us on Twitter and Facebook!