Best Formal Canes for a Day at the Races
Wednesday, 27 December 2017 | Admin
Whether you're attending horse racing or greyhound racing, the attire you wear is an important part of the event. Walking sticks are the ultimate fashion accessory in this setting and will set your outfit above your competitors'. But which stick should you choose? View our top five picks for a day at the races by reading our blog.
Feel Like a Winner
If you've placed a large amount of money on your favourite horse or greyhound, half the fun of the day is jeering your competition. Having one of these canes in hand while you size up the competition will make you feel like a winner even before the races have begun!
Brown Blinkered Horse Hardwood Cane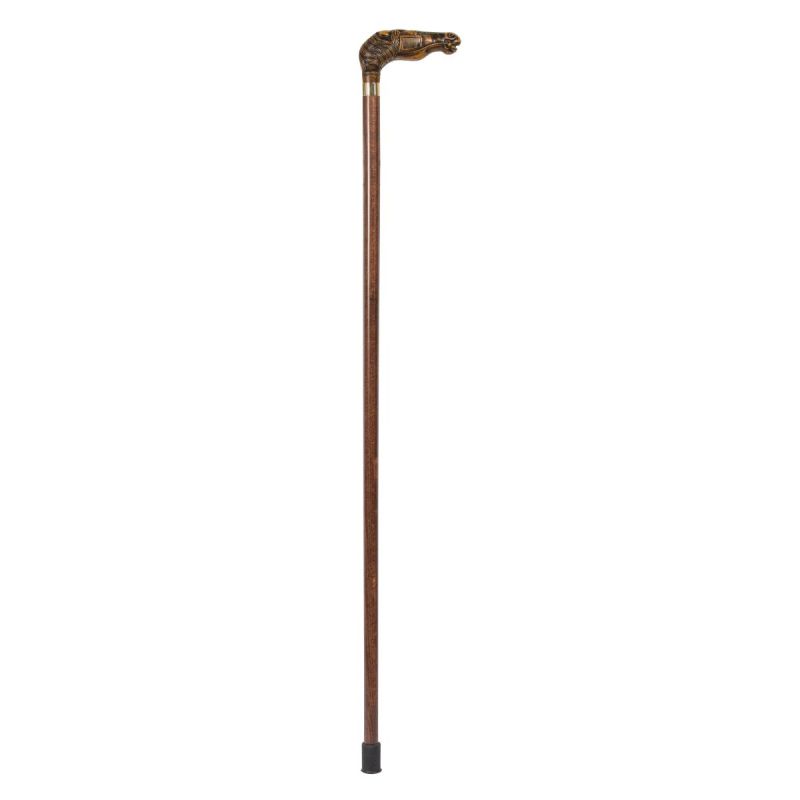 Designed with a highly detailed and realistic replica of a horse's head as its handle, the Brown Blinkered Horse Hardwood Cane is an excellent choice for collectors and horse racing enthusiasts alike. This walking stick provides you with an excellent way of cheering on your favourite blinkered horse!
Although others' attention will mainly be on the cane's handle, the rest of the Brown Hardwood Cane's design doesn't let its handle down. The stick's shaft is made from hardwood and has been left natural to show off the wood's beautiful natural wood grain. Fitted with a smart brass collar and discreet rubber ferrule, every feature of the stick has been crafted for the most formal of occasions.
Key Features: Blinkered horse replicated on its handle, hardwood shaft and smart brass collar
Black Greyhound Handle Crook Walking Stick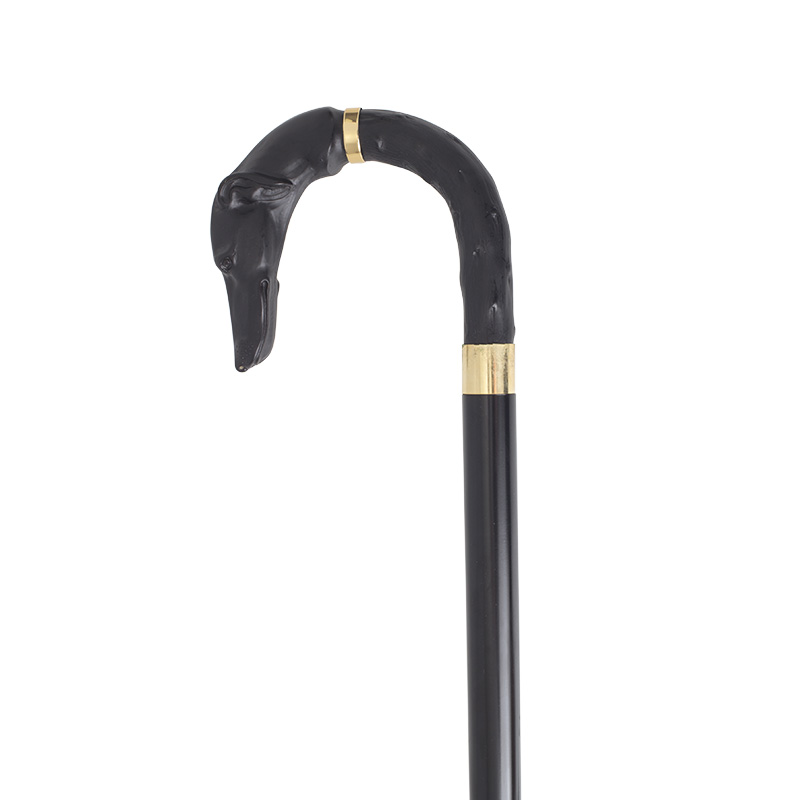 Celebrate the fact that the UK is one of very few countries where greyhound racing is still legal by using the Black Greyhound Handle Crook Walking Stick at the racing track. Featuring a greyhound's head and neck shaped into a classic crook handle, this walking stick is a beautiful collector's stick that's perfect for a day at the races. Its crook handle allows it to be hooked over your arm when it isn't in use, which allows you to show off the handle's design to your fellow spectators.
Owing to its crook handle and greyhound design, this particular stick is excellent for those who enjoy the country life and want to relive the glory days of dog racing. It's the little details that make this Black Handle Walking Stick great; the stick has two handle options - one around the greyhound's neck and the other between the handle and the shaft! This cane is an excellent way for you to cheer on your favourite hound.
Key Features: Greyhound's head and neck shaped into a crook handle, ideal for collectors and dog racing enthusiasts
Horse's Head Collectors' Walking Stick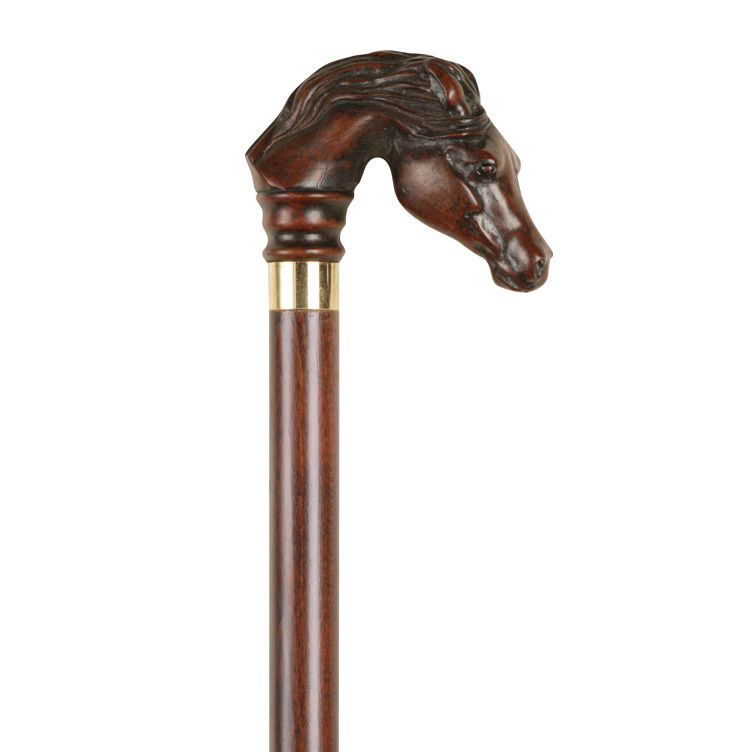 This stunning Horse's Head Collectors' Walking Stick is the ultimate fashion accessory for the races. The horse's head is moulded from resin with a beautiful wood grain that makes it stand out from other sticks. When you walk around with this stick, you'll feel like a Lord or Lady!
Although the Horse's Head Walking Stick's head is justifiably the centre of attention when you use this cane, its shaft also beautifully matches its handle. The shaft has been made from turned beech wood that has been stained for an attractive finish. This also helps protect the wood from damage so the stick's stunning design is durable.
Key Features: Horse's head replicated on the stick's handle, turned and stained beech wood shaft
Greyhound Collectors' Walking Stick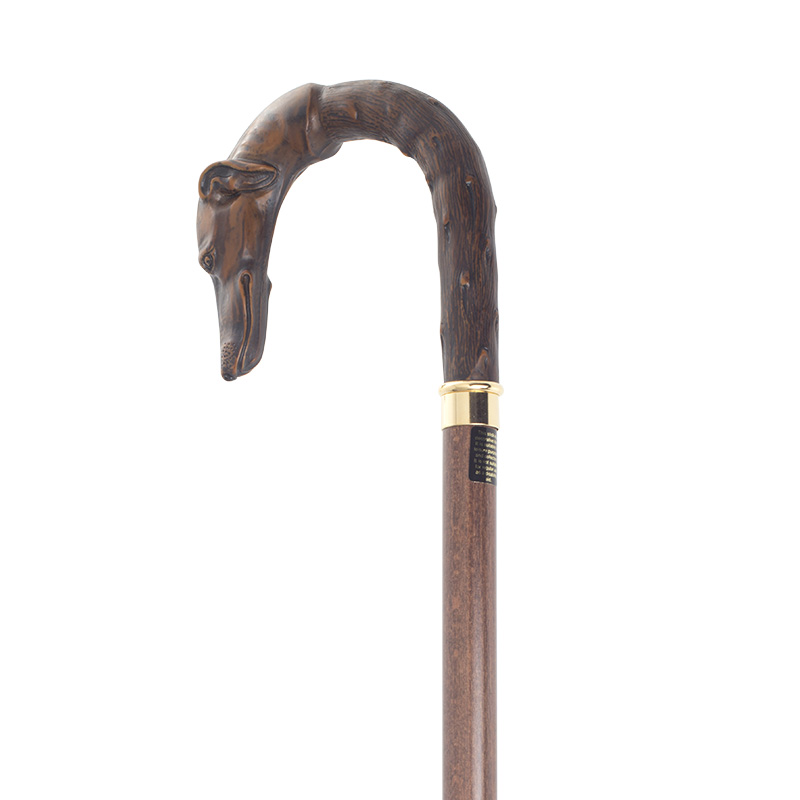 If the greyhound you're backing is brown, the Greyhound Collectors' Walking Stick is an excellent alternative to the above black greyhound walking stick. Show your support and cheer on your hound in style by having this walking stick on your hand! The handle has been moulded into the shape of a crook, allowing it to be hooked over your arm when you need to use both of your hands. This also gives you an opportunity to show off the stick's design without covering it with your hand!
Crafted with a stained beech shaft, the stick has a beautiful wood grain pattern that sets it above its competition. The Collectors' Walking Stick is an excellent cane for formal occasions and cane collections alike as a result of its unique, novelty design.
Key Features: Brown greyhound in the shape of a crook, stained beech shaft with a wood grain pattern
Black Foldaway Flipstick Seat Stick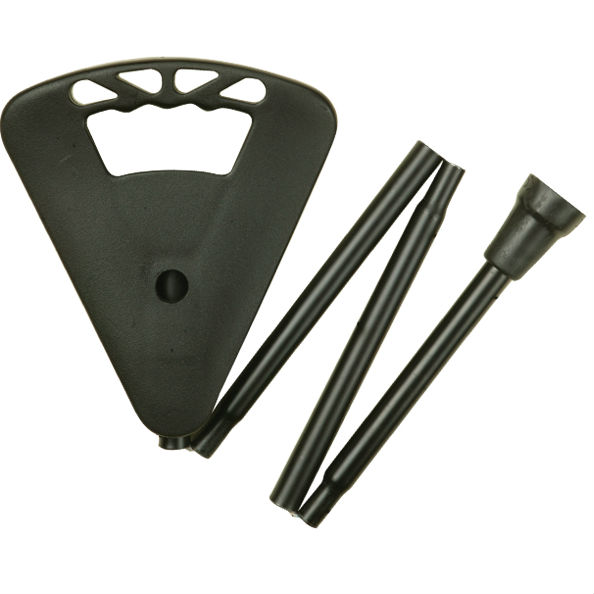 Although a little different to the previous four walking sticks, the Black Foldaway Flipstick Seat Stick is an excellent cane for a day at the races. This seat stick is perfect for spectator sports like horse or dog racing as it provides you with a comfortable surface from which you can perch to watch the race without feeling tired.
Designed with one leg, the Flipstick Seat Stick is ideal for those who don't suffer from mobility or balance issues. It can be folded into three sections, allowing you to unfold it only when you require a seat or additional support. Designed with a contoured handle, the seat is able to be used as a walking stick without causing pain or discomfort in your hand.
Key Features: Allows you to rest whenever and wherever necessary, folds into three sections, contoured handle
Please note that the first four sticks are suitable as accessories and should not be used for orthopaedic use.
Do you have a favourite style of cane or walking stick to take to the races? Let us know in the comments, or find us on Twitter and Facebook!