Best Folding Walking Sticks
Tuesday, 31 October 2017 | Eugene
When choosing which walking stick is for you, the most important factors to consider are comfort, support and convenience. Will the handle style complement your hand size and preference of grip? Is the support sturdy enough to support your weight, and is it the correct height to allow you to walk comfortably? Will the stick be convenient, and will it fit easily into your lifestyle without causing a hassle?
Whatever your preference, at WalkingSticks.co.uk, we're confident we have the right stick for you. We stock virtually every handle type and style of stick you can imagine, so it's best to have a browse for yourself to see which sticks are for you. With that said, we can help you out by highlighting some of the most convenient sticks around: folding walking sticks.
Folding walking sticks are excellent for virtually any environment and activity, as they can be stowed away into a small bag or pouch when not needed. This means that you won't have to carry a burdensome stick around with you for hours on end, and can instead enjoy the use of both of your hands when you need to. Conversely, you can easily pull the stick out and enjoy comfort and support when you start to feel tired.
Height-Adjustable Folding Black Soft-Grip Crutch Handle Walking Stick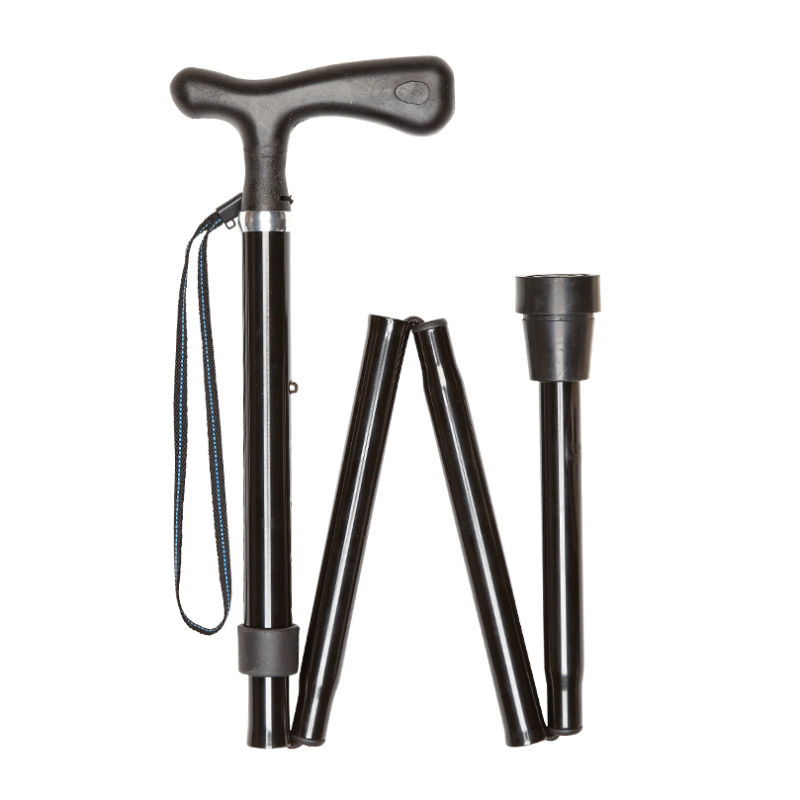 For those looking for a highly reliable stick that will fit into just about any occasion, the Height-Adjustable Folding Black Soft-Grip Crutch Handle Walking Stick is an excellent choice. It folds into four sections, allowing it to reach a size that is compact enough to fit into most handbags. It is also excellent for bringing on a train or aeroplane as it won't take up much space in your luggage.
It is made from strong and lightweight aluminium, providing excellent support without weighing you down. The soft, crutch-style handle fits comfortably into the hands of most users, providing a pleasant surface to grip onto for as long as you need to. It is fitted with a rubber ferrule, meaning that impacts with the ground will be cushioned so that use for long periods is comfortable and free from pain.
Key Features: Folds into four sections, subtle design, made with a soft black handle.
Height Adjustable Folding Purple Gel Handle Walking Stick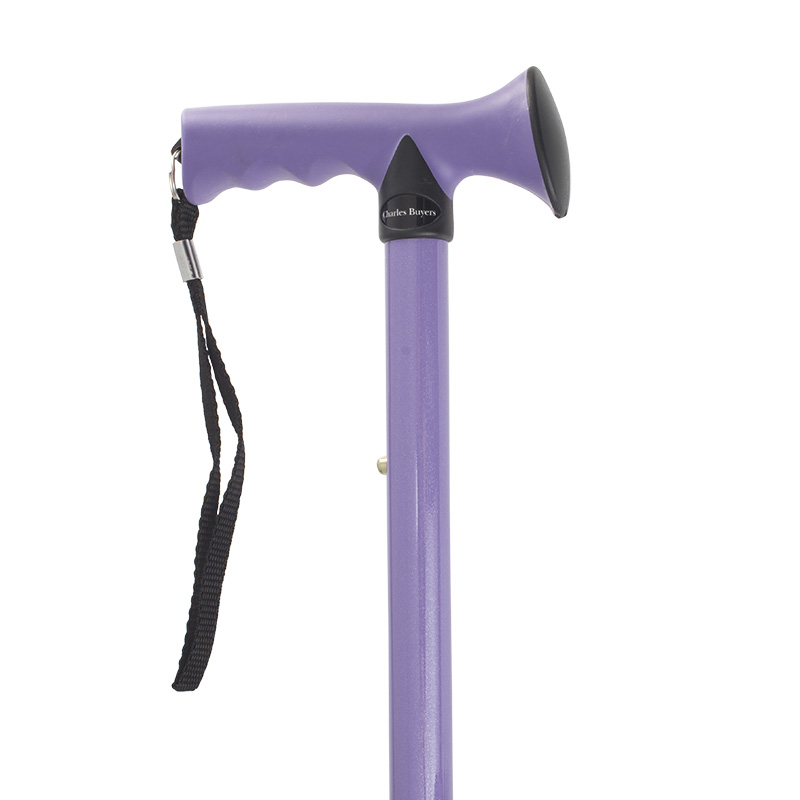 While most walking sticks feature rigid handles that are made for style above all else, this stick is unique in that it is made with a highly comfortable gel handle for all-day use. The Height Adjustable Folding Purple Gel Handle Walking Stick combines convenience with comfort, featuring a sleek and soft handle with a quirky purple colour and convenient folding design.
It includes a rubber ferrule to absorb impacts from the ground as you walk, combined with a soft and sleek rubber-coated handle to make the shock-absorbing effect even more powerful. It can be adjusted in height from 31" to 35", allowing it to be customised to the perfect height for most users. For those looking for a comfortable and foldable stick, this walking aid is hard to beat.
Key Features: Easily folds away, comfortable gel handle, quirky purple colour.
Adjustable Folding Bronze Floral Walking Stick with Anatomical Handle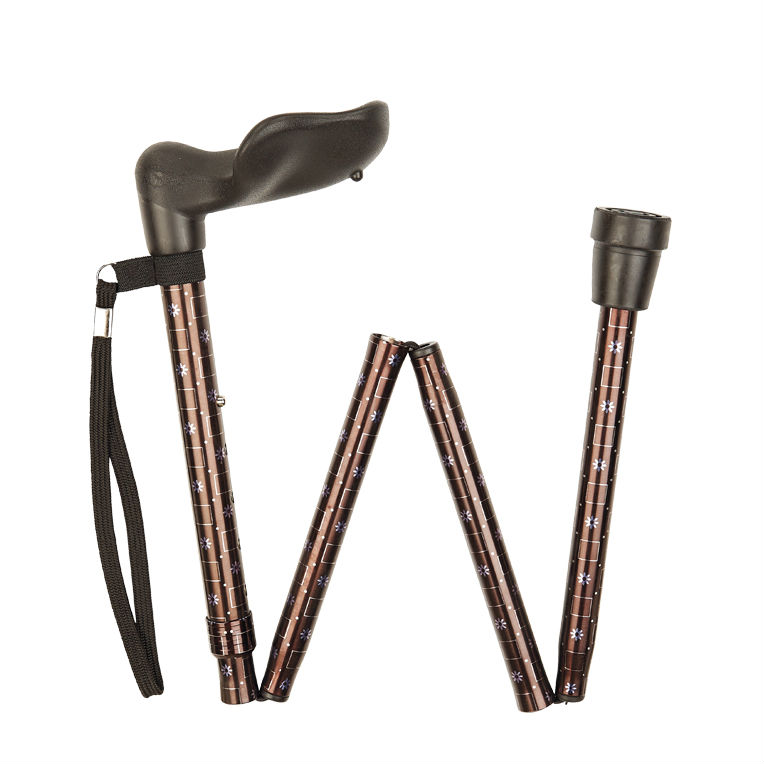 Many walking sticks have handles that require a rigid 90 degree grip, which can cause pain in the hands or wrists of those with arthritis. The Adjustable Folding Bronze Floral Walking Stick with Anatomical Handle is made with these people in mind, as it features an anatomical handle that is specially designed to fit into the hand with ease. It is available for either the left or right hand, ensuring you'll have the most comfortable handle possible for your favoured side.
This stick is height adjustable from 32" to 36", and folds into four sections for convenience. It also features a subtle floral design, adding a touch of elegance and personality to the stick to set it apart from other canes and supports. This design and classy bronze colour add a universal appeal to this stick, making it an excellent Christmas gift for that picky friend or loved one.
Key Features: Comfortable ergonomic handle, folds into four sections, classy bronze floral design.
Black Crook Trio Folding Seat Stick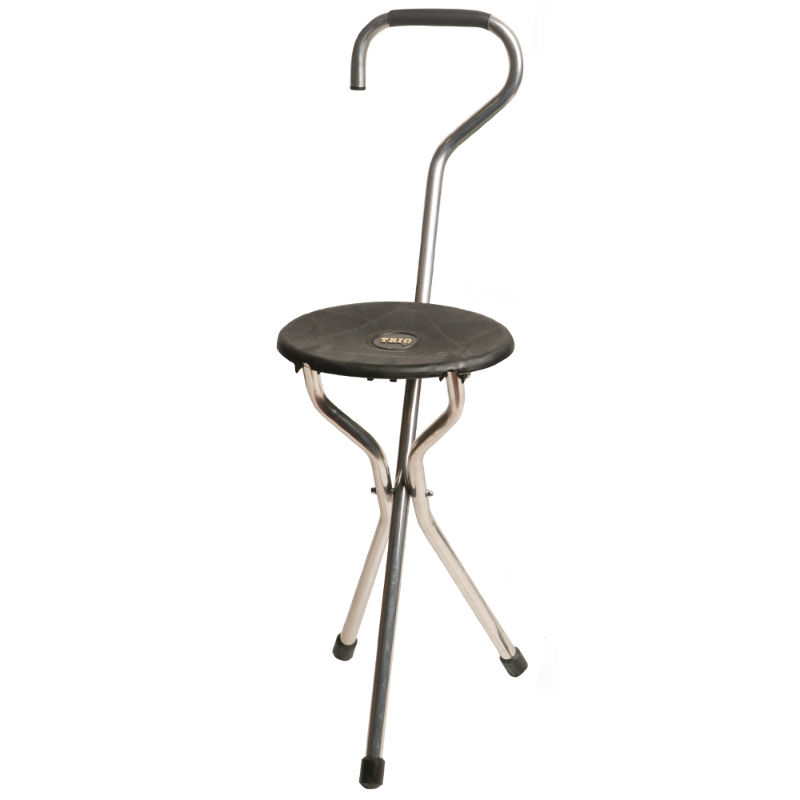 For those times when you just want to take a load off, we've included and handy and compact seat stick on our list. The Black Crook Trio Folding Seat Stick is equipped with three legs, giving it plenty of stability for you to confidently take a rest whenever you feel the need. This stick is also ideal for taking to an outdoor event, working as a supportive stick as you approach, and a comfortable seat once you've arrived.
It folds up compactly, making it easy to toss in the boot of your car, and is even easy to take on a crowded bus or train. No longer will you have to plop down on wet grass or a soaking park bench, as you'll have a dry and comfortable personal seat at your disposal, wherever you go.
Key Features: Folds up compactly, lightweight, comfortable round seat.
These are some of our favourite folding walking sticks, but that's not to say they have to be yours as well. At WalkingSticks.co.uk, we stock a wide range of Folding Walking Sticks that we didn't have time to include in this list, all available with free UK delivery on all orders over £40. Why not take a look for yourself, and decide which one is your favourite?
Have any questions, or something to add? You can leave us your thoughts in the comments section below!