Walking Sticks to Complement Yellow Nails
Yellow is a good nail polish colour because it is bright and vibrant, making it perfect for adding a pop of colour and a cheerful, summery vibe to your overall look. It can complement various skin tones and outfits, offering versatility and a fashion-forward statement. Additionally, yellow nail polish can help boost your mood and confidence, as it is associated with feelings of happiness and positivity.
In today's blog, we'll explore the best Walking Sticks to Complement Yellow Nails. We'll provide a huge range of walking sticks varying in colour, pattern and style, so that you're sure to find your dream design in no time!
---
Best Walking Sticks to Complement Yellow Nails
---
Animal Print: Add Drama to Your Wardrobe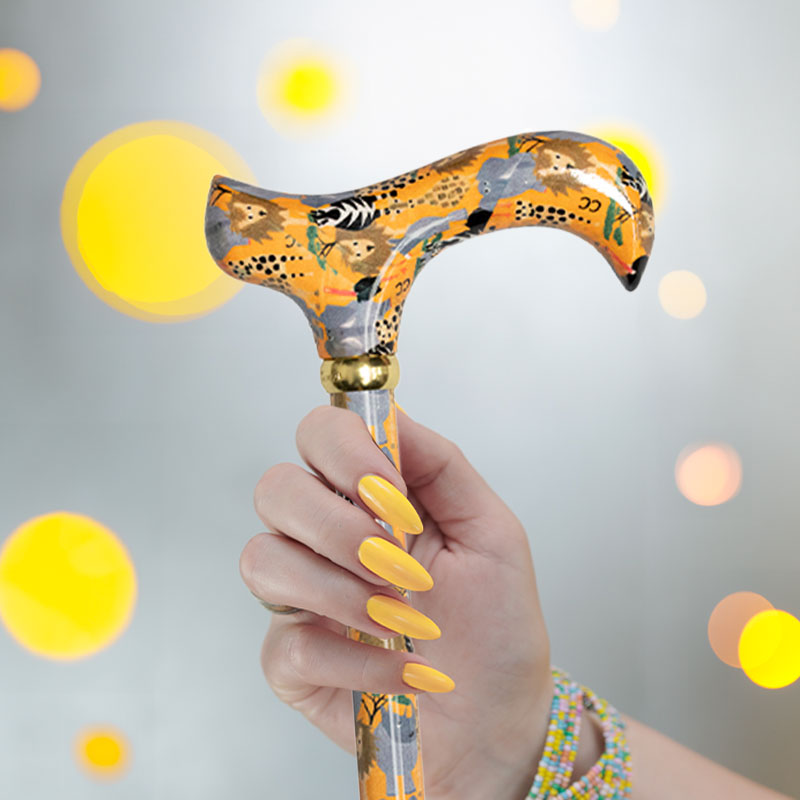 Yellow nails bring out the wild and vibrant elements in Animal Print Canes, such as leopard or zebra patterns. This combination creates a visually captivating and adventurous look that showcases your bold fashion choices.
Animal print and yellow nails both convey a sense of playfulness and confidence. Pairing them together allows you to express your adventurous spirit and fashion-forward attitude while maintaining a harmonious and stylish appearance.
---
Perfect in Pink: For a Feminine Glow
Yellow nails create a playful and harmonious synergy with Pink Walking Sticks. This combination of cheerful colours evokes a sense of joy and positivity, making it a delightful and cool choice that brightens your overall look.
The contrast between yellow nails and pink walking sticks offers a complementary visual appeal. The warm and vibrant hues of yellow contrast beautifully with the soft and feminine tones of pink, creating a balanced and visually pleasing ensemble. Check out our range of Pink Patterned Walking Sticks for even more playful options.
---
Pretty in Purple: For Complementary Colour Matching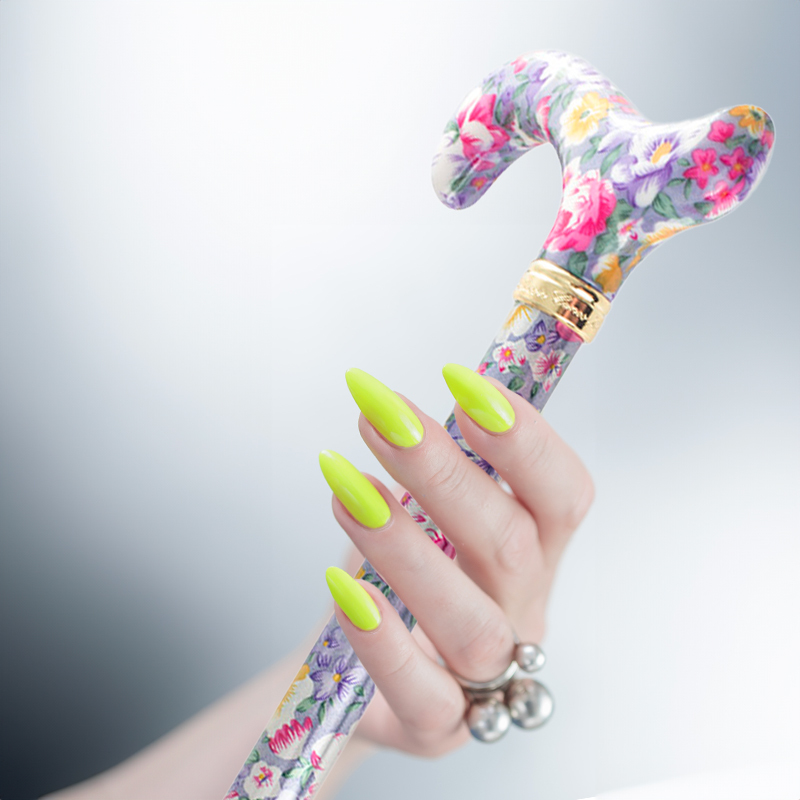 Yellow and purple are complementary colours on the colour wheel, creating a harmonious and visually appealing contrast. Pairing yellow nails with a Purple Walking Stick results in a balanced and stylish ensemble that showcases colour harmony and your fashion-forward attitude.
The combination of yellow and purple adds a vibrant and elegant touch to your overall look. It strikes a balance between playful energy and refined aesthetics, making it a cool and eye-catching choice for expressing your style.
Yellow nails and a purple walking stick can transition seamlessly between seasons. This versatile combination is suitable for both spring and summer, as well as autumn and winter, ensuring a year-round cool and stylish appearance. Check out our variety of Purple Mixed Colour Walking Sticks for more flirty, feminine designs.
---
Go for Green: For a Natural, Outdoorsy Feel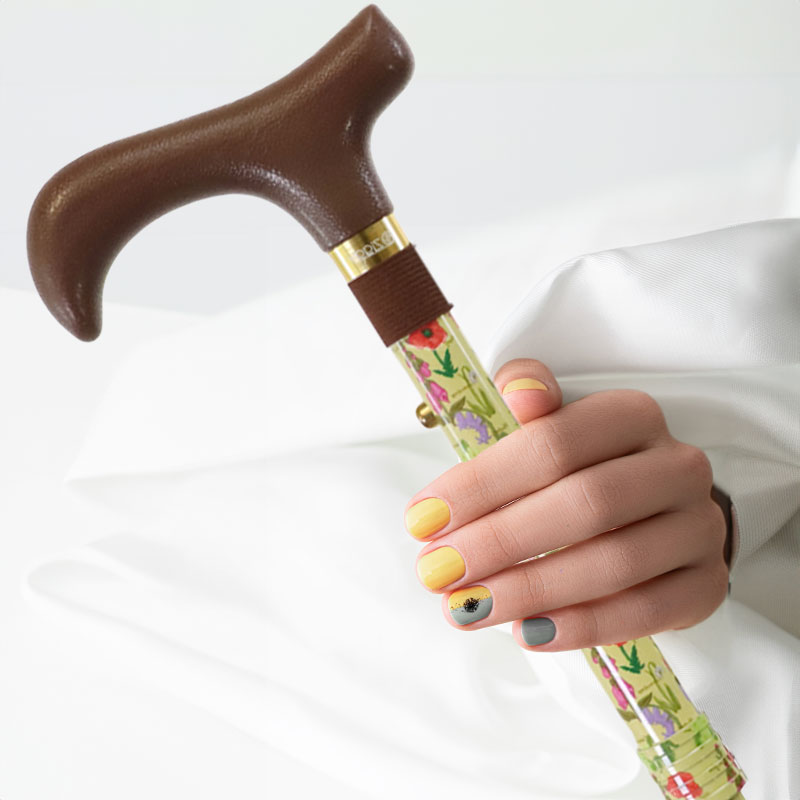 Yellow nails complement the vibrancy of a Green Walking Stick. This combination enhances the overall lively and energetic aesthetics of your look, showcasing a sense of playfulness and style.
Both yellow and green are colours associated with nature and the outdoors. Pairing them together creates a harmonious and organic connection, reflecting your appreciation for eco-conscious aesthetics and the beauty of the natural world.
Green Walking Sticks often convey a sense of freshness and versatility. Coordinating them with yellow nails offers adaptability and fresh style, making it suitable for various occasions and fashion expressions.
---
Fashionable Florals: For a Timeless Design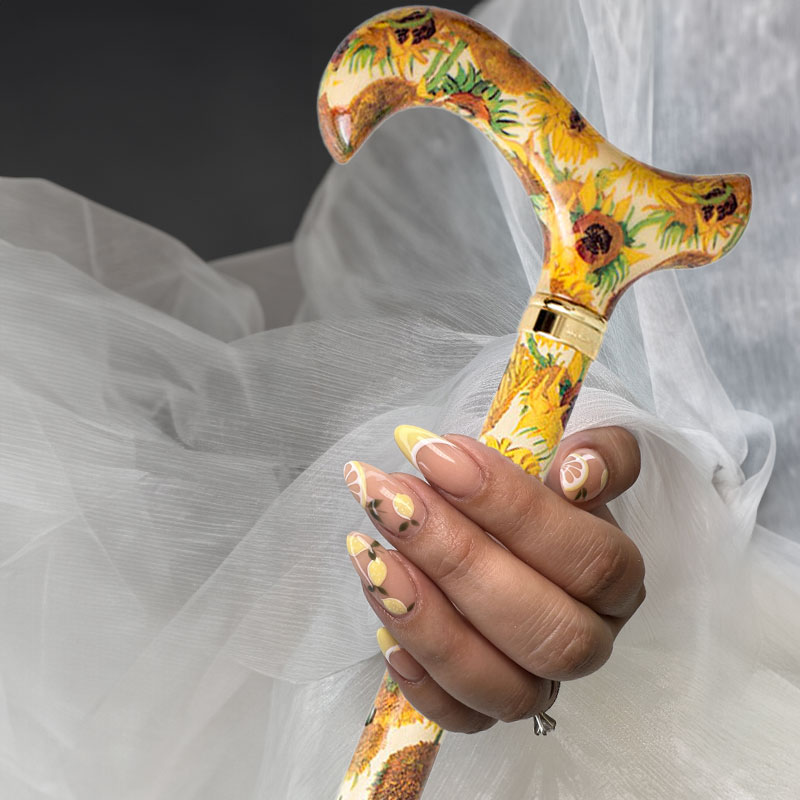 Yellow nails harmonize playfully with Floral Walking Sticks. The vibrant yellow adds to the overall whimsy and charm of the floral design, creating a visually captivating and stylish combination.
Floral patterns are synonymous with the beauty of spring. Pairing them with yellow nails allows you to embrace the elegance of this season while maintaining a fun and fashionable appearance.
---
Dark Wood: Add Rustic Charm to Your Look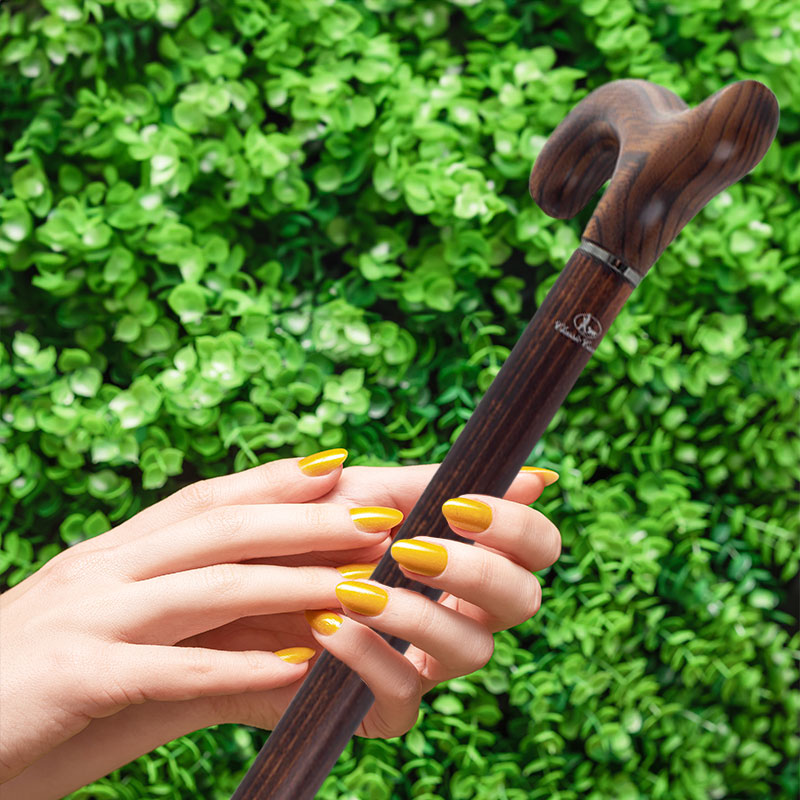 Yellow nails create a striking contrast with a Dark Wood Walking Stick, such as mahogany or walnut. This elegant contrast adds depth and sophistication to your overall look, showcasing your attention to detail and style refinement.
Yellow nails paired with a Dark Wood Walking Stick evoke a connection to nature and earthiness. This combination highlights the organic beauty of wood textures alongside the vibrancy of yellow nails, creating a harmonious and authentic aesthetic.
Dark Wood Walking Sticks have timeless appeal, offering a classic and enduring look. When coordinated with yellow nails, they create a timeless and stylish appearance that reflects a love for nature and a connection to the outdoors, making it a cool and authentic choice.
---
Our Final Word
There you have it, the ultimate guide to selecting the perfect walking stick colour for yellow nails. Each recommendation offers its unique charm and flair, allowing you to express your style and personality while maintaining impeccable elegance. With a huge variety of coloured, textured and pattered walking sticks to choose from, we'll have something for absolutely everyone for every occasion - so you can stay suave wherever you are!
Do you have any other questions, or something to add? You can leave us your thoughts in the comments section below, or find us on TikTok, Facebook, Instagram and YouTube!