Walking Sticks to Complement Red Nails
Red nails are the epitome of timeless allure and confidence. This classic hue adds an instant touch of sophistication and glamour to any ensemble, making it a go-to choice for those who want to make a statement. Whether you opt for a fiery crimson or a deep, sultry shade, red nails never go out of style, exuding an air of chic elegance that's impossible to resist.
In today's blog, we'll explore the best Walking Sticks to Complement Red Nails. We'll provide a huge range of walking sticks varying in colour, pattern and style, so that you're sure to find your dream design in no time!
---
Best Walking Sticks to Complement Red Nails
---
Gorgeous Green: For Complementary Contrast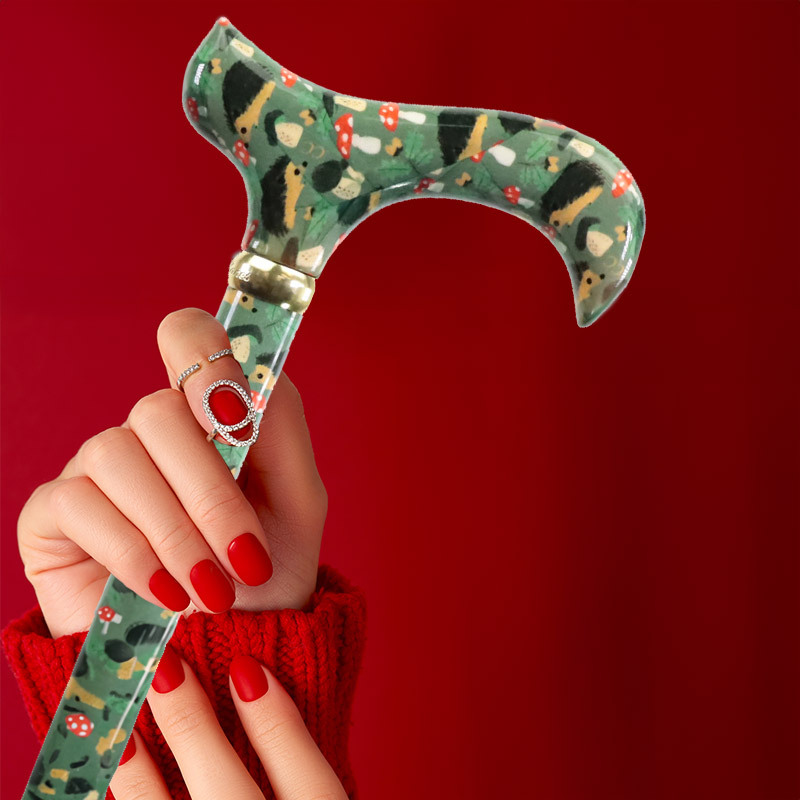 Red nails paired with Green Walking Sticks create an electrifying contrast that's impossible to ignore. This bold combination is perfect for adding a pop of excitement to your look. For more options, check out our Patterned Green Walking Sticks, Mixed Green Walking Sticks and Plain Green Walking Sticks.
The pairing of red and green invokes a sense of timeless sophistication. It's a harmonious blend of passion and serenity, making it suitable for both casual outings and more formal affairs.
Red and green are the epitome of festive colours, so this dynamic duo adds an element of celebration to your ensemble. Whether it's a garden party or a night out on the town, this pairing ensures you'll be the life of the fashionably festive party. Check out our variety of Christmas Walking Sticks for designs to get you in the spirit!
---
Cheetah Print: For a Classic Look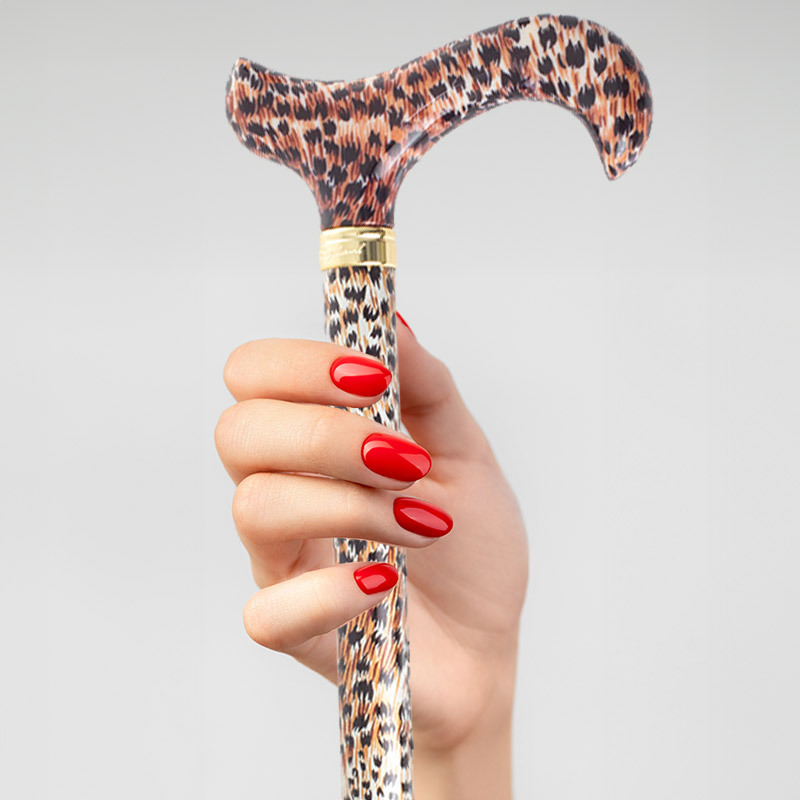 The fierce allure of cheetah print is taken to new heights when combined with fiery red nails. It's a blend of untamed wildness and high fashion that exudes confidence and sass. Check out our huge range of Animal Print Walking Sticks to make you go wild.
Red is the colour of power and passion, while leopard print is synonymous with boldness. Together, they create an unstoppable fashion statement that's equal parts fierce and fabulous. For more options, browse our Cheetah Print Canes and Leopard Print Walking Sticks.
---
Warm Orange: For a Cosy Look Year Round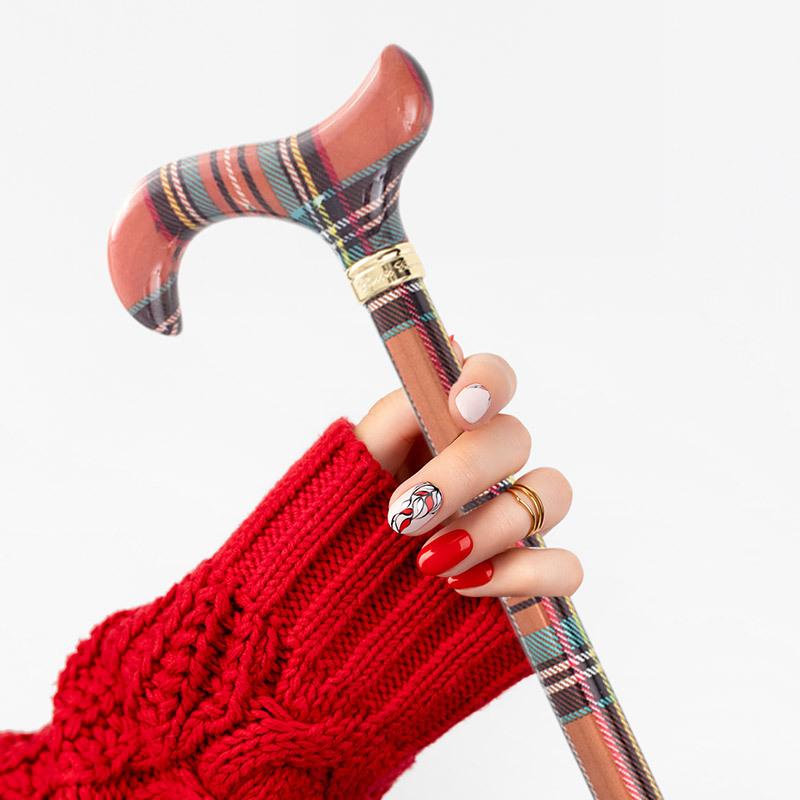 Red and orange together create a fiery fusion that's impossible to ignore. This daring colour combination ignites a sense of energy and vitality, making it perfect for those who crave a lively and spirited look. Our range of Orange Walking Sticks are a great way of spicing up your outfit.
The pairing of red nails with Orange Walking Sticks radiates warmth and positivity. It's like carrying a slice of sunshine wherever you go, brightening up any room or outdoor gathering.
---
Red and Pink Femininity: The Best Combination for Ladies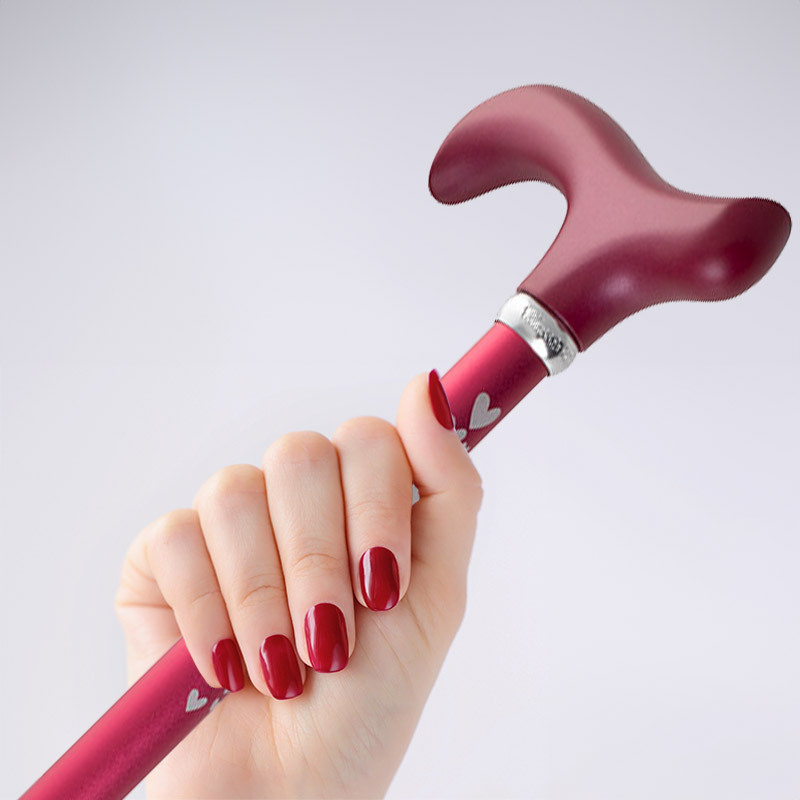 Red and pink come together in a passionate harmony that's both romantic and vibrant. This pairing exudes a sense of love and confidence, making it ideal for romantic evenings or brunch with friends.
The combination of red nails and Pink Walking Sticks embraces feminine allure. It's a celebration of femininity in all its forms, whether you opt for soft pastels or bold, fiery shades. Check out our variety of Ladies' Walking Sticks for even more designs for a flirty, fun walking stick.
Red nails with Pink Walking Sticks are a bold and beautiful choice. This dynamic duo is perfect for those who aren't afraid to make a statement and express their inner diva.
---
Fancy Florals: Add a Romantic Twist to Any Look
Our Choice: Adjustable Floral Patterned Derby Handle Walking Stick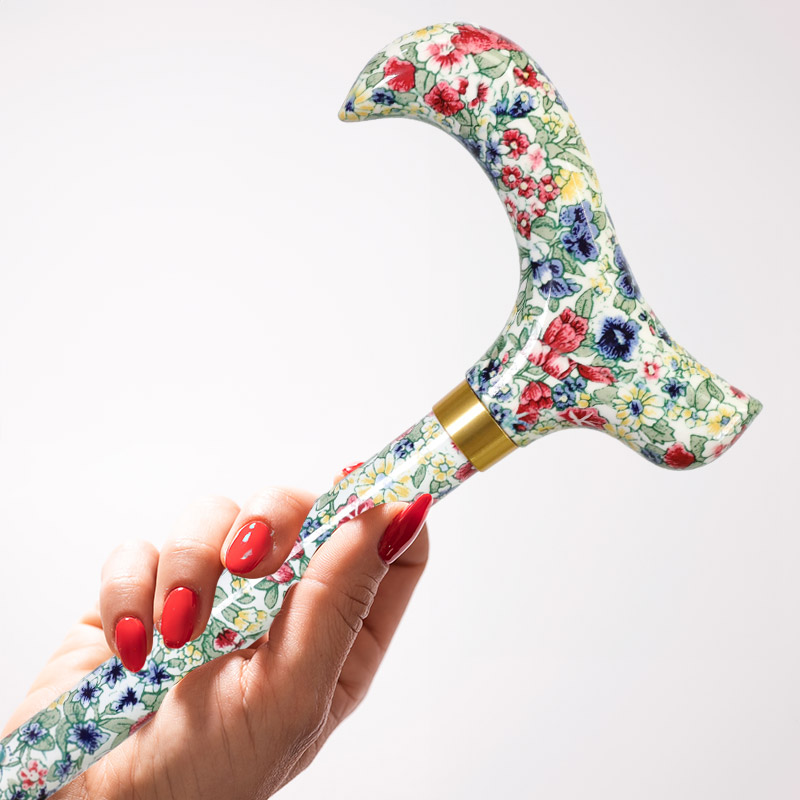 Red nails paired with Floral Walking Sticks create a harmonious blend of elegance and natural beauty. This combination captures the essence of a blooming garden and adds a touch of refined charm to your ensemble.
Floral patterns and red nails evoke a sense of whimsical romance. It's a style choice that invites daydreams and enchantment, making it ideal for garden parties, weddings, or a charming afternoon tea.
---
Bold in Gold: Become Fashion Royalty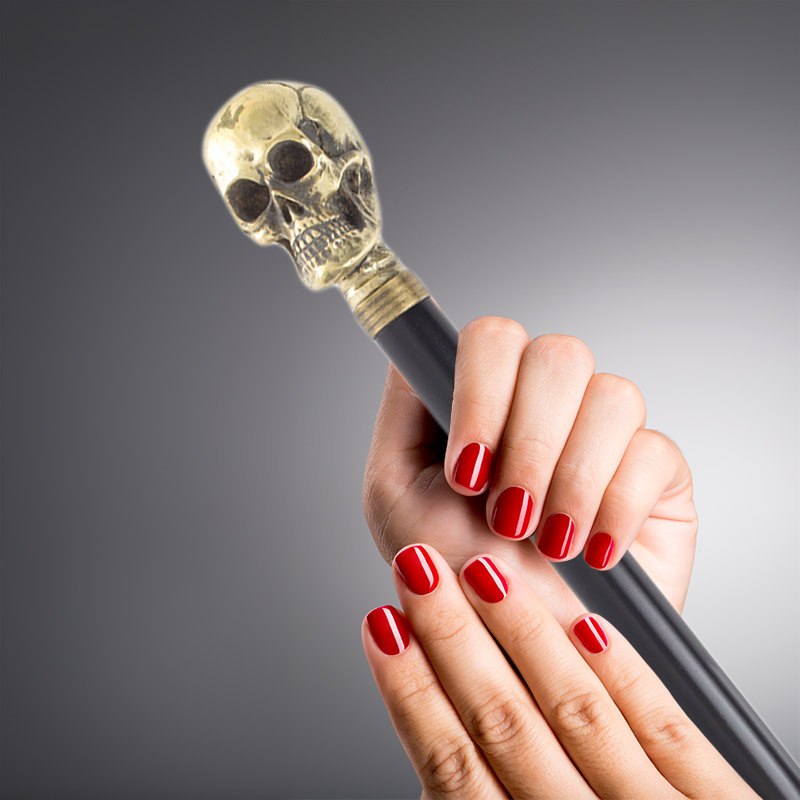 The pairing of red nails with Gold Walking Sticks exudes regal glamour. It's a combination fit for royalty, instantly elevating your style to new heights of opulence and sophistication.
The bold contrast of red and gold is a luxurious sight to behold. It's a blend of passion and richness that adds a touch of extravagance to your ensemble. For even more sophisticated styles, check out our variety of Designer Walking Sticks and Glamorous Walking Sticks.
Red nails with Gold Walking Sticks make a statement like no other. Whether you're attending a gala event or a high-society soirée, this pairing ensures you're the epitome of dazzling elegance.
---
Our Final Word
There you have it, the ultimate guide to selecting the perfect walking stick colour for red nails. Each recommendation offers its unique charm and flair, allowing you to express your style and personality while maintaining impeccable elegance. With a huge variety of coloured, textured and patterned walking sticks to choose from, we'll have something for absolutely everyone for every occasion - so you can stay suave wherever you are!
Do you have any other questions, or something to add? You can leave us your thoughts in the comments section below, or find us on TikTok, Facebook, Instagram and YouTube!