Walking Sticks to Complement Red Handbags
Red handbags are an undeniable fashion essential for the discerning style maven. The vibrant hue injects a bold dose of personality and passion into any ensemble, instantly elevating your look from ordinary to extraordinary. Whether you're seeking to make a statement or add a touch of timeless elegance, a red handbag is the epitome of versatility and sophistication.
In today's blog, we'll explore the best Walking Sticks to Complement Red Handbags. We'll provide a huge range of walking sticks varying in colour, pattern and style so that you're sure to find your dream design in no time!
---
Best Walking Sticks to Complement Red Handbags
---
Gleaming in Gold: For a Touch of Glam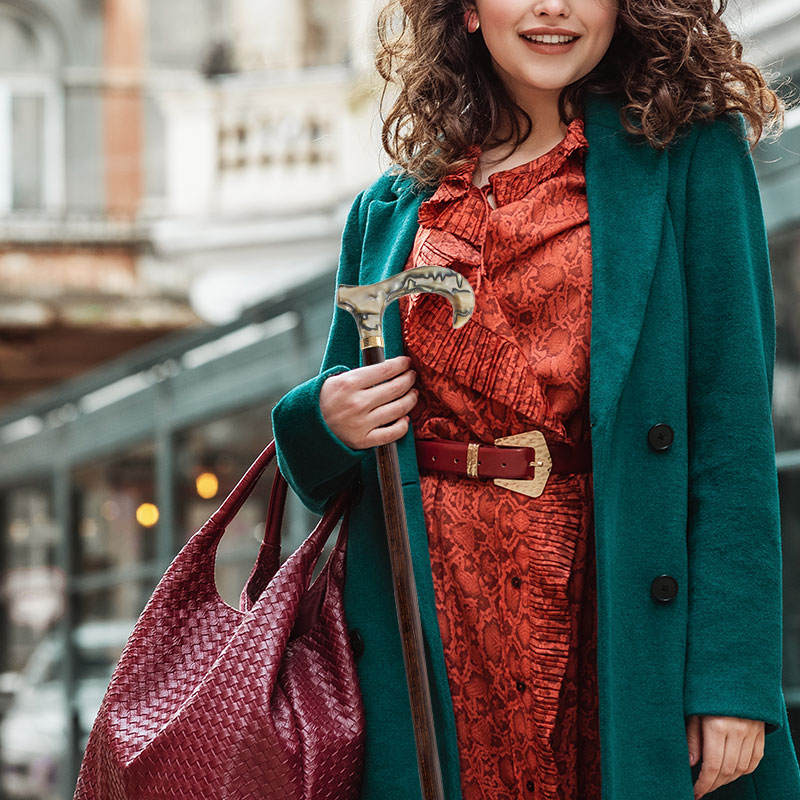 The pairing of a radiant red handbag with a gleaming Gold Walking Stick is a symphony of opulent contrasts. The rich, fiery red beautifully complements the lustrous gold, creating an ensemble that exudes glamour and extravagance.
This dynamic duo is an embodiment of timeless elegance. The red handbag adds a pop of bold sophistication to your look, while the gold walking stick elevates it to a regal level of refinement.
---
Floral Finesse: For Flirty, Feminine Fun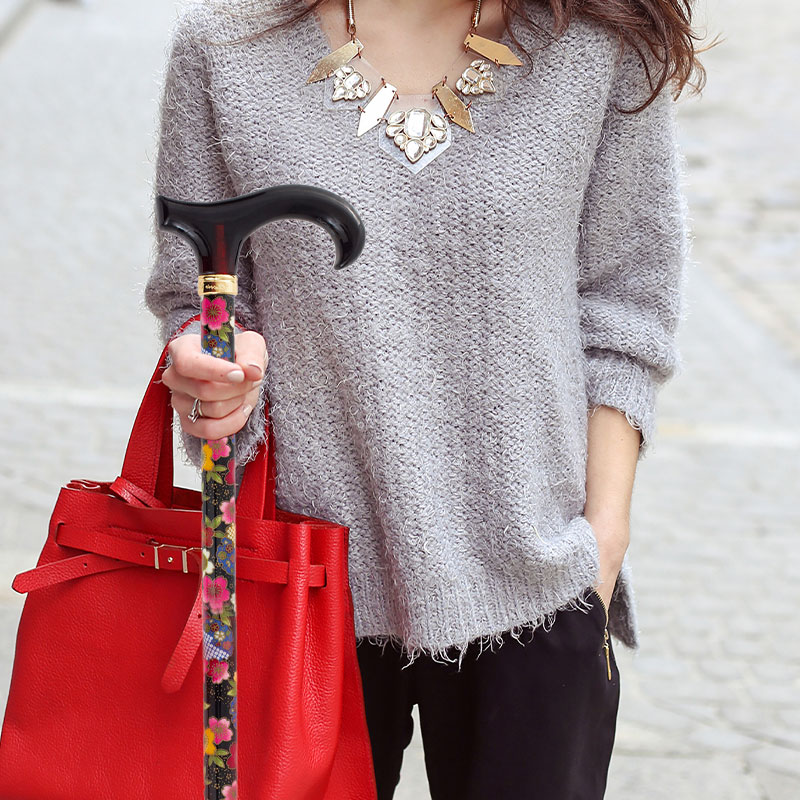 A red handbag paired with a Floral Walking Stick is a blooming beauty to behold. The vibrant red accentuates the floral patterns, allowing them to burst forth with captivating vivacity.
This combination captures the essence of whimsical romance. The red handbag adds a touch of passion to the ensemble, while the floral walking stick creates an enchanting, garden-inspired narrative.
---
Funky Fusion: Designs to Get You Noticed
Our Choice: Adjustable Folding Fashion Derby Handle Concentric Circles Walking Stick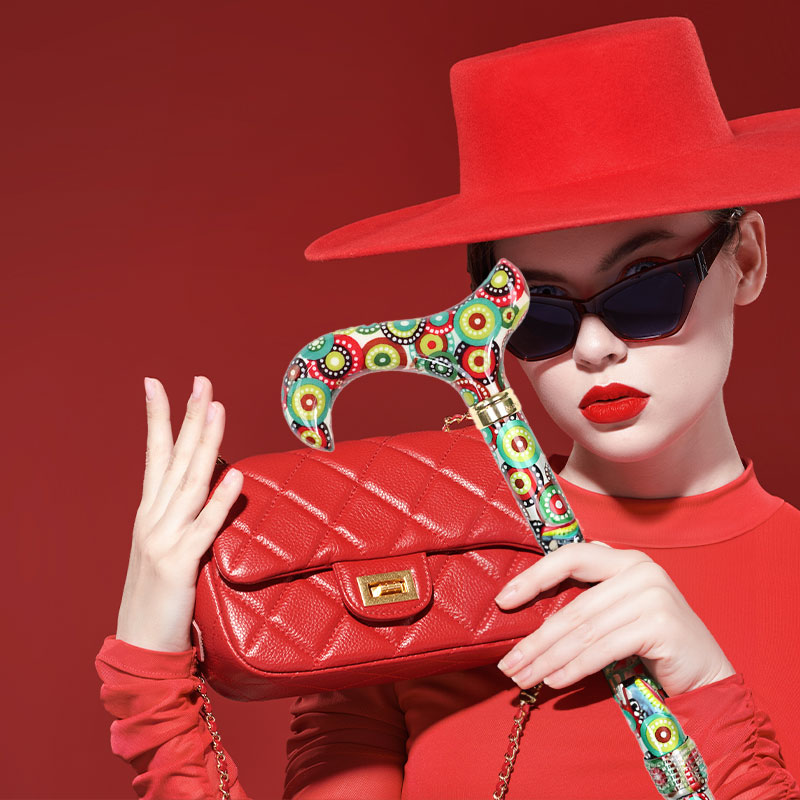 A red handbag paired with a Funky Walking Stick is a marriage of playful pizzazz. The bold, fiery red adds a pop of vibrancy to your look, perfectly complementing the quirky and eclectic patterns of a funky walking stick.
This combination achieves a delightful blend of eclectic elegance. The red handbag's sophistication juxtaposes with the unconventional style of the walking stick, creating an ensemble that's uniquely fashionable.
---
Woodland Wonder: For an Earthy, Organic Feel
Our Choice: Brown Beech Wood Derby Walking Cane with Beech Collar
A red handbag paired with a Wooden Walking Stick epitomizes natural neutrality. The rich, earthy tones of the wood create a serene backdrop that allows the red to shine as the focal point.
This combination achieves timeless simplicity. The classic red handbag adds a touch of elegance, while the Wooden Walking Stick embodies rustic charm, resulting in an effortlessly chic ensemble.
---
Cream Couture: For a Totally Timeless Look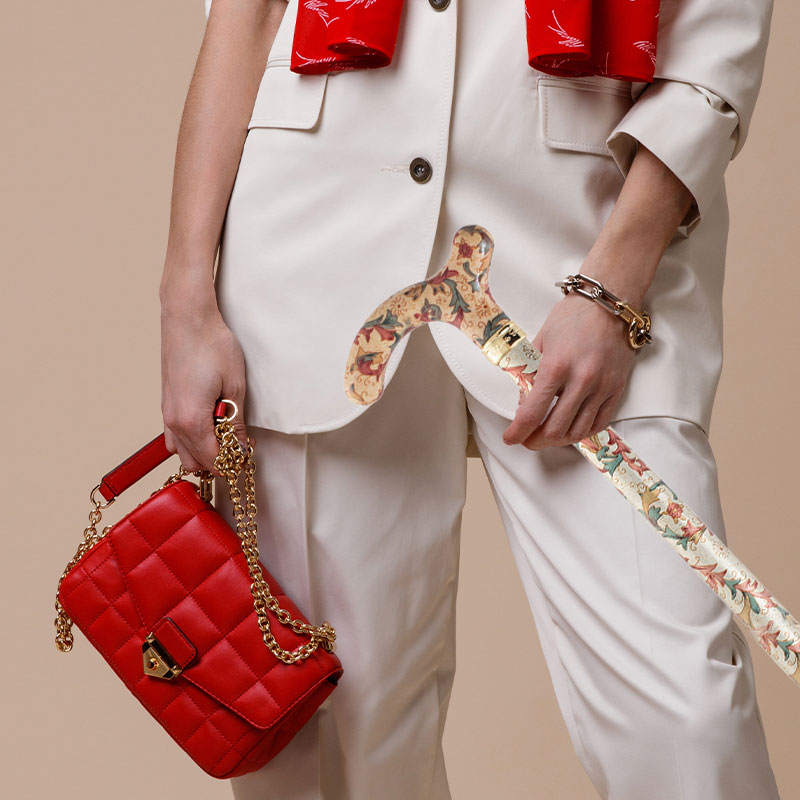 A red handbag paired with a Cream Walking Stick creates elegant harmony. The soft, creamy backdrop provides the perfect canvas for the striking red, resulting in an ensemble that radiates refined beauty.
This combination exudes sleek sophistication. The red handbag's boldness contrasts beautifully with the creamy tones of the walking stick, elevating your style to a level of sheer, timeless class.
---
Radiant in Red: Add Monochromatic Magic To Your Wardrobe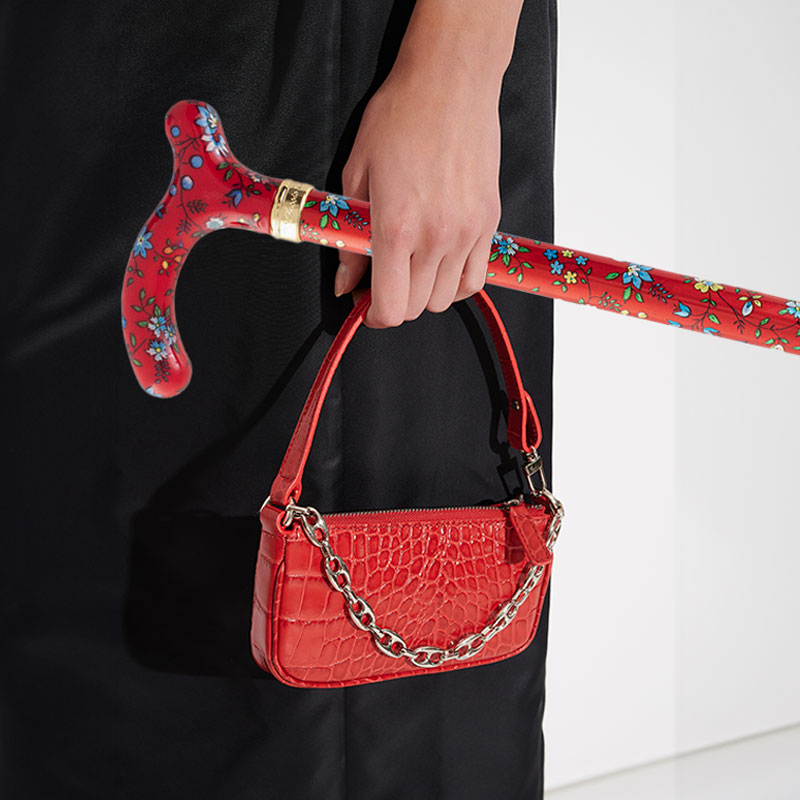 A red handbag paired with a Red Walking Stick is a daring choice that commands attention. This monochromatic masterpiece radiates confidence and makes an unapologetic fashion statement.
The combination of red on red embodies a passionate palette. It's a fiery ensemble that signifies strength and boldness, showcasing your unwavering sense of style.
Red on red creates an effortless elegance that transcends trends. This audacious choice proves that red is never too much; in fact, it's just enough to make you the epitome of sartorial chic.
---
Our Final Word
Red handbags are undoubtedly a versatile accessory that can effortlessly elevate your style game. Their compatibility with a range of walking stick designs, from monochromatic elegance to harmonious contrasts, opens up a world of fashion possibilities. So, whether you're aiming for timeless elegance or making a bold fashion statement, remember that the right handbag can be the perfect finishing touch to your ensemble, ensuring you walk with confidence and sophistication.
Do you have any other questions, or something to add? You can leave us your thoughts in the comments section below, or find us on TikTok, Facebook, Instagram and YouTube!