Walking Sticks to Complement Red Hair
If you use a mobility aid regularly, whether that's a walking stick or cane, you need to know how to pair it with your clothes and your hair! In today's blog we'll explore the best Walking Sticks to Complement Red Hair so that you can look sharp and feel confident wherever you go.
Today we'll bring you some fabulous colour suggestions for the gorgeous red heads amongst you, making your hair colour pop even more! From fiery orange tones to deep blues, to rustic wood finishes, our designs enhance your wardrobe and your walk - for the most fashionable mobility aids on the market.
---
Best Colours to Complement Red Hair
---
Orange Blaze: For a Red Hot Look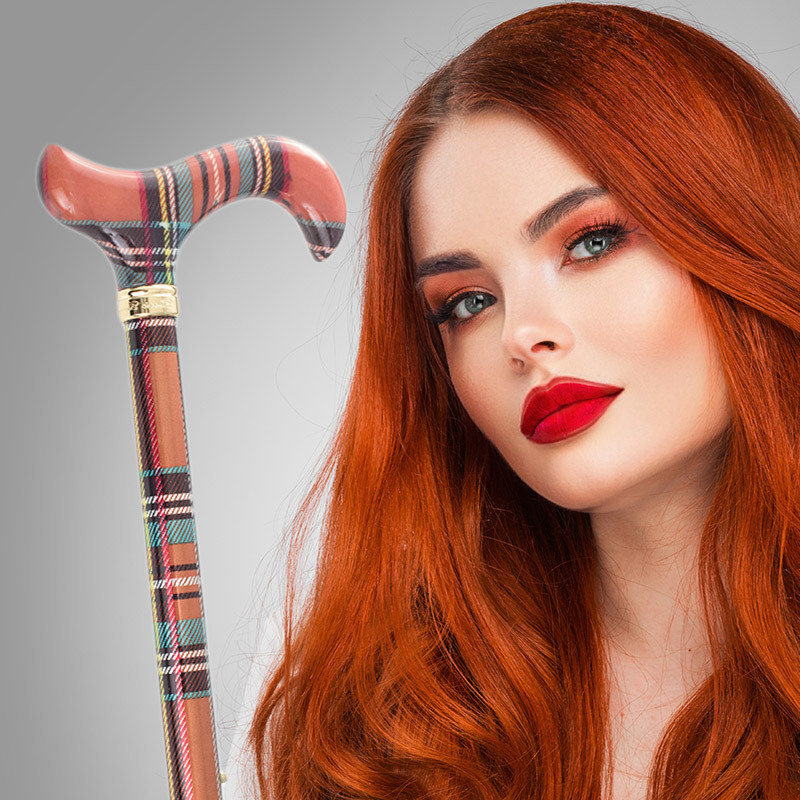 According to colour theory, one of the best ways you can complement red hair is by wearing colours next to it on the colour wheel. In this case, the harmonious colour for redheads is orange. Red hair is the rarest hair colour in the world, and orange mobility aids are also one of the more unusual walking stick colours. For a design as rare as your genetics, try our selection of Orange Walking Sticks, designed to make you stand out from the crowd.
If you're lucky enough to be a natural red head, the last thing you should do is distract from it! Orange Patterned Walking Sticks bring attention to your hair, highlighting those beautiful red, umber and yellow undertones.
---
Elegant Ebony: For a Contemporary Contrast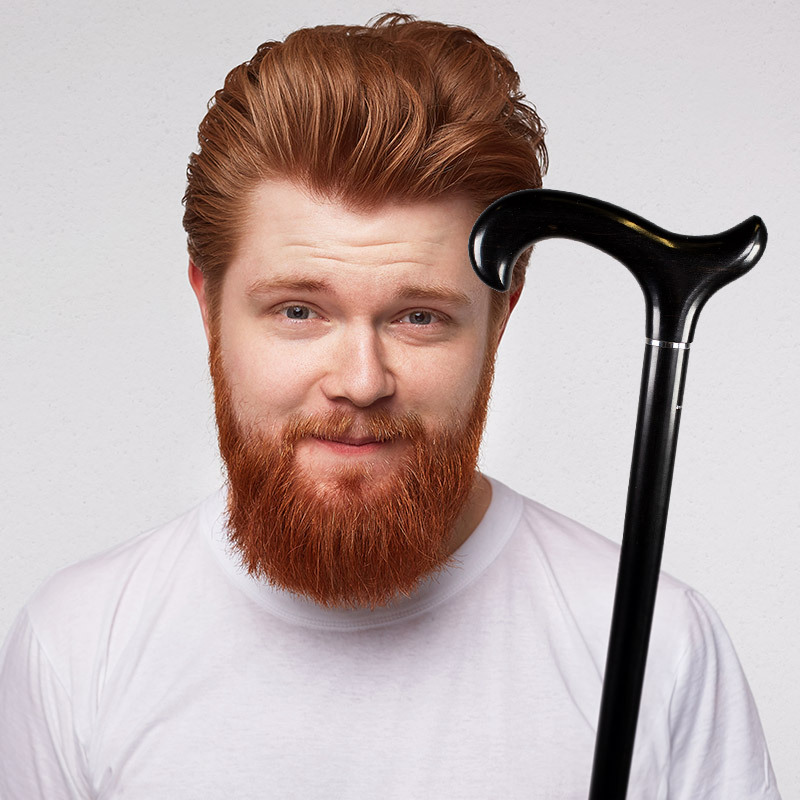 Sometimes the best way to emphasise your natural features is by featuring a dark contrast, which acts as a great base against brighter pops of colour - in this case, ginger hair! Ebony Walking Sticks add a touch of luxury to even mundane outfits - making this a classic walking stick for ladies and gents for special occasions. Ebony is one of the most sophisticated wood options, since it is rare, robust, and therefore one of the best types of wood for walking sticks.
You truly can't go wrong with Black Walking Sticks - since they're guaranteed to go with any style of clothing. If this is your first walking stick, or you just don't know what colour walking stick to go for, then a simplistic, minimal black design is the best one to opt for.
---
Cobalt Blue: To Complement Ginger Hair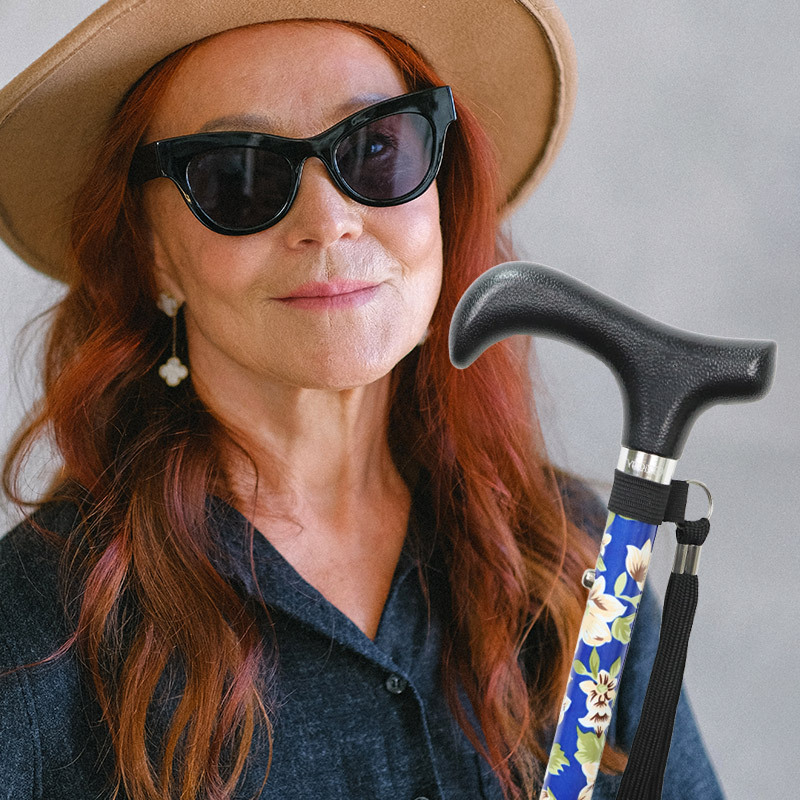 If you fall into the ginger redhead category, then we recommend Blue Walking Sticks to create a complementary colour scheme (complimentary colours schemes involve two colours being opposite each other on the colour wheel). Since orange and blue are opposite each other on the colour wheel, this is a sure fire way to look super sophisticated effortlessly. If you're wearing a monochromatic or neutral set of clothes, then adding a pop of blue can be a great way to add intrigue without throwing off your colour scheme completely.
---
Rich Emerald Green: To Complement Auburn Hair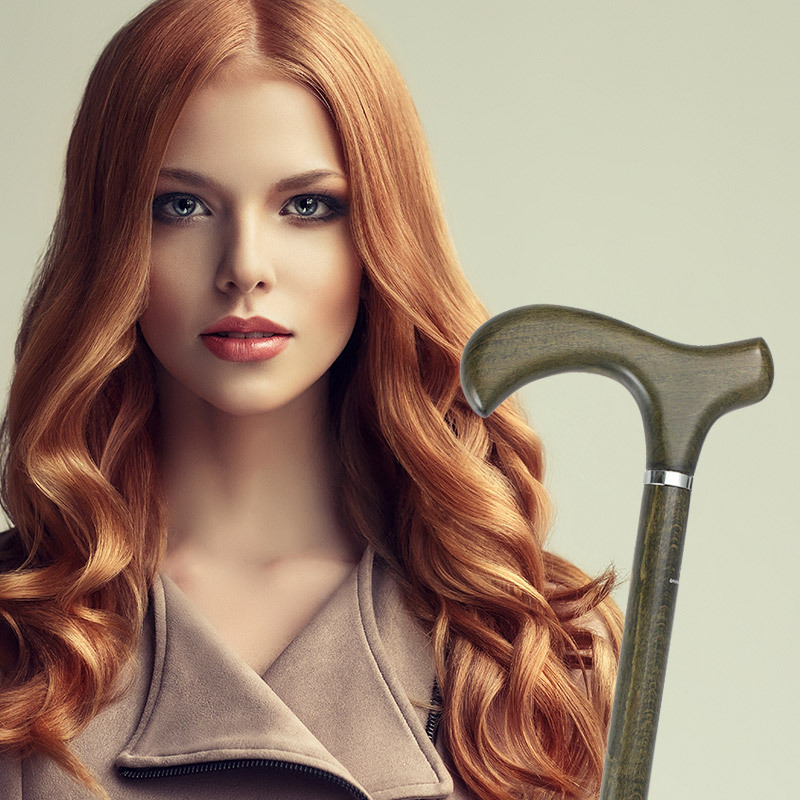 Green Walking Sticks provide an earthy finish to accentuate flame orange locks, creating a connection to the great outdoors with a hint of adventure. Green canes and mobility aids are therefore a fantastic option for not only highlighting your hair, but for using on walks in the park, hiking, and for generally hanging out in nature.
---
Amethyst Purple: For a Rich, Jewel-Toned Look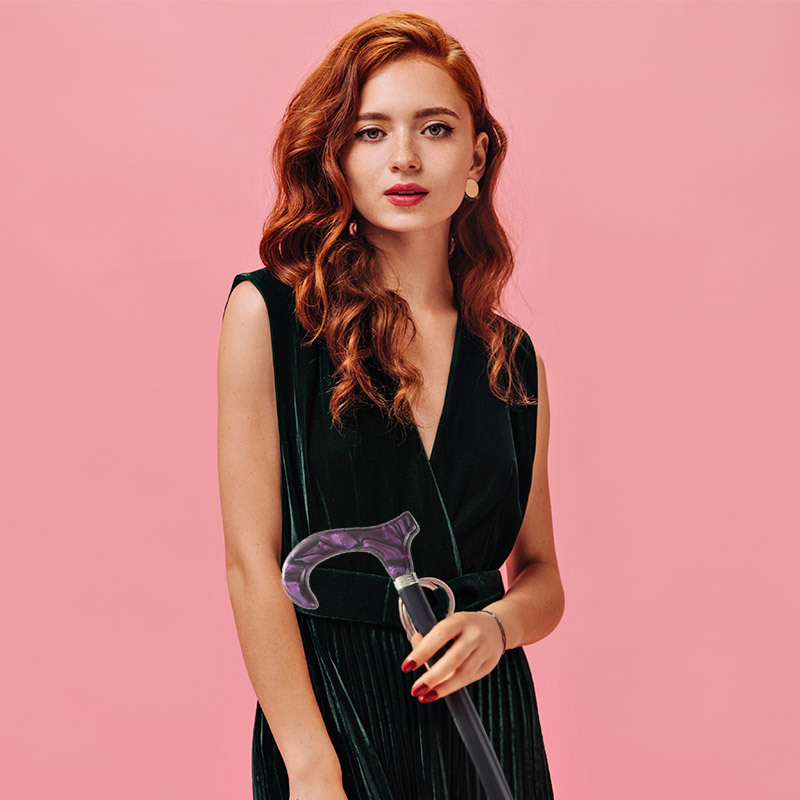 Red and purple in their richest forms are also known as jewel-toned walking sticks: meaning that they are rich in colour and coloured like expensive jewel stones. For regal-glamour, consider buying an Amethyst Walking Stick, designed to add sophistication to any outfit.
Purple Walking Sticks contrast red hair in a unique way, and this combination is sure to steal everyone's attention at your next biggest social event. If you want to add a touch of fun to your outfit, consider this colour to create a more unique, creative look.
---
Dark Wood: For a Classic Finish For any Occasion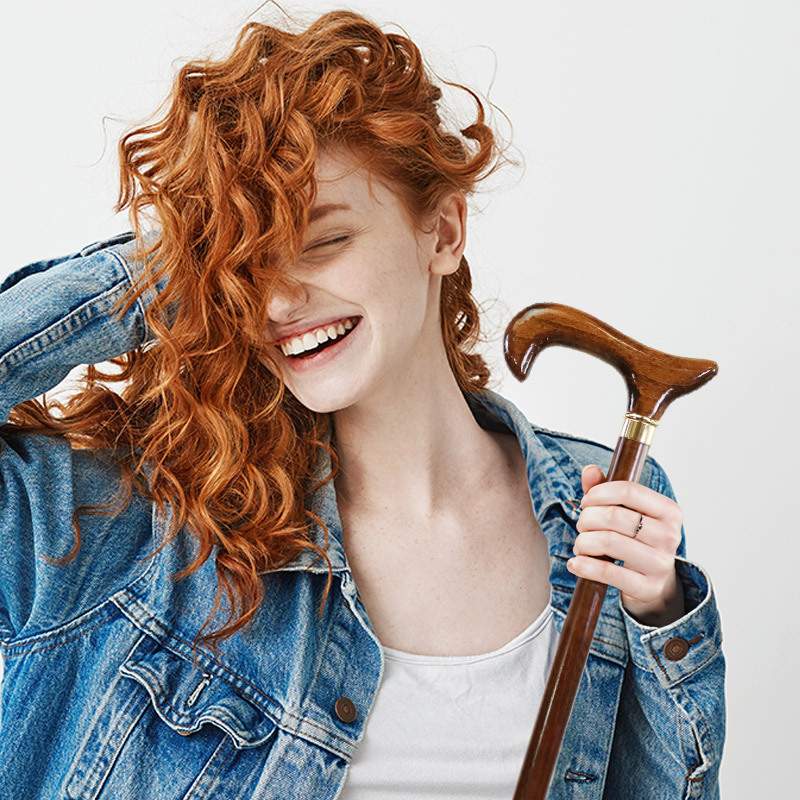 Dark Wood Walking Sticks match all types of red head hair, with their warm undertones and rich finish. If you're unsure of what colour to pick from the above suggestions, you can guarantee that this type of walking stick has something that you'll love, and that will work at any event. For a mobility aid with a little more pizzazz, try our range of Patterned Dark Wood Walking Sticks for a mobility aid with slightly more pizzazz.
Wooden Walking Sticks are probably the easiest walking sticks to style - since they go with absolutely every outfit due to their more neutral colour tones. You can dress wood walking sticks up and down, making them beautifully versatile!
---
A Final Word
These six colour choices are your ticket to enhancing your red locks and making a style statement that's impossible to ignore. Whether you're feeling fiery, regal, or somewhere in between, there's a walking stick colour that'll perfectly complement your stunning red hair. Grab your favourite, and let your style shine as bright as your fiery locks!
Do you have any other questions, or something to add? You can leave us your thoughts in the comments section below, or find us on TikTok, Twitter, Facebook, Instagram and Youtube!