Walking Sticks by Country
For anyone out there eager to find out what walking stick best matches their country or heritage, we've put together a guide to Walking Sticks by Country. So that you can find a walking stick which resonates with your favourite country, we've picked out some of our best-looking canes by national wood.
The United Kingdom: Oak
A plethora of countries hold oak as their national tree, including Germany, Poland, Portugal, the USA and more, so it is not the most original choice. It is, however, a standard of stick construction for a reason, and produces some exceptional walking sticks. Plus, almost all the member states of the UK feature oak as their own national tree so this saves us splitting up the Union – the only exception is Scotland, who share pine with North Korea as their national tree, but pine makes flimsy walking sticks!
Robustly constructed and visually appealing, the Gent's Natural Oak Walking Stick is a charming walking aid for all conditions. Its rustic oak construction is durable and its traditional crook style handle is comfortable to hold. Not only is this walking stick practical it is also exceptionally visually appealing, with the wood's natural texture making every stick unique.
---
Canada: Maple
Fixed to the centre of their flag, the maple leaf is an enduring symbol of all things Canadian, so it is no surprise that maple is also their national tree. The wood produces deeply textured, sturdy sticks, worthy representatives of the country's great lakes and mountain ranges. There are few countries who can claim as earnest a connection to these walking sticks as Canada.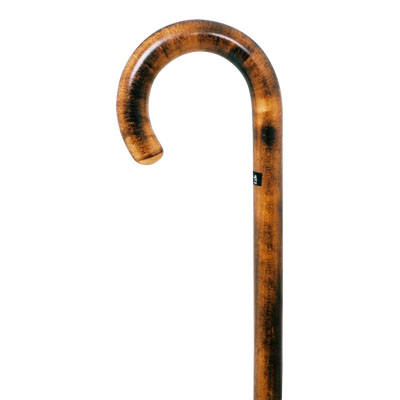 With a wonderful array of light and dark colours and a smooth polished finish, the Scorched Maple Crook Handle Walking Stick showcases the unique strengths of its material. It is made using traditional coppicing techniques, where the wood is cut back to produce new shoots of the perfect size for a walking stick. Its practical handle and sturdy rubber ferrule make this stick ideal for journeys into the countryside.
---
Denmark: Beech
Easy to ornament, beech walking sticks channel some of the natural beauty and architectural finesse of Denmark. A grove just outside the small Danish city of Bergen is actually the northernmost natural growing-place for beech anywhere in the world, so it is no wonder this tree and country feel an affinity for one another.
The unique appearance of the Gents' Beech Derby Walking Stick with Spiral speaks for itself. Its sophisticated knob runs down into a twisted shaft which reveals a full spectrum of the textures and colours which beech has to offer. Besides its remarkable finish this is also a very sturdy and reliably constructed stick, whose beech shaft is supported by a durable and flexible rubber ferrule.
---
Sweden: Birch
Sticking to Scandinavia, both Sweden and Finland hold birch as their national trees. This thin, tall tree stands out from many of older, stouter trees that fill this list. A warm-toned, deeply textured wood, birch is your best bet for channelling Scandi with your walking stick.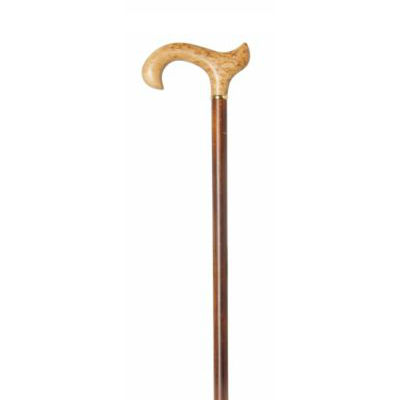 Another mixed-wood stick, the Gent's Birch Derby Cherry Stained Cane features a delicate birch handle on top of a sturdy supportive beech shaft. The handle is light in tone but inviting, and reveals more intricacy and texture with extended observation. Its larger handle allows support for those with larger frames and the strong beech shaft leads down to a reliable rubber ferrule.
---
Japan: Cherry Blossom
Japan's beautiful cherry blossoms have been iconic fixtures of Japanese culture from Udo period art right through to the present day. With its unique colour palate, the tree carries significance all the way through its life cycle. Our cherry wood canes are actually from the North American cherry, but don't let that keep you away from their deep rich colouring and sturdy construction.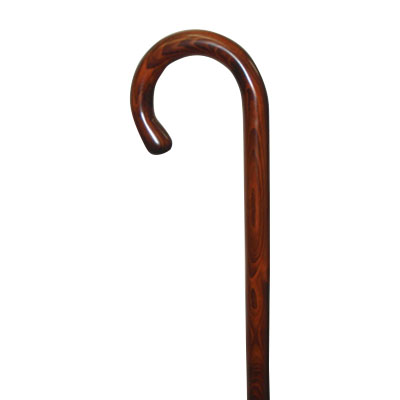 The warm textures of the Cherry Crook Handle Walking Stick offer indulgent, earthy hints of ochre, red and brown. This brilliantly crafted and aesthetically pleasing stick is both stylish and durable, a consequence of the cherry tree's natural aptitude for walking stick construction. Its sturdy rubber ferrule makes this stick brilliant in the country or the city.
---
Walking Sticks of the World Unite
Wherever you are from, we can all appreciate the elegance of a well crafted walking stick. There's no better time than now – with your country's favourite stick in hand – to get out there and explore the world!
Did we miss out your favourite country? Or do you have any other suggestions for country themed stick choices? Post a comment below, or find us on Twitter and Facebook!
Shop Related Products