How to Accessorise Ruby Jewellery with a Walking Stick
The allure of ruby jewellery is undeniable, since these crimson gemstones exude timeless elegance and sophistication - making them a perfect choice for elevating your style. Today we embark on a fashion journey, exploring why ruby jewellery seamlessly harmonises with walking sticks of various captivating colours and styles, from art print to pink.
Keep reading to find the best Walking Sticks to Accessorize Ruby Jewellery. We'll provide a huge range of walking sticks varying in colour, pattern and style, so that you're sure to find your dream design in no time!
---
Best Styles For Ruby Jewellery
---
Vibrant Vision: Let Your Walking Stick be a Piece of Art!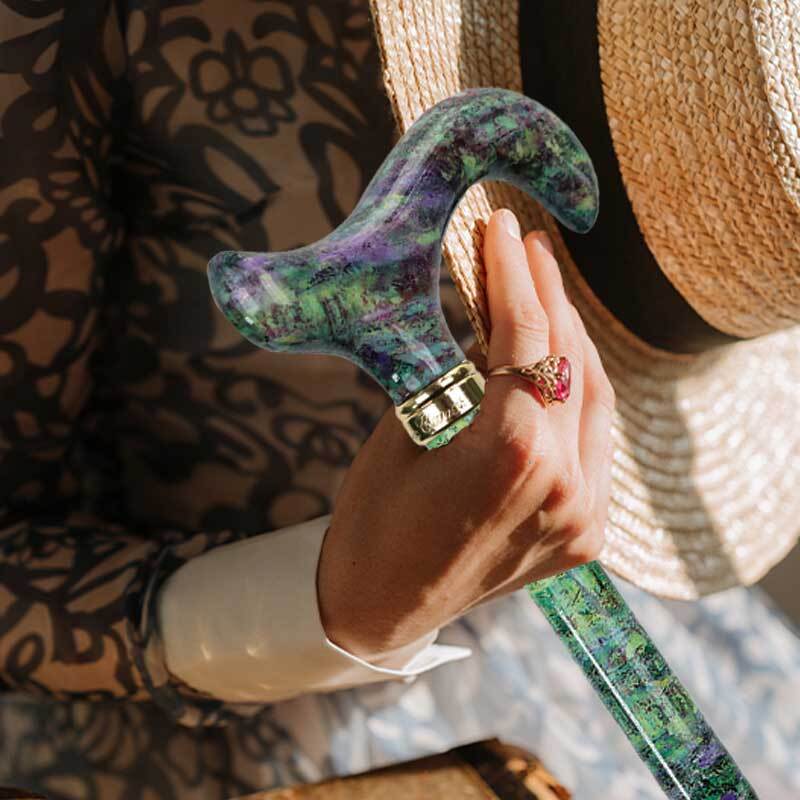 The rich red hues of ruby jewellery complement the vibrant and intricate patterns of National Gallery Print Walking Sticks, creating an ensemble that exudes vivid vibrancy.
Combining rubies with Art Print Walking Sticks allows you to embrace your inner artist, celebrating the fusion of fashion and art in a truly unique way.
---
Slick in Silver: Add Subtle Sophistication to Your Wardrobe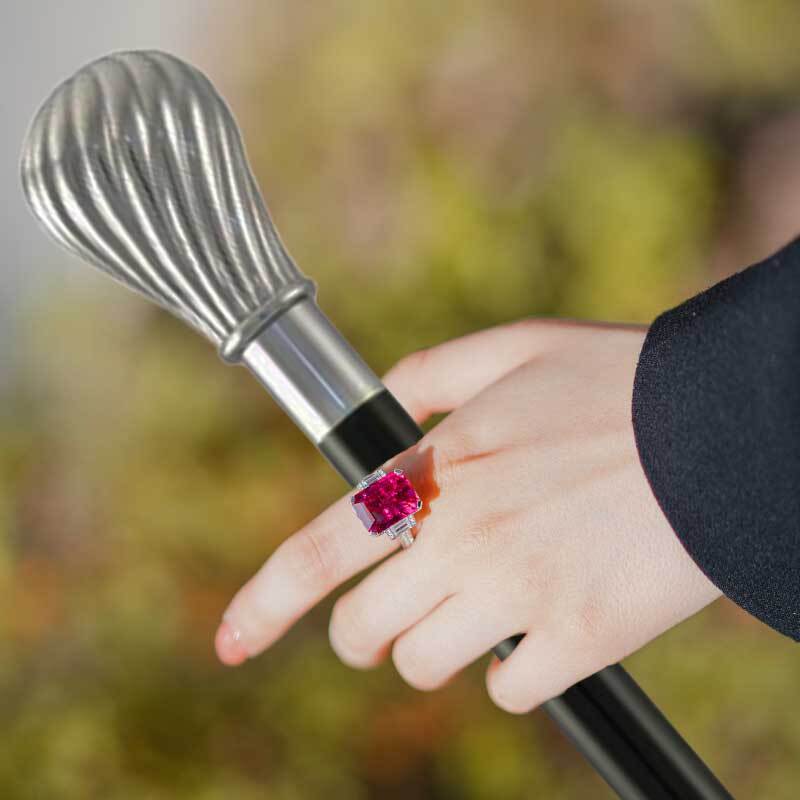 The warm red tone of rubies offers a striking contrast to the cool, metallic sheen of Silver Walking Sticks, resulting in an ensemble that balances the warm and cool spectrums of style.
Silver and rubies together embody modern sophistication, making them a perfect choice for contemporary, sleek, and urban looks.
---
Complementary Contrast: For a Striking, Jewel-Toned Look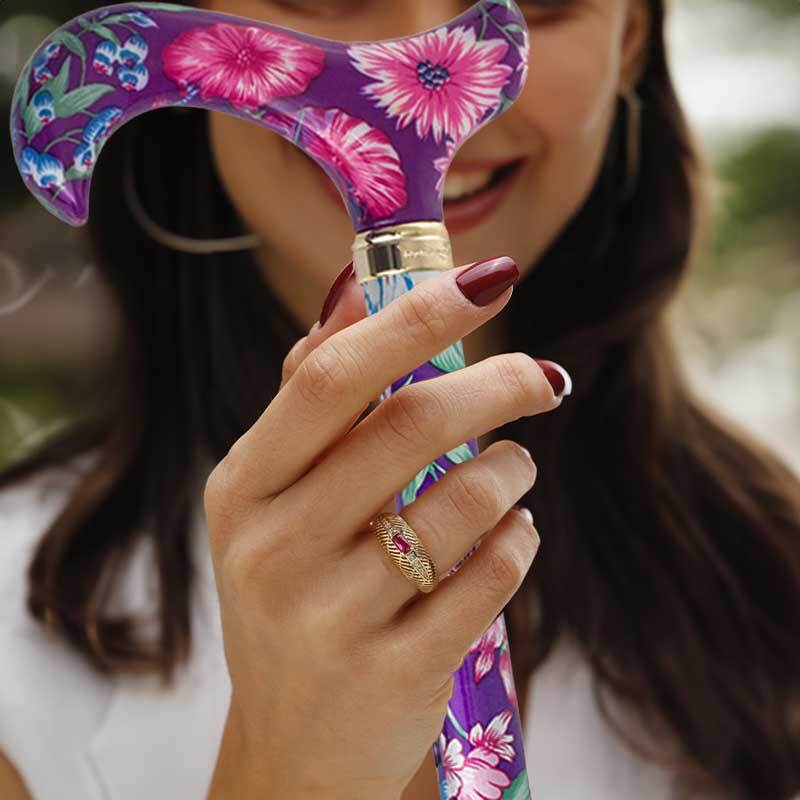 Ruby's deep reds add a regal touch to Purple Walking Sticks, creating an ensemble that radiates opulence and regal radiance.
The combination of ruby and purple is reminiscent of royal decadence, making it ideal for special occasions, such as weddings and grand soirées.
---
Fashionably Floral: For a Pretty, Intricate Addition to Your Outfit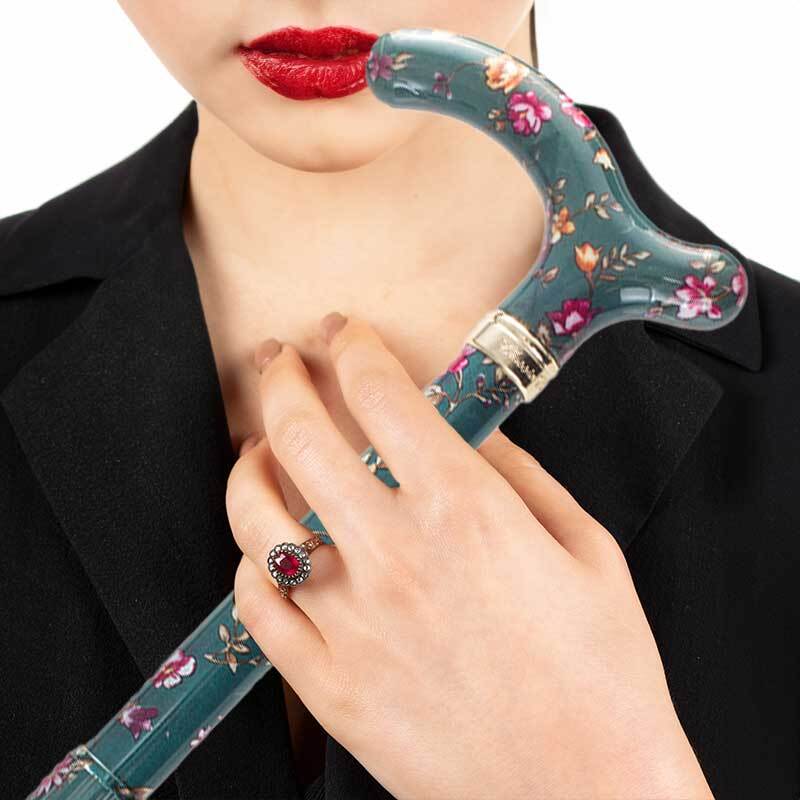 Rubies beautifully harmonize with the delicate and intricate details of Floral Walking Sticks, creating a sense of blossoming beauty that is both romantic and enchanting.
This pairing captures the essence of natural beauty and the charm of floral motifs, adding a touch of grace and femininity to your ensemble.
Ruby and Pretty Walking Sticks create a romantic, dreamy aesthetic that is ideal for weddings, garden parties, and other romantic occasions.
---
Luminous Luxury: For Golden Glamour at Formal Events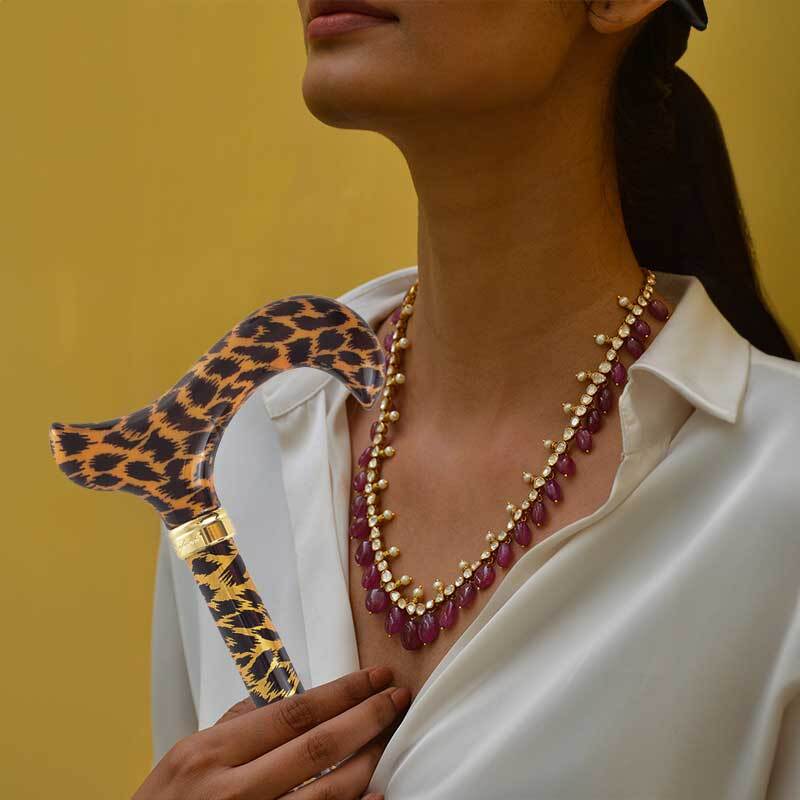 Ruby's reds provide a striking contrast to the opulence of Gold Walking Sticks, resulting in a lustrous liaison that exudes glamour and sophistication.
Gold and rubies together are perfect for evening affairs, from elegant cocktail parties to grand galas, ensuring you steal the spotlight.
---
Pink Perfection: For a Feminine, Flirty Look
Ruby's rich red hues create a striking contrast against the sweetness of Pink Walking Sticks, resulting in an ensemble that is pretty in pink with a touch of drama.
The combination of rubies and pink is undeniably feminine, celebrating the beauty of femininity and adding a touch of grace and charm to your look.
Wear this combination when you want to exude a playful yet elegant vibe, perfect for brunches, parties, and social gatherings.
---
Our Final Word
Ruby jewellery, with its timeless allure and radiant red hues, effortlessly enhances the charm of walking sticks in art print, silver, purple, floral, golden, and pink designs. These pairings showcase the versatility of rubies in the world of fashion, creating looks that are opulent, contemporary, artistic, and glamorous. Let your personal style shine with these captivating combinations as you embrace the dazzling world of fashion and accessorising.
Do you have any other questions, or something to add? You can leave us your thoughts in the comments section below, or find us on TikTok, Facebook, Instagram and YouTube!