How to Accessorise a Grey Suit With a Walking Stick
Hello, dapper gents and fashion-forward folks! Today, we're diving headfirst into the world of sophistication, focusing on the perfect complement for your suave grey suit: the walking stick. Let's explore six exquisite colours that will have you strutting your stuff with unmatched elegance and flair, so get ready to embrace the epitome of timeless style.
Grey suits are a popular style of suit, and for very good reason: they ooze sophistication, but have a slightly less formal feel than black, navy or other darker style of suits. In today's blog on How to Accessorise a Grey Suit With a Walking Stick we'll show you how to rock your suit best, offering you our top walking sticks for stylish stability!
---
Best Colours For Grey Suits
---
Beautiful Blue: For a Dash of Colour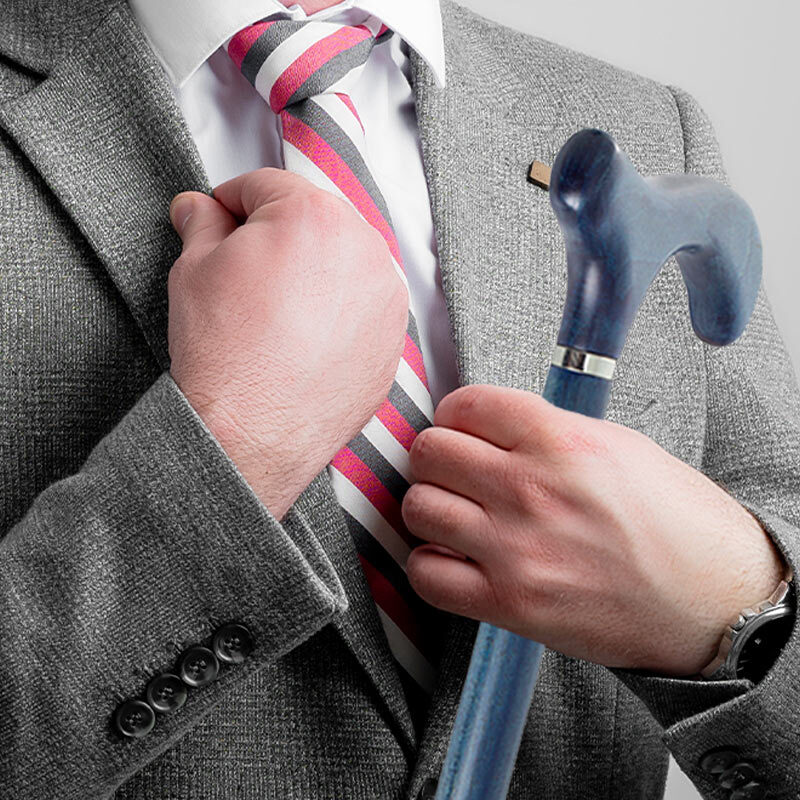 Blue Walking Sticks are an excellent choice to complement a grey suit due to their understated elegance. Whether you opt for a Navy Walking Stick or a lighter shade, this colour combination creates a relaxed yet sophisticated look.
This pairing exudes a sense of professionalism and confidence, making it suitable for business meetings and formal events alike. Depending on your workplace, you could opt for a Blue Patterned Walking Stick for some added intrigue, or give our Mixed Blue Walking Sticks a chance if you work somewhere a little more serious.
The combination of blue and grey is like a symphony of cool tones, creating a composed and timeless appearance. Lean into this luxurious colour scheme with our range of Teal Walking Sticks and Sapphire Walking Sticks.
---
Classic Wood: For a Country Twist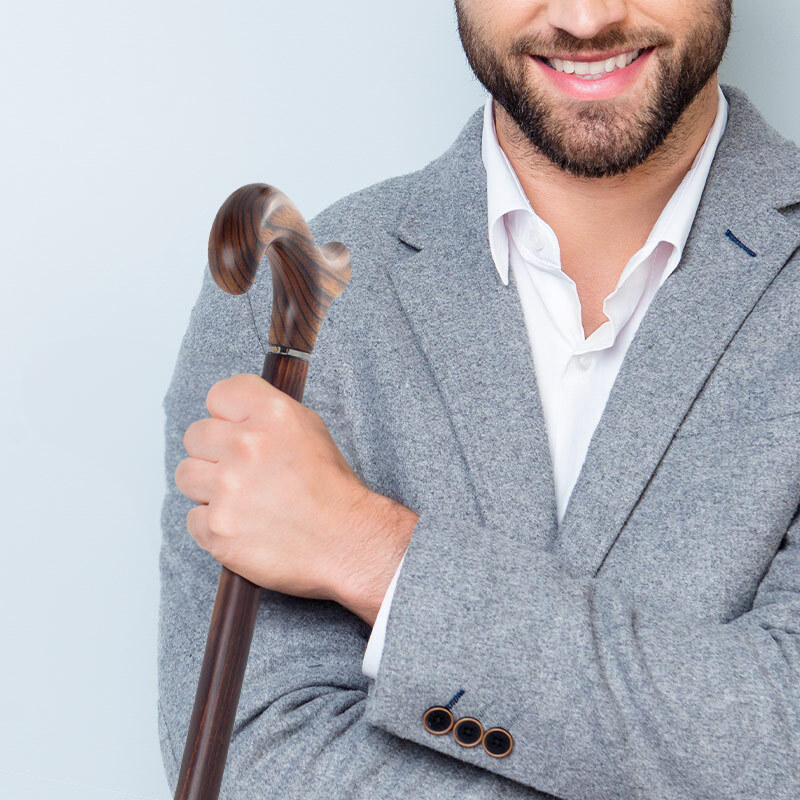 You truly can't go wrong with Wooden Walking Sticks. These introduce an earthy balance to the cool neutrality of a grey suit. The contrast between these tones adds depth and warmth to your ensemble, making it suitable for a range of occasions.
Light Wooden Walking Sticks complement the subdued elegance of light grey, creating a look that is both refined and approachable. We recommend this kind of walking stick at slightly more casual, or daytime, events.
If you're at a slightly fancier occasion, or you're at an evening event, then we recommend opting for a Dark Wood Walking Stick.
---
Bold Black: Add Depth and Dimension to Grey Suits
Black Walking Sticks offer a classic and timeless contrast to a grey suit. This pairing creates a visually striking and dramatic effect, emphasizing the sleekness of the suit while adding an air of formality. For a more paired back alternative, have a look at some of our Plain Black Walking Sticks and Mixed Black Walking Sticks available.
The stark contrast between black and grey exudes a sense of bold confidence, making it a superb choice for formal gatherings and evening affairs. This combination is iconic in the world of men's fashion, symbolising elegance, sophistication, and a timeless sense of style.
This rich hue radiates charm and charisma, making it an excellent choice for adding a dash of personality to your ensemble. To show your personality off even more, have a look at our range of Black Patterned Walking Sticks.
---
Masculine Maroon: For a Touch of Drama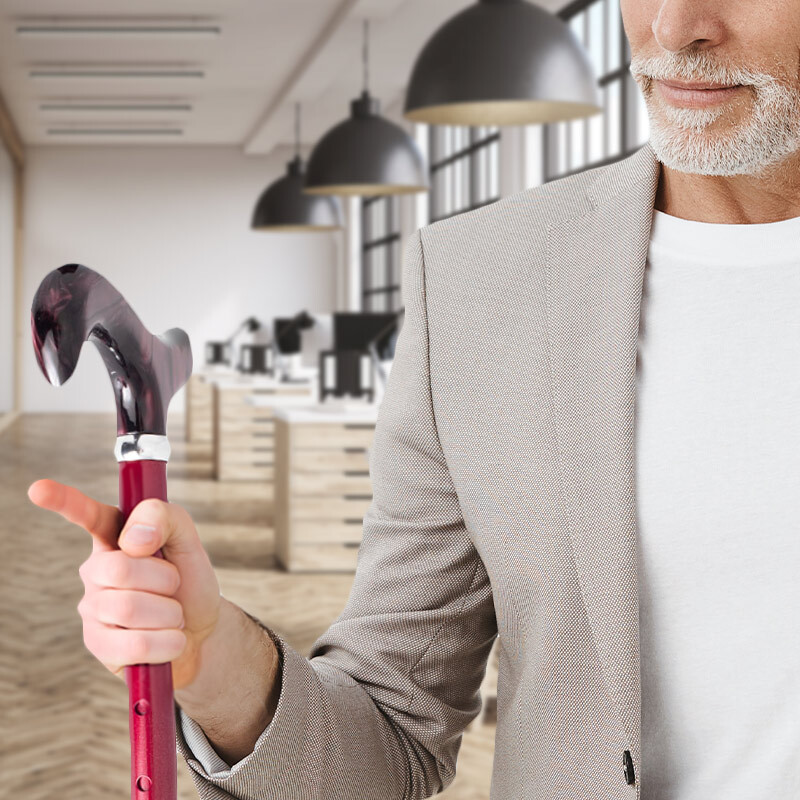 Maroon walking sticks introduce a touch of regal richness to a grey suit. The deep, wine-red hue creates a captivating contrast that exudes elegance and charm. This combination is perfect for events where you want to make a stylish statement, as maroon adds a dash of personality to your ensemble.
Check out our variety of Burgundy Walking Sticks for a refined addition to a classic grey suit.
For a more contemporary walking stick, have a look at our range of Red Walking Sticks. We recommend going for a lighter red walking stick if you're rocking a darker grey suit, to add a pop of vibrancy and stop you're outfit from being too serious. If you're wearing a tie or have a pocket square that is red, then choose a walking stick that will match this for a super-chic matching look.
---
Gorgeous Green: For a Natural yet Smart Look
Green Walking Sticks
provide a sense of natural harmony when paired with a grey suit. This combination evokes the tranquility of the outdoors and adds an element of freshness to your look. Whether you choose a deep forest green or a lighter shade like mint, green complements grey with a soothing presence.
---
Silver Sticks: Make Grey Suits Shine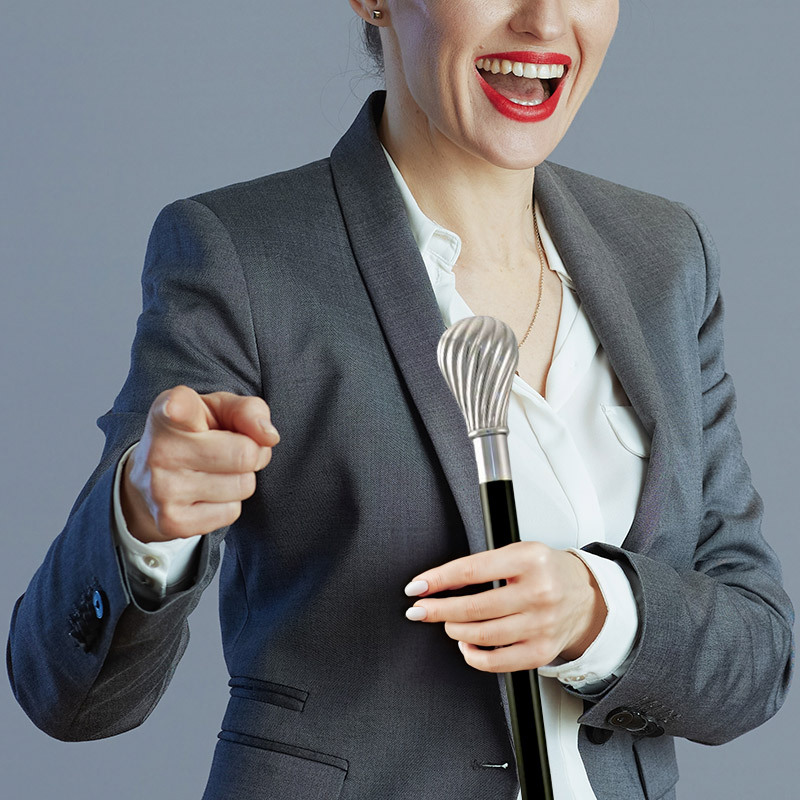 Silver Top Canes
add a touch of timeless luxury to a grey suit. The metallic sheen of silver creates an elegant and sophisticated look that is perfect for formal events and upscale gatherings. We also have a number of
Silver Walking Sticks
available for an equally eye-catching set of designs, in a slightly less formal walking stick form.
Silver and grey harmonise beautifully, offering a refined and polished appearance. This combination showcases an attention to detail and a commitment to refined style, making a strong fashion statement. Check out our range of Glamorous Walking Sticks for even more eye-catching designs.
Silver is a brilliantly universal colour, making it very versatile for wearing to events and celebrations. We also have an array of walking sticks with nickel and chrome handles, for affordable walking stick options.
---
Our Final Word
There you have it, the ultimate guide to selecting the perfect walking stick colour for your grey suit. Each recommendation offers its unique charm and flair, allowing you to express your style and personality while maintaining impeccable elegance. With a huge variety of coloured, textured and pattered walking sticks to choose from, we'll have something for absolutely everyone for every occasion - so you can stay suave wherever you are!
Do you have any other questions, or something to add? You can leave us your thoughts in the comments section below, or find us on TikTok, Facebook, Instagram and YouTube!