Best Walking Sticks for Travelling
Wednesday, 6 December 2017 | Admin
Travelling around the world is exciting, so the last thing you want when you're exploring a new city or area is to feel slowed down by a hefty mobility aid. At WalkingSticks.co.uk, we've put together our top five walking sticks that we feel would be great to travel with. Read the rest of our blog to find out which sticks we've chosen!
What Makes a Good Travelling Stick?
In our opinion, a good walking aid travelling companion provides you with sturdy support without feeling cumbersome. In other words, if you find that holding your walking stick is a hassle, it's not a good travelling stick! In most cases, a cane that can be folded is ideal as it can be placed in your bag when additional stability isn't required. So without further ado, here are our favourite travelling sticks.
Adjustable Folding Black Orthopaedic Marble Handle Walking Cane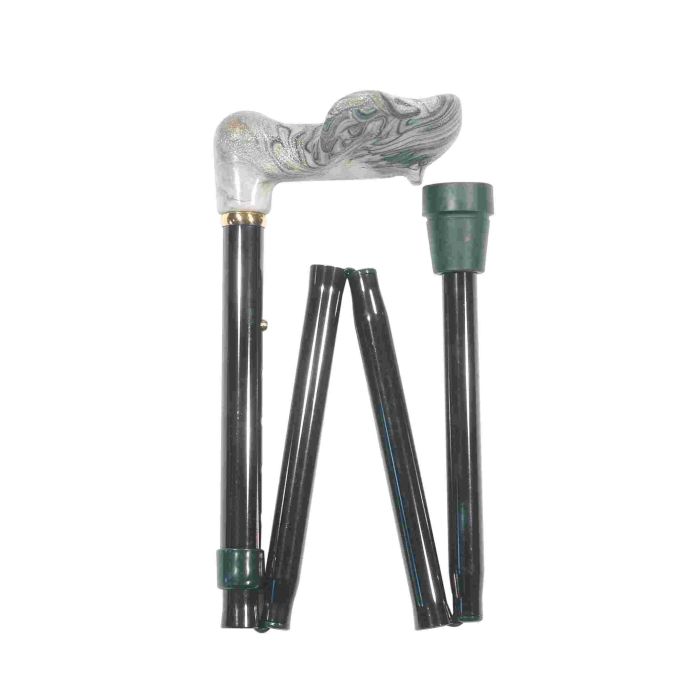 Our first choice is the Adjustable Folding Black Orthopaedic Marble Handle Walking Cane, which is available as a Left-Handed and a Right-Handed support. This is an excellent and highly supportive cane that is particularly suited to those who suffer from a hand condition (e.g. arthritis) as a result of its ergonomic Fischer handle. This particular type of handle spreads your weight over the whole of your palm so it doesn't place pressure on one particular part of your hand.
Whether you're travelling halfway across the world or you're enjoying a weekend getaway down the road from your house, the Black Orthopaedic Walking Stick provides you with the tools you need to stay stable without it getting in your way. Its ability to fold into four sections allows you to place it in your rucksack when you're travelling by public transport or by car. Plus, as it weighs just 425 grams, the cane won't feel too heavy when you're carrying it around.
Key Features: Supportive Fischer handle; folds into four sections
Black Foldaway Flipstick Seat Stick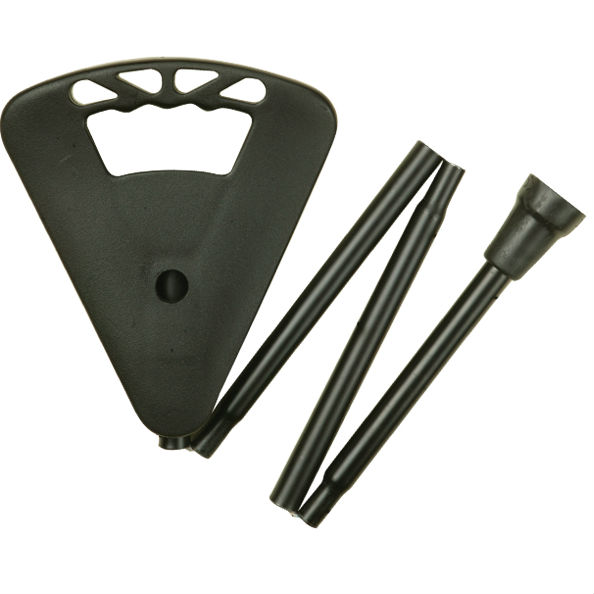 When you travel, you'll probably exercise more than you usually do; after all, you want to explore the new area you're visiting as much as possible! The Black Foldaway Flipstick Seat Stick is an excellent stick seat that combines a walking stick with a portable seat. This allows you to rest whenever necessary, though we must warn you that the stick has a single leg and should therefore only be used by people who don't suffer from balance issues.
This Foldaway Flipstick Seat Stick has practically been built for outdoor events like firework displays or outdoor theatre shows, which tend to be popular in countries with warmer climes. Its folding design allows you to place it in your bag until the event starts, at which point you can take it out and use it as a surface to sit on. Gone are the days when you have to sit on the cold, muddy ground!
Key Features: Can be used as a seat; compact folding design
Flexyfoot Cork Derby Handle Black Folding Walking Stick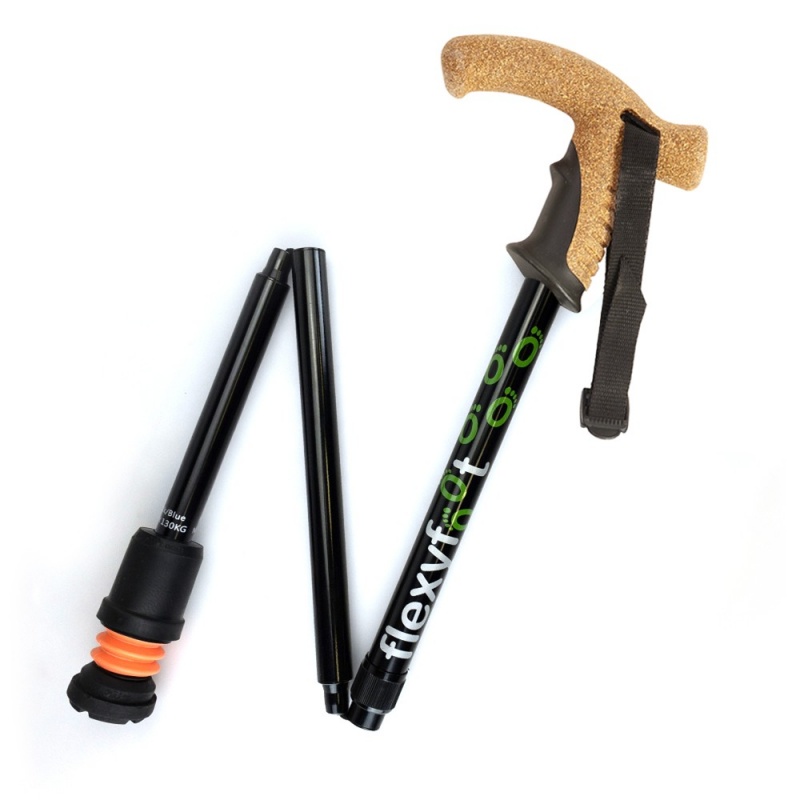 The Flexyfoot Cork Derby Handle Black Folding Walking Stick is a unique stick with an abundance of practical features. Like the other sticks on this list, this particular cane can be folded and placed in your bag when additional support isn't required. Its unusual cork Derby handle provides you with a surface that's smooth and comfortable to the touch.
The stick has a Flexyfoot ferrule, which is more flexible than other ferrules and has been fitted with spring-like bellows that absorb shock. As the ferrule is so flexible, it can even be used on rough terrain by the more adventurous travellers. There's nothing worse than becoming injured in a different country, and this stick's ferrule helps you feel secure.
Key Features: Comfortable cork Derby handle; ferrule reduces the transference of shock
Black Folding Hiking Pole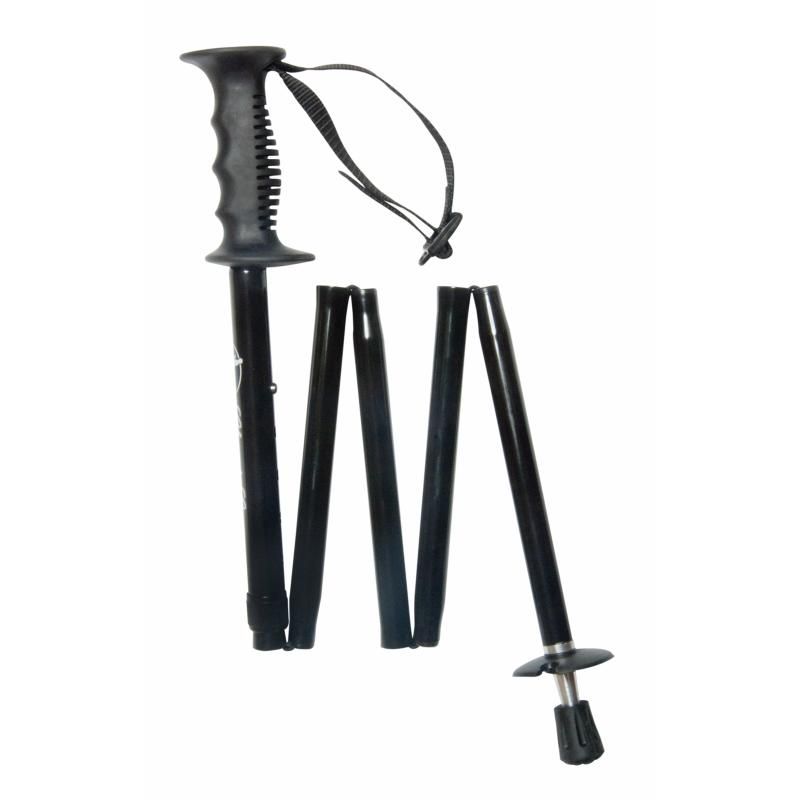 If you're looking for a more modern pole than the above suggestion, the Black Folding Hiking Pole is as modern as they come. All black in colour and designed with an aluminium shaft and a rubber handle, the Folding Hiking Pole is ideal if you're intending to hike with others on your travels. Its shaft is strong but light in weight, while its handle is contoured to put you at ease.
Hiking often involves walking through a range of different types of terrain. The Folding Hiking Pole is prepared for this as it's been designed with a combi ferrule. This is where the stick is fitted with a spiked metal ferrule and a removable rubber ferrule that fits over the top. In this way, the pole can be used safely on both hard and soft surfaces.
Key Features: Supports you while you hike; fitted with a combi rubber-spike ferrule
Adjustable Folding Fashion Derby Handle Cheetah Pattern Walking Stick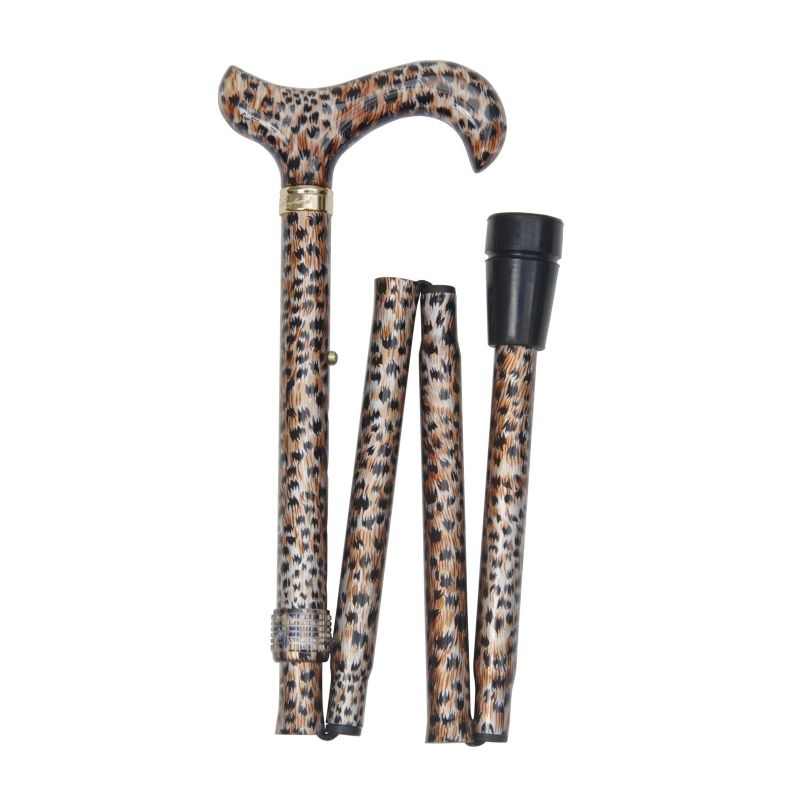 When you've been using a walking stick as a fashion accessory for quite a while, even going on a short holiday without a cane can make you feel naked. The Adjustable Folding Fashion Derby Handle Cheetah Pattern Walking Stick is a bold accessory that's perfect for taking on holiday with you. With an all-over print inspired by a cheetah's coat, this cane is an excellent way of making a splash without even dipping a toe in the ocean.
There's no denying that the Folding Fashion Walking Stick's Derby handle is elegant, but it's also extremely practical. Its curved shape lends itself to being hooked over your arm or a table's edge when you require full use of your hands. As such, the stick's design can be shown off when you go out to dinner or when you visit a cafe.
Key Features: All-over cheetah-print design; ideal for gatherings and events
What's your favourite walking stick to take with you while you travel? Let us know in the comments, or find us on Twitter and Facebook!