Best Walking Sticks for Easter 2022
Wednesday, 1 December 2021 | Admin
Whether you'll be spending your long Easter weekend taking leisurely strolls with the family, or enjoying quality time gathered around the table, a carefully picked chosen always makes you feel more confident and allows you to enjoy this precious time even more. A walking stick is one of the few accessories that is as practical as it is stylish, and our selection of Easter canes is full of colourful suggestions that will perfectly complement any Easter outfit.
Tea Party Floral Derby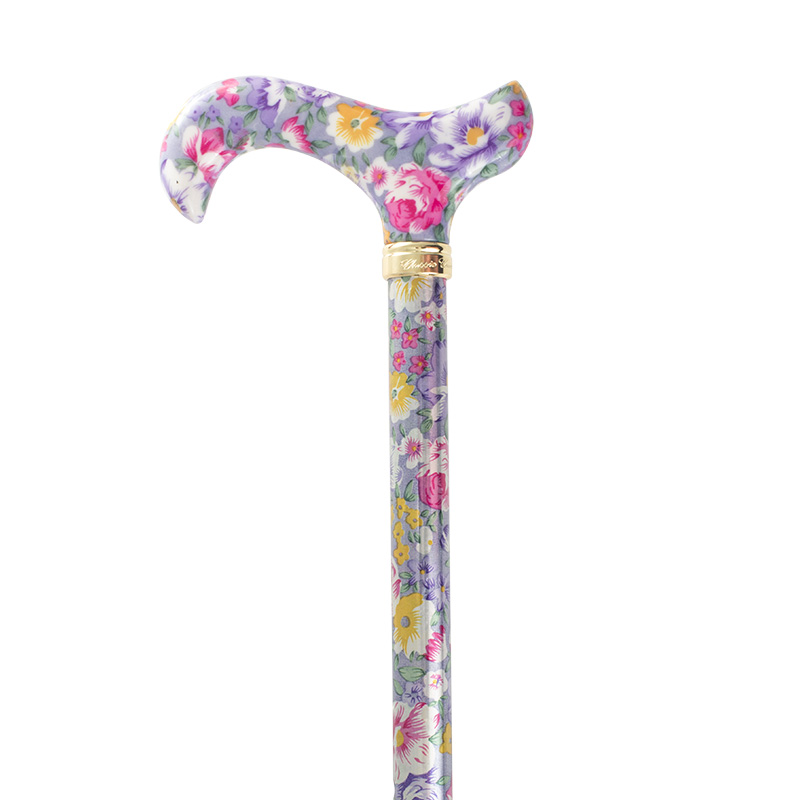 The best place to start is with a very traditional Derby cane in spring colours. The Derby Tea Party Extending Lavender Floral Patterned Cane is a very sturdy, durable, comfortable, and, most importantly, very fashionable walking stick that will make sure you are well dressed on all occasions. If you're looking for an elegant yet cheerful accessory for an Easter brunch or casual family gathering, this walking stick will not disappoint.
Key Features: Adjustable from 77cm to 100cm; lightweight at 315 grams; comfortable plastic handle
Adjustable Floral Derby Cane
Similar to the option above, the Adjustable Floral Patterned Derby Handle Walking Stick is designed with a bright floral design that encapsulates the fresh feel of Easter and the spring season. It is made with a comfortable Derby handle and a lightweight aluminium shaft, making it comfortable to take on strolls through town for just about anyone. With a wrist cord and rubber ferrule, it's great for any sort of hard terrain like pavement or indoor flooring.
Key Features: Adjustable from 71 - 97cm; lightweight and comfortable in the hand; bright floral design
Folding Floral Derby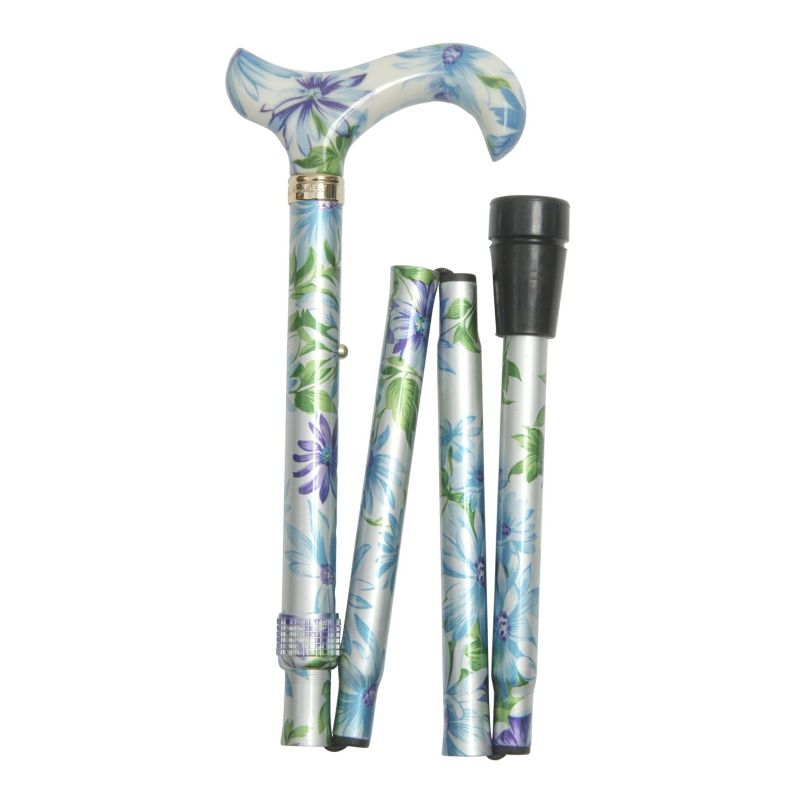 If you've been looking for an even more convenient accessory, this Adjustable Folding Elite Derby Handle Blue and Green Floral Walking Stick is the answer. Its height-adjustable shaft can be folded into four sections, which means you can easily store it in your bag or on a table beside you. Needless to say, both the handle and the shaft are printed with a holiday-themed pastel floral pattern that will instantly put you in the mood for Easter.
Key Features: Adjustable from 82cm to 92cm; folds into four sections; weighs 420 grams
Hand-Bag Sized Folding Petite Derby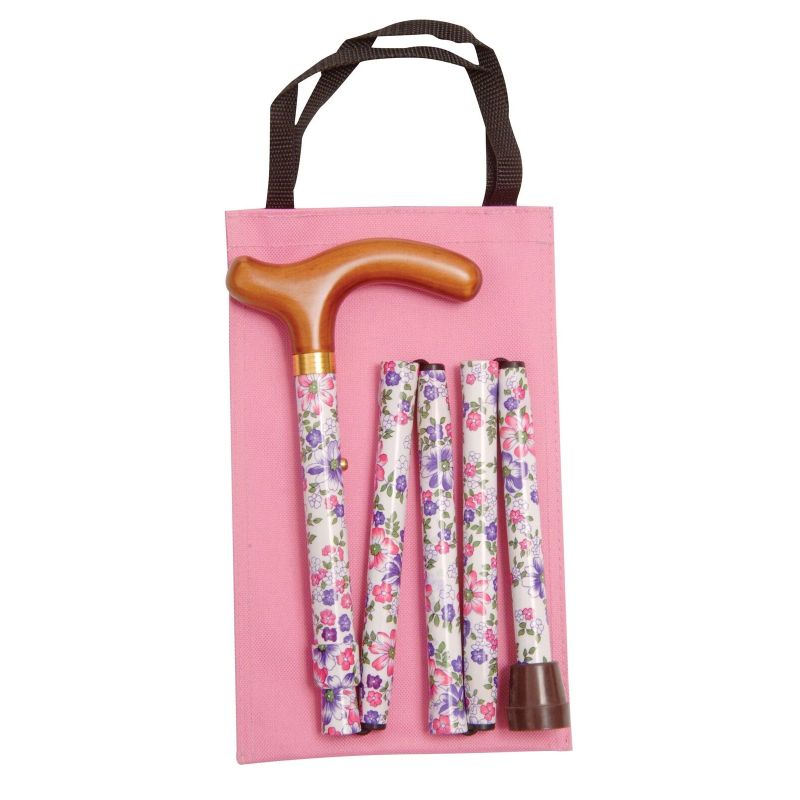 The Handbag-Sized Adjustable Folding White, Pink and Purple Floral Walking Cane is very similar to the folding walking stick above, but is even more convenient to carry with you. It's a bit shorter and lighter, which makes it even easier to fit into your bag, features a petite handle that is comfortable hold, and folds into five sections. What's more, it comes supplied with a convenient, stylish carrying wallet that ensures the cane stays safely in your bag.
Key Features: Adjustable from 81cm to 89cm; folds into five sections; lightweight at 345 grams
Folding Easy-Joint Floral Cane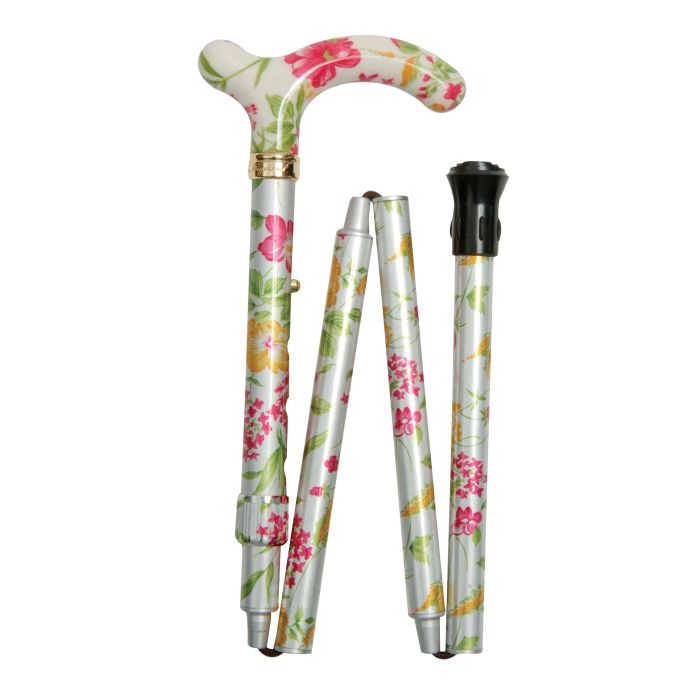 Last but not least, the Petite Adjustable Folding Easy-Joint Cream Floral Walking Cane features pink and yellow flowers with green leaves on a cream background, making it reminiscent of brightly coloured Easter eggs. The height-adjustable aluminium shaft can be folded into four sections, each of which meet with end-to-end easy joints that can be easily altered even without much wrist strength.
Key Features: Adjustable from 77cm to 85cm; easy-joints make it comfortable even for weaker wrists; lightweight at 300 grams
Do you like to accessorise with a walking stick? Let us know in the comments, or find us on Twitter and Facebook!