Best Walking Sticks for Arthritis
Wednesday, 6 December 2017 | Admin
Suffering from arthritis and limited mobility can be a difficult combination of ailments to deal with. If you find that using a walking stick exacerbates pain and discomfort in your hands, it might be that you're using the wrong type of handle. So what type of handle can you use? Find out which type of handle is best for arthritis by reading our blog.
Which Handle Types Are Best for Me?
Hand conditions like arthritis reduce the strength of your grip, so it's important that you choose a handle that's easy to hold and fits well in your hand. Ergonomic, Fischer, and – to a lesser extent – relax-grip handles have been designed for exactly this purpose. All three of these handle types are for orthopaedic use and have been crafted so they contour to your hand, allowing you to remain comfortable for longer periods of time.
Amber Fischer Handle Dark Hardwood Orthopaedic Walking Cane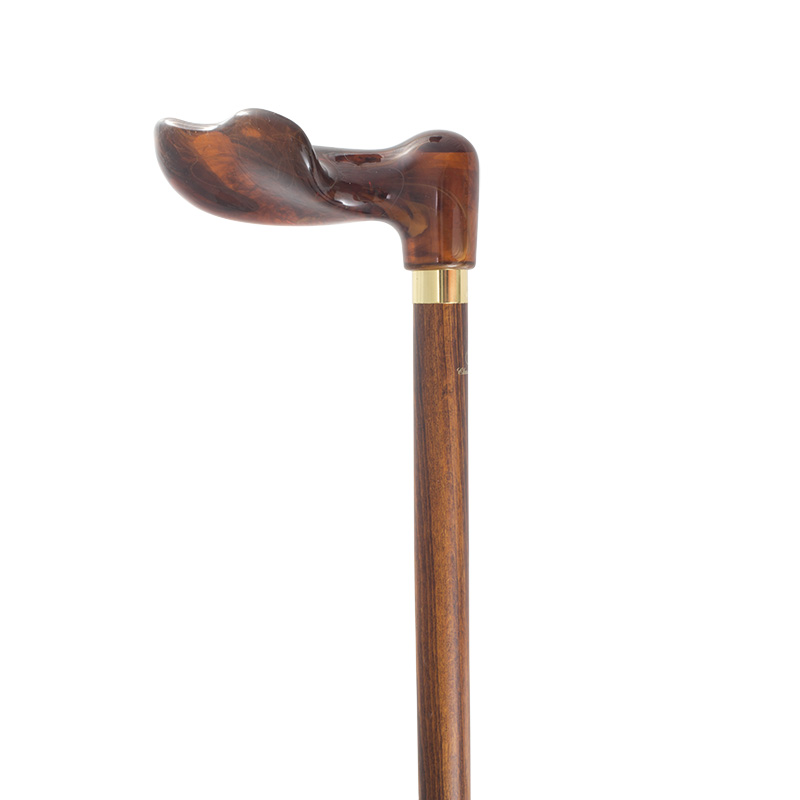 The Fischer handle was actually designed for the sole purpose of assisting sufferers who have arthritis or rheumatism, and it does an excellent job of doing this. The Amber Fischer Handle Dark Hardwood Orthopaedic Walking Cane uses the Fischer handle to fantastic effect. Its contoured shape will be a comfortable relief after using a traditional crook or Derby-handled cane. This is because it spreads your weight evenly across the palm of your hand and comes in separate Left-Handed and Right-Handed models for an improved fit.
Not only does the Dark Hardwood Walking Cane provide excellent support, but it's also a stunning stick. The cane's handle has a marbled effect that mixes amber with darker hues to form a handle that truly looks special. Its handle matches exceptionally well with its shaft, which is made from hardwood and combines russet tones with darker, almost black, wood grains. If you use your cane each day for support, you certainly won't feel embarrassed carrying this cane around with you!
Key Features: Fischer handle spreads weight across your palm; beautifully styled cane
Adjustable Folding Fischer Handle Walking Stick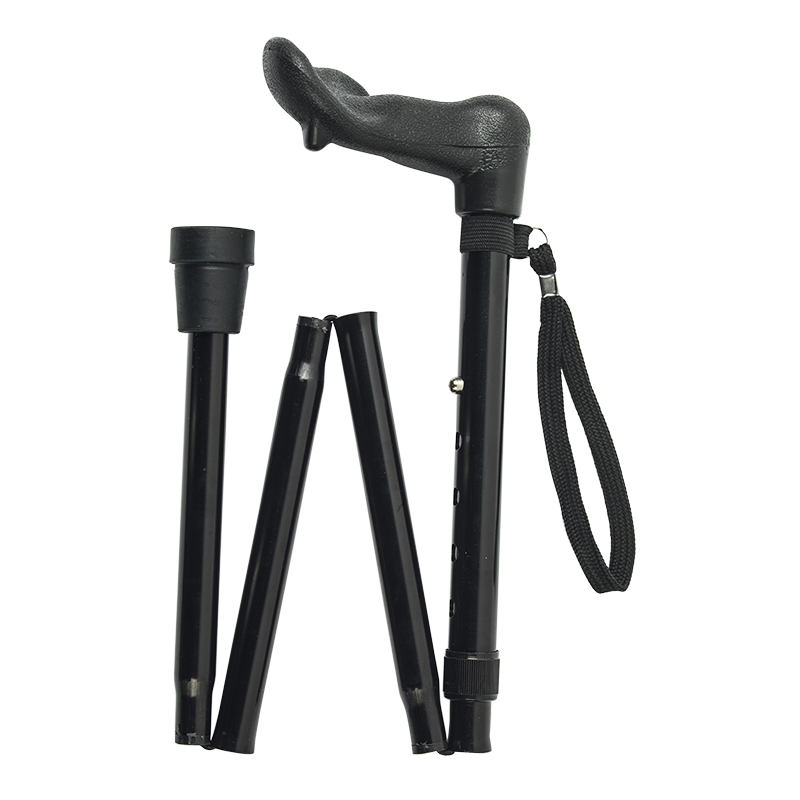 When you only require support some of the time, carrying around a heavy walking stick is sure to exacerbate your arthritis. The Adjustable Folding Fischer Handle Walking Stick is able to fold into four sections, making it easy to store in your bag when additional stability isn't required. This is particularly useful when you're travelling by car or public transport where space is often limited.
Featuring a Fischer handle, the Adjustable Folding Walking Stick is anatomically designed to suit you. The cane is also adjustable, meaning you're provided with a fit that's tailored to your needs. This is particularly important to those who suffer from arthritis as a poorly fitted stick is painful to your hands and will reduce the naturalness of your gait.
Key Features: Folds into four sections; adjustable in height; Fischer handle spreads weight across your palm
Flexyfoot Blue Telescopic Walking Stick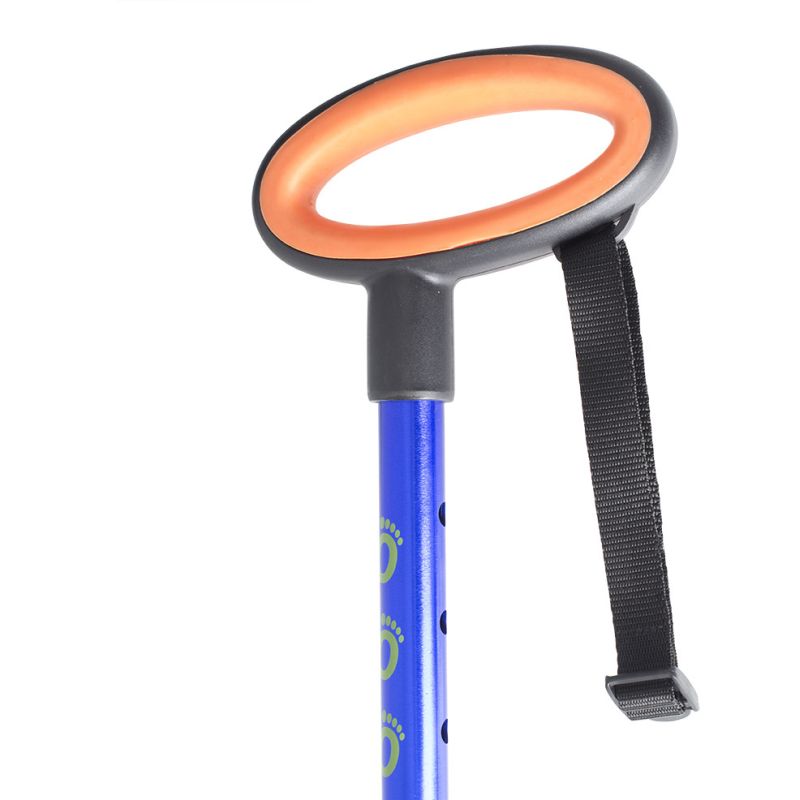 Although this isn't your typical orthopaedic walking stick, the Flexyfoot Blue Telescopic Walking Stick is fitted with the infamous Flexyfoot ferrule. This absorbs shock to prevent it from travelling through your hand and arm. Arthritis can come in all forms, so if you still have good gripping strength in your hands but you find that the shock caused from walking sticks exacerbates your symptoms, this stick is ideal for you.
While the Blue Telescopic Stick doesn't strictly have a traditional orthopaedic handle, its unique oval handle offers you a soft grip and an ergonomic design that helps you remain comfortable and stable throughout use. Its handle spreads force over a wide area of the hand so you don't suffer from pain in a localised area. While its style is reminiscent of the Fischer handle, it can actually be used in either hand.
Key Features: Flexyfoot ferrule absorbs shock to prevent pain; oval handle is soft and ergonomic for improved comfort
Adjustable Relax-Grip Marbled Cream Orthopaedic Walking Cane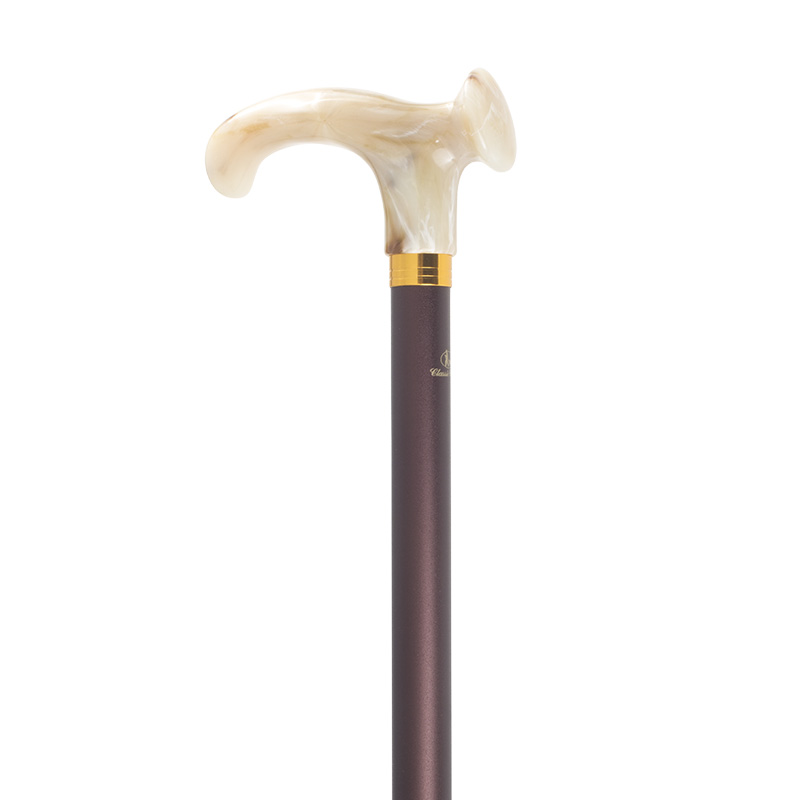 Crafted with a relax-grip handle, the Adjustable Relax-Grip Marbled Cream Orthopaedic Walking Cane is a wonderfully comfortable stick. This type of handle provides excellent support to the front of your hand and curved away from the back of your hand. As such, it's suited to those who find that their arthritic pain and stiffness is often localised to their fingers and thumb.
A smart and orthopaedic stick is a rare commodity. The Relax-Grip Walking Stick has an acrylic handle that marbles a cream colour with darker and lighter tones. Its shaft is a smart bronze-brown, which makes this stick a fantastic accessory for a wide range of smart suits and elegant dresses. As the cane comes in a Left-Handed and a Right-Handed model, you can use both as a pair.
Key Features: Fitted with a relax-grip handle; smart design makes the stick suitable for daily use or formal gatherings
Amber Effect Relax-Grip Handle Orthopaedic Walking Cane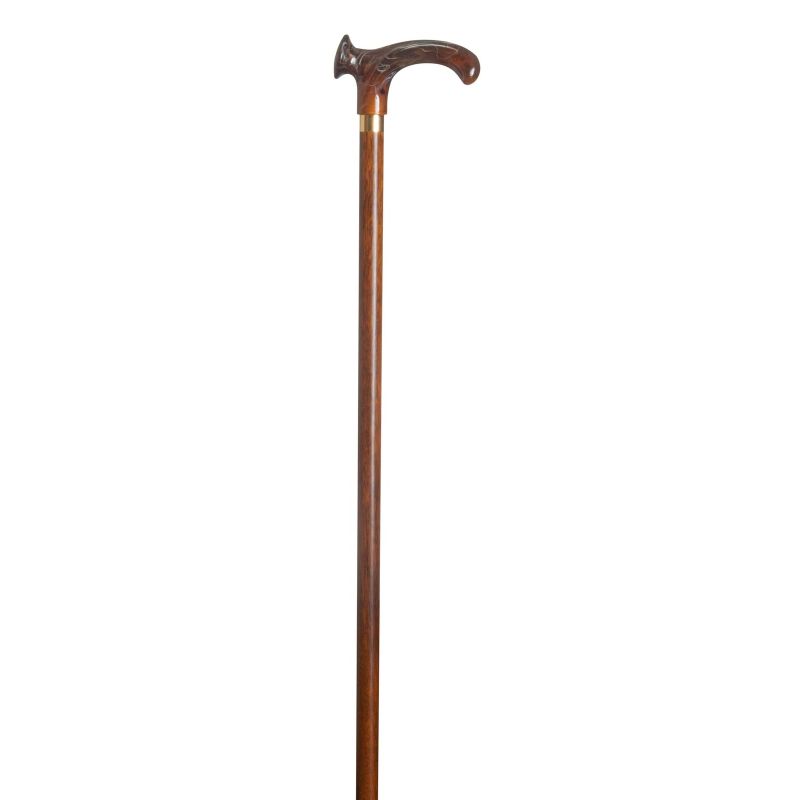 The ergonomic handle on this Amber Effect Relax-Grip Handle Orthopaedic Walking Cane is similar to the Fischer handle, in that it suits people with arthritis or rheumatism. However, its smaller size often makes it more suited to sufferers with smaller hands. Designed with a smooth brown acrylic handle that's been moulded to fit your hand, the stick provides you with high levels of comfort and support. This stick is also available in both a Left-Handed and a Right-Handed model, allowing you to use both at once if additional stability is required.
Although the Relax-Grip Handle Walking Stick is 37.5 inches in height, its wooden shaft allows it to be cut to the correct size. This will provide you with the support you need at the height that you need it so excess pressure isn't placed on your wrist and hand.
Key Features: Wooden shaft can be cut down to size; ergonomic handle is ideal for smaller hands
Have you purchased a stick that's help reduce your arthritic pain? Let us know which one it was in the comments, or find us on Twitter and Facebook!