Best Silver-Topped Canes 2022
Monday, 12 August 2019 | Admin
A walking stick is more than just a walking aid – it is one of the oldest and, today as much as ever, one of the most popular fashion accessories that can make or break an outfit. If you're looking for a fashionable cane that will add a touch of elegance to your walk, there's no better choice than a silver-topped cane. Below you will find our top five walking sticks that have proven themselves to be a go-to choice for our customers time and time again.
Classic Capstick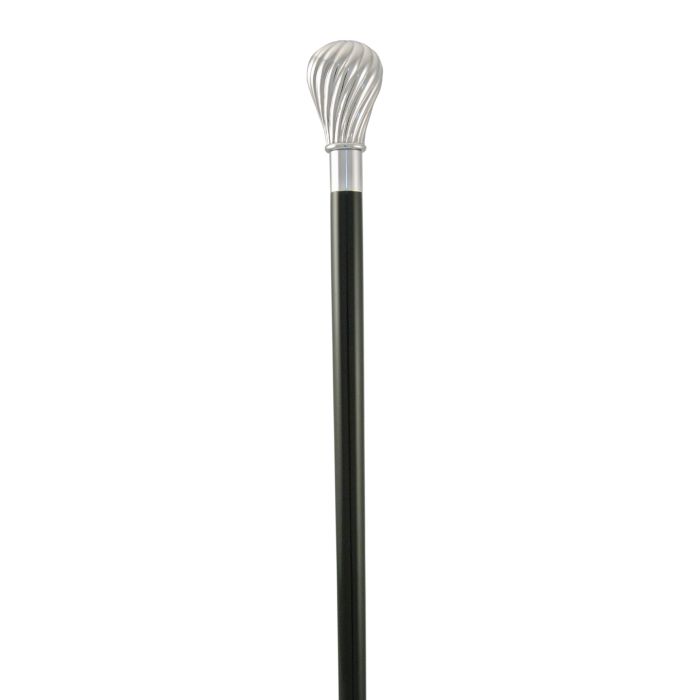 If you like to play it safe, you can never go wrong with a silver-plated cap handle. The Silver-Plated Twisted Cap Cane features a unique handle with an appealing twisted design, and a durable wooden shaft that has been tapered for an even more stylish look. The wood is then lacquered a very shiny black for the truly glamorous appearance.
Key Features: 92cm; hardwood shaft; silver-plated handle; 340 grams
Vintage Appeal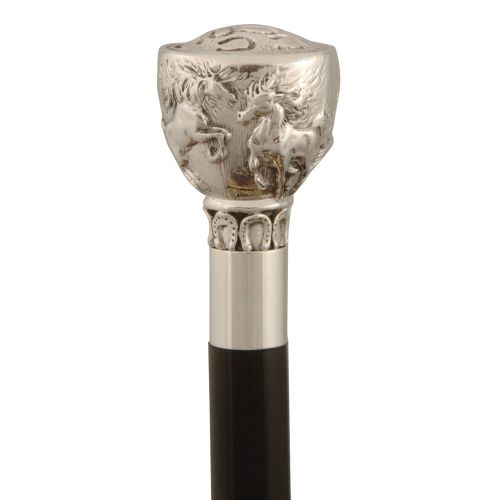 Though any formal walking stick can be the perfect accessory for a day at the races, this very attractive Silver-Plated Frolicking Horses Cane has been designed specifically for that purpose. The beautifully decorated silver-plated handle features a highly detailed carving of four horses, while the durable hardwood shaft is tapered and painted an elegant black to give the cane an even more formal feel.
Key Features: 92cm; hardwood shaft; novelty, silver-plated handle; 340 grams
Bold Lion's Head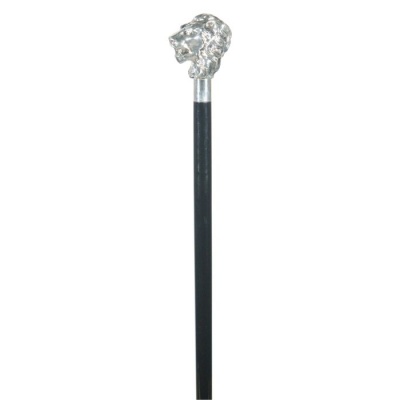 While any silver-plated walking stick is bound to turn some heads, this Silver-Plated Lion Cane is still one of the most breathtaking evening canes you'll ever come across. The silver-plated lion's head is beautifully detailed, with a magnificent mane and impressive canine teeth visible, while the gorgeous silver shine adds a final touch of glamour to this impressive stick.
Key Features: 92cm; hardwood shaft; silver-plated handle; 370 grams
Elegant and Practical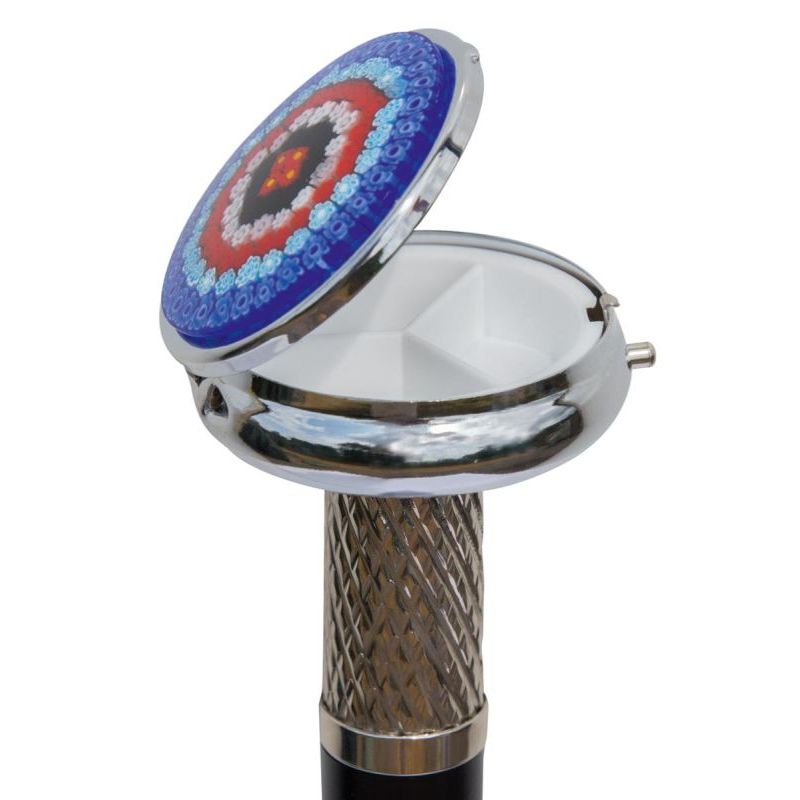 The Pill Box Cane with Millefiori Murano Glass Lid is not just any other evening walking stick with a stunning handle. This jaw-dropping cane not only features a gorgeous lid decorated with millefiori "thousand flowers" Italian Murano glass, but hides a practical pill box inside the decorative handle. This is the ideal choice for any walking stick user with style, looking to get something extra from an elegant accessory.
Key Features: 92cm; stunning handle with hidden compartment; 255 grams
Eccentric Duck Cane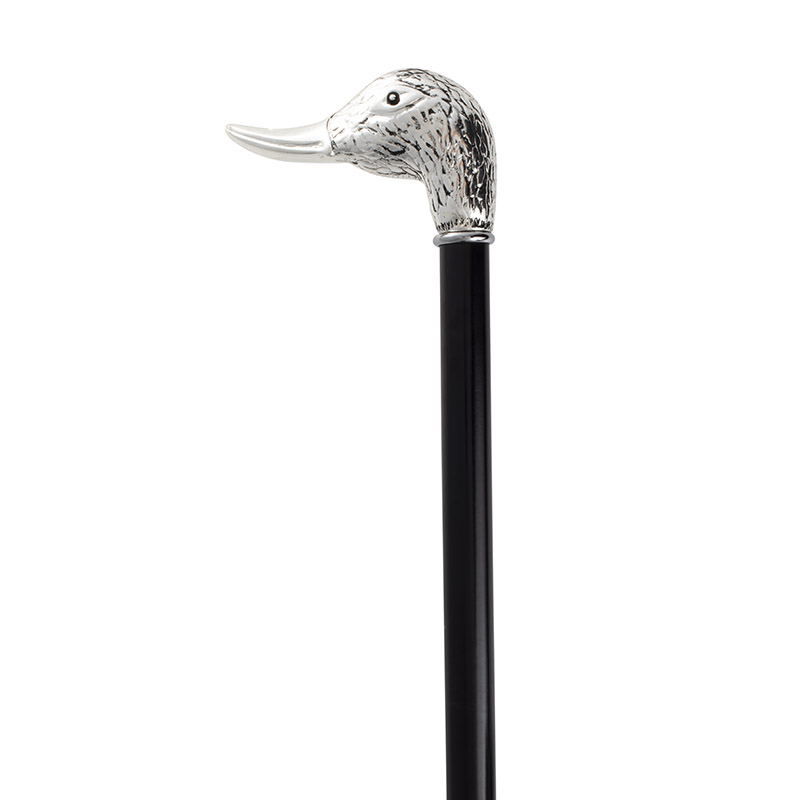 A formal walking stick doesn't necessarily need to come with a silver-plated animal handle, but when it does, it's important the handle is crafted with attention to detail and a great sense of style. This Silver-Plated Duck Cane features a carefully detailed duck's head with a charming upturned bill that makes it convenient to hold.
Key Features: 92cm; silver-plated novelty handle; 360 grams
A Choice of Elegant Evening Canes
While a silver-topped cane is an excellent choice for an evening accessory, it's not your only option. Here at WalkingSticks.co.uk we offer a broad selection of formal canes, including brass-handle walking sticks, chrome-plated sticks, and even walking sticks featuring an imitation ivory handle.
Do you have a favourite silver-plated walking stick? Leave a comment below, or find us on Twitter and Facebook!
Shop Related Products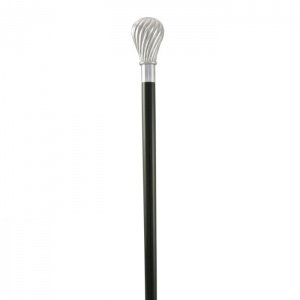 Durable and reliable hardwood shaft
Eye-catching twisted knob handle
Fitted with a stylish brass ferrule
Lacquered a very shiny black
| | | |
| --- | --- | --- |
| | | In stock now |
---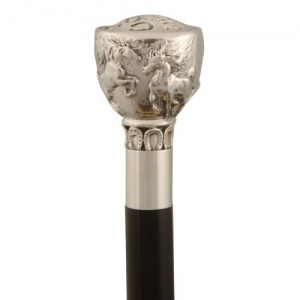 Beautifully decorated silver-plated handle
Tapered hardwood handle painted black
Ideal accessory for a day at the races
Fitted with an elegant brass ferrule
| | | |
| --- | --- | --- |
| | | In stock now |
---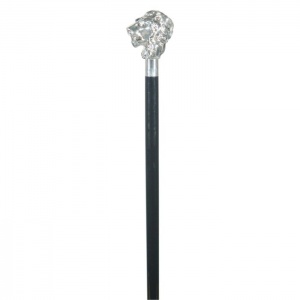 Majestic lion's head handle
Durable black hardwood shaft
Fitted with a smart chrome ferrule
Ideal for collectors and special occasions
| | | |
| --- | --- | --- |
| | | In stock now |
---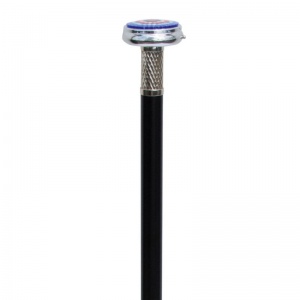 Supremely elegant pill box cane for users with style
Lid is decorated with Italian Murano glass in various colours
Hiding a practical pill box with three compartments
Hardwood shaft is fitted with a discreet, non-slip black ferrule
| | | |
| --- | --- | --- |
| | | Currently unavailable. Please check back soon |
---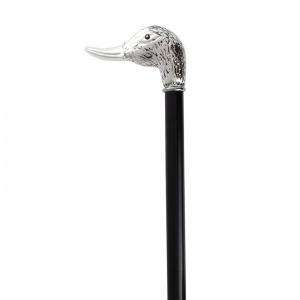 Interestingly shaped handle for comfortable support
Highly detailed duck's head as the handle
Smart chrome ferrule to complete the look
Black hardwood shaft for durability
| | | |
| --- | --- | --- |
| | | In stock now |