Best Derby Canes 2023
Whether you're looking for a fashionable cane to use as an accessory on evening occasions or a practical everyday walking stick the Derby handle is one of the shapes you will likely come across most often. Rightly so, as this is one of the most practical, comfortable and elegant handles available on the market today. However, with so much choice out there it's difficult to know exactly which Derby cane to choose. Find out what we think the Best Derby Canes are here at WalkingSticks.co.uk!
Why Choose the Derby Handle?
When compared to the crook or the knob, the Derby handle might come off as a bit more modern, but that's not really the case. This walking stick design has been around since at least the 1400s and is still one of the most popular and widespread handles today.
Its shape makes it comfortable to hold and highly supportive, while the small hook at the end makes it just as practical as a crook, since you can easily hang it over your elbow, on the edge of a table, or even in a closet when not in use. Here at WalkingSticks.co.uk we stock a broad range of various Derby canes, so you can definitely find the perfect one for you. To offer you a glimpse into the colourful and exciting world of walking sticks, and hopefully point you in the right direction, we've put together this selection of our own favourite Derby Canes.
Our Best Folding Derby Handle Walking Sticks
For maximum convenience, a folding Derby handle stick is a great choice. These sticks offer as much style as any other Derby cane, with the added bonus of being able to compactly fit into a handbag or backpack to be ready whenever you need it.
Our Best Wooden Derby Canes
When we think of a stylish walking stick, it's often a classic wooden cane that comes to mind. These walking sticks show off the natural beauty of all types of wood, and make up a sizeable portion of our Derby handle walking stick offerings.
Our Best Formal Derby Handle Walking Sticks
The Derby handle is incredibly versatile, which makes it just as at home at a formal event or a casual stroll through town. A formal Derby handle walking stick makes a great addition to any fancy outfit.
Some Derby Walking Sticks Worth Highlighting
Derby Tea Party Extending Lavender Floral Patterned Cane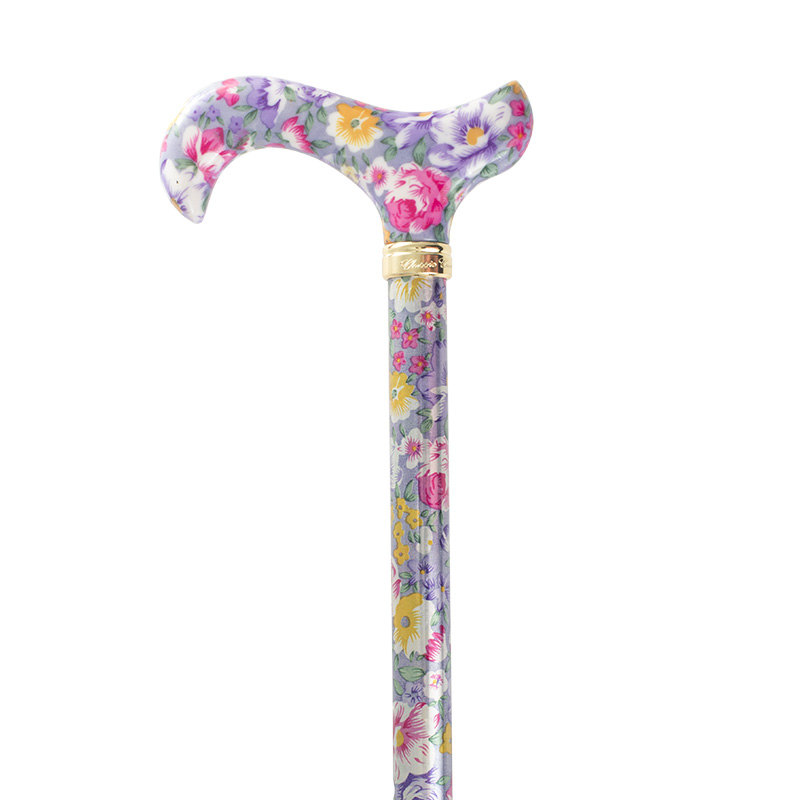 If you're looking for something more cheerful and suitable for casual, everyday activities, the Derby Cane with Marbled Acrylic Handle might be a bit too formal for your liking. This Tea Party Extending Lavender Floral Patterned Cane is all you would expect from an everyday walking stick - durable, easy to grip and, most importantly, very fashionable. Moreover, its height-adjustable shaft makes sure you don't have to waste precious time trying to find the perfect fit for your height.
Key Features: Height-adjustable, floral pattern, rubber ferrule, perfect for everyday activities, suitable for formal tea parties
---
Adjustable Folding Burgundy Derby Handle Walking Stick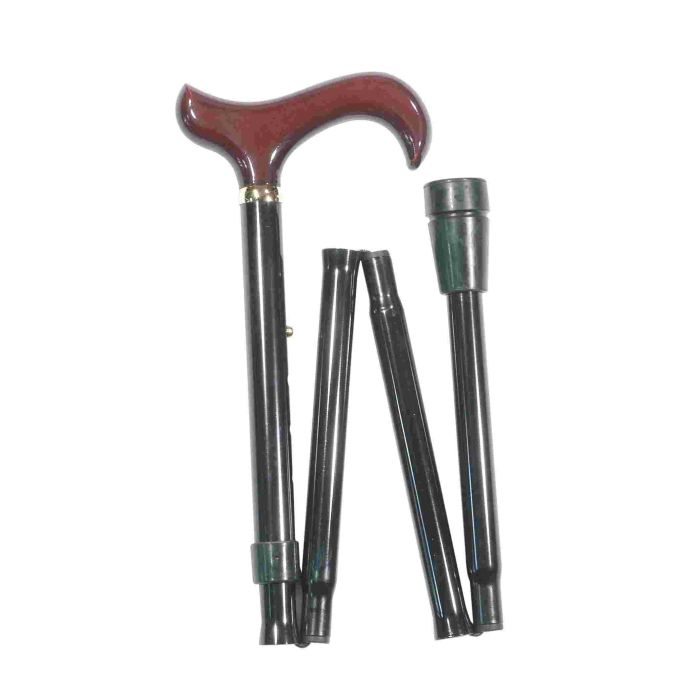 Not only adjustable in height, but easily foldable as well, this Burgundy Derby Handle Walking Stick is great for any walking stick user who prefers to tuck their cane away when the place or the occasion don't seem to fit its use. The maple Derby handle, stained and varnished in a rich burgundy, is mounted on a strong yet lightweight black aluminium shaft that can be folded into four sections. Its neutral and elegant design makes this walking stick easy to match with most outfits.
Key Features: Height-adjustable, neutral colours, rubber ferrule, foldable into four sections, suitable for casual use, ideal for travelling
---
Afromosia Derby Handle Dress Walking Stick with Decorative Rose Collar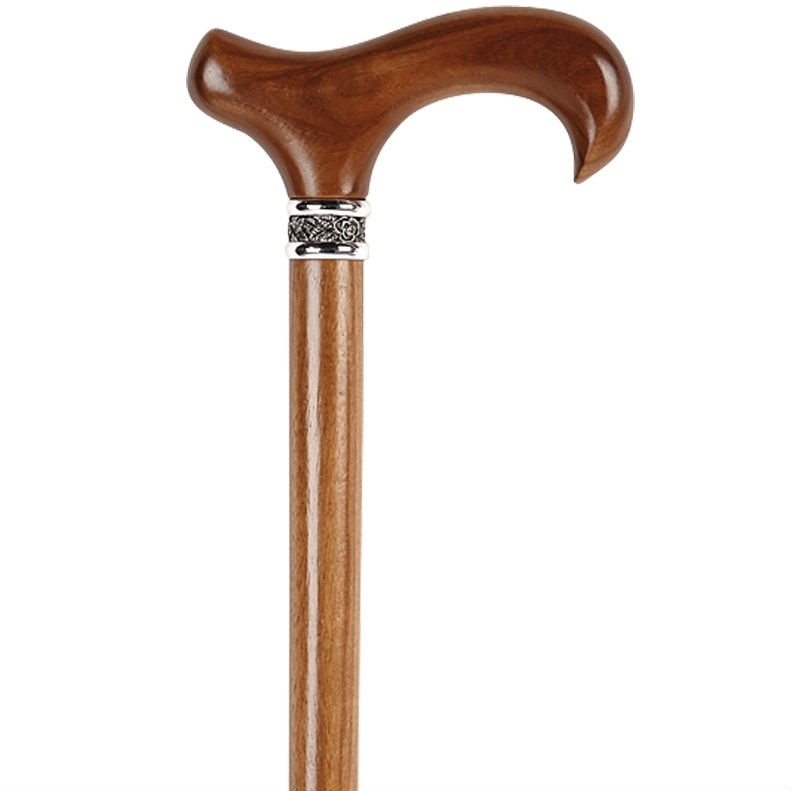 With all the colourful, height-adjustable, exciting aluminium sticks out there, sometimes realising that a classic wooden cane with a traditional handle is all you need can come as quite the revelation. Made from intriguing afromosia hardwood and embellished with a decorative rose collar, this very elegant Derby Handle Dress Walking Stick is perfect for accessorising any dress outfit.
Key Features: 36" tall, dark wood with natural grain pattern, rubber ferrule, suitable as an evening accessory
---
Derby Canes are immensely popular and widespread, so don't worry if you find the options to be rather overwhelming. These are some of our personal favourite Derby canes, but you can easily embark on an exciting journey and find the Derby walking stick you've always imagined owning from our broad range of Derby Canes on WalkingSticks.co.uk.
Have any questions, or something to add? You can leave us your thoughts in the comments section below!