Best Cool Walking Sticks to Stand Out from the Crowd
2 Comments
Thursday, 19 July 2018 |
Admin
Gone are they days when walking sticks were viewed as a hindrance – nowadays they're usually lightweight and easy to carry, with a wide range of patterns and styles to suit virtually any taste. Whether you require a stick for mobility support or you simply like to pair them with your carefully selected outfit to stand out at a party, we stock a wide range of cool walking sticks for you to choose from!
With so many different choices (we have over 1,000 walking sticks and canes for you to choose from!), narrowing them down to just a few favourites was quite a challenge. However, to give you a flavour of the types of sticks available from WalkingSticks.co.uk, we've selected a few that we feel are particularly noteworthy and definitely cool!
Cartoon Cats Cane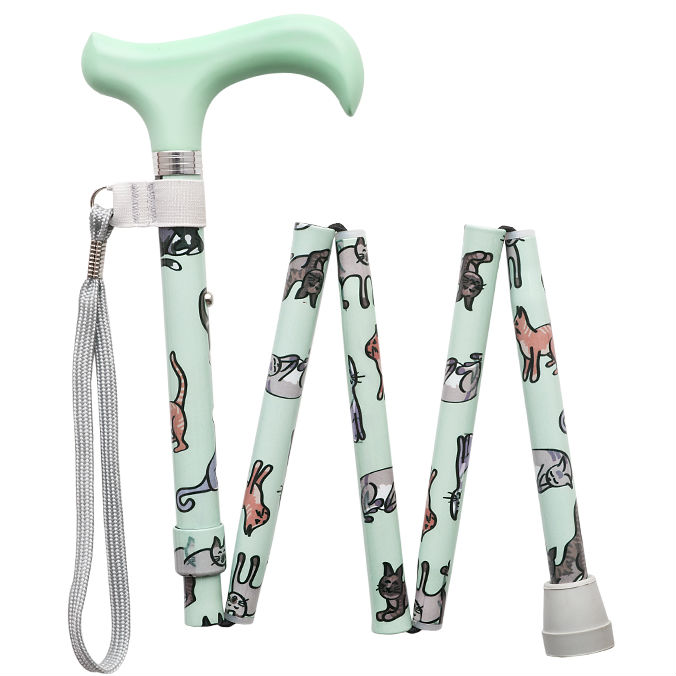 First up is one of our top-selling folding walking sticks: the Height-Adjustable Mini Folding Cartoon Cats Walking Stick. This mint-green walking stick is an ideal choice for any feline fan or cool cat. The aluminium shaft is adorned with a smattering of cartoon cats, creating a fun and colourful pattern.
In addition to its attractive design, this cane is also lightweight and, with the ability to fold the height-adjustable stick into five sections, can easily be slipped into a handbag or suitcase when travelling. The wooden Derby handle is comfortable to hold onto, with a wrist strap for added security, and the rubber ferrule at the base of the stick helps prevent slipping.
Key Features: fun cartoon cat design; adjustable in height; lightweight aluminium shaft; comfortable Derby handle; protective rubber ferrule; folds for storage
Purple Ash Cane
Sticking with the Derby handle for now, we have the Purple Ash Derby Cane. This offers the same comfortable Derby handle as the previous stick, but sports a sleek appearance with an ash shaft painted a deep purple colour. Whether colour matching or looking to add a splash of fun to an otherwise-bland outfit, this cane is deal for the fashion conscious.
The Purple Ash Cane also includes a rubber ferrule, which protects the bottom of the stick when it strikes against the ground. It's also available in a choice of ten sizes, ranging from 28" (71cm) to 37" (94cm), ensuring you can maintain comfortable and healthy posture when relying on the support of your cool coloured cane.
Key Features: deep purple painted ash shaft; choice of ten heights; wooden Derby handle; slip-reducing rubber ferrule
Brown Fish Hardwood Cane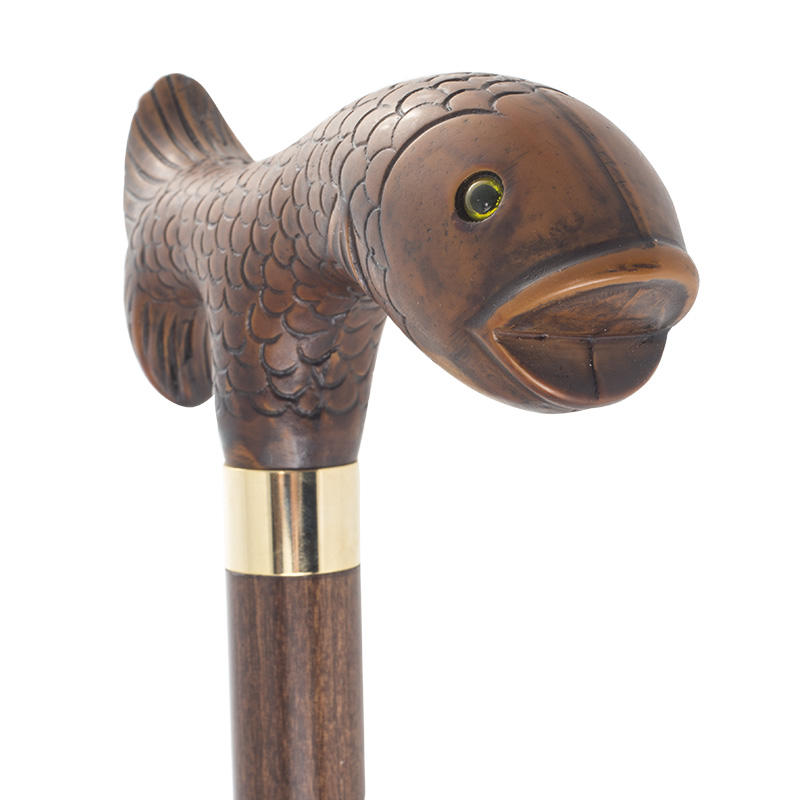 If you like the idea of a wooden cane but would prefer something a little different, then the Brown Fish Hardwood Cane could be the choice for you. At a glance, the dark-brown wooden cane appears to be subtle and nondescript, but on closer inspection this fashion cane is identified as a charismatic and charming quirky accessory.
Although this cane is not designed for mobility support, it is an ideal choice for anybody keen to show off their personality when at an event or taking a stroll in the park. If you're an angler or a fan of the ocean, or you just want to pay homage to your pet goldfish, then this is the cane for you!
Key Features: funky acetate fish handle; brown hardwood shaft; reliable rubber ferrule; smart shaft collar
Chrome Plated Fritz Handle Black Beechwood Cane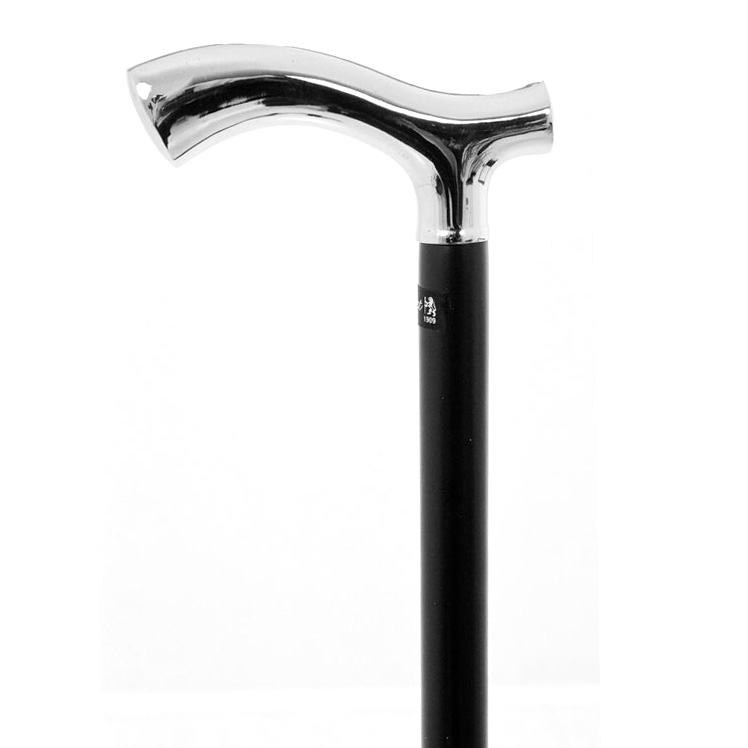 With a smart black shaft and shiny chrome handle, the Chrome Plated Fritz Handle Black Beechwood Cane is also perfect for formal occasions and special events. It combines the practicality of a sturdy beech shaft with an elegant black-tie appearance and sleek handle.
The Fritz handle is comfortable to hold onto, and beautifully complements the dark body of the cane. It also offers good resistance to weathering, allowing you to take your cane with you wherever and whenever you need it!
Key Features: stylish black beech wood shaft; sleek chrome-plated handle; sturdy beech body; rubber ferrule
Marble-Handled Metallic Cane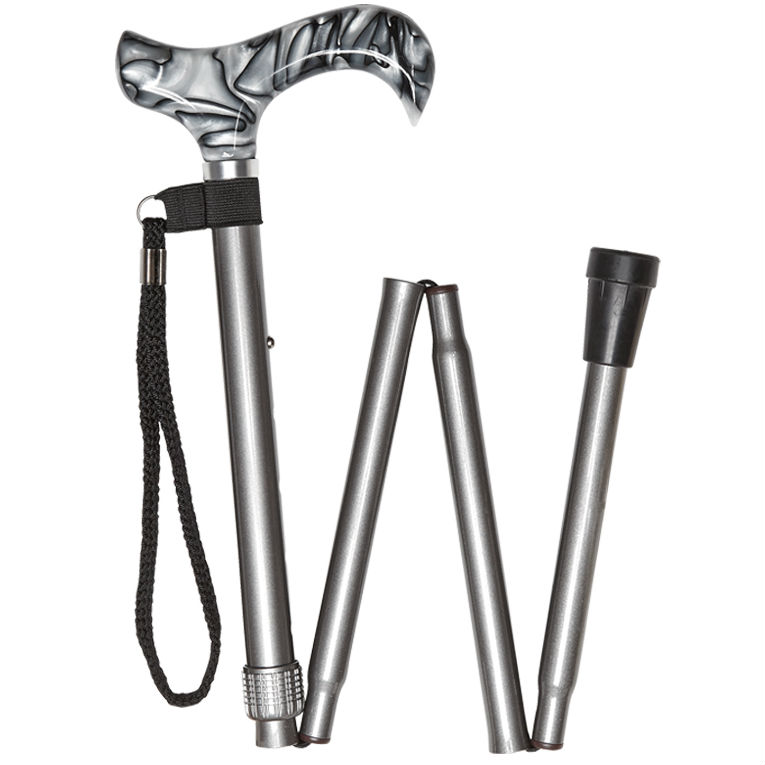 Last but not least, we return to the world of height-adjustable folding canes with the Metallic Silver Derby Walking Stick. This stick combines the reliable support of a lightweight aluminium shaft with the elegant silver appearance and marble-effect handle.
The metallic shaft wouldn't look out of place whether down at the shops or at a formal do, transitioning from day to night with ease to ensure you can rely on its support at all times. As it folds away, it can also be carried with you when not needed, then unfolded at a moment's notice to ensure you need never go without support.
Key Features: versatile metallic silver shaft; lightweight aluminium construction; marble-effect handle; rubber ferrule; folds for storage
These are just some of our favourite cool canes that would add a touch of fun and style to any outfit or occasion. If you've not yet seen one you like, why not view our full range of cool walking sticks and cool canes? We'd love to know which one you like the most; you can drop us a comment below, or find us on Twitter and Facebook!