Wheeled Walking Frames
Do you find yourself walking slowly with a traditional walking frame? This can be frustrating, but thankfully there's a simple solution. Our range of Wheeled Walking Frames are created to help you walk with a more fluent gait. As you don't have to lift the support up with every step, your new support will save you time and energy.
If you'd like more information or a tailored recommendation, please call our customer care team on 020 7501 0591. Alternatively, they can be contacted on helpdesk@walkingsticks.co.uk.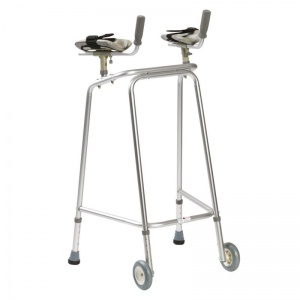 Comfortable padded armrests reduce targeted pressure
Two front wheels help improve your walking pattern
Velcro straps offer added safety and security
Ideal for those who have limited dexterity
| | | |
| --- | --- | --- |
| | | Currently unavailable due to COVID-19 supply chain delays. Please check back soon |
---
Forearm platforms ideal for those who have limited manual dexterity
Velcro straps go around your forearms to offer improved safety
Has two front wheels to improve the fluidity of your walk
Armrests are padded for improved comfort levels
| | | |
| --- | --- | --- |
| | | In stock now |
---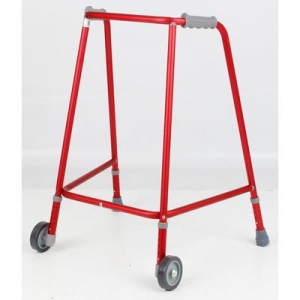 Height adjustable walking frame to cater to individuals
Vibrant red colour to help those suffering with dementia
Lightweight design making it perfect for domestic use
Low maintenance and easy to keep clean
| | | |
| --- | --- | --- |
| | | Currently unavailable due to COVID-19 supply chain delays. Please check back soon |
---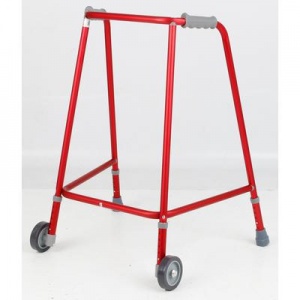 Height adjustment to cater to user requirements
Brightly coloured to help those with dementia
Low maintenance and easy to keep clean
Narrow, simple to navigate front wheels
| | | |
| --- | --- | --- |
| | | Currently unavailable due to COVID-19 supply chain delays. Please check back soon |
---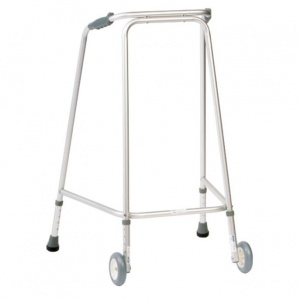 Adjustable in height to suit a number of patients
Has two front wheels for a more fluid gait
Designed to be used in a hospital setting
Sturdy and light aluminium frame
| | | |
| --- | --- | --- |
| | | In stock now |
---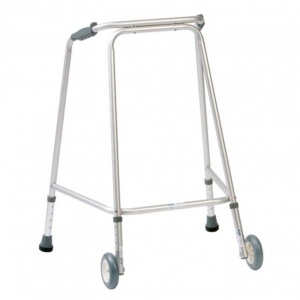 Adjustable in height with an easy-to-push button
Rigid yet lightweight aluminium walking frame
All surfaces are quick and easy to wipe clean
Has two front wheels for a more fluent gait
| | | |
| --- | --- | --- |
| | | Available, dispatched in 1-5 days |
---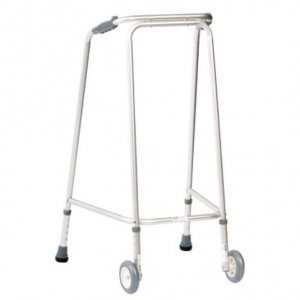 Lightweight and sturdy aluminium frame
Two front wheels to improve your gait
Hand grips are soft and comfortable
All surfaces are easy to wipe clean
| | | |
| --- | --- | --- |
| | | Currently unavailable due to COVID-19 supply chain delays. Please check back soon |
---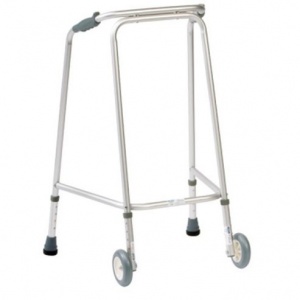 Frame is made from rigid yet lightweight aluminium
Surfaces of the mobility aid are easy to wipe clean
Latex-free, soft PVC hand grips for extra comfort
Adjustable in height with an easy-to-push button
| | | |
| --- | --- | --- |
| | | Available, dispatched in 1-5 days |
---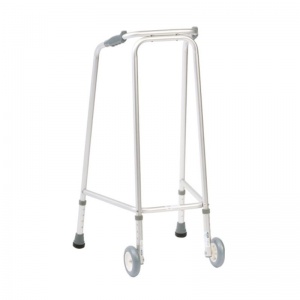 Has two front wheels to provide a more fluent walking pattern
Easily adjusted in height with a simple click of a button
Offers a large support base for improved stability
Rigid yet lightweight aluminium walking frame
| | | |
| --- | --- | --- |
| | | Available, dispatched in 1-5 days |
---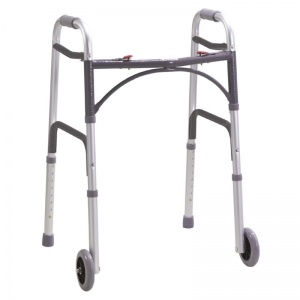 Push buttons may be operated with fingers, palms or sides of hands
Each side operates independently for improved ease of movement
Sturdy aluminium body is suitable for outdoor or indoor use
Walker can be brought closer to you to help with standing
| | | |
| --- | --- | --- |
| | | Available, dispatched in 1-5 days |
---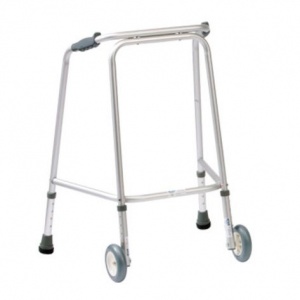 Two front wheels for easier manoeuvrability
All surfaces are easy to wipe clean
Frame is light in weight but sturdy
Hand grips are made from PVC
| | | |
| --- | --- | --- |
| | | Available, dispatched in 1-5 days |
---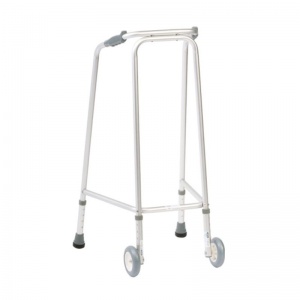 Has two front wheels for a more fluent walking pattern
Adjustable in height to suit a range of people
Helps keep you feeling stable and steady
Sturdy yet lightweight aluminium frame
| | | |
| --- | --- | --- |
| | | Currently unavailable due to COVID-19 supply chain delays. Please check back soon |