Folding Walking Frames
Using a walking frame can work wonders in improving your ability to participate fully in everyday life, but if you're going on long trips it's important that the frame can be stored easily and compactly in the car or on public transport. Our range of Folding Walking Frames are designed so they can be folded to save space. This also makes them ideal if you don't always need to use your walking frame but want to carry it around with you without the bulk.
Would you like more information or a tailored recommendation? If so, please contact our customer care team on 020 7501 0591 or on helpdesk@walkingsticks.co.uk.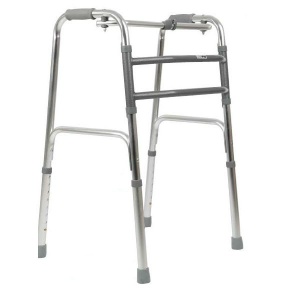 Made from lightweight anodised aluminium for easier manoeuvrability
Rubber tips are non marking and slip resistant for added safety
Easy to fold away for transporting or storing when not in use
Enables easy movement without having to pick the aid up with each step
| | | |
| --- | --- | --- |
| | | Currently unavailable due to COVID-19 supply chain delays. Please check back soon |
---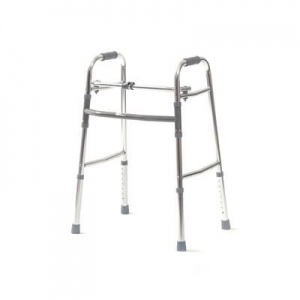 Made from lightweight anodised aluminium for easier manoeuvrability
Rubber tips are non-marking and slip resistant for added safety
Easy to fold away for transporting or storing when not in use
Height can be adjusted to ensure optimal comfort and usability
| | | |
| --- | --- | --- |
| | | Currently unavailable due to COVID-19 supply chain delays. Please check back soon |
---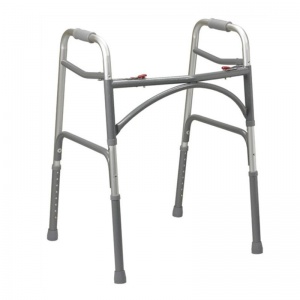 Folding mechanism for easy transportation
Made from lightweight aluminium tubing
Adjustable in height for an improved fit
Suitable for indoor and outdoor use
| | | |
| --- | --- | --- |
| | | Available, dispatched in 1-5 days |
---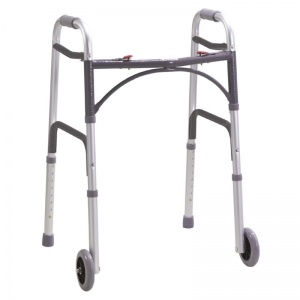 Push buttons may be operated with fingers, palms or sides of hands
Each side operates independently for improved ease of movement
Sturdy aluminium body is suitable for outdoor or indoor use
Walker can be brought closer to you to help with standing
| | | |
| --- | --- | --- |
| | | Available, dispatched in 1-5 days |
---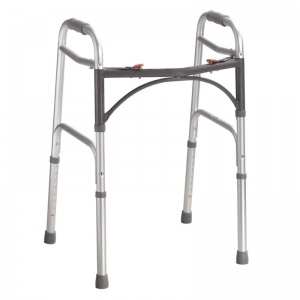 Walking frame can be brought closer to you so you feel stable while you stand
Large push-buttons may be operated with fingers, palms or hands
Sturdy, lightweight aluminium body is suitable for outdoor or indoor use
Each side operates independently for excellent ease of movement
| | | |
| --- | --- | --- |
| | | Available, dispatched in 1-5 days |