Umbrella Walking Sticks
If there's been a forecast of rain, you probably won't want to compromise your mobility just to stay dry. Our range of Umbrella Walking Sticks are designed to offer the perfect combination of both walking stick and umbrella! From crooks and crutch handles to tartan fabrics and formal designs, carrying an umbrella walking stick helps not only complete your outfit and provide support, but also ensures that you're prepared at all times in case of an unexpected downpour!
Looking for more information or a recommendation? Please call our customer care team on 020 7501 0591 or email us on helpdesk@walkingsticks.co.uk.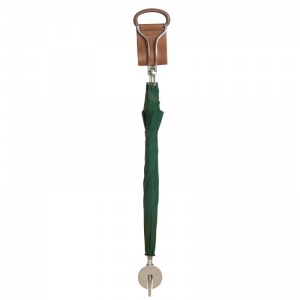 Can convert into an umbrella in moments
Leather seat opens so you can relax
Handles are trimmed with leather
Practical and stylish seat stick
| | | |
| --- | --- | --- |
| | | Currently unavailable due to COVID-19 supply chain delays. Please check back soon |
---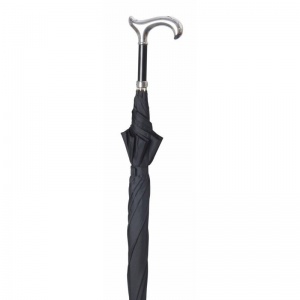 Ideal for weddings, funerals and other formal events
Functions as a discreet yet reliable walking aid
Robust and extremely durable construction
Features an extra wide canopy design
| | | |
| --- | --- | --- |
| | | In stock now |
---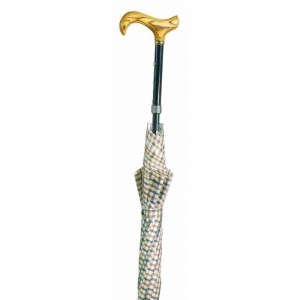 Functions as a discreet yet reliable walking stick
Height adjustable between 89cm and 97cm
Robust and extremely durable construction
Features an extra wide canopy design
| | | |
| --- | --- | --- |
| | | Currently unavailable due to COVID-19 supply chain delays. Please check back soon |
---
Functions as a discreet yet reliable walking aid
Extra wide black canopy for added protection
Height adjustable between 89cm and 97cm
Robust and extremely durable construction
| | | |
| --- | --- | --- |
| | | In stock now |
---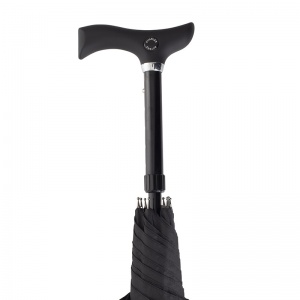 Combined walking stick and umbrella for versatile support
Adjustable umbrella walking stick perfect for cold wet weather
Soft-feel crutch handle is comfortable to hold
Rubber ferrule protects the base of the umbrella
| | | |
| --- | --- | --- |
| | | Currently unavailable due to COVID-19 supply chain delays. Please check back soon |