When Do You Need A Walking Stick?
Wednesday, 15 November 2017 | Admin
It's the question on everybody's lips: when do I need a walking stick? There are a number of different situations when you might benefit from using a walking stick, which we've detailed below. Find out more by reading on!
For Fashion's Sake
In the Victorian times, a discerning gentleman wouldn't be found dead without a cane to suit his outfit and the occasion he was attending. In recent years, the classic stick has had a resurgence in popularity and has brought with it a wide range of new modern styles that the Victorian gentleman probably couldn't have even dreamed of. At WalkingSticks.co.uk, we're passionate about reinventing the walking stick from a mobility aid that people want to hide to a fashion accessory that can be worn with pride – and we don't think they're two mutually exclusive things.
So perhaps the question should be "when do I not need a walking stick?"! From classic wooden canes to folding handbag sticks with elegant floral patterns, nowadays there's a walking stick to suit any attire or setting. This means that expressing your personality is easier than ever. However, we're also aware that walking sticks can and should be used for various supportive reasons that we've outlined below.
Hiking in the Country
Nothing beats a good hike or ramble in the country, where you can enjoy your time taking in the sights and sounds of nature. But walking through mud, crossing rivers and battling stinging nettles can be a struggle, particularly if you're walking alone or your dog tends to run on ahead. Country sticks or hiking poles can be an excellent tool for the intrepid traveller as they can provide you with additional support and can move stinging foliage out of the way.
Walking sticks with a thumbstick handle or a staff handle are extremely useful for those who are looking to get the most out of their walk without slipping or falling along the way. The thumbstick handle has a natural V shape that supports your thumb as you walk, while the staff handle is a tall stick that's often fitted with a wrist strap for improved stability.
After an Accident
If you've sustained an injury to your foot or leg, your healthcare practitioner might advise you to use crutches or a cane to keep the weight off it. In such cases, it's important to heed their advice so as to speed up your recovery. If you're looking for excellent support, our range of crutches have been created with a Flexyfoot ferrule that reduces the transmission of shock generated when the crutch makes contact with the ground.
After an accident or after being discharged from the hospital, we're all more vulnerable to falls; studies show that injuries relating to falls account for up to 15% of re-hospitalisations in the first month of discharge from hospital. As a result, it's integral that you use a support to not only speed up your recovery but to also prevent re-injury.
Help Standing Up
Standing up after you've been sitting down is difficult for too many people, and not getting the help you need when you need it can cause you to lose balance and fall. The Height-Adjustable Quad Offset Black Cane is a reliable support that correctly centres weight over the shaft for maximum support. It can be adjusted in height, and includes a self-standing quad base for improved stability and balance.
For Long Term Use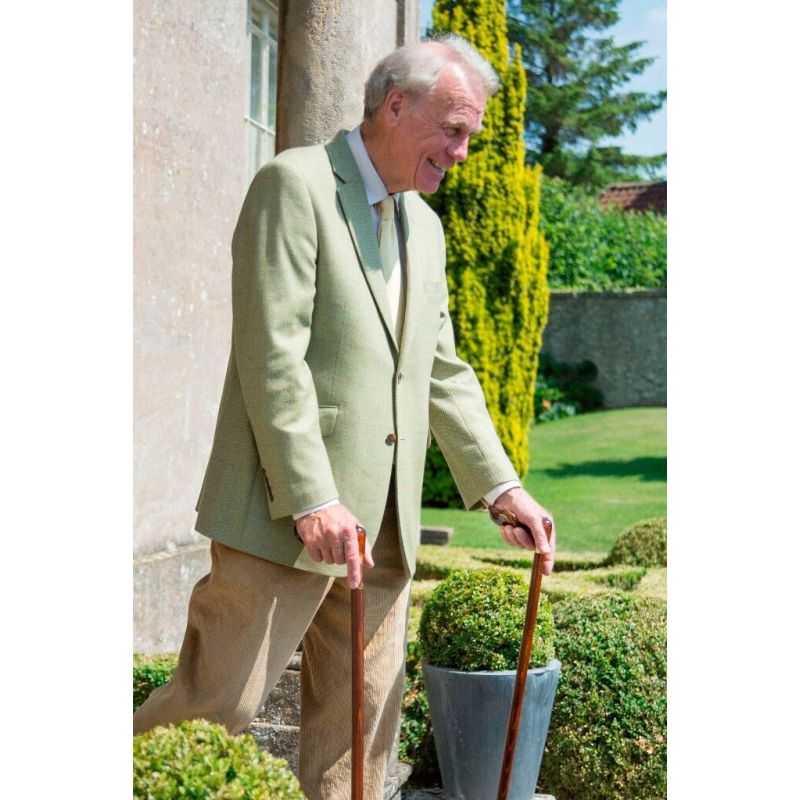 Have you started to feel unsafe while you walk around? Do you ever feel as though you might fall at any moment? If so, it might be time to consider using a walking stick for long term use. But worry not!
If you're feeling a little self-conscious about using a walking cane to get around, there are a range of "walking umbrellas" like the Formal Black Walking Umbrella with Derby Handle that are actually discreet walking sticks. Please note, however, that these umbrellas aren't suitable for heavy orthopaedic use. Orthopaedic canes can also provide you with improved comfort and safety if you feel like you need strong support or if you suffer from hand problems like arthritis or rheumatism. In this case, canes with a Fischer handle or Anatomic handle help ensure you remain as safe as possible.
When did you feel like you needed a walking stick? Let us know in the comments, or find us on Twitter and Facebook!