Our Best Rollators for Seniors 2022
Friday, 13 May 2022 | Rob
Falling over once can perhaps be brushed off as an accident, but if falls become more frequent, it's crucial you take the necessary precautions. For seniors with severe mobility issues, greater support is needed to ensure their safety at all times. If a walking stick isn't quite doing the trick, upgrading to a rollator is the next logical step.
Rollators are far more sturdy than canes, with larger surface areas that can bear the full weight of the user, and wheels that roll along the ground to keep them in full, steady motion. Here at WalkingSticks.co.uk, we're driven to help those with poor mobility find the best solutions, so we created this guide to Our Best Rollators for Seniors.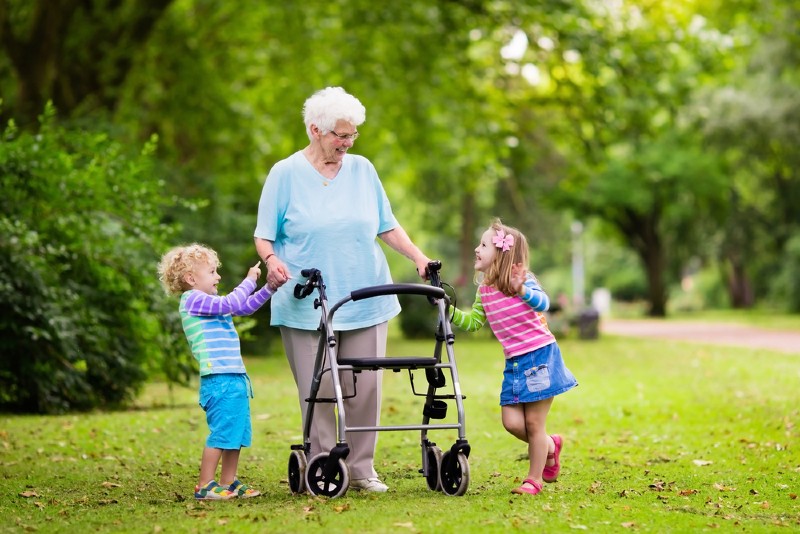 Why Choose a Rollator?
Well, there are many reasons why switching to a rollator is a step in the right direction. They come with many extra benefits, such as:
Improved Stability: Each is built with a powerful frame made from strong, sturdy materials
Full Control: Ridden with two hands and equipped with breaks for managing speed and direction
Independence: A rollator allows the user to move around safely, granting them more independence
Seated Rests: All rollators are fitted with seats and a park function for rest-stops anywhere on the journey
Affordable: They are a far cheaper alternative to mobility scooters and electric wheelchairs
What Does This Guide Have In Store?
Whether you're on a budget or looking for the best support there is, our selection of rollators has something for everyone. We're excited to show you some of our best performing rollators, with our top picks from five main categories, including:
Best All-Round Rollator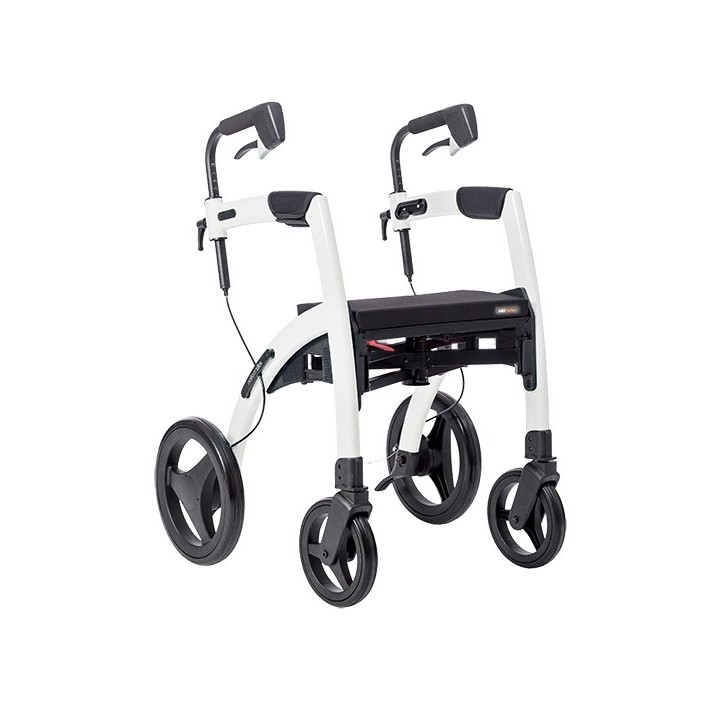 Why We Love It:
Transforms from a sturdy rollator to attendant propelled wheelchair
High-quality aluminium frame and comfortable rubber tyres
Stylish modern design available in four slick colours
Available Colours: Pebble White, Dark Purple, Island Blue, Matte Black
Editor's Verdict: Functioning as two mobility supports in one, you get more than your money's worth with the Rollz Motion 2.1 Rollator. Designed by experts, the frame shape and material provides the optimal level of support, while the seat, handgrips and rubber wheels work together to maximise comfort.
Best Lightweight Rollator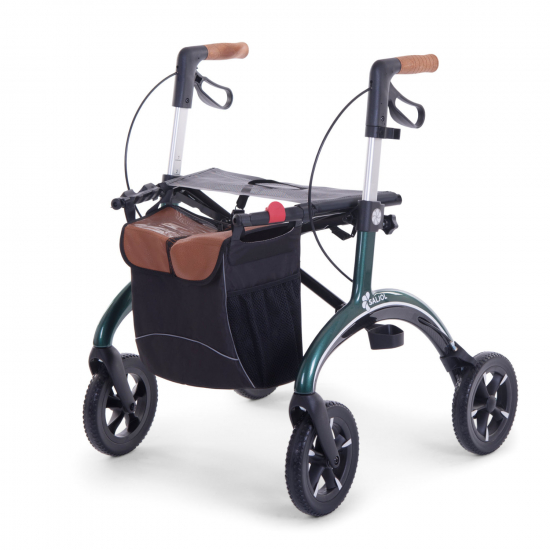 Why We Love It:
Carbon fibre frame for a light, easy push
Chunky tyres suitable for off-road escapades
50's inspired retro design with comfy cork handgrips
Available Colours: Racing Green, Midnight Blue, Star Silver
Editor's Verdict: Amazingly light, the Saljol Carbon rollator provides a smooth, easy ride. But don't be fooled, its lightness makes it no less sturdy. Made with advanced carbon fibre, this charming vintage rollator is just as strong as any other on this list.
Best Off-Road Rollator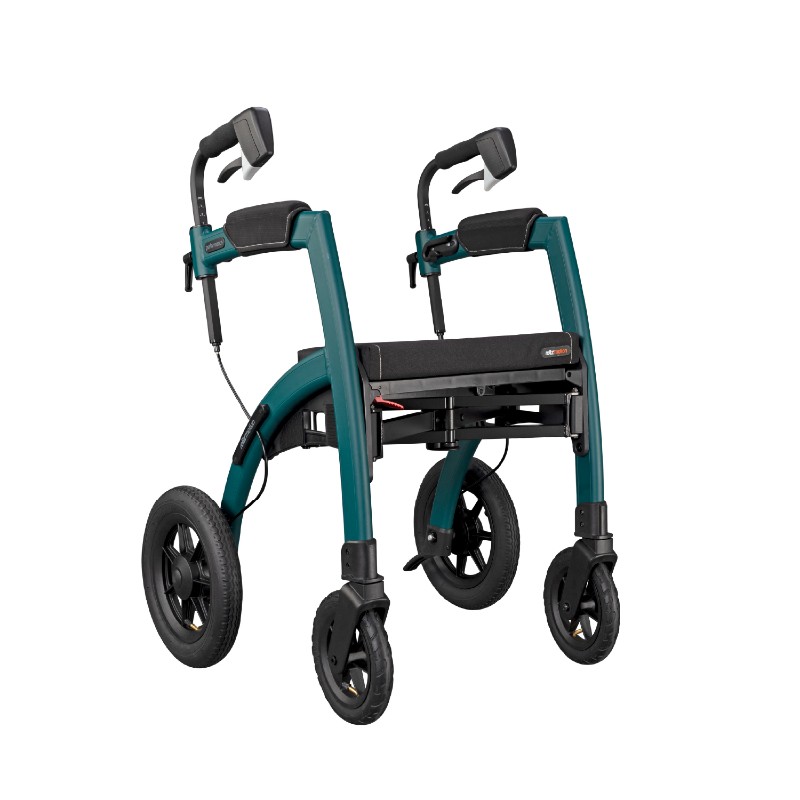 Rollz Motion Performance All-Terrain Wheelchair and Rollator
Why We Love It:
Highly supportive, comfy and stylish
Pneumatic tyres built for adventurous terrain
Ultra-responsive drag brakes for optimal safety
Available Colours: Jungle Green
Editor's Verdict: Miss the thrill of adventure? With the Rollz Motion Performance you'll be out in the wild again feeling as young as ever. Certainly the most expensive on this list, but the quality of its design and technical engineering make it a worthwhile investment.
Best Indoor Rollator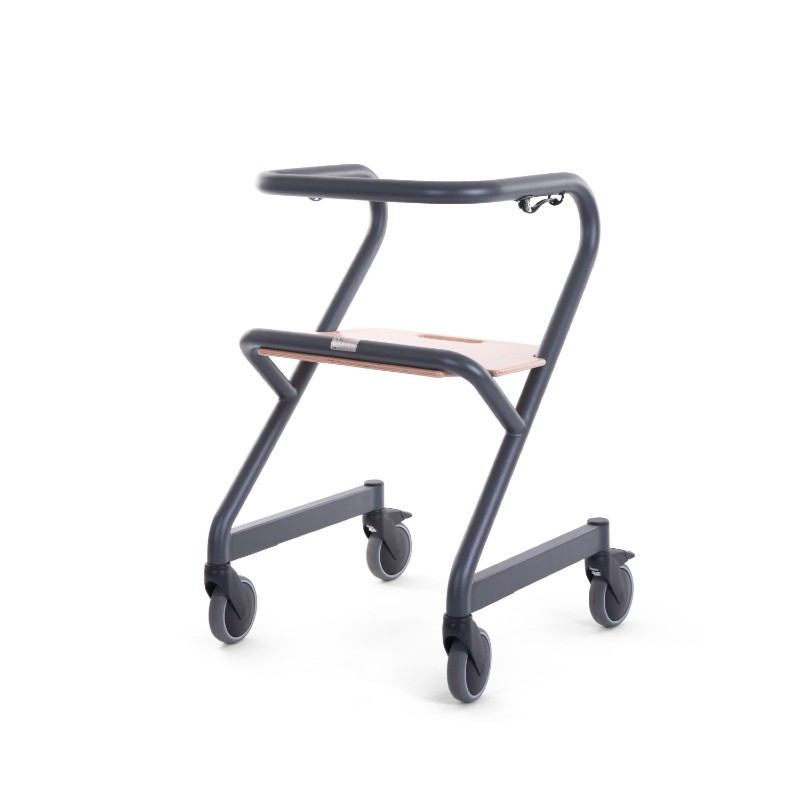 Why We Love It:
Full rotating axle for indoor navigation
Z-shape frame that can't be toppled
Adaptable beech wood serving tray
Available Colours: Anthracite, Ivory
Editor's Verdict: Built for navigating tight indoor spaces, the Saljol Page Rollator has a clever narrow design and rotating wheels that can turn it on the spot. Whether you're cooking, washing up or sitting at the table with family, this homestead companion helps you stay independent at home.
Best Budget Rollator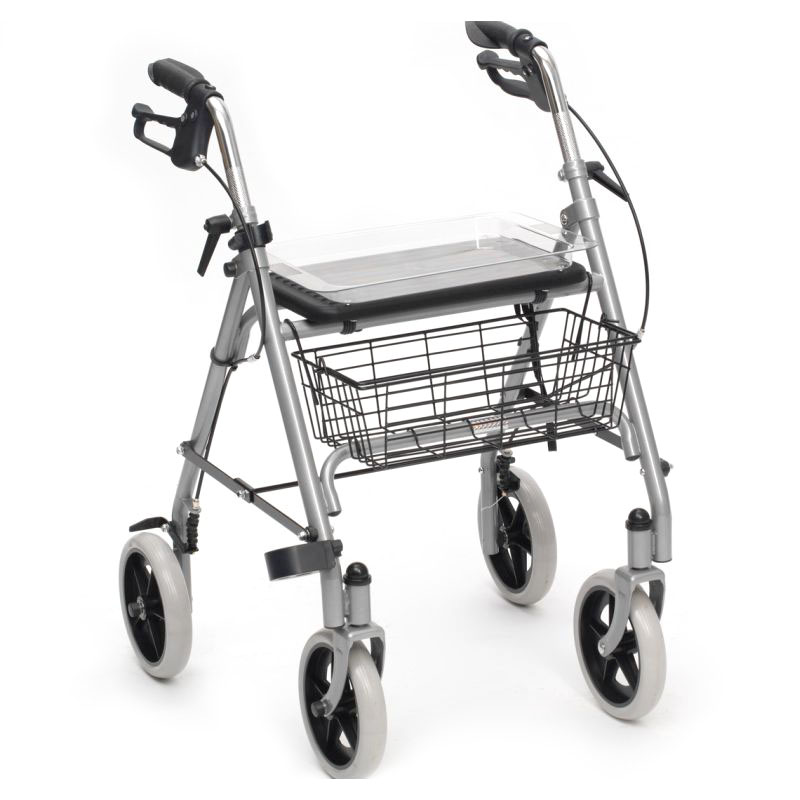 Drive Medical Silver SR8 Steel Rollator
Why We Love It:
Strong steel frame with easy-activate brakes
Swivelling front wheels for fluid mobility
Storage basket to hold the shopping
Available Colours: Silver
Editor's Verdict: Need reliable support at an affordable price? The Drive Medical SRS Rollator does everything you need it to without costing an arm and a leg. A strong steel frame, fluid-motion wheels and a simple folding mechanism makes this a superb choice if you're on a budget.
Keep on Rolling
Independence is something to be treasured and cherished, so go out their and reclaim yours with the help of a rollator. If you're still not quite sure which one you need, you can explore even more in our full range of Rollators. There you'll be sure to find the perfect companion to help you along on every journey.
Got a question, or something to add? Let us know in the comments below, or find us on Twitter and Facebook.