Best Walking Sticks for Arthritis 2020
Friday, 6 September 2019
Suffering from arthritis and limited mobility can be a difficult combination of ailments to deal with. If you find that using a walking stick exacerbates pain and discomfort in your hands, you're most likely using the wrong type of handle.
So what type of handle can you use, and how much more comfortable will it really be to use? Find out which type of handle is best for arthritis by reading this article, where our walking stick experts have selected some of the best options around.
Which Handle Types Are Best for Arthritis?
Hand conditions like arthritis reduce the strength of your grip, so it's important that you choose a handle that's easy to hold and fits well in your hand. Ergonomic, Fischer, and relax-grip handles have been designed for exactly this purpose, taking the strain off your joints for a more comfortable grip. All three of these handle types are for orthopaedic use and have been crafted so they contour to your hand, allowing you to remain comfortable for longer periods of time. Most of these handles are designed to fit either your left or right hand, so make sure to choose the right version for you.
Best Versatile and Stylish Walking Stick for Arthritis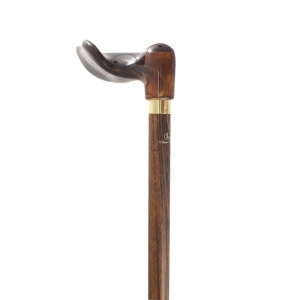 Suitable for arthritic hands that can't grasp traditional handles
Right handed walking stick for an improved fit and comfort
Stylish wooden walking cane suitable for everyday use
Suitable for use in town and in country
| | | |
| --- | --- | --- |
| | | In stock now |
Click here for the Left-Handed version
Why It's Our Pick: Fischer handle spreads weight across your palm; beautifully styled for all occasions

Convenient and Foldable Arthritis Walking Stick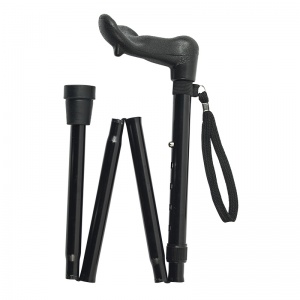 Fischer handle folding walking stick for everyday orthopaedic support
Ideal for users suffering from arthritis or rheumatism
Folding and adjustable design for easy storage and a tailored fit
Black in colour for use with a vast range of outfits
| | | |
| --- | --- | --- |
| | | Available, dispatched in 1-5 days |
Why It's Our Pick: Folds into four sections; adjustable in height; Fischer handle spreads weight across your palm
Best Shock-Absorbing Walking Stick for Arthritis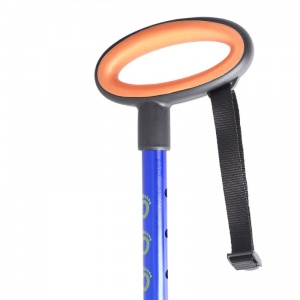 Absorbs shock to reduce upper body discomfort
Provides excellent grip on rough terrain
Telescopic design for easy height adjustment
Unique oval handle for comfort and stability
| | | |
| --- | --- | --- |
| | | In stock now |
Why It's Our Pick: Flexyfoot ferrule absorbs shock to prevent pain; oval handle is soft and ergonomic for improved comfort
Best Marble Effect Walking Stick for Arthritis
Relax-grip handle spreads weight across palm
Comfortable and supportive orthopaedic cane
Designed for your right hand for a tailored fit
Aluminium shaft can be adjusted in height
| | | |
| --- | --- | --- |
| | | In stock now |
Click here for the Left-Handed Version
Why It's Our Pick: Fitted with a relax-grip handle for a perfect fit in the hand; smart design makes the stick suitable for daily use or formal gatherings
Best Walking Stick for Smaller Arthritic Hands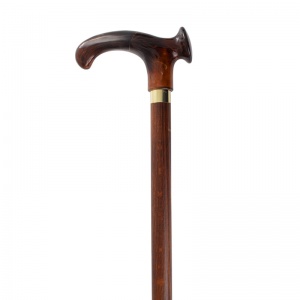 Comfortable and supportive walking stick
Handle spreads your weight across palm
Cane has been created for the right hand
Ideal for those with a hand condition
| | | |
| --- | --- | --- |
| | | In stock now |
Click here for the Left-Handed Version
Why It's Our Pick: Ergonomic handle is ideal for smaller hands with arthritis
Enjoy Your Support in Comfort
With these ergonomically-designed handles, arthritic hands will finally be able to remain comfortable while you enjoy the support you need. If you'd like to browse our entire range for yourself, take a look at our category of Walking Sticks for Arthritis Sufferers, where all handles are designed to be as comfortable and supportive as possible.
Have you purchased a stick that's helped reduce your arthritic pain? Let us know which one it was in the comments, or find us on Twitter and Facebook!