Best Purple Walking Sticks 2022
Thursday, 16 December 2021 | Admin
Balancing the passion of red and the calmness of blue, purple is just as popular today as it was with Julius and Augustus Caesar. Due to its many shades and tones, your love for this colour can have different meanings and effects.
Most often, purple is associated with royalty and wealth, as well as wisdom, dignity, independence, creativity, mystery and magic. Whether you want your purple walking stick to symbolise power, luxury and ambition, or simply like the calming atmosphere this lavish colour creates, we hope our top picks for purple walking sticks will help you find the perfect one for you.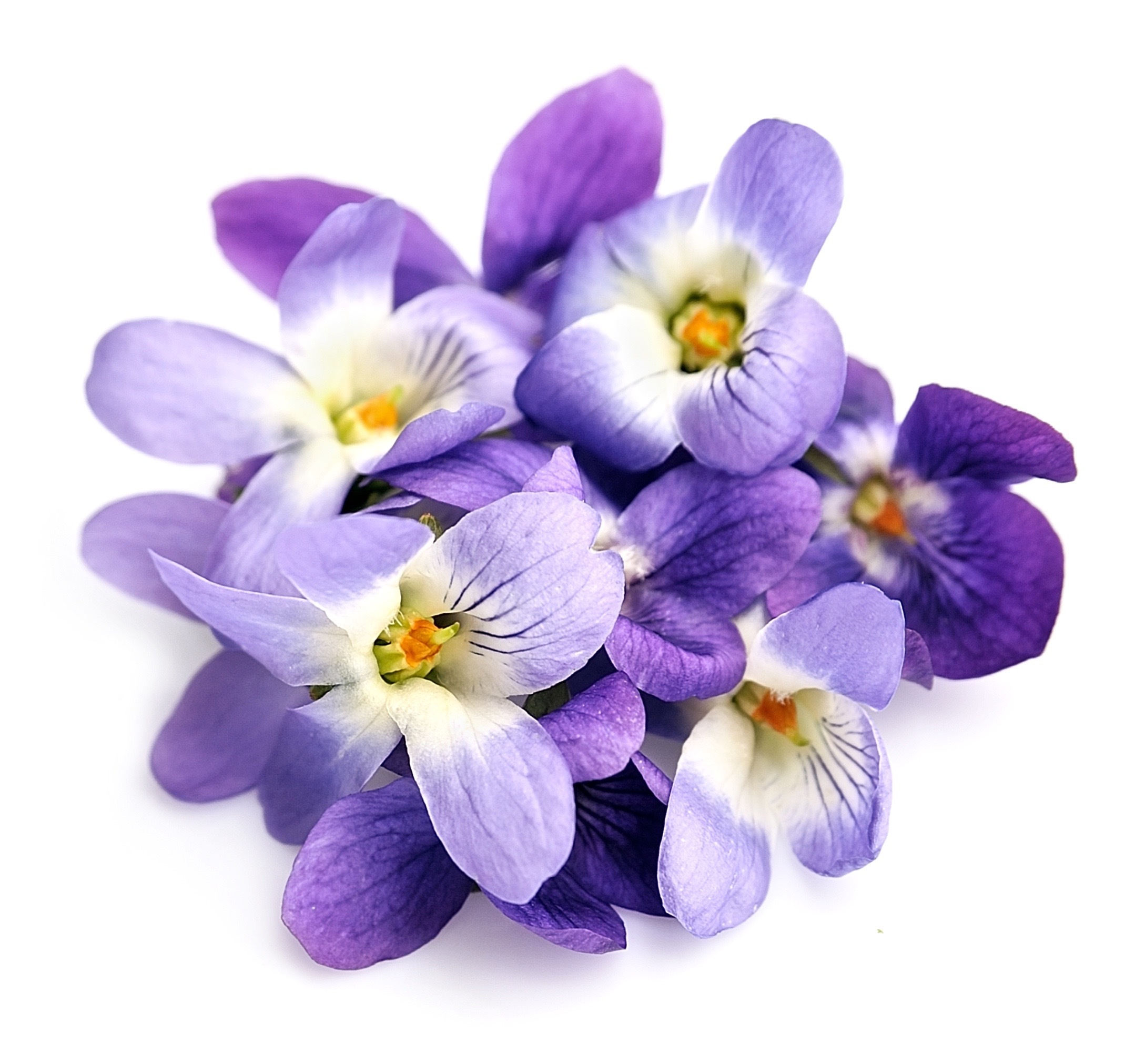 Stability Base Purple Walking Stick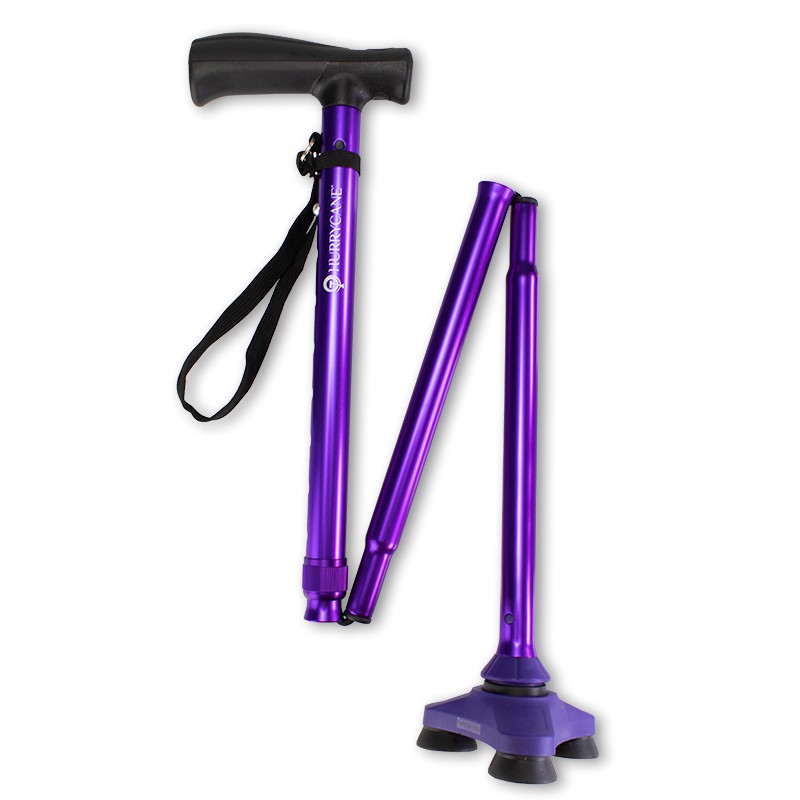 While the standard walking stick base may be fine for most users, for those looking for maximum stability and support, the SteadiGrip base of the Hurrycane Walking Stick (Purple) can't be beaten. The base of this folding purple walking stick not only provides three points of contact with the ground, but also swivels to ensure you receive the best support at any angle.
Stable enough to stand on its own, this stick is designed with a comfortable shock-absorbing handle, helping to reduce strain on the hands and wrists. It's also made with lightweight aluminium, making it easy to take anywhere you'll need it.
Key Features: Adjustable from 77.5cm to 95cm; folds into three sections; pivoting three-point base for stability
Purple Mini Folding Walking Stick
If you only need the support of a walking stick from time to time, it's essential you get one that can be folded up to a size that easily fits in your handbag. The Height-Adjustable Metallic Purple Mini Folding Derby Walking Stick folds into five sections, which makes it no longer than 23cm when folded down completely.
Moreover, the aluminium shaft is height adjustable, which makes the cane suitable for a broader range of users. The wooden Derby handle is comfortable to grip, while the rubber ferrule absorbs impact with the ground and helps to improve stability.
Key Features: Adjustable from 81cm to 89cm; folds into five sections; wooden handle; wrist cord included
Purple Floral Walking Stick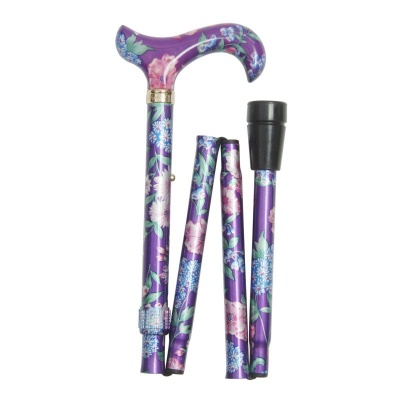 With its purple floral pattern, the Adjustable Folding Elite Derby Handle Purple Floral Walking Stick for Ladies adds a beautiful touch to any outfit, while showcasing a bit of your personality. The height-adjustable aluminium shaft ensures the stick is suitable for a range of users, while the classic Derby handle is a pleasure to hold.
The shaft is also able to collapse into four sections when not in use, meaning it can be folded away and placed in your bag. This is the perfect solution for when your walking cane becomes cumbersome and tiring to hold.
Key Features: Adjustable from 82cm to 92cm; folds into four sections; Derby handle
Purple Wooden Walking Stick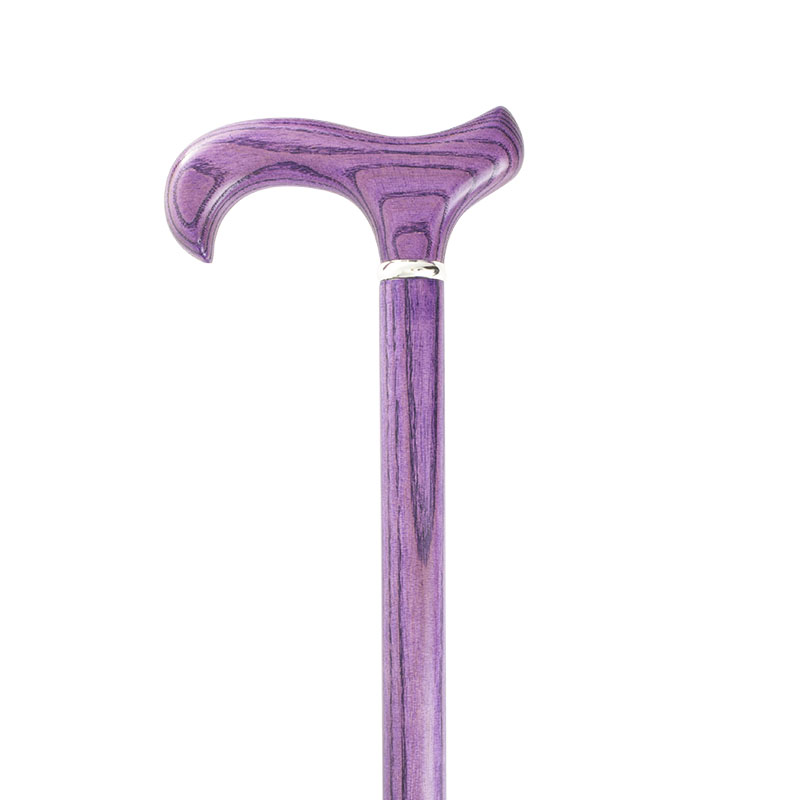 The only wooden walking stick on this list, the Ash Purple Derby Handle Walking Stick is designed to be paired with attire for formal occasions, ensuring that mobility support need not be compromised for fashion. The sturdy shaft is constructed from ash wood, while the protective layer of colour provides longevity of the stick.
The handle at the top of the ash shaft is in a classic Derby style, which provides ease of gripping for most individuals. This will ensure that the cane can be used for longer periods of time, all without hindering your enjoyment of your evening.
Key Features: 91cm tall; made entirely of ash wood; comfortable Derby handle; rubber ferrule
Spotty Purple Walking Stick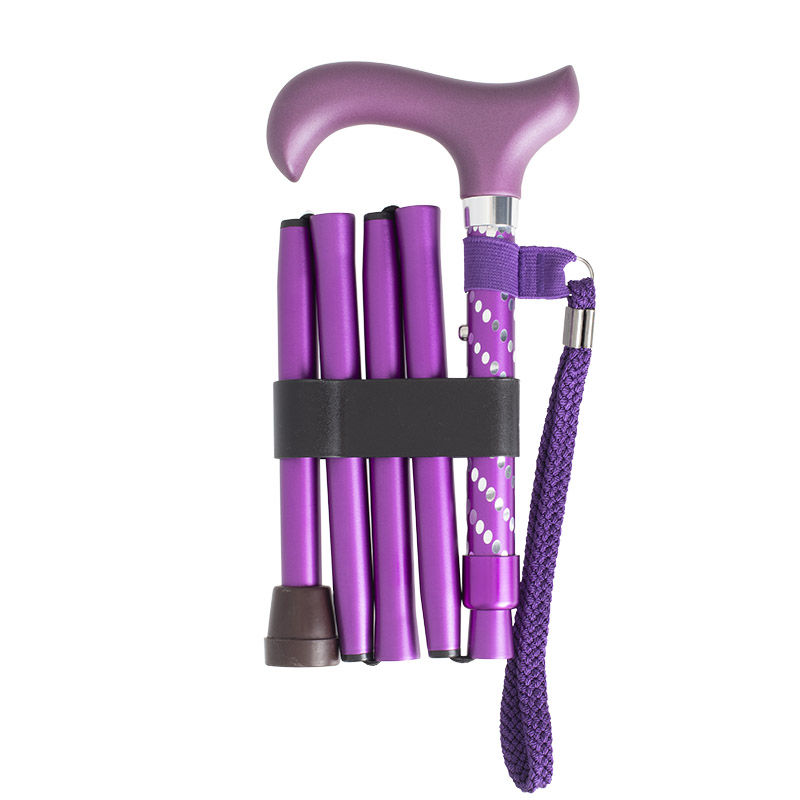 To add a bit of sparkle to your outfit, the Height-Adjustable Mini Folding Purple Engraved Derby Walking Stick features an engraved pattern towards the top of the shaft. This makes it appealing from top to toe.
This Mini Walking Stick can be folded into five sections, which makes it suitable for storing even in the smallest handbag. Moreover, the sturdy aluminium shaft is height adjustable, and suitable for a broad range of users.
Key Features: Adjustable from 81cm to 89cm; folds into five sections; wooden handle; wrist cord included
Is Your Favourite Colour Purple?
If your favourite colour is purple, you are sensitive and compassionate, creative, idealistic, and a free spirit. A walking stick is an accessory that will go with you virtually anywhere, and this is a great opportunity to reveal a bit of your personality to the world. Make sure to visit our full range of Purple Walking Sticks!
What's your favourite colour? Leave a comment below, or find us on Twitter and Facebook!