Best Pretty Walking Sticks 2023
When it comes to fancy dinner parties and formal events, it's important to find a fashionable cane that will add that final touch to your carefully chosen outfit. But more often than not, you will use your cane on a daily basis, which means that your everyday walking stick is the one that people will most often see you with.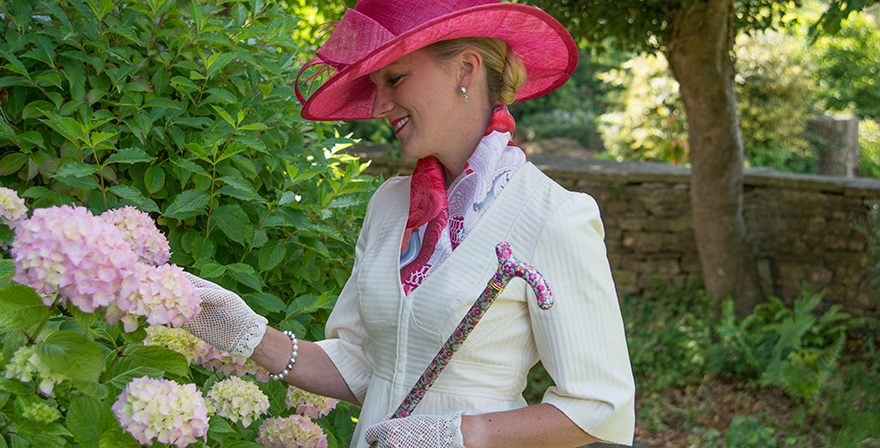 We are well aware of how important it is to find that ideal everyday cane that is pretty enough to complement your looks, but still not too noticeable, as you don't want to stand out too much with your newest accessory. That is why we've come up with this list of ladies' walking sticks for everyday use that are, simply put, pretty. This collection includes canes that are comfortable to hold, lightweight, not too fancy for everyday use, yet still stylish enough to carry with you at all times – just what you need to help you go about you daily business.
---
Adjustable British Daisies Derby Cane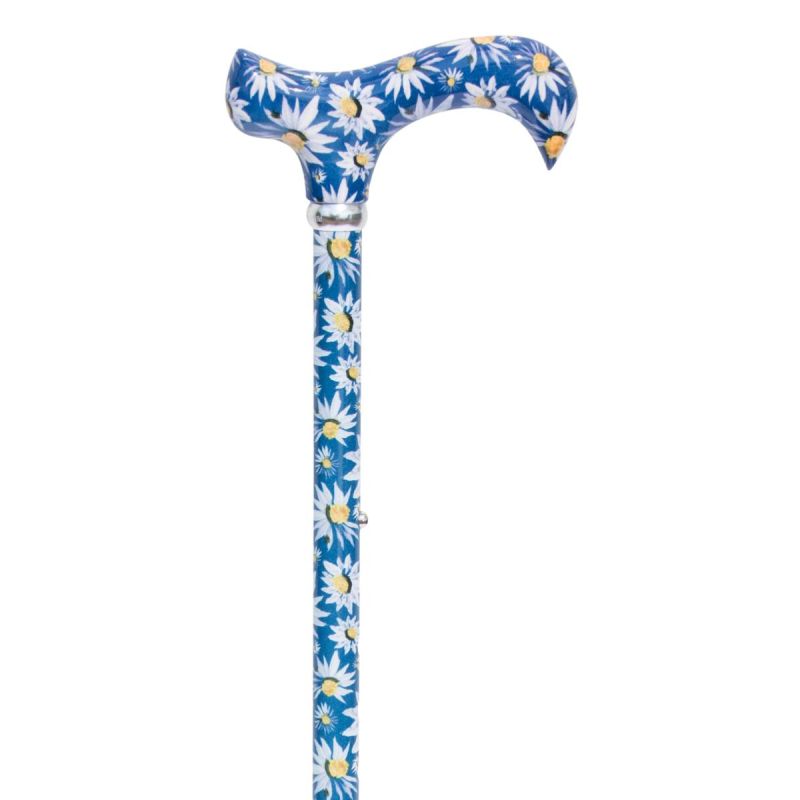 When speaking of pretty walking sticks, the best place to start is with this Adjustable British Daisies Derby Cane, which features an intriguing print of watercolour daises on a cool blue background. For your convenience, the walking stick is easily adjustable from 73cm to 95cm, exceptionally lightweight at 265 grams and fitted with a rubber ferrule that ensures a secure grip on most hard surfaces. Moreover, the same cane is also available in a folding design, which is perfect for stashing away in your bag.
Key Features: Adjustable height; weighs only 265g; Derby handle; rubber ferrule; part of the British Wildflowers Derby collection
---
Tea Party Peach Floral Cane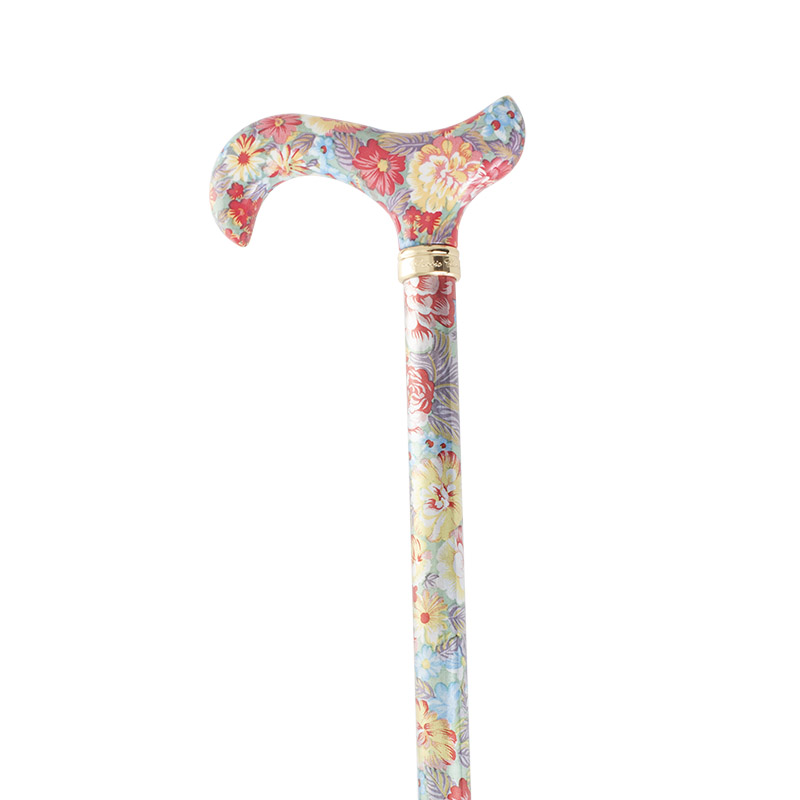 In many ways very similar to the walking stick mentioned above, the Derby Tea Party Extending Peach Floral Patterned Cane features a pastel print of peach, yellow and blue blossoms on a beige background. Its aluminium shaft can easily be adjusted from 77cm to 100cm, and is fitted with a rubber ferrule for your safety. Still lightweight at 315 grams, this floral walking cane is ideal for casual use both in the city and the country.
Key Features: Height adjustable aluminium shaft; weighs 315g; comfortable Derby handle and rubber ferrule
---
Tea Party Red Grapes Cane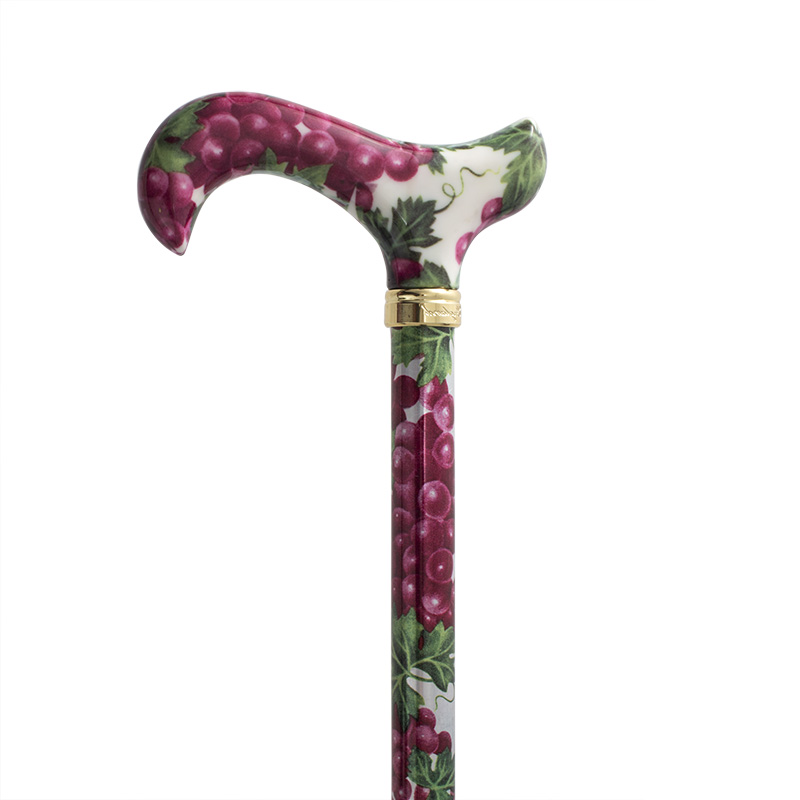 Featuring a distinct pattern of purple grapes with green vine leaves, the Derby Tea Party Extending Red Grapes Cane is the perfect autumnal walking stick. This harvest-themed walking cane lets you express your unique personal style and adds a fabulous touch to any one of your outfits. The height-adjustable shaft is fitted with a non-slip rubber ferrule that is extremely practical, but in no way distracts from the attractive appearance of the cane.
Key Features: Adjustable from 77cm to 100cm; lightweight at 315g; rubber ferrule; traditional Derby handle
---
Folding Red Grapes Walking Stick
Unlike any of the canes mentioned so far, the Adjustable Folding Elite Derby Handle Red Grapes Walking Stick folds into four sections, which means that you can easily fit it into your bag. This is ideal if you spend a lot of time on the road, or if there are times when you would prefer not to be seen with a walking stick. Moreover, the aluminium shaft is not only foldable but height adjustable as well, allowing you to extend it from 82cm to 92cm. A bit more sturdy than the other sticks on this list, the Folding Red Grapes Cane weighs 415 grams.
Key Features: Height adjustable and folding; Derby handle; attractive all-over pattern of red grapes and green vine leaves; rubber ferrule
---
Handbag Black Floral Walking Stick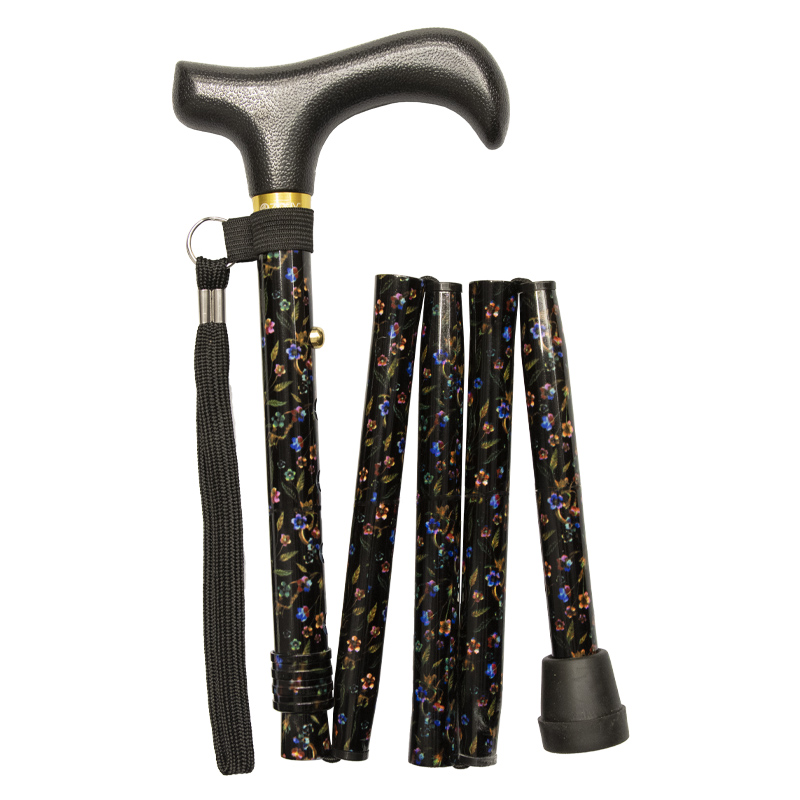 Taking things one step further, the Adjustable Folding Handbag Black Tropical Floral Walking Stick folds into five sections, which makes it the ideal handbag cane. It features a pretty floral pattern on a black background, a black Petite Derby handle made of hardwearing plastic, and a matching black rubber ferrule. This is also the lightest walking stick on this list, weighing no more than 260 grams.
Key Features: Height adjustable from 81cm to 91cm; Derby plastic handle; rubber ferrule; exceptionally lightweight aluminium
---
Our suggestions for Pretty Walking Sticks include lightweight ladies' canes with intriguing floral prints that are comfortable to hold and reliable to lean on. If this list doesn't include the right cane for you but has managed to inspire you in your search, make sure to browse our broad ranges of Pretty, Ladies', Floral, Lightweight and Petite Walking Sticks.