Best Ladies Folding Walking Sticks 2023
When picking your everyday walking stick, it's essential to think about how it will go with your casual outfits. The best everyday walking stick is one that complements your style, and looks natural when you hold it in your hand.
But even the prettiest, most fashionable walking stick can sometimes look a bit out of place, which is what makes folding walking sticks so uniquely practical, and perfect for both regular and occasional users. This list includes some of the most stylish, beautiful folding walking sticks that can easily be used to complement your outfit, or discreetly tucked away whenever you find it appropriate.
Our Favourite Ladies' Folding Sticks
Some Sticks Worth Highlighting...
Traditional Derby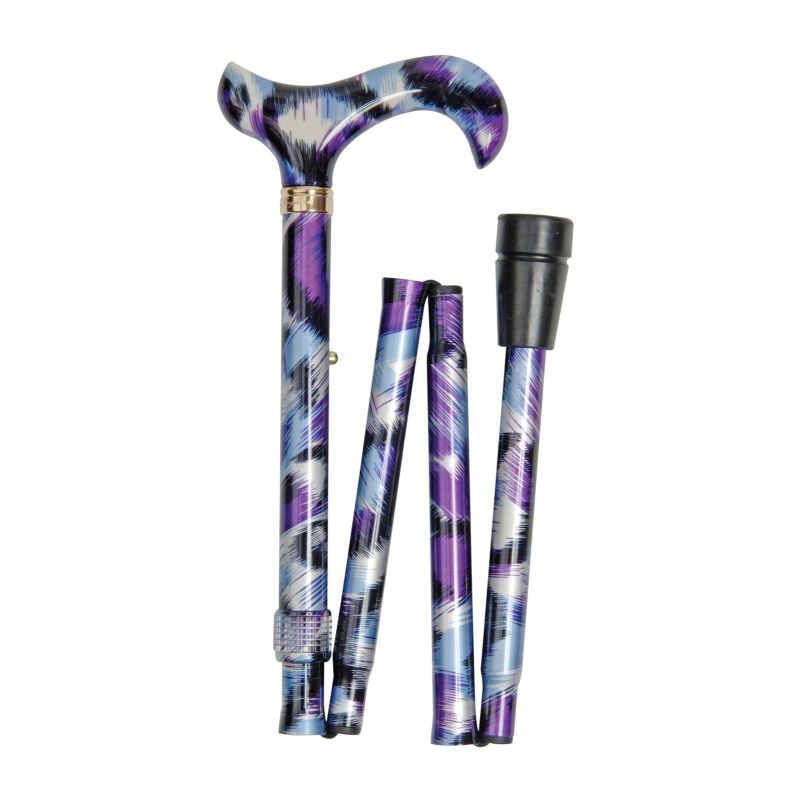 The best place to start is with a true ladies' classic. The Adjustable Folding Fashion Derby Handle Purple Brushstrokes Walking Stick is perfect if you're looking for a traditionally feminine walking stick that is exceptionally practical, while still stylish enough to work as an accessory.
Featuring a glamorous abstract pattern of purple, black and pale blue brushstrokes on a white background, this traditional Derby walking stick will look the part with a number of different outfits. Its comfortable handle, lightweight construction and non-slip ferrule, however, ensure you can rely on it as your ultimate support as well.
Key Features: Adjustable between 82cm and 92cm; aluminium shaft; plastic handle; rubber ferrule; 415g
---
Handbag-Sized Petite Derby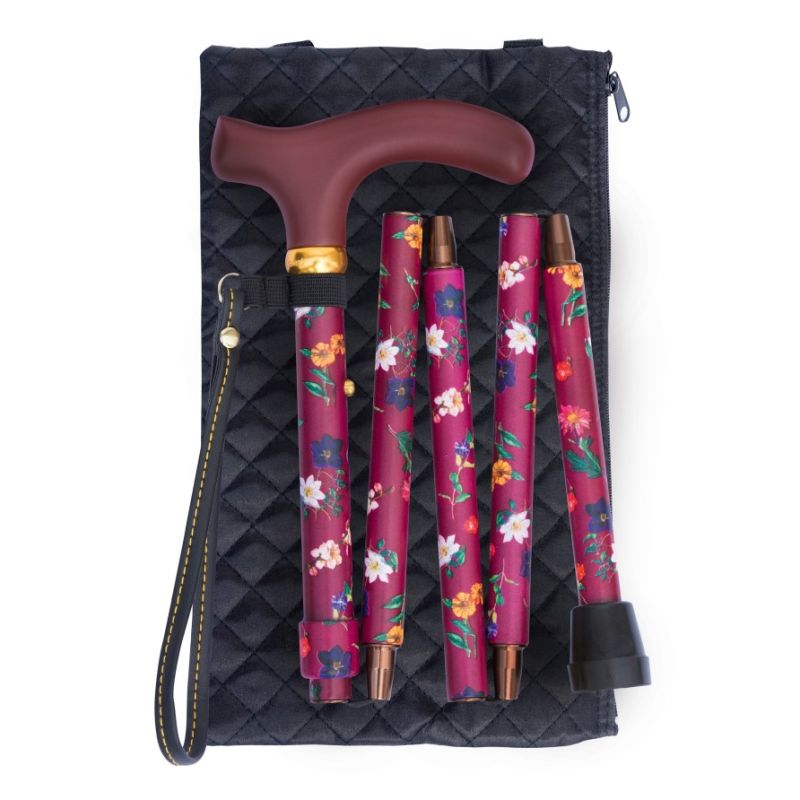 Even more discreet than the walking stick mentioned above, the Handbag-Sized Adjustable Folding Claret Floral Walking Cane easily folds into five short sections, and comes with a practical carry wallet. This ensures that you can put your walking stick away even if you're used to smaller handbags.
This unusually shaped walking cane has been created specifically for ladies with smaller and gentler hands. The petite Derby handle is a smoother variation of the traditional Derby, with softly rounded corners and slightly smaller proportions.
Key Features: Adjustable between 84cm and 92cm; aluminium shaft; wooden handle; rubber ferrule; 400g
---
Art Lover's Walking Stick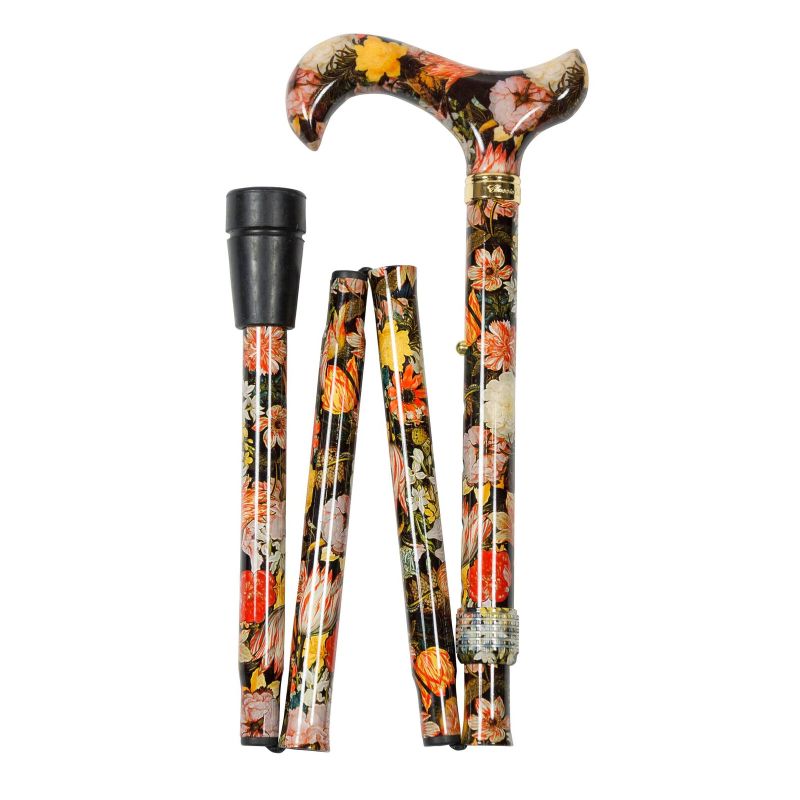 If you could spend hours admiring the masterpieces in the National Gallery in London, and wish to carry a touch of artistic inspiration with you wherever you go, we might have the right walking stick for you. The National Gallery Bosschaert Derby Adjustable Folding Walking Stick is perfect for the bolder user who likes to make a statement with their choice of accessory.
This unusual yet traditional Derby walking stick features a classic handle, non-slip ferrule, and a height adjustable aluminium shaft printed with details from one of the National Gallery's best-loved paintings. If you love the idea of owning an artistic cane, make sure you explore our full range of National Gallery Walking Sticks.
Key Features: Adjustable between 82cm and 92cm; aluminium shaft; plastic handle; rubber ferrule; 420g
---
Anatomical Handle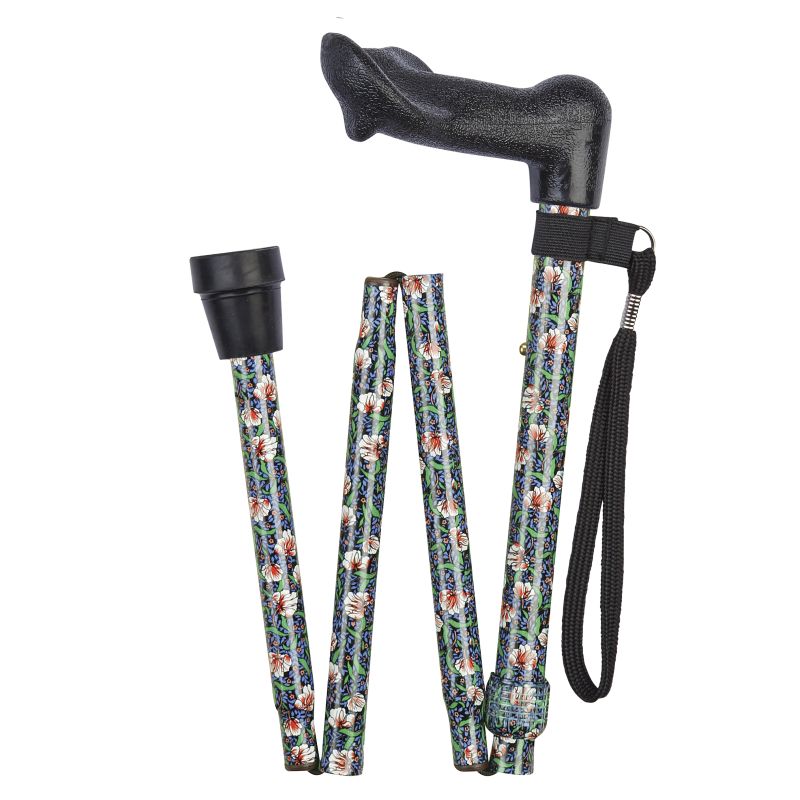 Slightly different from any of the walking sticks mentioned so far, the Height-Adjustable Folding Morris Anatomical Walking Stick features an orthopaedic handle that is perfect for those suffering from painful or sensitive hands and wrists. If you feel your joints might benefit from a bit of extra support and comfort, this is the right choice for you.
Despite its highly comfortable and functional design, its anatomical handle is not the first thing most people notice with this Folding Walking Stick. The special handle is a discreet black colour, while the aluminium shaft features the intriguing Morris pattern, known for its elegant swirls of vines, flowers and leaves.
Key Features: Adjustable between 87.5cm and 97.5cm; aluminium shaft; plastic handle; rubber ferrule
---
Which is your favourite ladies folding walking stick? Let us know in the comments, or find us on Twitter and Facebook!