Best Designer Walking Sticks 2022
Tuesday, 28 September 2021 | Admin
From Winston Churchill to Fred Astaire, a walking stick has always been one of the most iconic evening accessories. Even though a walking stick can be a very practical and versatile walking aid, here at WalkingSticks.co.uk we know that it can also complete your outfit and boost your confidence wherever you go.
We dare say that we know exactly what kind of a walking stick will make you the best-dressed person wherever you appear. This list includes our top designer canes, fashionable, luxurious items that attract just the right amount of attention, from all the right people.
Evening Crutch Cane with Swarovski Elements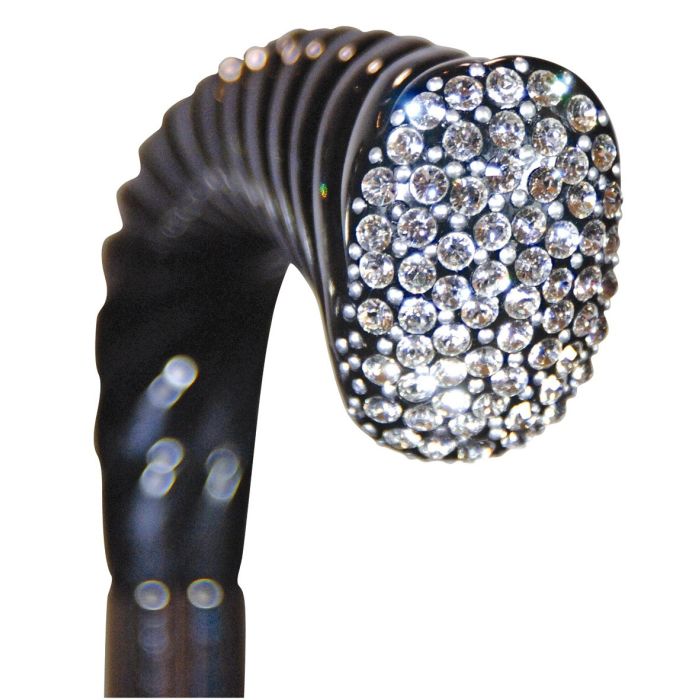 The first one on our list is this incredible Evening Crutch Cane with a glittering handle that is perfect for all formal events. What's more, due to its rubber ferrule and sturdy construction, this cane, unlike most similar glamorous walking sticks, can be used to provide a bit of support in case you do need to lean on something when your feet get tired.
The hardwood shaft is painted a shiny black that completes the evening look, and is fitted with a metal collar. At closer inspection, you can see that the stunning handle is actually a beautifully twisted crutch design, featuring a top encrusted with countless Swarovski Element crystals.
Key Features: Hardwood shaft; stunning handle; practical rubber ferrule
Silver-Plated Two Horse Cane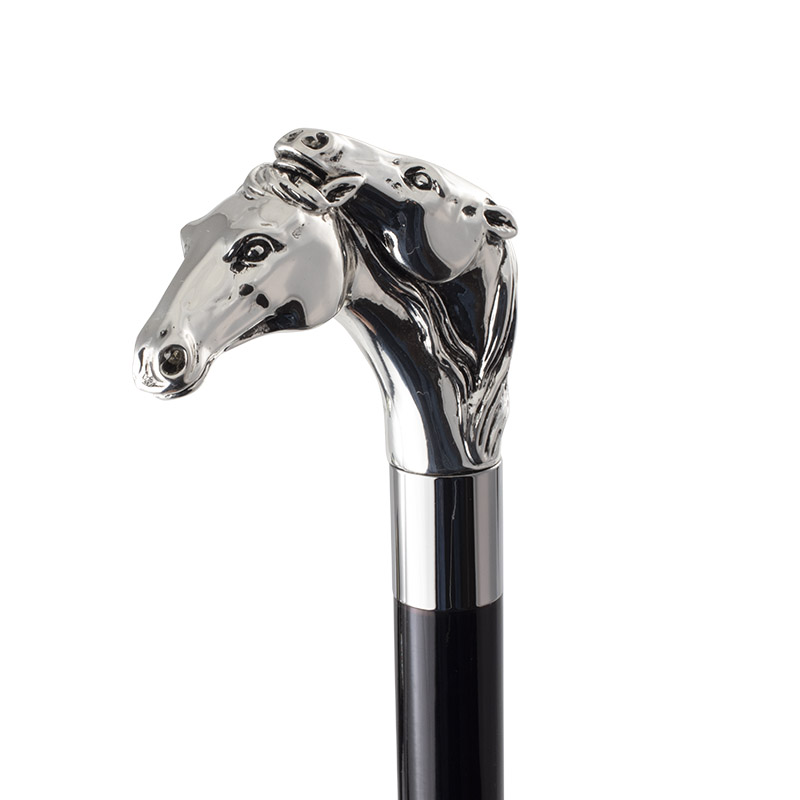 Slightly less glittery, but just as glamorous, is the Silver-Plated Two Horse Cane, featuring an elegant horse handle mounted on a durable wooden shaft. This cane may be used for light balance, but is not suitable for heavy use or orthopaedic support.
The eye-catching handle features the heads of two spirited horses, one resting its head on top of the other. The Italian wooden shaft is made from wood, slightly tapered for a stylish look, and lacquered a very shiny black for the truly glamorous appearance.
Key Features: Hardwood shaft; silver-plated handle; brass ferrule
Hardwood Crook Cane with Swarovski Handle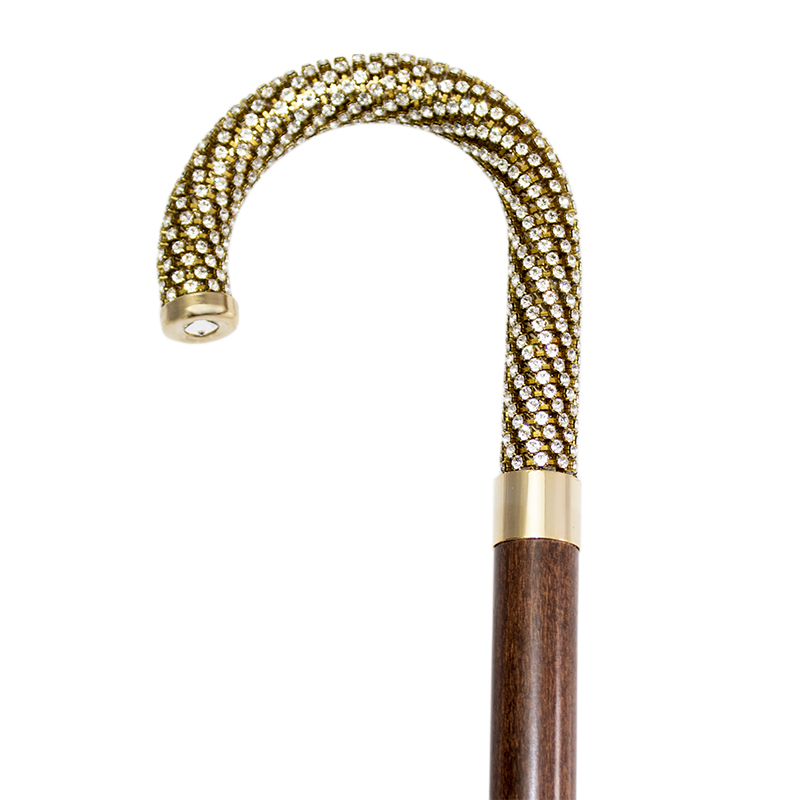 If you're truly looking to impress, the Hardwood Crook Cane is the perfect choice that will ensure you stand out from the crowd on any special occasion. The seemingly classic crook handle is actually covered with endless Swarovski Element crystals that give the already beautiful golden colour an unmistakable glow.
The richly decorated handle is perfectly balanced with the hardwood shaft, which was left in its original colour and carefully polished to bring out the intriguing natural colour of the wood. This very delicate evening walking stick needs to be handled with care, and is not suitable as support.
Key Features: Polished hardwood shaft; sparkly crook handle; extremely lightweight at 285 grams
Brass Cane Encrusted with Swarovski Elements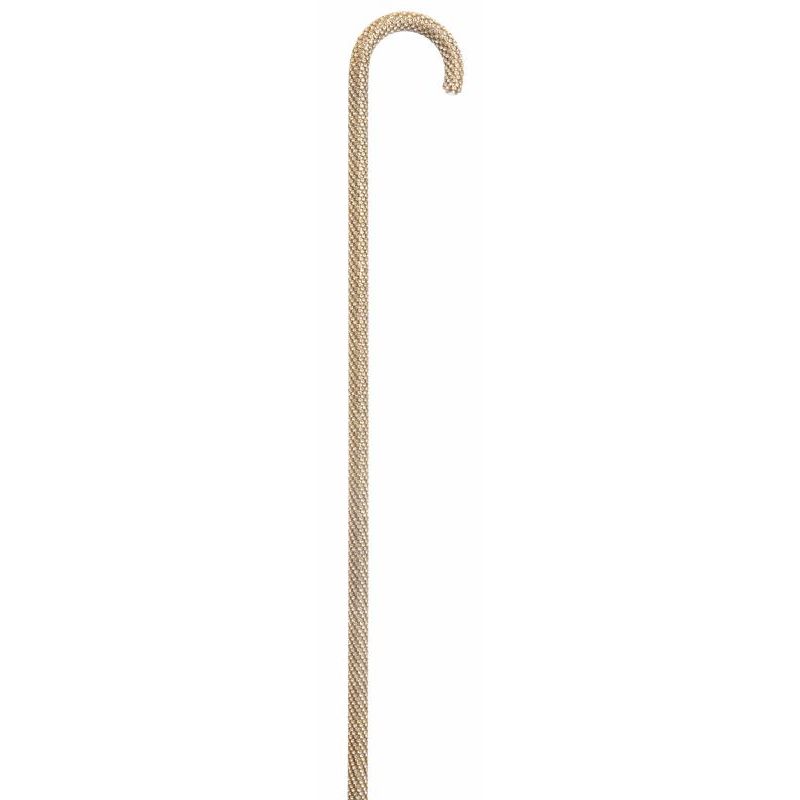 The Brass Cane Encrusted with Swarovski Elements takes things a step further than any of the walking sticks mentioned so far. The flamboyant design of glittering Swarovski Element crystals doesn't stop at the handle, but continues all the way down to the bottom of the shaft.
Both the handle and the shaft are made from high-quality brass and covered in crystals. This cane needs to be handled with care, ensuring no damage is caused to the crystals.
Key Features: Brass handle and shaft; completely encrusted in crystals; flamboyant design
Our list of top suggestions for designer walking sticks includes glamorous items from different price ranges. If you still haven't seen the walking stick that would take your breath away, please feel free to visit our complete range of Designer Walking Sticks.
What do you think of your suggestions? Let us know in the comments, or find us on Twitter and Facebook!