Best Black Walking Sticks 2022
Friday, 1 October 2021 | Admin
They say a little black dress is a must-have in every girl's closet, and the same goes for a black walking stick. Black is the colour of elegance, but it's also one of the few colours that will go great with virtually any outfit.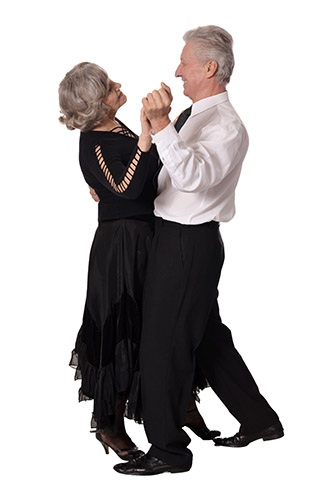 Black goes great with everything, making black walking sticks a versatile and elegant choice
We stock a large range of Black Walking Sticks, which can make going over all of them to find just what you need a bit overwhelming. This is why we've handpicked five of our favourite black sticks, and listed them here for you to see at a glance what you might be interested in.
Cherry Blossom Black Derby Walking Stick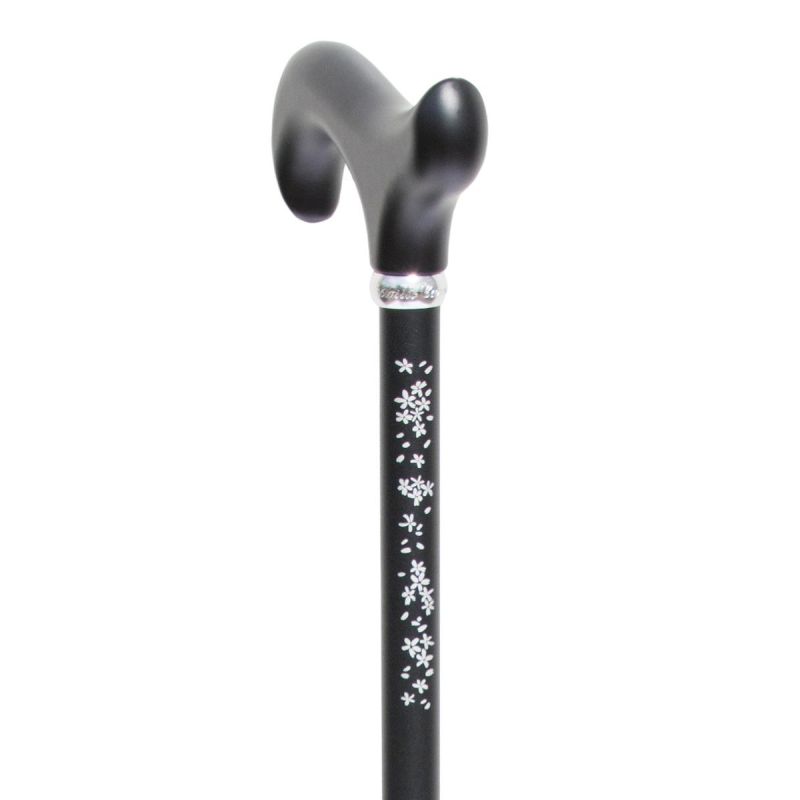 Black is most commonly associated with elegance, and our walking sticks on this list will not let you down. This Cherry Blossom Black Derby Walking Stick is probably the best equivalent to a little black dress you can find. It's sleek, lightweight and tastefully decorated with a delicate sprinkling of white cherry blossom flowers. The discreet Derby handle is comfortable to hold even for long periods, while the black aluminium shaft is adjustable in height, which makes this cane not only attractive, but practical for everyday use as well.
Key Features: Comfortable Derby handle; adjustable from 70cm to 93cm; rubber ferrule; lightweight at 260g
Gents' Black Derby Walking Stick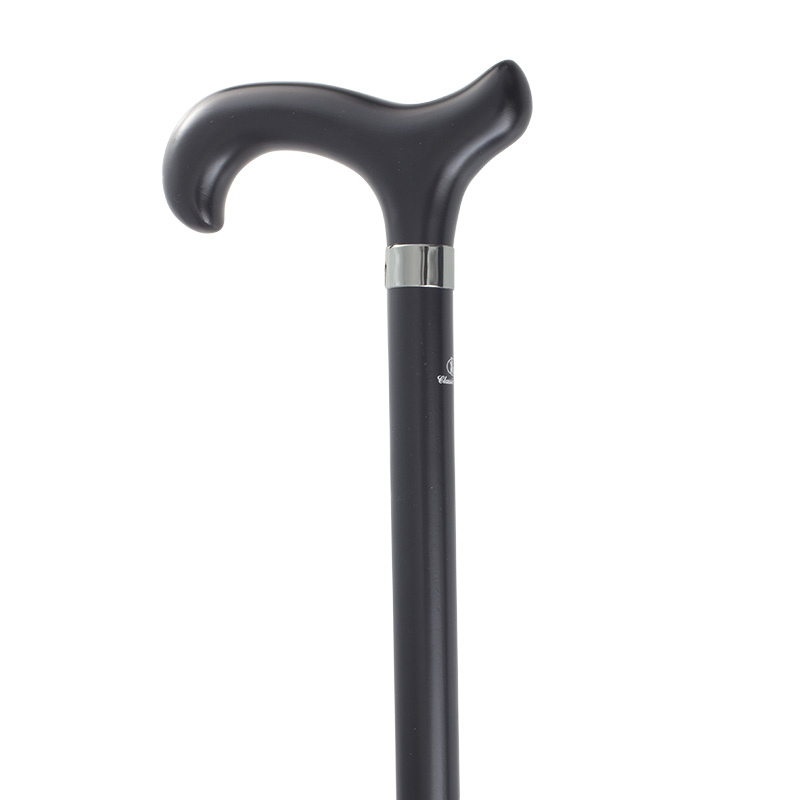 If the above walking stick is more suitable for ladies, this Black Derby Walking Stick was made for gentlemen. This formal black cane is as suitable for use in town as it is for all evening occasions. Its hardwood shaft and handle are painted an elegant black, while the neat nickel collar creates an eye-catching contrast of colours. The traditional Derby handle is comfortable to hold, while the hardwood shaft ensures you can lean on it whenever you want.
Key Features: Hardwood shaft and Derby handle; 92cm tall; rubber ferrule; ideal for town and country
Derby Walking Stick with Black Diamond Pattern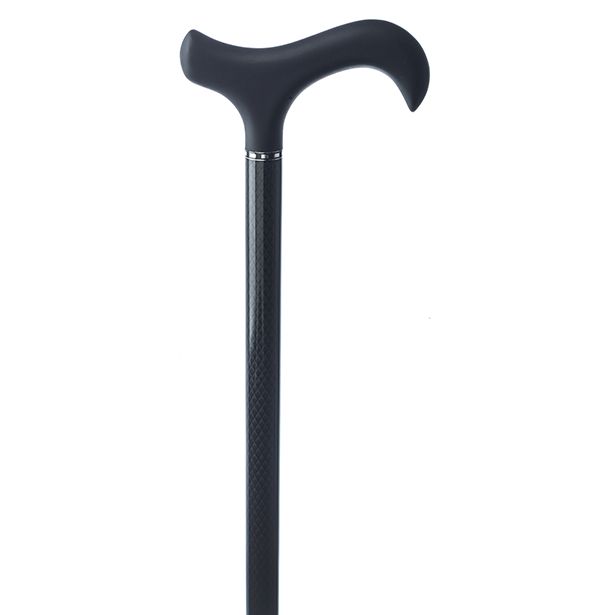 Unlike any other black walking stick from our list, the Derby Walking Stick with Black Diamond Pattern is made from carbon fibre, one of the most advanced materials available for the production of canes. Light as a feather yet incredibly strong, a carbon fibre construction means that this cane is astonishingly easy to use, store and transport, yet strong enough to stand up to years of heavy use. The soft grip Derby handle is elegantly shaped and comfortable to hold, making this cane as practical as it is stylish.
Key Features: Carbon fibre construction; adjustable from 71cm to 94cm; exceptionally lightweight at 207g; rubber ferrule
Moulded Orthopaedic Handle Walking Cane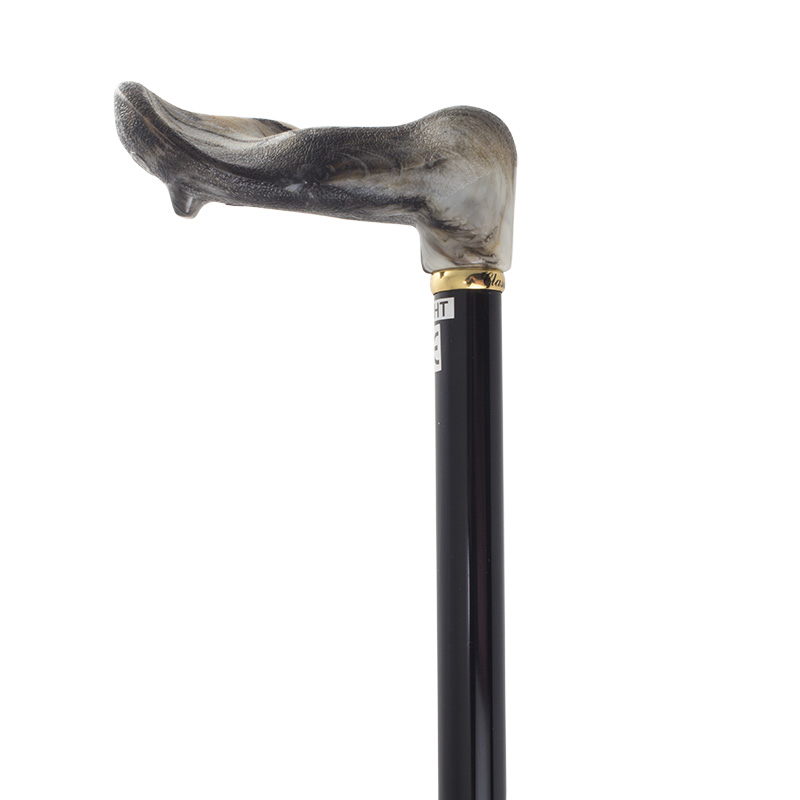 If a traditional Derby handle is a bit too uncomfortable for you to hold, we have just the solution for you. The Moulded Orthopaedic Handle Walking Cane is just as elegant as the other black walking sticks, but designed with a Fischer handle that is ideal for those who suffer from arthritis or rheumatism. Its brownish marbled effect matches well with the black shaft and gold metal collar, making the stick suitable even for more formal occasions.
Key Features: Fischer handle for painful hands; adjustable height from 80cm to 100cm; rubber ferrule
Adjustable Folding Black Floral Walking Stick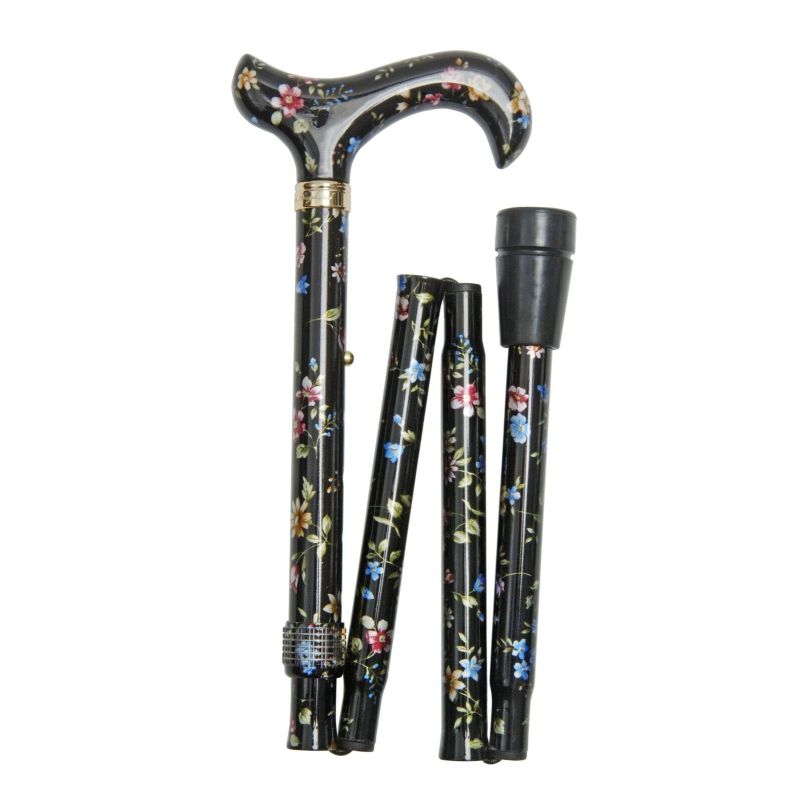 While not as black as other walking sticks from the list, featuring an elegant floral pattern on both its shaft and handle, the Adjustable Folding Elite Derby Handle Black Floral Walking Stick is the only one with a folding design. The light aluminium shaft can easily be folded into four sections, which makes it the perfect walking stick for occasional everyday use. Moreover, its height adjustable shaft ensures you can easily find your optimal fit once you already have the stick at home.
Key Features: Folds into four sections; adjustable height from 82cm to 92cm; floral pattern on black background; rubber ferrule
We realise that our taste in walking sticks might not exactly match yours, and if you haven't seen anything you would truly want, we recommend you visit our full range of Black Walking Sticks and explore other options.
Did you like our recommendations? You can leave us your thoughts in the comments section below, or find us on Twitter and Facebook!